LeBlanc Castle in Detroit
Picture girls with permanents wearing leg warmers, the hair bands of heavy metal, shopping at the mall, and hanging out with their dad building out their 'fantasy-castle'. Starting in the mid-80s, that's exactly what one father and local businessman and his two children decided to do in suburban Detroit, and money was no object. Most of us can't imagine what a life like that would be, and perhaps even more interestingly, what it would have been like to grow up with this castle as your playground. Take a look at these photos of this absolutely gorgeous castle-home.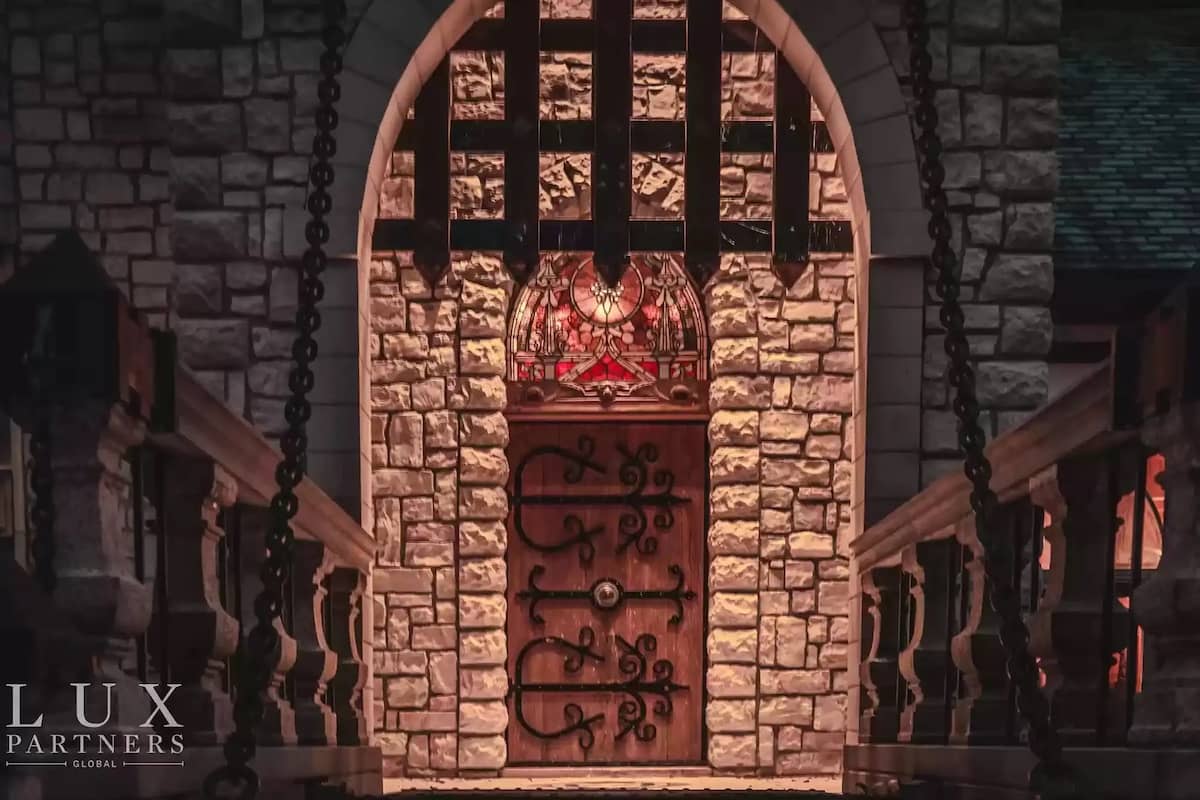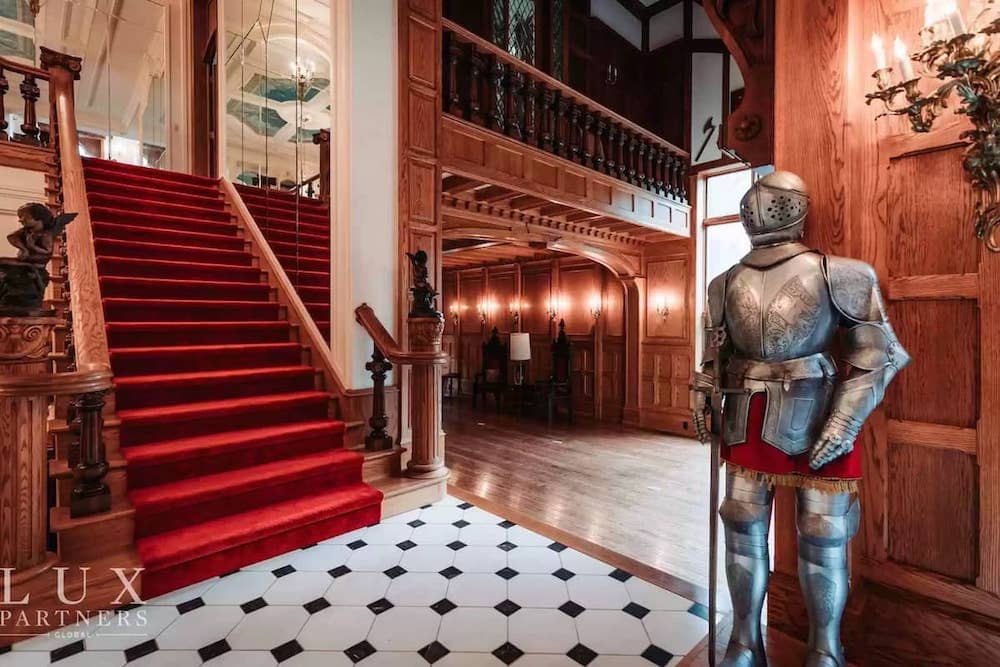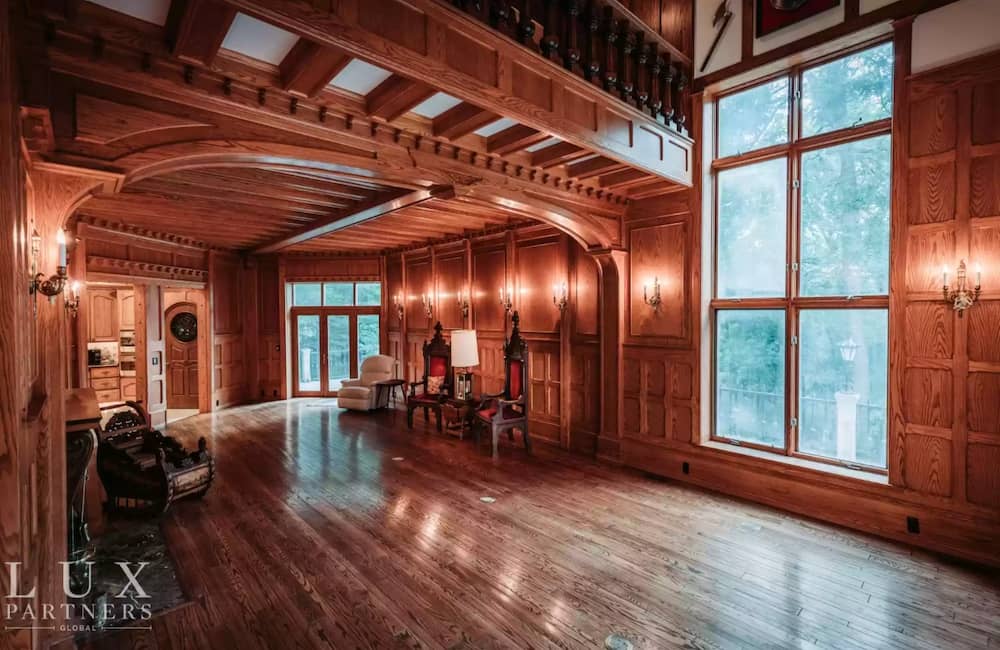 Imagine having so much wealth you could watch Excalibur with your kids one night, and then decide as a family to build a 'dream-castle', sparing no expenses. You'd then dedicate more than 6 years to its design and construction, utilizing artisans and materials from all over the world. 60 tons of steel make up the frame of this 60-foot tall structure, complete with moat, working drawbridge and portcullis.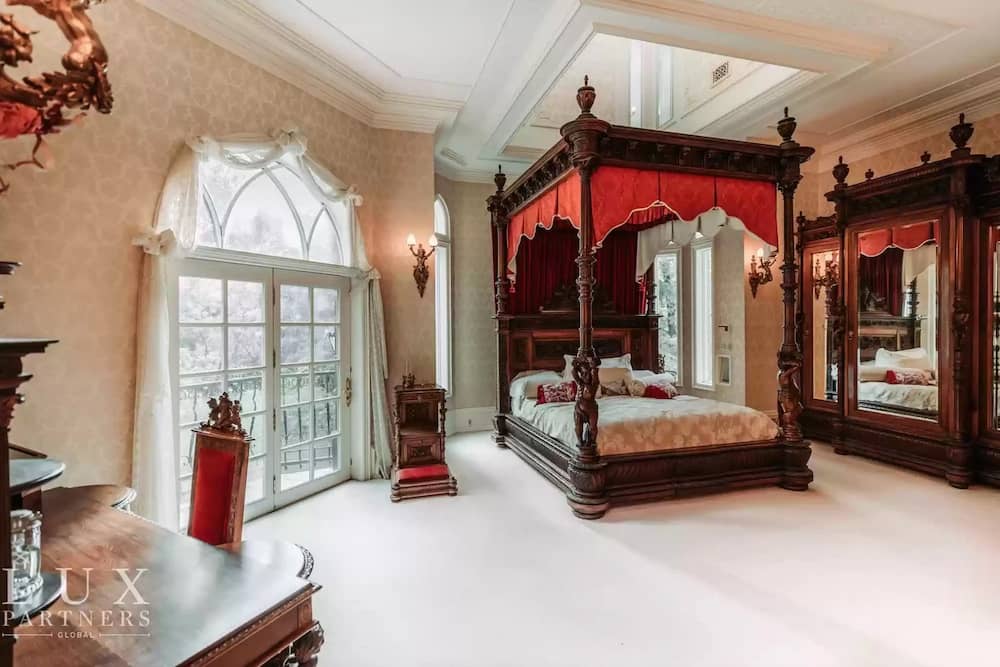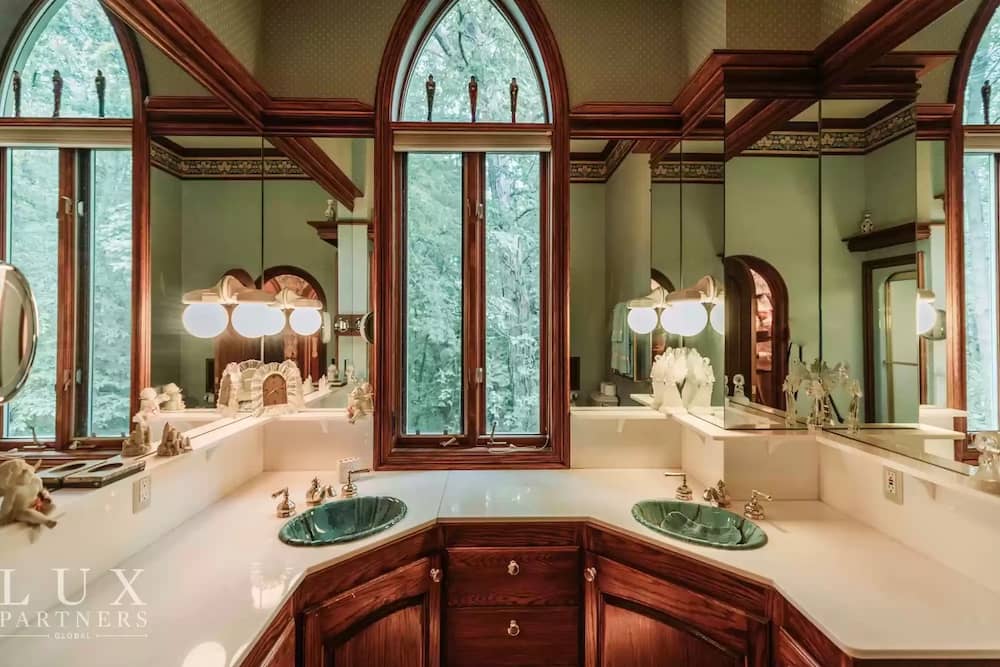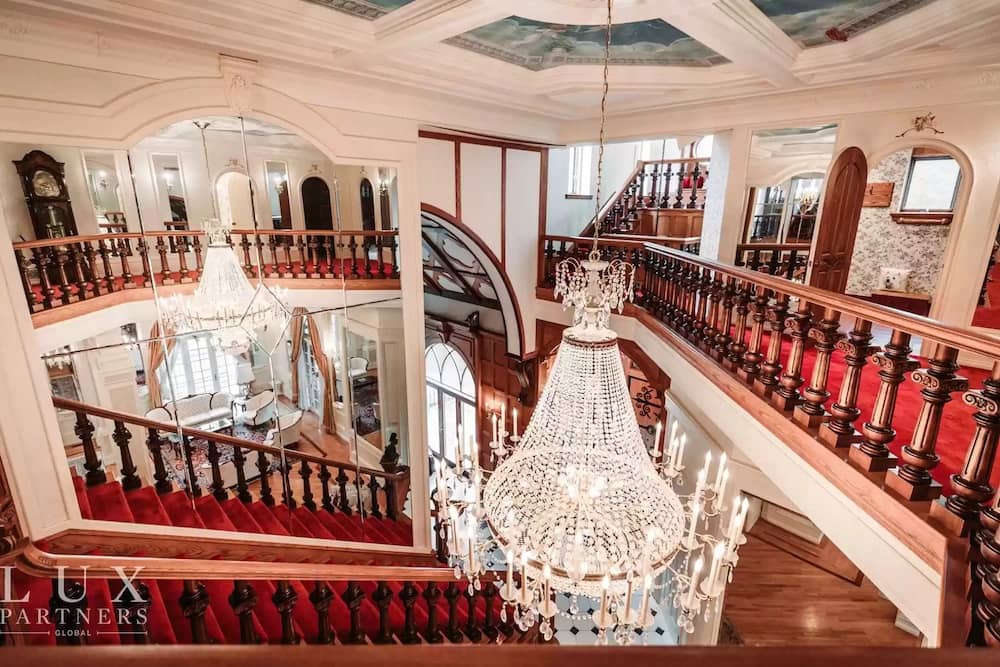 The castle was previously on the market for $2.3 million. To us NYC dwellers, this is a steal-of-a-deal. According to the listing, the castle has 6,106 ft² plus 4,675 ft² below ground level, totaling 10,781 ft² – and sits on more than 6 acres of land. 5 bedrooms, 5 full bathrooms, 2 half-baths and 26 rooms total. 5 fireplaces, 6 new furnaces and 6 new A/C units, 5-car garage and much more. This modern-day, Renaissance-era castle also features trap doors, a hidden staircase, hidden passageways and doors, secret rooms, a dungeon (underground cave area), a jacuzzi, a waterfall and a Tudor-style pub! But it doesn't end there, as every detail in materials and design is custom Victorian. The funny thing is, this elegant abode isn't as unusual as one might think…
The Bronx Castle on Grosvenor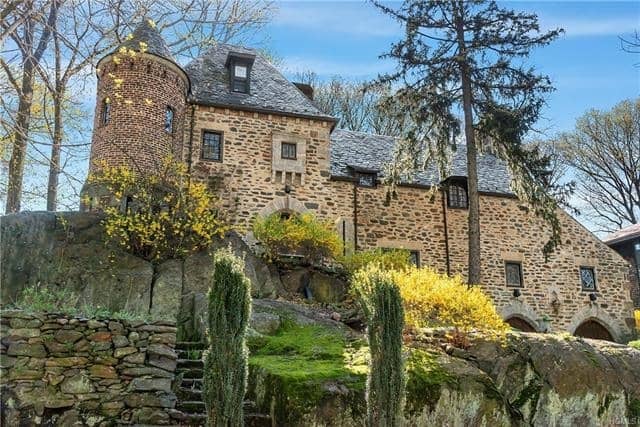 This castle in the Bronx at 4720 Grosvenor Avenue recently listed at an asking price of $2,795,000. It is a fully renovated 16th century European castle replica, built in 1926 for a ship line owner to remind him of his castle back at home, in Croatia. Although definitely more rare than any other type of home, the castle is far from extinct in America. This charming residence boasts 5 bedrooms and 4.5 bathrooms, and 3,821 ft².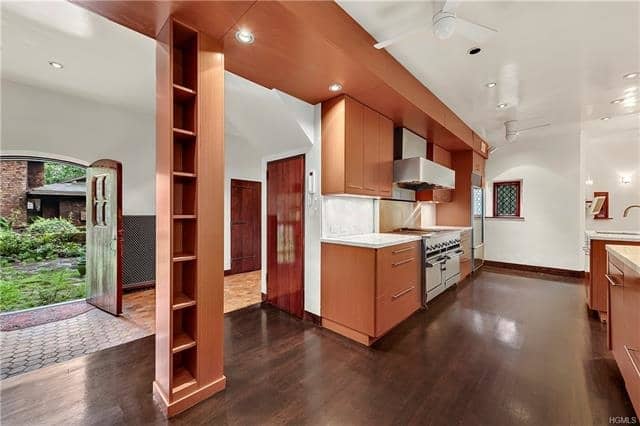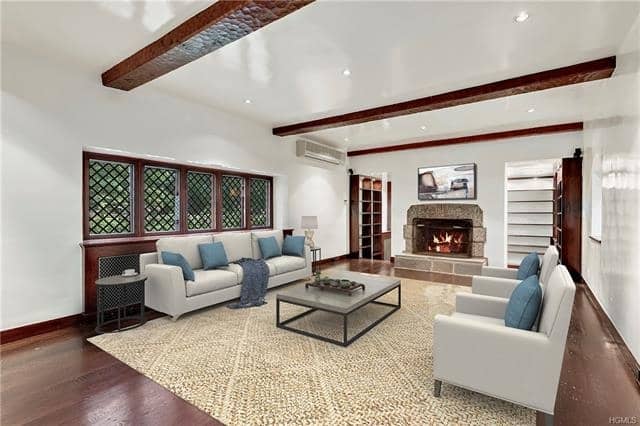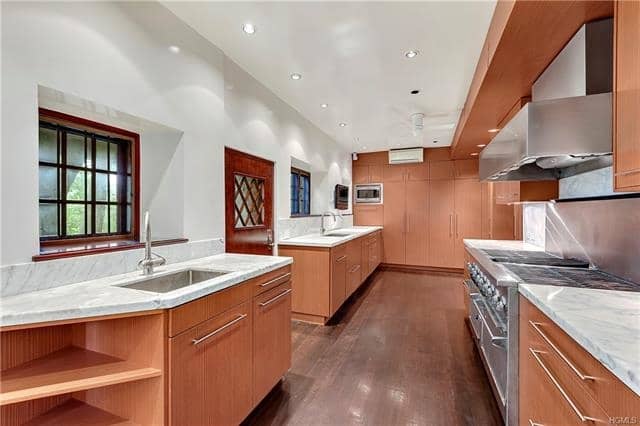 Lovely marble countertops and hardwood floors compliment the luxurious surroundings, as well as gorgeous windows, high ceilings and 30″ thick stone walls. A large stone fireplace sits in a spacious living room with a beamed ceiling. The incredible chef's kitchen has dual appliances and a Sub Zero refrigerator, plus an 8-burner dual oven/stove with grill. To top it off, this castle came with a 9-zone Mitsubishi A/C, a Bose sound system and 4 HD flat screen TVs. 
Bannerman Castle on Pollepel Island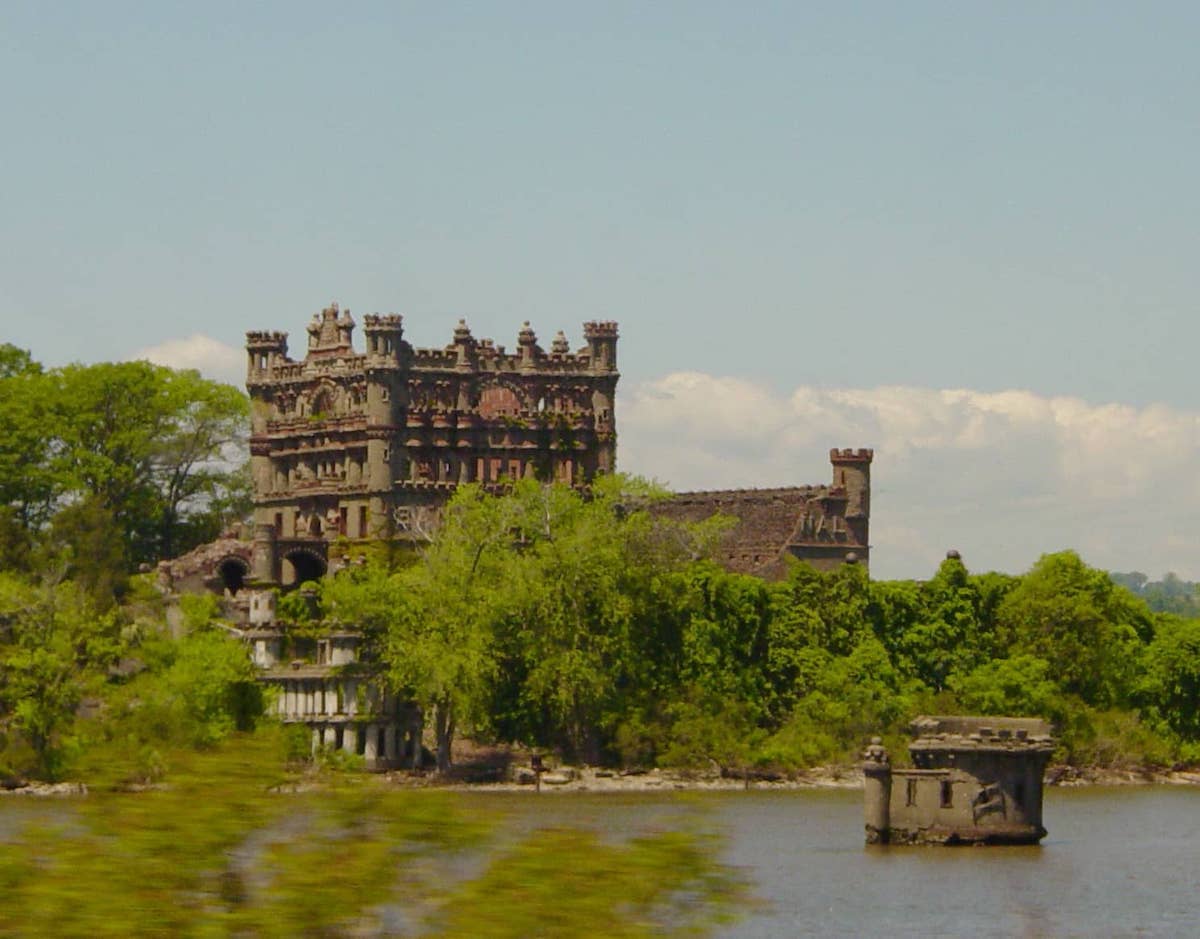 Bannerman Castle, New York is located on Pollepel Island, aka Bannerman Island, after the man who designed the castle back in 1901. Bannerman Castle was built by architect Francis Bannerman VI and used as a storage facility for military surplus. Though it is now just one of the many abandoned castles in America. Pollepel Island, which is located in Newburgh, New York is about 50 miles north of NYC and approximately 1,000 feet from the east bank of the Hudson River. The island totals 13.5 acres and Bannerman Castle is the island's only structure, as the property spans 6.5 acres and the rest of the island is mostly all rock. George Washington, as a General in the Revolutionary War, planned to use Pollepel Island as a military prison, and even signed plans to that end. However, no evidence of that ever happening exists. 
Francis Bannerman VI was just 3 years old when he emigrated with his parents to the United States from Northern Island, in 1854. The Bannermans moved to Brooklyn in 1858, and started a military surplus business near Brooklyn Navy Yard in 1865 by purchasing surplus military equipment at the end of the American Civil War. The business had a store on the 500 block of Broadway that opened in 1897, and helped to outfit volunteers in the Spanish-American War. Ironically, they also purchased weapons and ammunition directly from the Spanish government before their Cuba evacuation, then ended up buying over 90% of the military spoils the U.S. confiscated from the Spaniards as well. Bannerman's had a 300-page illustrated catalogue as a result of many purchases, and the business continued to grow. 
Francis Bannerman bought Pollepel Island as a storage place in 1900, and in the spring of 1901 began building an arsenal there. He designed the buildings, then allowed the construction workers to build around their own interpretations of the designs. In the end, Bannerman Castle emerged, and was a giant advertisement for his business. On the side of the castle that faces the western bank of the Hudson River, Bannerman cast the words: "Bannerman's Island Arsenal" right into the wall, which became a legendary landmark. Bannerman Castle on Pollepel Island stopped all construction upon Bannerman's death in 1918.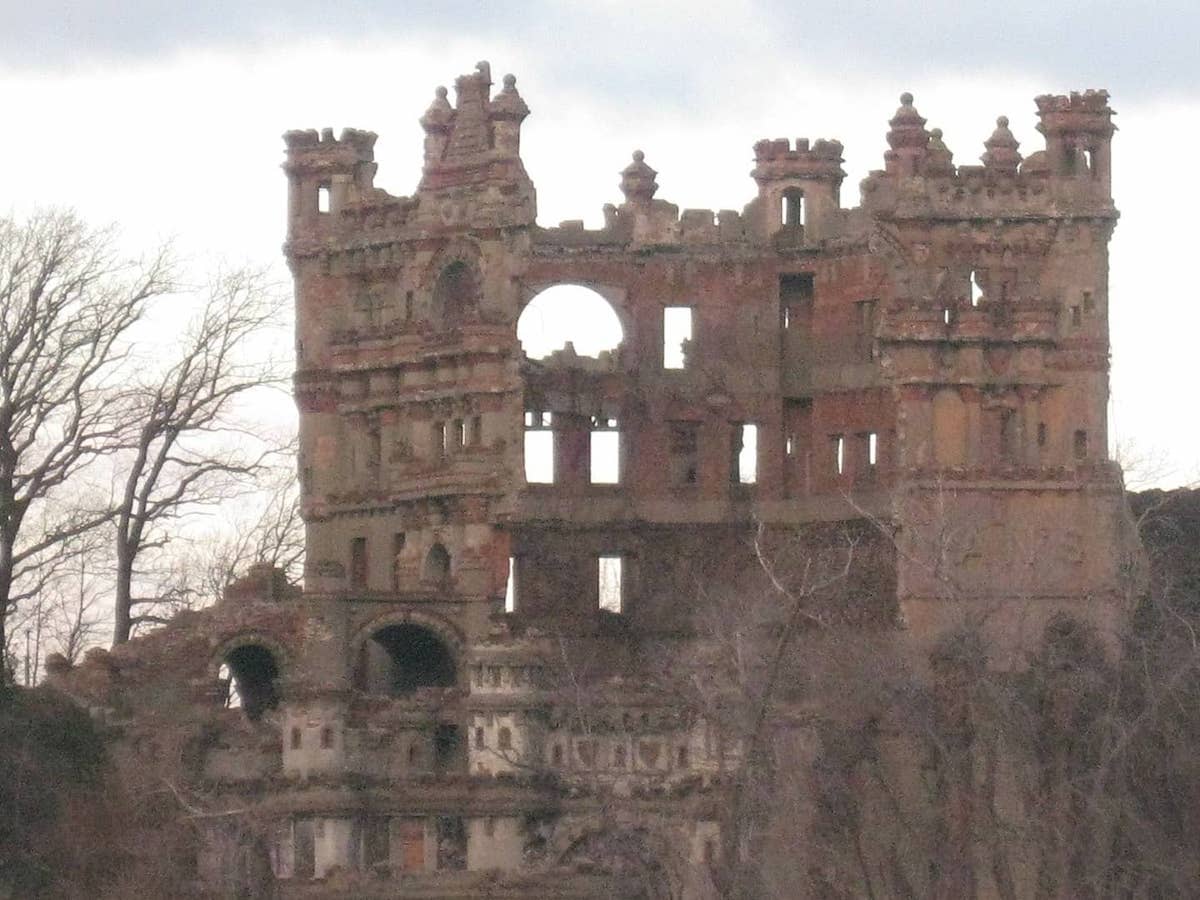 In 1920 an explosion of 200 pounds of ammunition in a smaller building happened, destroying a portion of the complex. A storm in 1950 left Bannerman Island vacant, and the state of New York bought it in 1967, taking possession after the military surplus inventory had been removed. Relics were donated to the Smithsonian and tours were given for a portion of 1968. Unfortunately, a fire in 1969 destroyed the arsenal, making the entirety of Pollepel Island off limits to the public. At the end of 2009, significant portions of the front and east walls of Bannerman Castle collapsed. Before this, the old cast letters on the front wall could still be seen. 
Today, The Bannerman Castle Trust works in conjunction with the New York State Office of Parks, Recreation and Historic Preservation on funding efforts to stabilize the existing ruins, so educational tours can one day be realized again.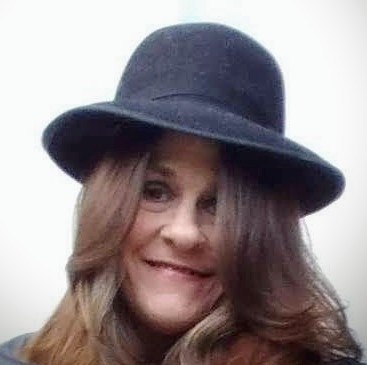 Rochelle Harris is a passionate writer originally from Phoenix, AZ. who credits her success to integrity and determination. She has a great sense of humor, loves music and her family, and writes fiction and poetry in her spare time. She is excited about the New York experience and lifestyle! Follow Rochelle on Twitter at @LinguisticAnRky or get in touch at [email protected]