Tribeca Basics
Welcome to Tribeca, the triangle below canal street that's sleek and stylish! When people think of Tribeca, they think of the city's cultural, and eclectic, elite putting on avant-garde fashion shows and reading Dostoevsky while smoking a cigarette in front of a cafe. This is actually a pretty good description of the area, but there's also a ton of history, food, and attractions for tourists. Located above the Financial District, to the west of Civic Center, and just beneath SoHo, Tribeca is one of NYC's first neighborhoods, and it continues to thrive to this day.
History of Tribeca
Tribeca began its NYC history as farmland for the Dutch. The land fell into British hands in 1674. The land was then given to Trinity Church in 1705 and was used for various purposes until St. Johns Chapel was built a century later. Along with the church, several brick houses were built here, and the area became one of NYC's first residential neighborhoods outside of the original settlement, according to The Encyclopedia of New York City.
The neighborhood would remain residential until the mid-1800s when shipping industries along the Hudson River began to ramp up rather quickly. According to the AIA Guide to New York City, increased shipping led to increased storage and warehouses used to hold goods once they arrived. The neighborhood remained largely industrial, even after the Civil War. By the early 1900s, trains and trucks had largely replaced the shipping needs of the area, and heavy traffic prompted the construction of the West Side Highway's precursor in 1951.
By the 1960s, the industrial sections of Tribeca had largely been abandoned, and redevelopment of the area led to some newer buildings. Old warehouses were converted into lofts, and artists seeking cheap housing began moving to the area and transforming it. They, in fact, were the ones to coin the phrase "Tribeca" meaning "Triangle Below Canal Street," named after the block association they formed in the 1970s. Since then Tribeca has become a thriving artist community, with a ton of nonprofits, galleries, and an annual film festival met with critical acclaim.
Where to Shop in Tribeca
View this post on Instagram
Tribeca is a fashionable neighborhood, and has a bunch of cool shops for books, clothing, and more. Some of the coolest places to shop here include:
La Garçonne
This luxury clothing store features items that can't be found anywhere else. The store itself acts almost as a fashion museum, and features some of the latest designs from fashion icons around the world. Subtle, yet bold, these amazing clothes come equipped for any occasion be it work or play.
Origins NYC
This clothing and shoe store is for those seeking great clothes without breaking the bank. They have a ton of brands from Nike to Amiri, all of which sell their latest designs here. You can get shirts, jackets, pants, and more. This store is a great resource for those seeking to expand their sneaker collections.
The Mysterious Bookshop
For lovers of horror and mystery, this shop is not to be missed. Since 1979, this shop has been selling the best books in the mystery, true crime, and horror genre. The store has a huge selection, and even has some rarer books that one might not otherwise see. If you want to support a local bookstore, then head down to this store and get your mind racing.
Art Galleries of Tribeca
View this post on Instagram
Tribeca has a ton of galleries in the area, each one filled with unique paintings, photographs, and sculptures. Some of coolest include:
The Shirley Fiterman Art Center
Part of CUNY, this museum features contemporary art exhibitions from established, emerging, and student artists. Through the mediums of sculpture, photography, and painting, these exhibits portray the real history of America, and the impact that history still has on today's minds, bodies, and cultures.
One Art Space
Since 2011, One Art Space has showcased a variety of art styles in over 200 exhibitions. They do solo and group exhibitions depending on their current theme, and they largely focus on emerging artists from underrepresented groups. The gallery knows how hard it is to break into the art world, and strive to make just a bit easier for people.
Klaus von Nichtssagend Gallery
A home for emerging international artists, this gallery features some of the most innovative works you'll see in the city. Art in this space can be anything from sculpture to film, and encourages both artists and guests to push their boundaries to experience something new. This gallery always has something interesting, so be sure to check it out.
Theaters of Tribeca
View this post on Instagram
Tribeca, in addition to being an art haven, is also full of performance spaces. Some of the most interesting performance venues here include:
The Flea Theater
This venue is designed to provide a space for Black, brown, and queer artists to showcase experimental performance pieces. Rooted in anti-racism, these performances can range from spoken word poetry to literal dance parties, though most are theatrical performances with cultural messages and meanings.
SoHo Repertory Theater
Don't let the name fool you, this theater is, indeed, in Tribeca. The theater provides a space for emerging writers, actors, and directors from underrepresented demographics to show their stuff. Rooted in a more traditional theater experience, showing classics as well as contemporary plays from some of the best writers in the city.
BMCC Tribeca Performing Arts Center
Another artistic gift from CUNY, this theater is the longest operating performance venue below Canal Street. Shows here come from industry leaders, emerging artists, and students, and are all unique and eccentric. This is a home for theater, music, and dance in the neighborhood, and is easily one of Tribeca's most popular venues.
Where to Eat in Tribeca
View this post on Instagram
Tribeca is an artist haven, but the food here is pretty good too. Some of the best places to grab a bite include:
Tamarind ($$$)
This Indian restaurant is so fancy that children under eight years old aren't allowed inside. This Michelin Star restaurant serves up traditional meals like jhinga e aatish, hasiru samudra, and topli na paneer. They also have a huge drink menu, including specialty cocktails and wines that can be paired with anything on the menu.
The Odeon ($$$)
This American Restaurant is extremely popular, to the point that parties of three or four people can only dine-in for two hours before being asked to leave their table for the next party. Serving up delicious food like steak tartare, pan seared salmon, and even a Beyond Burger made from a meat substitute, this place is full of upscale diner food.
1803 NYC ($$$)
This Creole restaurant is the best in the city, serving Louisiana favorites like Gumbo, oysters that are fried, charbroiled, or freshly shucked, and jambalaya. This restaurant also has live shows and entertainment, especially during brunch hours. Brunch is when you can find their signature bloody mary, or get a pitcher of mimosa for $45.
Paisley ($$$)
Another spectacular Indian restaurant, this place was established by chef Peter Beck, an award winning culinary artist. The menu is full of classic curries, chaat, and delicious entrees like tandoori cornish hen, aggari lobster, and succulent lamb chops. They also have a variety of mixed drinks.
Frenchette ($$$)
This French restaurant won a James Beard Award in 2019 for Best New Restaurant, and that reputation has followed them to the present day. Serving up amazing dishes like petite tender, tartare frites, and pastella de légumes, this place is as French as it gets in NYC. They also have a huge wine menu.
Bars of Tribeca
View this post on Instagram
Any neighborhood with good food is guaranteed to have good drinks, and Tribeca is no exception. Some of the best bars here include:
Monk McGinns ($$)
This cocktail bar fancies itself an upscale tavern, and is full of great pub food and craft beer. Their raw bar is extremely popular and their $150 seafood tower is even famous in the neighborhood. Their signature drink is The Monk, a mixture of bourbon, chai, cinnamon agave, walnut bitters, and amaro.
Holywater ($$)
Based on bars the owners have frequented over their years, this bar celebrates both New Orleans and NYC in its décor and menu. They have awesome deals like Wednesday night gumbo, but their drink menu is what makes this place magical. Their signature drink,  The Holywater, is a mixture of rum, cognac, lemon, grapefruit, angostura bitters, demerara sugar, which come to your table on fire.
Belle Reve ($$)
An upscale dive bar, this dimly lit wonderland doubles as a live music venue. Their signature drink is the Ring My Belle, which is a mixture of rum, luxardo, grapefruit, pineapple, lime, and simple syrup. They have a wide array of specialty cocktails, as well as a delectable brunch and dinner menu.
More on CitySignal:
Where to Live in Tribeca
Tribeca is a very expensive neighborhood, and that's because the homes here are extremely high value and sought after. Some of the coolest places to live here are:
The Riverview
This newer condo is ten stories of luxury right on the edge of the neighborhood. Over half of the units here have private balcony space, and the rest have access to the state-of-the-art fitness center and large laundry room. Offering some impressive views, folks who live here can expect a sweet life.
Tribeca Tower
This rental building was built in 1988, and is one of the larger complexes in the neighborhood. Holding over 400 units within its walls, this luxury building matches the aesthetic of the neighborhood well thanks to the red brick façade. Many people here have a private balcony, and additional amenities include a swimming pool, a fitness center, and a concierge.
93 Worth
Converted from an industrial era building, this 92 unit condo is ideal for families and young professionals alike. This place has a ton of amenities including a rooftop patio, a fitness center, a swimming pool, and even a dog washing station. Residents can expect stainless steel appliances in their homes.
88 Leonard Street
This rental building was constructed in 2007, and has been a beacon of luxury ever since. Better for smaller families and young professionals, this building has everything one could need to be comfortable. Even their resident lounge has TV's, billiard tables, and a coffee bar. They also have a rooftop terrace with a pool and outdoor fireplace.
30 Park Place
This condo is perched above a four season hotel. This is why, even though there are only 157 units in an 82 story building, this is the tallest residential tower in Lower Manhattan. This is one of the most luxurious residences in the city and contains a screening room, children's playroom, yoga studio, and a steam room.
Traveling in Tribeca
Traveling anywhere in Lower Manhattan is usually pretty easy. There are tons of trains, buses, and cars to choose from. The best ways to get around Tribeca include:
Trains
While train lines mostly line the borders of Tribeca, that's still better access than a lot of neighborhoods in the city. Trains that service the neighborhood include the 1, 2, 3, A, C, E, N, Q, R, and W lines.
Buses
There are a number of bus lines that service Tribeca, though they can be a bit slow due to the small, older roads that cover this area. Bus lines that run through Tribeca include the SIM2, SIM4, SIM7, SIM9, SIM33, SIM34, M9, M20, M22, X27, and X28.
Ride Shares and Bike Rentals
Ride shares are common in Tribeca, but the street grid here makes the area difficult to navigate. Most people choose to walk or bike around Tribeca, which is easy to do with the multiple Citi Bike docking stations available here.
---
Tribeca has transformed from farmland, to holy land, to factory land, to residential paradise in the nearly 400 years it's been around. It has seen the entire history of the city, and even helped with its economic and cultural growth. Tribeca is still shaping NYC today, but it's doing so with art, food, and fashion. Tribeca's future is looking bright, so be sure to keep tabs on this area.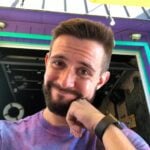 Russell is a writer and comic based in New York City. His plays have been featured at Penn State's Cultural Conversation's Festival, The NYC Thespis Festival, and Imaginarium's Inaugural Theater Festival. Follow him on TikTok and Instagram @pooleparty528