Soho Basics
Welcome to Soho, the neighborhood south of Houston with the largest collections of cast-iron buildings on earth! When people think of Soho, they think of rich hipsters who frequent the pop-up bars and shops of the stone-cobbled streets. This assumption is an accurate one, as Soho is one of the major art and shopping districts in the city, while also being one of the most expensive. Surrounded by Tribeca, Little Italy, NoHo, and Greenwich Village, this neighborhood is in the center of the downtown Manhattan action.
History of Soho
Soho began its New York City tale as farmland and the site of the first emancipated Black settlement in Manhattan. The land was mostly rural until the drainage of the Collect Pond, a local source of water that had become polluted due to bad industry practices. Soon, federal-style homes were erected, and the neighborhood became a popular shopping destination for wealthy citizens.
During the mid-1800s, the area became the city's first red-light district after many brothels opened along the streets. The population swiftly declined but faced a resurgence when federal-style buildings were replaced with cast iron buildings in the 1870s, a precursor to the modern skyscraper. Soho quickly became a beacon of industry, and the neighborhood stayed that way until WWII.
After the war, NYC had largely abandoned its manufacturing practices, and the rich population that was once in Soho had moved uptown. Around the 1960s and 1970s artists began to move to the neighborhood, eager to live in the large, bright lofts and pay very cheap rent. These artists, including Andy Warhol, put Soho back on the map, and people, once again, moved back to the neighborhood. Today, Soho is an artistic, commercial wonderland with some of the most expensive homes in the city.
Where to Shop in Soho
View this post on Instagram
Where can't you shop in Soho? The neighborhood isn't exactly known for their mom and pop stores, but they have boutique shops from some of the biggest brands like Patagonia, Zara, Gucci, and COS. This is one of three big shopping districts in Manhattan, and pop-up stores come and go all the time. For the best shopping experience in Soho, you really just need to visit the area and explore.
Soho Landmarks
Soho is one of the oldest neighborhoods in the city, and it has many notable landmarks like:
Cast Iron Historic District
One of the most unique historic districts in the city, the Cast Iron Historic District is basically the entire neighborhood, as much of the area is covered with these beautiful structures.
57 Sullivan Street
This federal style house is one of the last in the neighborhood, and dates all the way back to 1816. These early homes are still used for commercial and residential purposes.
Soho Well
This historic landmark was part of the first murder trial in the United States, and rest in the basement of a clothing store. It's said to be haunted.
Museums of Soho
View this post on Instagram
Soho is an artsy community with many museums to celebrate that fact. Some of the coolest are:
The Drawing Center
This art museum is dedicated to the medium of drawing in all of its forms. Opened in 1977, this museum has some fascinating exhibits, and features both seasoned and fresh artists.
The Museum of Ice Cream
Dedicated to culinary art of ice cream creation and enhancement, this magical place will make you want some Ben & Jerry's real bad.
Leslie-Lohman Museum of Art
This eclectic museum showcases the art of the LGBTQ+ community. The galleries themselves showcase painting, sculpture, and photography, but they also have live performance art from time to time.
Where to Eat in Soho
View this post on Instagram
Great shops and museums aren't the only thing to see in Soho. There are many great restaurants too like:
Antique Garage ($$)
This Mediterranean restaurant was founded in 2003 inside of a former mechanic's shop. Some of the best dishes here include moules frites, spicy shrimp, and Portuguese octopus.
Raouls ($$$)
This French restaurant serves up some killer food in a hip atmosphere. Some of their most mouth watering dishes include steak tartare, escargot ragout, and charred ruby beets.
SugarFish ($$$)
This sushi restaurant offers traditional Japanese style dishes, including an omakase experience that's very affordable. Simply order the "Don't Think. Just Eat. Trust Me" option on their menu, and enjoy a delicious meal.
Bars of Soho
View this post on Instagram
Many Soho bars are pop-ups that only spend a small amount of time in the area. However, there are permanent establishments too like:
Jimmy ($$$)
This rooftop lounge and cocktail bar features some amazing views and swimming pool. They have some signature drinks and a cool aesthetic that will make you come back again and again.
142Sullivan ($$)
This eccentric bar is a relaxing spot to grab a drink. They host private events, like birthday parties, and have a huge cocktail menu.
Niche Niche ($$)
This fun wine bar is perfect for group events. The establishment hosts regular public and private tastings of delicious wines from all over the world.
Where to Live in Soho
Soho is one of the most expensive neighborhoods in the city, and that's because its an extremely popular place. Some of the most coveted homes here include:
74 Grand Street
This beautiful condo is part of the Cast Iron historic district, and is a perfect example of how residents can live in the neighborhood's history. 
Soho Plaza
This stunning red brick co-op is unique in the neighborhood. It's filled with large lofts that are filled with natural light thanks to the large, factory-like windows.
Wooster Street Condo
This large condo has newly renovated units and features, including a beautiful rooftop deck with furniture and grills.
Traveling in Soho
Soho is a very walkable neighborhood, but there are ways to get around besides using your legs. Some of the best ways include:
Trains
The New York City Subway has two stops in Soho which can be reached by the N, Q, R, and W trains.
Buses
The streets in Soho are hard to drive through, so bus lines are limited in the neighborhood. Only the M1, M21, M55 and SIM bus lines travel through the neighborhood.
Ride Shares and Bike Rentals
The streets of Soho are small and crowded, so driving isn't very popular in this neighborhood. That said, there are several Citi Bike docking Stations here for your convenience.
---
Soho is a neighborhood that everyone loves, from the people who live there to the people who visit. It's a smaller area, but there's a lot to do here, and it is one of the premiere destinations for shopping, art, and food. Suffice it to say, Soho is one of the best neighborhoods in Manhattan.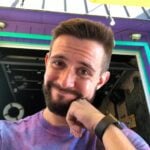 Russell is a writer and comic based in New York City. His plays have been featured at Penn State's Cultural Conversation's Festival, The NYC Thespis Festival, and Imaginarium's Inaugural Theater Festival. Follow him on TikTok and Instagram @pooleparty528