New York City is one of the most iconic places in the world, the center of modern fashion and design, and a common celebrity hotspot. If you live here, you've probably witnessed a celebrity sighting or two already. If you're thinking of moving here, you may want to know where your favorite stars live. Even if you're just visiting, it's good to know where to look! Luckily, you won't have to go far—nearly all the upscale neighborhoods boast celebrity homes. We've gathered some current intel on where your favorite famous people live, work, and play in NYC.
The Upper West Side
Jerry Seinfeld
Jerry Seinfeld lives at the ultra-luxe Beresford building, not too far from the apartment used for the set of his show, Seinfeld. The Beresford is located at 211 Central Park West on the Upper West Side, and has been home to many celebrities over the years. The building was converted to a co-op in 1962.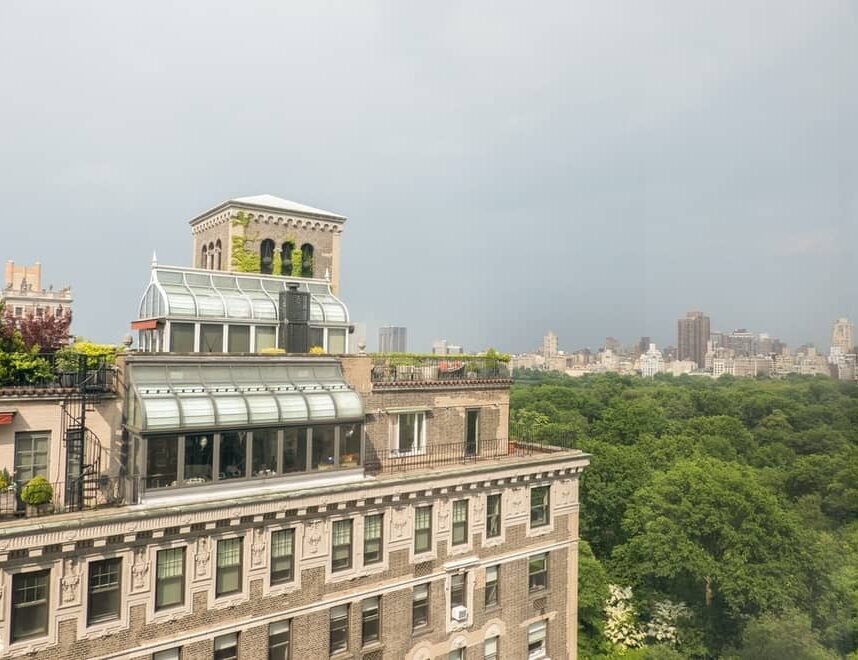 According to RealtyHop, it has massive ballroom-size rooms with 10' ceilings, wood-burning fireplaces, terraces, and much more, including white-glove service for tenants and 24-hour doorman. Jerry Seinfeld has always loved New York and is performing in 2022 at the Beacon Theatre.
Denzel Washington
Denzel Washington is one of the most famous celebrities in NYC, and he resides at 15 Central Park West on the Upper West Side. Nicknamed the "Tower of Power" for its many notable residents, 15 Central Park West consists of the "house" which is 19 stories and contains 68 apartments, and the "tower" which is 35 stories and contains 134 apartments. Robert De Niro, Mark Wahlberg, Sting, and Kelsey Grammer have lived here, among others. Amenities here include a private dining room, library, screening room, wine cellars, health club and pool. Mr. Washington purchased his 3,000 ft² apartment in 2006 for $13 million. Sting purchased his in 2008 for $26.5 million, then sold it in 2017 for $50 million dollars. Another apartment at this address sold for a record $88 million in 2011.
Steven Spielberg
Another epic name, Steven Spielberg, has an apartment at the infamous San Remo building, located at 145 – 146 Central Park West. The San Remo is a prestigious co-op designed by renowned architect Emery Roth, who also did the El Dorado. Spielberg's spread is on the 16th floor and measures 6,000 ft², featuring direct views of Central Park. Some other notable residents at the San Remo have included Barry Manilow, Dustin Hoffman, Demi Moore, Steve Martin, Diane Keaton, and Bruce Willis.
Howard Stern
The icon Howard Stern lives in the Millennium Tower near Lincoln Center on the UWS in Manhattan. Stern owns a 2-floor penthouse made up of 5 condos he purchased over the course of a decade for a total of $21 million dollars. This is his primary residence, and totals 8,000 square feet, encompassing the entire 53rd and 54th floor of the building. Stern first purchased all 3 condos on the 54th floor in 1998 for $6 million, and then in 2008, he purchased the 2 condos on the 53rd floor for $15 million.
The star also owns a home in the Hamptons, where he spent a lot of time during the coronavirus. The 8 bedroom, 12 bathroom Southampton waterfront mansion sits on well over 4 acres, and is over 15,000 square feet. The bedroom alone is 1,500 square feet, and the home features a bowling alley, a wine cellar and tasting room, a pool, a cabana and a spa. The luxurious residence was bought in 2005 for $20 million.
Midtown Manhattan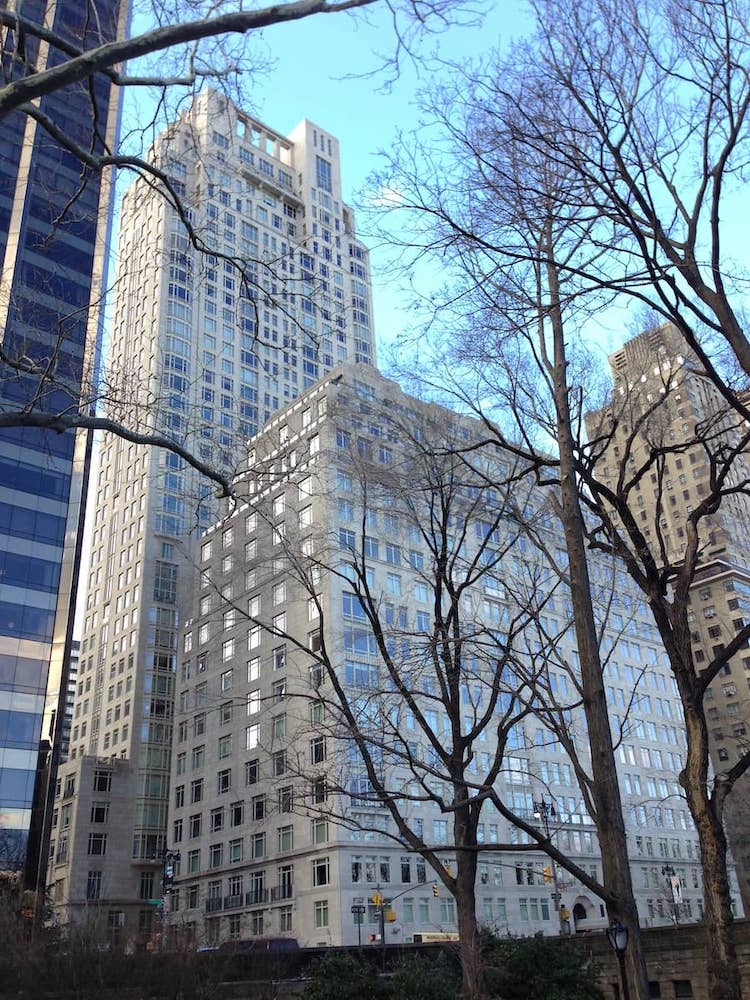 Sting
Music icon Sting, who sold his apartment at 15 Central Park West in 2017, finally closed on his purchase of an apartment at 220 Central Park South in 2019—after 3 years of negotiations. The musician and his wife shelled out $65.7 million dollars for this legendary address. This building boasts the most expensive residential real estate deal in the world, which happened last year, when hedge fund mogul Ken Griffin purchased an apartment for $238 million dollars. Ever since then, the address has been extra hot. The building, unsurprisingly, sits on Billionaire's Row. The property also boasts the second most expensive real estate purchase, a penthouse on the 73rd floor that was bought for $188 million in January 2022.
Katie Holmes
Although Katie Holmes and her daughter Suri Cruise were living in Chelsea, it's rumored that the pair moved to Midtown. The actress is notoriously private and is known for avoiding the paparazzi. Holmes moved her daughter to NYC after her divorce from Cruise, preferring to raise Suri in the Big Apple where things are more their vibe. It's pretty amazing that we know so little about where these two elusive ladies live, especially given the publicity buzz around Tom Cruises' career resurgence with the success of Top Gun: Maverick.
Tribeca
Mariah Carey
One of the most notable stars in TriBeCa is Mariah Carey, who lives in a penthouse in the Franklin Tower at 90 Franklin Street. The 17-story Art Deco building started out as a bank in 1929, and now is an exclusive condominium tower with 25 luxury lofts. Amenities include a 24-hour concierge, roof deck, terrace, fitness room and all the luxury and privacy you would expect from an upper class establishment. Carey purchased the penthouse in 1999 for over $9 million, and the home has 5,600 ft² with 4 bedrooms and 4.5 bathrooms. It also features an aquarium, a screening room, marble countertops, and gold faucets.
Taylor Swift
Speaking of Franklin Street, Taylor Swift has been swiftly buying up property in Tribeca over the last several years, most of it at 155 Franklin Street in the Sugar Loaf Building. The star owns a duplex penthouse and half of the second floor. The two top floor units were combined in one purchase for $19.95 million in 2014, and together make the sprawling 8,000 ft² residence nice and spacious.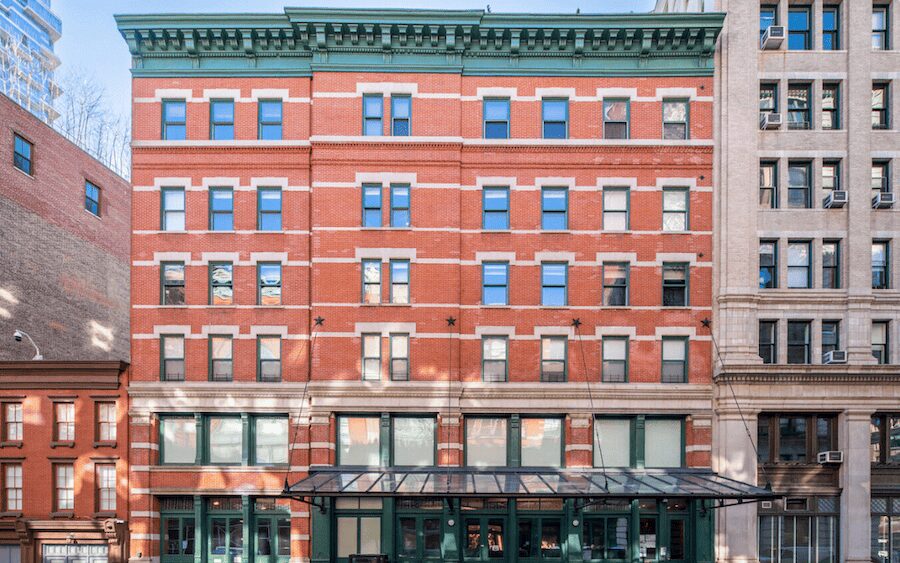 In 2018, Swift purchased a second-floor apartment measuring 3,540 ft² for $9.75 million. And if all of that isn't enough, Swift also owns a townhouse next door she paid $18 million for that came with its own gym and spa. This pop star seems to have an affinity for Tribeca, though her $80 million real estate portfolio spans several states.
Midtown East
Uma Thurman
Another huge star, Uma Thurman, lives at the River House at 435 East 52nd Street. The River House is a historically exclusive co-op with a board that famously turned down celebrities like Gloria Vanderbilt, Richard Nixon, Diane Keaton, and Joan Crawford. Apparently, that was the old board, however, and the new board is purported to be more welcoming. The River House also includes membership to a prestigious club that includes a pool, tennis and squash courts, golf simulator, dining room, and guest bedrooms.
NoHo
Gigi Hadid
In NoHo, supermodel Gigi Hadid lives at 10 Bond Street, where she owns 2 units, one of which is the only townhouse at the address. Gigi Hadid paid $4 million and $5.82 million for the two units, in 2015 and 2018, respectively. The first unit is two bedrooms while the second is a three-bedroom duplex with a 770-square-foot outdoor terrace. The building, designed by Selldorf Architects, contains 11 residences with interiors designed by Annabelle Selldorf. It features 10-foot ceilings, garden terraces, Douglas Fir hardwood floors, mahogany window sills, Italian millwork, marble slab counters, and top-of-the-line appliances.
SoHo
Bella Hadid
It was reported Gigi's sister, Bella Hadid, purchased a SoHo penthouse at 63 Greene Street in late 2019. The unit is 2,180 square feet, two bedrooms, and two bathrooms, and she paid $6.1 million for the renovated unit. This SoHo building is 145 years old and located in the Cast Iron Historic District. The building wasn't converted to condos until 2016, and has smart features, custom lighting, motorized blackout shades in the bedrooms, built-in closets, and a 100-bottle custom backlit wine room.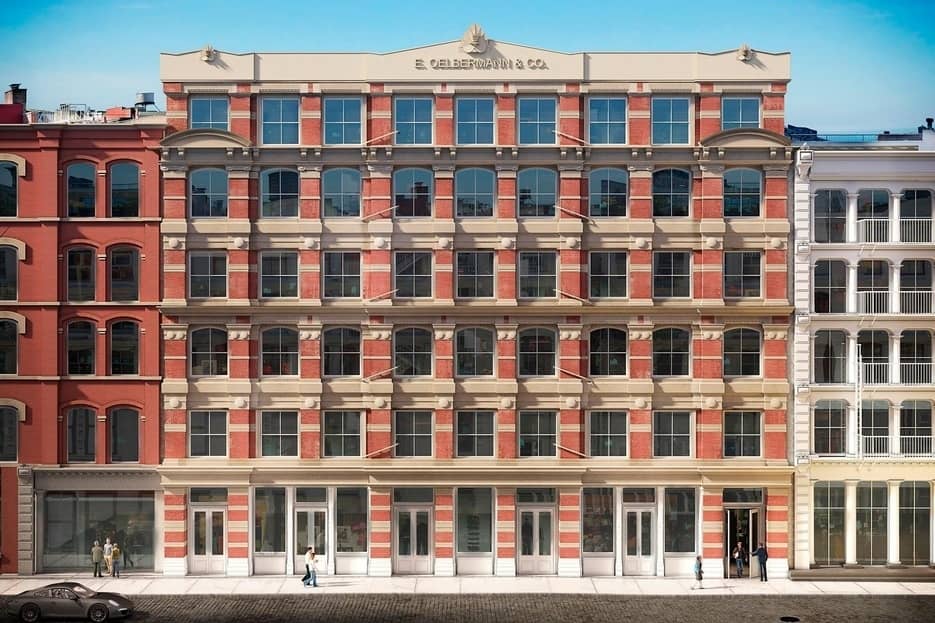 Other Notorious Places for Celebrity Sightings in NYC
There are a few other hotspots where spotting someone famous is nearly guaranteed if you hang out long enough. NYC, being the heart of the television entertainment industry, has many studios where legendary shows are recorded day and night. Actors and famous personalities have to take lunch breaks during work, too—and you might also be lucky enough to spot them at one of these notable restaurants.
Rockefeller Center
At 30 Rockefeller Plaza, SNL and The Tonight Show with Jimmy Fallon are recorded, and celebrities guest-starring on the show are often seen entering or exiting the building. Additionally, The Today Show is taped on the corner of 49th and Rockefeller Center overlooking Rockefeller plaza, and every weekday, fans accumulate by the studio hoping to get a front row seat and be on TV.
Rao's Restaurant
If you want the most exclusive restaurant in NYC, where stars like Leonardo DiCaprio, Jay-Z, and Hilary Clinton have been spotted, in East Harlem, you'll find Rao's. Located at 455 East 114th Street, don't think you'll ever be able to get a table—sorry, but the iconic restaurant has just 10 tables, and they've been reserved for years by the elite. To get a table here, it's all about who you know. Chef and owner Frank Pelligrini, Jr. leads the family business after over 125 years of restaurant service for the ultra-wealthy. If you watch the corner restaurant long enough, you should be rewarded.
The Polo Bar
Ralph Lauren's The Polo Bar in Midtown, located at 1 East 55th Street, is a hotspot for big-name celebrities like Jerry Seinfeld, Gwyneth Paltrow, and Barbra Streisand. The food is great here, along with the ambiance. The menu as well as the decor in this space is inspired by Ralph Lauren, and the impeccable service does not disappoint. Reservations must be made far in advance, so start planning now.
View this post on Instagram
 The Carlyle
This place has all the elements of being one of the best celebrity hotspots in the city that never sleeps. Not only is The Carlyle considered one of the nicest 4-star hotels for its accommodations, but it also contains Bemelmans Bar, where you could potentially spot celebrities like Paul McCartney and Lady Gaga sipping cocktails any night. Additionally, Café Carlyle's Cabaret features star musicians playing jazz on Mondays—tickets to these performances go fast.
Use this guide to help you on your celebrity spotting adventure in NYC. Good luck, and remember above all to be courteous and kind if you do bump into a celebrity—they're real people, too.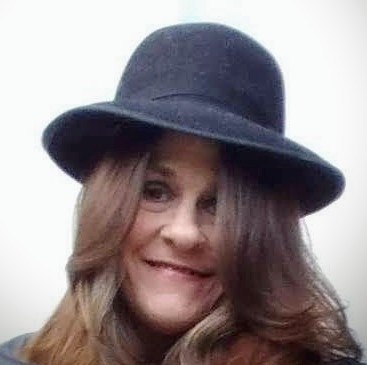 Rochelle Harris is a passionate writer originally from Phoenix, AZ. who credits her success to integrity and determination. She has a great sense of humor, loves music and her family, and writes fiction and poetry in her spare time. She is excited about the New York experience and lifestyle! Follow Rochelle on Twitter at @LinguisticAnRky or get in touch at [email protected]