Space is hard to come by in NYC, so it pays to find furniture with extra storage features. Beds, in particular, can be great storage assets. They usually have a ton of space underneath the frame where miscellaneous boxes can lead happy lives. Other beds, however, actually have drawers specifically for storage. This can be a game changer for apartment dwellers who struggle to find space but need ample storage for their belongings. Some storage beds are better than others, especially in style and space. We've listed out some of the best storage beds we've come across.
Storage Bed Options
1.) Japanese Storage Bed From Get Laid Beds
This storage bed has multiple features, including a large drawer perfect for clothes, sheets, and linens. The bed is completely customizable on the website, meaning you can choose the color, how big the drawers are, and the number of drawers you want. You can even select an option for a built-in nightstand. For under $1000, this is one heck of a deal.
2.) Nera Walnut Bed From Article
This bed has built-in nightstands with attached drawers, adding a unique storage option to your sleeping arrangement. The drawers have holes for charging wires to slip through, so your devices can get their necessary juice overnight. The headboard provides access to outlets so that wires will remain mostly out of sight. These drawers are great for holding bedtime knick knacks like books, glasses, and more adult items.
3.) Mid-Century Platform Headboard Storage Bed From West Elm
The storage on this bed resides in the headboard and is perfect for storing books, clothes, and other nighttime items that would be good to have near a bed. There is a discrete opening for charging cables to fit through, so your phone or laptop can sleep above you, and the drawers come with multiple colors and shelving options.
4.) Pop-Up Storage Bed From West Elm
One of the original storage bed designs, this bed pops up to reveal a vast space that can fit almost anything. You can even fit other pieces of furniture in this storage space. This bed is very customizable, coming in various sizes and colors to fit any lifestyle. The style is subtle, and the bed is functional, so this bed is ideal for everyone.
5.) Muji Oak Wood Storage Bed From AptDeco
This bed frame is way more minimalistic than some of the other designs on this list. That said, it also has some of the best storage of any bed on the list too. The base is a giant storage bin that is perfect for storing seasonal clothing, the drawers are perfect for linens and sheets. The bed can come in a variety of sizes and won't stick out too much in your home.
6.) Cleary Captain's Bed From Pottery Barn
This elevated bed has some of the most versatile storage options on this list. With multiple drawers of different sizes and a shelf for functional decor, some people could fit their entire wardrobe in this piece of furniture. It only comes in twin and full bed sizes, but this is a great option for single people trying to save space in their homes.
7.) Oliah Full Bookcase Storage Bed From Ashley Furniture
This unique bed is surrounded on one side by shelves, which can be used as a bookcase or serve a decorative function. You could even do both! There's plenty of space on these shelves for statues, plants, alarm clocks, and more. This bed is perfect for those who like to stay up late engrossed in a good book.
8.) ACME Ireland Storage Bed From Houzz
This classy bed frame looks amazing in any bedroom, and has an insane amount of storage. There are drawers both in the base of the bed and in the headboard. The headboard has two shelves, perfect for charging devices or storing books. This fancy piece of furniture is perfect for apartments and larger homes.
9.) South Shore Flexible Full Platform Bed From Various Retailers
Target, Home Depot, and Wayfair have access to this bed, which is great for storing clothing, books, and more. This is an especially good bed for children, as it is larger than a twin, but still very affordable and sturdy. While it's not the most visually exciting piece of furniture, this bed has an enormous storage capacity.
10.) CJ Velvet Silver Storage Bed From Price Busters
This inviting bed has a storage space at the foot of the frame. This deep chest is perfect for storing clothes, pillows, and blankets, and is a great way to save space giving larger items a home. The bed is also covered in velvet, which makes it a very comfortable-looking piece of furniture and a very welcoming sleeping space.
11.) Kieran Platform Bookcase Bed From Raymour and Flanigan
This fancy-looking bed has a bookshelf for a headboard and storage drawers to one side of the frame. This provides people with several storage options for both clothing and books, all while looking very classy. This bed is perfect for those who like something a bit showier without sacrificing functionality.
12.) Charlie Storage Platform Bed
Perfect for families with more minor children, this decorative set of twin beds has drawers on the bottom of the frames, and the two beds are joined by a small bookshelf. Your children will love the opportunity to choose what they store in these beds, and how they share the bookshelves. They will eventually grow out of it, but it's a great way to save space during their younger years.
13.) Baxton Studio Tamsin Ash Walnut Platform Bed From The Classy Home
This subtle bed has drawers at the base of the frame and a bookshelf at the foot of the bed. Though a bit minimalistic, this bed can be made to look great, especially with the shelves at the foot of the bed, which can be used for decoration as well as books. The storage capabilities of this bed are amazing without making too much of a visual fuss.
14.) Modern Farmhouse Storage Bed From Virginia Furniture Market
This unique bed has storage at the foot of the bed and on the headboard. The coolest part about these storage units is that they are accessed via barn doors, giving this piece an extra sense of rustic style. This bed is perfect for people who want their home to feel like an escape from the city.
15.) Smart Platform Bed From Homary
This insane bed has a ton of storage, as well as a bunch of other features. There's a built-in massage feature, a pop-up nightstand, and even Bluetooth speakers. Once you hop in this bed, you'll never want to leave, and considering how much storage this bed has, you'll probably never have to.
---
Finding storage in NYC can be a chore. However, there are many options for extra storage, like additional shelves, wardrobes, or unique furniture. Bed storage is a severely underrated way to increase your home's storage capacity, and many of the options listed here provide that storage in a unique way. From bookshelves to drawers, the options are virtually endless when it comes to bed storage, and many of the options listed above will enhance the decor in your bedroom. So if you're seeking extra storage in your home, consider one of these bed frames. You'll be glad you did.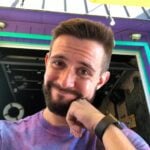 Russell is a writer and comic based in New York City. His plays have been featured at Penn State's Cultural Conversation's Festival, The NYC Thespis Festival, and Imaginarium's Inaugural Theater Festival. Follow him on TikTok and Instagram @pooleparty528