A Look At The Chinatown Community Seen Through Small Businesses
Last month, in celebration of the Citizens Chinatown Renewal Fund announcement the week prior, CitySignal went on a walking tour of Chinatown to see, firsthand, some of the businesses receiving money from the grant. It was a crisp winter morning, but the biting cold did not distract from the warm feeling that accompanied the event. Led by the engaging and energetic Anna Huang of the Mott Street Girls, the tour blended history and current events to shed light on Chinatown and its residents. 
The morning began on Doyers Street, where tour attendees, members of the press, and delegates from Citizens Bank and Renaissance Economic Development Corporation gathered for opening remarks. Sara Tang, Citizens Business Banking Relationship Manager, reiterated Citizens' pledge to be part of the communities in which their banks operate. The goal of the walking tour was to "celebrate the small business owners," all of whom require community support to not only keep growing, but also remain in operation. The pandemic hit neighborhoods such as Chinatown the hardest, and recovery is a slow but steady process. The best aid is awareness of and engagement with local businesses. 
Manhattan Chinatown, home to the highest concentration of Chinese people in the United States, is considered a cultural hub for the Chinese diaspora. It's been a haven to immigrants since the 1800s, and is a place steeped in tradition and rich with stories. As such, it was only fitting that the tour began with a bit of history about one of the streets on which many of these businesses operate.
Doyers Street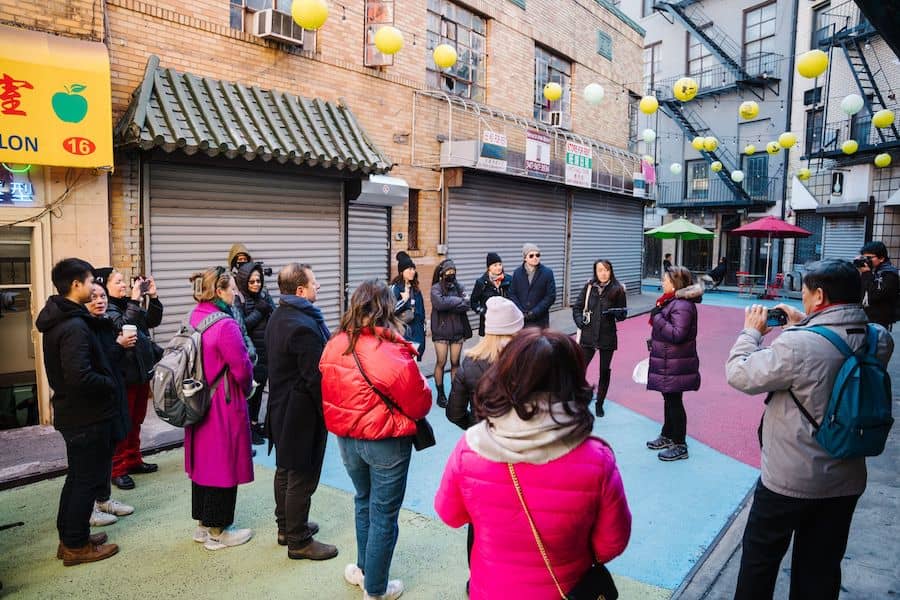 With its brightly painted cobblestones, unique curvature, and pedestrian accessibility, Doyers Street is easily one of the most recognizable roads in Chinatown. It's also one of the oldest, joined by Pell Street and Mott Street. According to Huang, the unique angle can be attributed to the age of the alley; built before 1811, Doyers was exempt from the implementation of the New York City grid system. Like much of the Lower East Side, Doyers Street is an anomaly from most of neat and narrow New York. 
In the early 1900s, Doyers Street earned a unique (and violent) moniker: the bloody angle. The intersection's proximity to the infamous Five Points neighborhood, combined with excessive gang activity, made it a hot spot for less-than-pleasant meetups. Gangs nicknamed it "the bloody angle" as the curved street created blind spots and a prime opportunity to ambush an opponent.  
Today, however, Doyers is known more for its many businesses and beauty salons, and is occasionally called "barber shop alley." It is a hotspot for restaurants and bars, home to Dim Sum parlor Nom Wah, speakeasy Apotheke, and Chinese Tuxedo, a two-story restaurant located in a former opera house. 
It's also the location of one of the recipients of the Citizens Renewal Fund: the New China Beauty Salon. 
New China Beauty Salon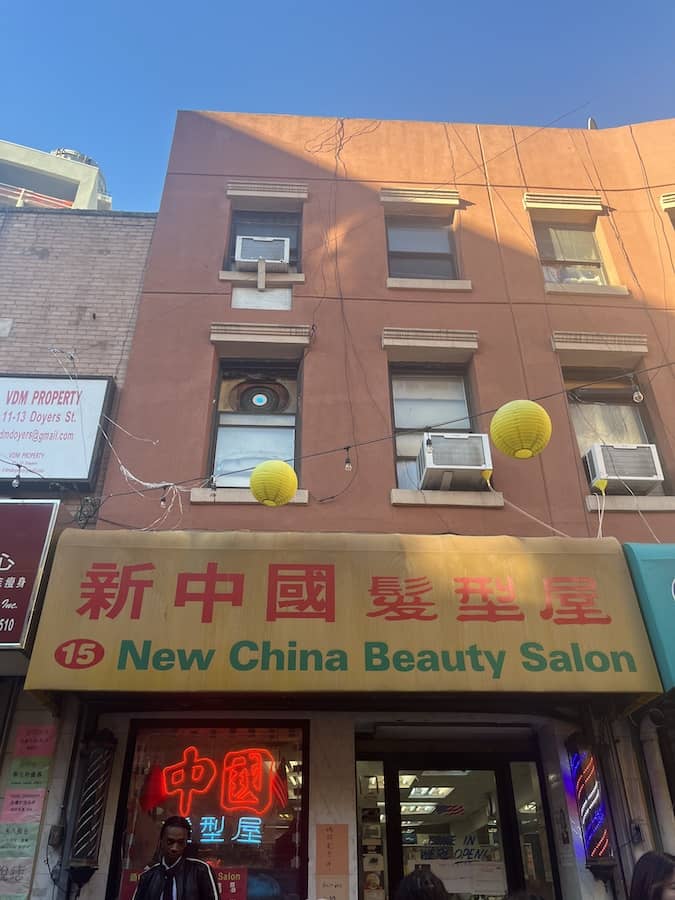 Opened in 2014 by Jiang Feng Ming, the New China Beauty Salon offers haircuts for men and women. It is a favorite for locals, who appreciate the salon's prices, far lower than those of nearby SoHo. A haircut at New China Beauty Salon is between $10 and $12. The salon is open seven days a week, from 9:00am – 6:00 pm, with the exception of Saturday and Sunday, when it's open until 6:30pm. 
To support the business – and to get an inexpensive but worthwhile haircut, head over to 15 Doyers Street. 
Pell Street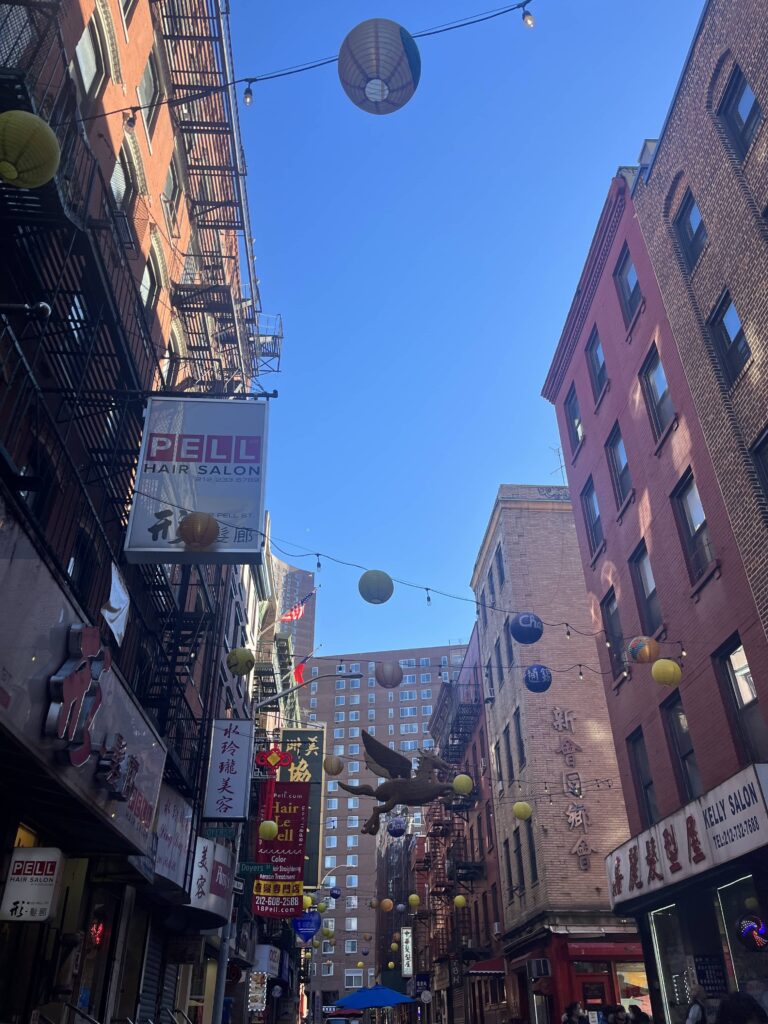 Next up, the tour visited Pell Street – another one of Chinatown's most historic lanes. Pell Street today — bustling lantern-lit hub for businesses and tourists — is unrecognizable from how it looked 100 years ago, when it boasted cobblestone streets and an above ground subway. 
There is one more significant difference from the old days of Pell Street: it used to be all men. 
In the late 1800s, Chinatown earned a reputation as a "bachelor society" due to a discriminatory law – the 1882 Chinese Exclusion Act, which curbed Chinese immigration and effectively banned most Chinese women and children from entering the United States. As a result, the patrons of Chinatown were almost exclusively male during the late 1800s and early 1900s. At one point, according to Huang, the ratio of men to women in Chinatown was 700 to 1. Many even lived in what were called 'Bachelor's Apartments.'
This unique set-up had two strangers sharing not only an apartment, but also a bed. Two separate sleeping shifts allowed the workers to save money on rent, which was beneficial as most of the men were sending money back home to their wives and children. 
In 1943, the act was repealed. Women and children populated Chinatown, and the Bachelor Society was no more. 
Pell Street today is notable for the instagrammable lanterns lighting up the street and its excellent restaurants, such as the Vegetarian Dim Sum House. 
Vegetarian Dim Sum House
Located at 24 Pell Street, the Vegetarian Dim Sum House is another recipient of the Citizens Chinatown Renewal Fund. Opened in 1986, the restaurant was the first vegetarian / vegan Dim Sum house to open in Chinatown. Especially for purposes of tourism, noted Huang, having a vegetarian option is huge, as it expands the options for non-meat-eating visitors. Vegetarian Dim Sum House is lauded for its turnip cake made of daikon radish, and its rice flour rolls made with deep fried dough in the middle. The restaurant closed for six months during the pandemic, but has since resumed operations, despite increased operating costs due to inflation. 
Vegetarian Dim Sum House is open seven days a week, from 10:30am – 9:00pm.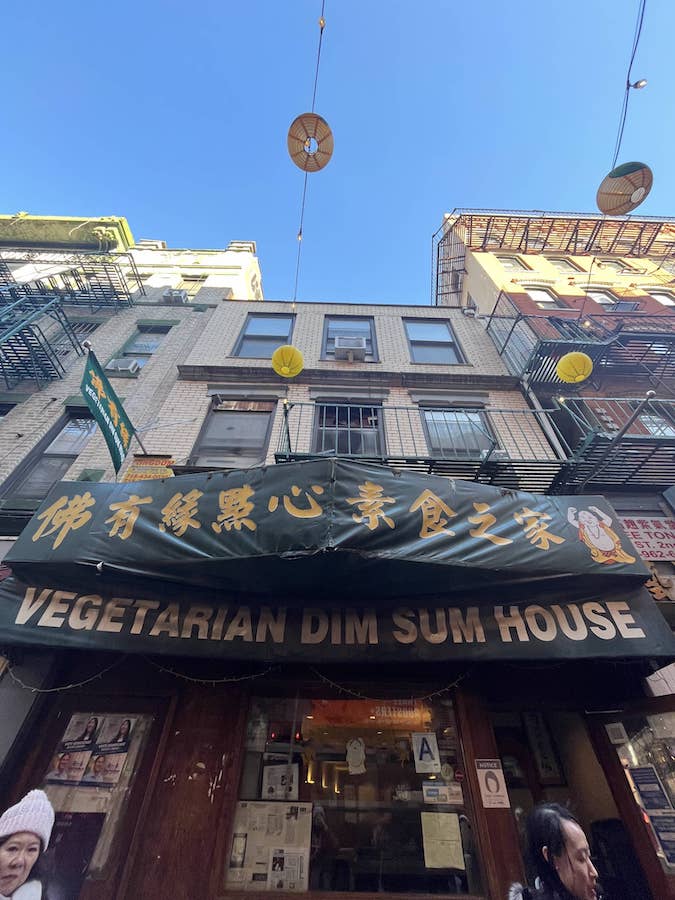 As the tour made its way down Pell Street, Huang pointed out an interesting sight: a Pegasus decoration hanging amongst the lanterns. According to Huang, the Pegasus is composed of "dried egg noodles" and covered in polyurethane to withstand the cold temperatures. Though the impetus for the Pegasus on Pell is unclear, the tour did learn some context about the lanterns surrounding it. 
Light Up Chinatown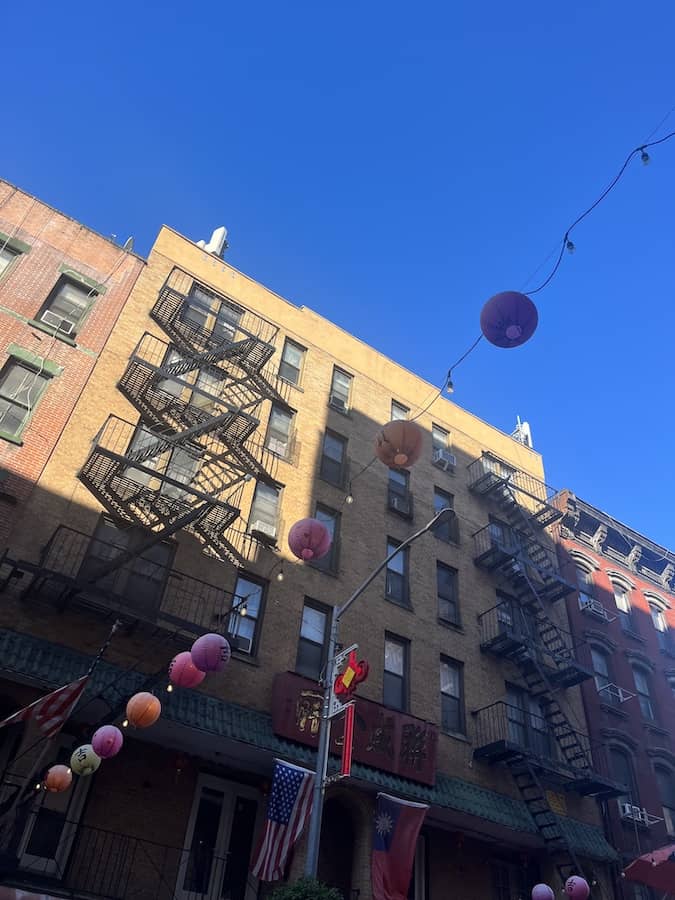 Strung up on various streets throughout Chinatown, it's hard to imagine a time when these beloved lanterns were not part of the neighborhood. Shockingly, however, that moment was not long ago. The lanterns landed in late December of 2020 as part of Light Up Chinatown, a grass-roots initiative devised during the dark days of the pandemic when the streets of Chinatown were empty and desolate. Created by local resident Patrick Mock, Light Up Chinatown is a volunteer, donation-based initiative that works to brighten up the neighborhood. 
With lanterns donated by longtime Chinese-American department store Pearl River Mart and hung by volunteers, the lanterns made Chinatown an "instagrammable spot" overnight, and have since cemented a lasting place in the community. The long-term goal of the initiative is to light every street in the neighborhood. A GoFundMe can be found here to make a donation; $50 purchases one individual lantern. 
After a moment taking in the magic, the tour made its way past the lantern-adorned Mott Street and soon reached its next stop. 
Audrey Bakery and Cafe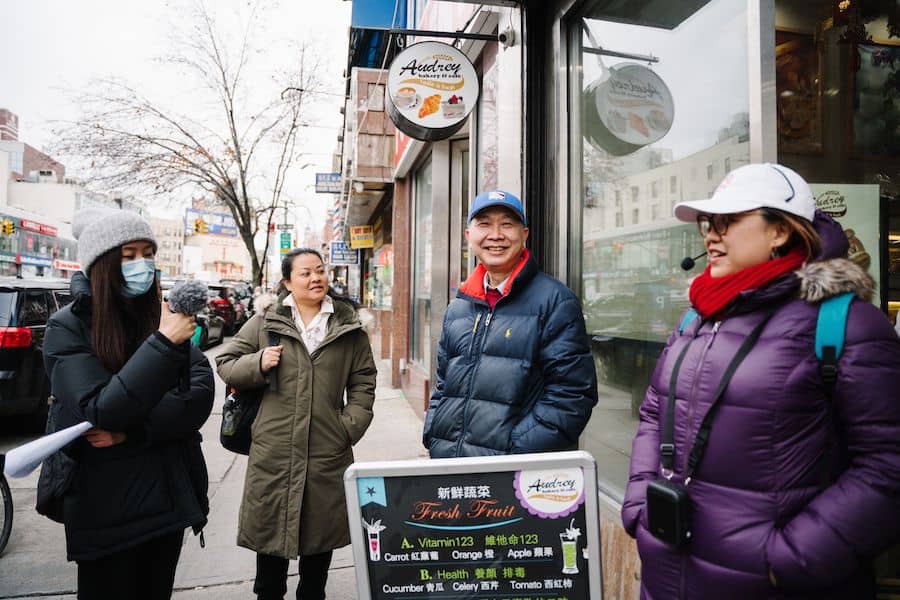 Opened in 2017, Audrey Bakery and Cafe, located at 12 Chatham Square, is another staple of Chinatown. The traditional Chinese bakery offers all kinds of decadent treats, ranging from buns to specialty sweets to savory snacks. For those looking to celebrate a special occasion, the cakes Audrey Bakery and Cafe might be especially enticing; beautifully decorated, artfully made, and delicious to the taste. 
A gift from Citizens allowed the tour group to take a pit stop and sample some of the desserts and hot drinks offered by Audrey Bakery and Cafe. It was a welcome respite from the cold, and an even better excuse to get to know, first-hand, one of the small business recipients of the Citizens Chinatown Renewal Fund. 
Lady Chow Kitchen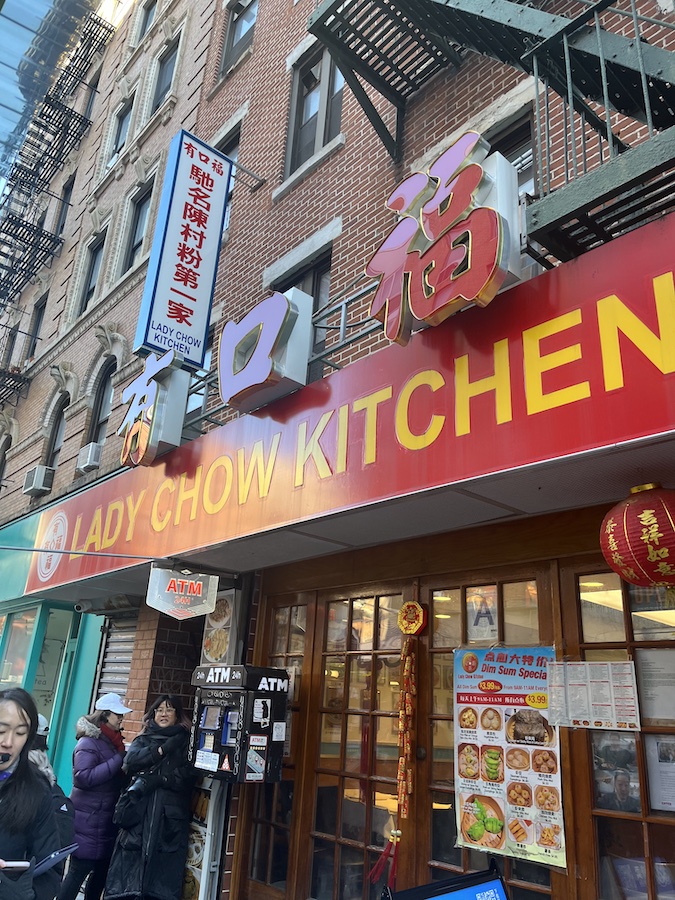 Next stop was Lady Chow Kitchen, located at 171 Hester Street. The restaurant offers contemporary Chinese dishes and authentic Cantonese food. According to their website, Lady Chow Kitchen is notable for its "Chen Cun Fen," which consists of Chen Cun rice noodles measuring between 0.5 and 0.7 millimeters thick. Also known as Dan noodles, this variety was created in 1927 by Huang Dan, a local from Chen Cun town, an area located in Foshan's Shunde district. Pliant and tender, the thin noodles soak up the juices of whatever they're cooked in, making each bite a particularly savory one.
Lady Chow Kitchen is open seven days a week, from 8:30am – 9:00pm. 
After taking in the smells and sights of Lady Chow Kitchen, the tour headed past Canal Street, to the newer part of the neighborhood. The group walked through what is colloquially called the Mott Street fruit market – a combination of street and store vendors –  where local residents shopped for groceries and goods. Each marketplace offered a plethora of delectable options, ranging from durian fruit to fresh fish to specialized spices. 
Golden Steamer
Located amid the hubbub of the Mott Street market is Golden Steamer, a restaurant renowned by locals for its bao. Opened in 2009, the business sells buns that are good for any occasion: a seasonal pumpkin bao for snack, a salted egg yolk bun for breakfast, or a pork bao for lunch. Located at 143-A Mott Street, Golden Steamer is another proud recipient of the Citizens Chinatown Renewal Fund grant. 
Golden Steamer is open seven days a week, from 7:00am – 7:00pm. 
Double Crispy Bakery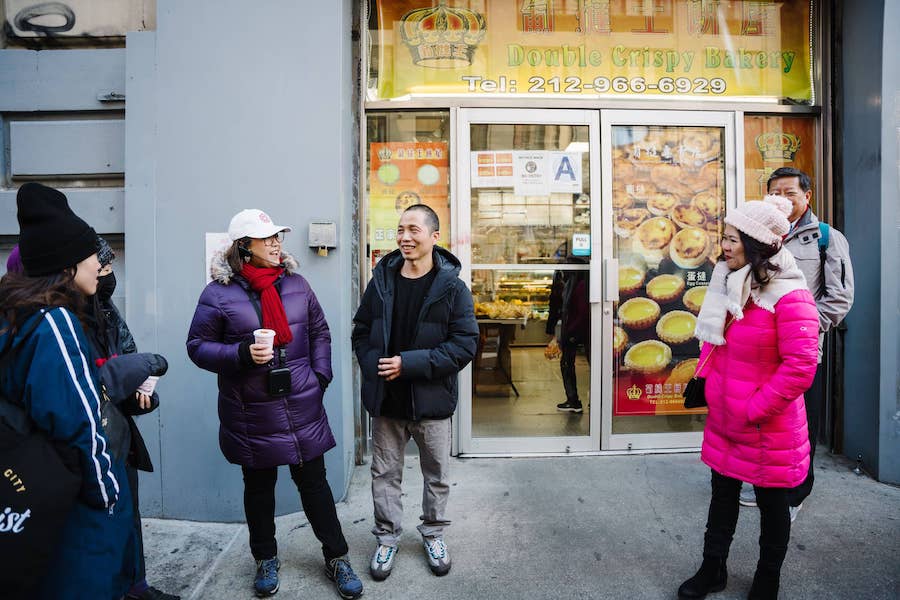 Around the corner from Golden Steamer is another staple of the neighborhood: the Double Crispy Bakery, located at 230 Grand Street. Opened five years ago by husband and wife, the bakery offers some of the best tarts, treats, and tastes in town. They're notable for Macau Egg Tarts, a Portuguese variety of egg tart that is renowned by locals and tourists alike. The tour stopped at the bakery, and many (writer included) sampled the tarts for themselves. Made of a puff pastry and with a caramelized top, the tarts are warm, sweet, fully, and well worth the hype. 
Double Crispy Bakery is open seven days a week, from 7:00am – 7:00pm. 
High Cut Beauty Salon
Last on the tour was the High Cut Beauty Salon, located at 83 Elizabeth Street. The salon, which has been in operation for over 15 years, offers premium haircuts for men and women at inexpensive prices. With massage chairs located in the back, patrons can get both a makeover and a massage in one visit!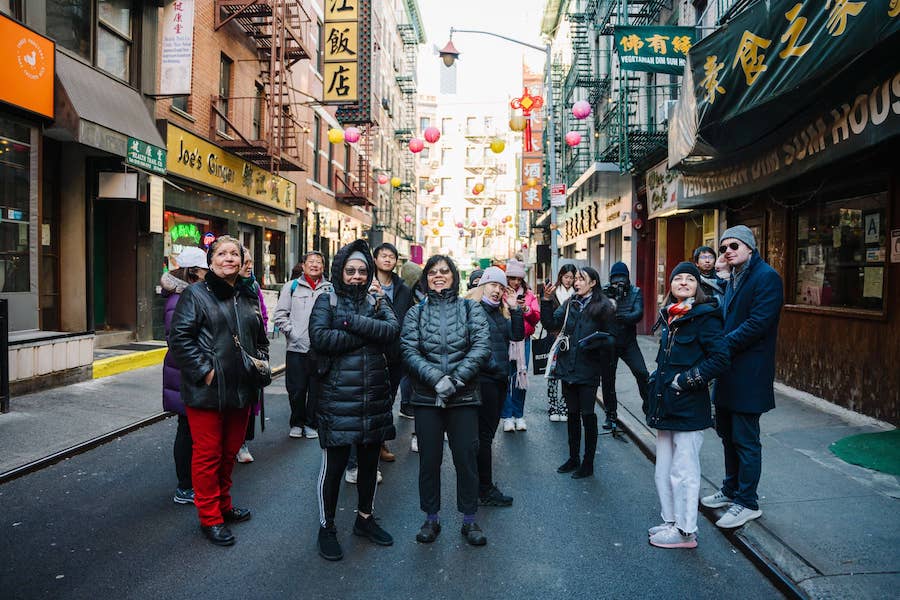 For small businesses to succeed, they need community and tourist support. In Chinatown, the sentiment is clear: local entrepreneurs are fighting to survive, and they can only do so with grants like the Citizens Chinatown Renewal Fund and through word-of-mouth – a method which relies on events such as the walking tour. 
Mott Street Girls, too, is a small business. Founded by Anna Huang and her business partner Chloe Chan, the organization offers in-depth history, food, and occasional ~special edition~ tours of Chinatown. Like the businesses they're showcasing, the walking tours are personal, professional, and full of heart. 
To learn more about the Citizens Chinatown Renewal Fund and see the full list of the businesses awarded, visit this link. And to visit them in person, simply hop on a train, bike, bus, cab, or walk on over to Chinatown to support these wonderful businesses!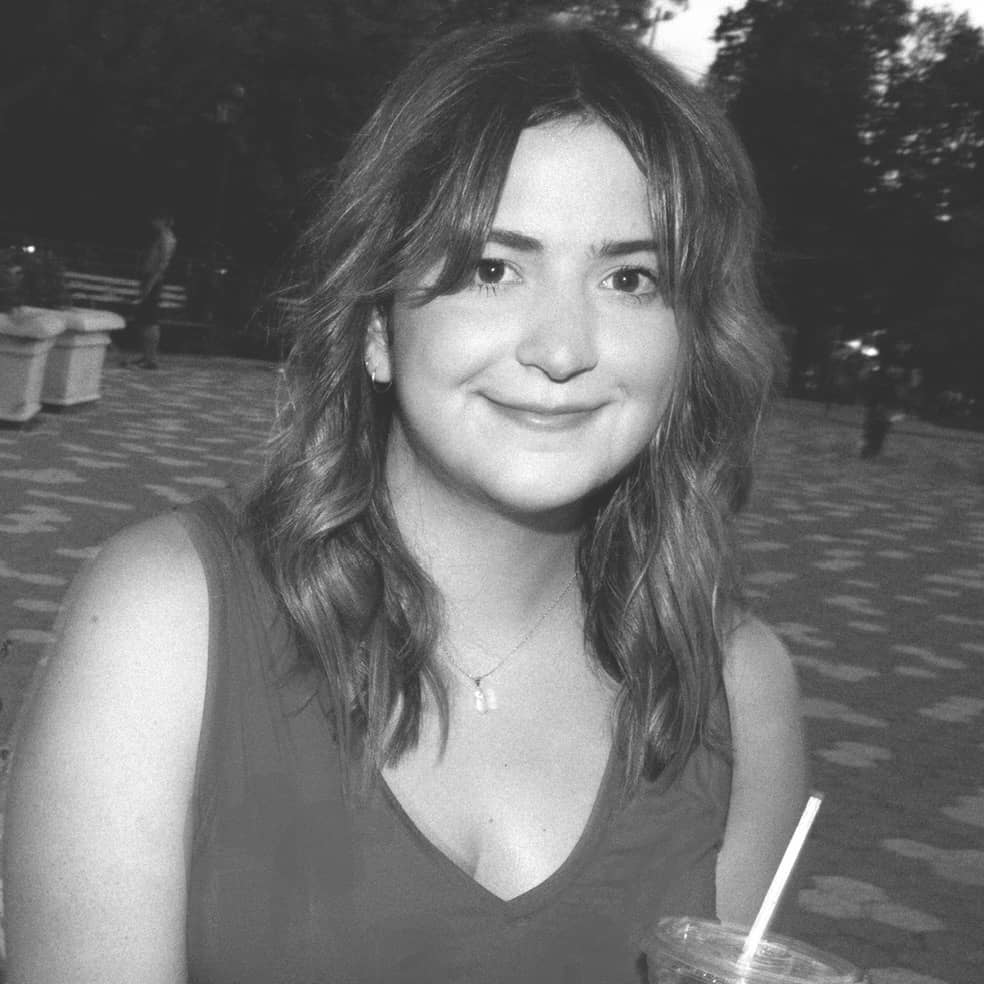 Emily Bice is a New York based writer born in Michigan, but with family in Canada - so on paper she's the nicest person you'll ever meet. Emily graduated from The University of Michigan's School of Music, Theatre, and Dance. She has worked as an olive oil farmer, press correspondent at Cannes, and in television, but her favorite job is writer. Playwriting credits include before the flood (The Chain Theatre, NYC), Purgatory (developmental workshop, Ann Arbor, MI), See You In A Few (one act, the thing theatre company, Zoom). Check out more of her work at emilyabice.com!