NYC has a lot of Chinese restaurants, and many of these restaurants focus on or serve Dim Sum to their patrons. Dim Sum is a traditional Chinese meal that consists of small plates that are perfect for sharing with friends or your date for brunch. Though Dim Sum restaurants exist in every borough, you won't find anything better than the restaurants in NYC's Chinatowns. Located mainly in Manhattan and Flushing, Queens, these restaurants are a cut above the rest, and this list will tell you the best of the best.
Best Dim Sum in Chinatown, Manhattan
View this post on Instagram
The Chinatown in Manhattan is not the only one in NYC. However, it is considered the most famous. This Chinatown is full of great Dim Sum restaurants just waiting to be tried, including:
Nom Wah Tea Parlor ($$)
This famous institution has been around since 1920. Famous for its almond cookies and red bean fillings, this restaurant is both delicious and popular, with lines of hungry customers often stretching around the block. This restaurant is so famous that several movies and shows have been filmed here, including Premium Rush and several episodes of Law and Order.
House of Joy ($$)
One of the best Dim Sum restaurants in Chinatown, House of Joy is located on Chinatown's historic Pell Street. They consider Dim Sum to be a form of art, and have been practicing that art since they first opened in 1989. The best part about this place is that it can be a major entertainment venue. It's capable of holding 500 people and even has karaoke rooms.
Dim Sum Go Go ($)
This newer Dim Sum restaurant has become so popular that they are opening a new location in the East Village. They have received a ton of accolades from both Zagat and the Michelin Guide for their phenomenal food. Some of the best dishes found here include shrimp rice rolls, vegetarian spring rolls, and even entire platters of Dim Sum goodies.
Shanghai 21 ($$)
Though this restaurant serves more than just Dim Sum, their small plates are what put them on the map. Their menu has a ton of options like black truffle soup dumplings, sweet red bean pancakes, and sesame rice balls. This Zagat-rated establishment also has a wide delivery range, so almost anyone in the borough can enjoy their stuff.
Ping's ($$)
Filled with delicious and beautiful looking food, Ping's has been feeding NYC since 1998. A bit more upscale, and known for their seafood options, this restaurant is one of the most popular in Chinatown. Some of their best dishes can be found on their prix fixe menu, which includes baked squid, beef short ribs, and pork dumplings.
Best Dim Sum in Flushing, Queens
View this post on Instagram
The largest Chinatown in NYC, Flushing, Queens, has Dim Sum restaurants that are famous all over the world, and have even sprouted chains. Some of the best include:
Joe's Shanghai Restaurant ($$)
This Flushing establishment was opened in 1994, and was so popular that they opened a second location in Manhattan's Chinatown. Easily one of the best Dim Sum restaurants in Flushing, this place specializes in soup dumplings. For those who aren't in a soup dumpling mood, they have an enormous menu with something special for everyone.
Nan Xiang Xiao Long Bao ($$)
This establishment claims to have the best soup dumplings in NYC, and they just might be right. Featured in the Michelin Guide for nine years in a row, it's easy to see why people love this place so much. Opened in 2006, their crab and pork soup dumplings put them on the map, and receive rave reviews from everyone who visits.
Asian Jewels ($$)
This enormous restaurant has been listed in the Michelin Guide multiple times, receiving praise as "arguably the best dim sum in Flushing." This high praise comes from fresh ingredients, delicious recipes, and loyal customers who make this restaurant a regular part of their week. It's truly something special. 
Shanghai You Garden ($$)
Opened in 2016, this newer establishment has been making waves in Flushing's Chinatown. They specialize in soup dumplings – in fact, they're what shot this establishment into fame – but they have a huge menu of options that everyone will enjoy. Some of their best include their soup filled bun with crab meat and their pan fried pork buns.
39 Kings ($)
Hailed as one of the only authentic Chinese restaurants open till 1am, this restaurant is great for late night snackers looking for a delicious, affordable bite. The staff is no nonsense, so know what you want before you go and make sure to bring some cash with you. This establishment is a special little hole in the wall with some tasty treats.
Best Dim Sum Outside of Flushing and Chinatown
View this post on Instagram
Tim Ho Wan ($$)
The cheapest Michelin star restaurant in the world, this amazing establishment is located in the East Village and Hell's Kitchen. Part of a larger chain that was started in Hong Kong, This restaurant has Dim Sum classics like steamed shrimp dumplings, baked pork buns, and pan fried chicken dumplings.
Dim Sum Palace ($$)
With several locations in Midtown and Chelsea, this restaurant has taken NYC by storm. Known for their soup dumplings, this restaurant is spacious, friendly, and uses the freshest ingredients to make meals that will fill your stomach and warm your heart. They even have an extensive breakfast Dim Sum menu, making this a great way to start your day.
AweSum DimSum ($)
With two locations in Gramercy Park and Times Square, and incredibly affordable prices, it's no wonder why people love this place. With separate menus for steamed items, fried items, baked items, and tea, there's a ton of foods to choose from. The minimalist atmosphere is subtle, yet stylish, and enhances the experience of eating here.
Excellent Dumpling House ($$)
The name might be a little on the nose, but they have the food to back it up. Ranked No.1 Dim Sum by Zagat and the New York Times this year, this establishment might be one of the best restaurants in NYC. This Chelsea establishment has a huge menu of favorites including fried pork dumplings, hot and spicy wontons, and even a Peking duck spring roll.
---
NYC has a ton of great Chinese restaurants, and the ones that specialize in or service Dim Sum are always amazing for dine-in, takeout, or delivery. These establishments have a great atmosphere, use the freshest ingredients available, and always cook their buns, dumplings, and wontons to perfection. Anyone looking for small plates but big flavor should visit one of these amazing eateries. These places are famous for a reason. Zagat, Michelin, and a ton of other experts all agree that these Dim Sum places are some of the best in the world.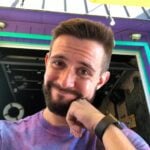 Russell is a writer and comic based in New York City. His plays have been featured at Penn State's Cultural Conversation's Festival, The NYC Thespis Festival, and Imaginarium's Inaugural Theater Festival. Follow him on TikTok and Instagram @pooleparty528