Despite remote work being readily adopted by companies small and large, working from home still has its limitations. Frequent distractions, social isolation, and limited access to information are all issues faced by remote employees.
As employers try to mitigate the downsides of remote work, they're faced with a new reality—a post-pandemic world where new variants are expected to emerge year after year, and where social distancing isn't exactly a thing of the past. 
In a city as populous as NYC, variants are quick to spread, something we have seen happen quickly in the second and third weeks of December. The question as to how businesses will be able to operate efficiently throughout these uncertain times, remains—the answer might be through virtual reality.
Horizon Workrooms
Facebook essentially guaranteed the future of VR through a $2 billion acquisition deal with Oculus VR, a VR headset company previously focused on gamers. Facebook (now Meta) launched Horizon Workrooms earlier this year, a "VR space for teams to connect, collaborate and develop ideas, together."
Although the Workrooms launch was met with criticisms of it being too elementary for use, it did spark substantial debate about the future of the workplace. Could virtual reality be the next step in creating innovative and interactive offices? Take a look at how VR could soon influence the following business practices:
Streamline the Hiring Process
Hiring the right person for the job can be challenging, especially in an environment where in-person visits may not be possible or safe. It's hard to know how a new employee will perform while they're working from home. From the employee's perspective, they may not know what to make of their first day, or who to ask for help when in doubt.
VR would allow prospective candidates to shadow their position as part of the interview process, introducing them to their daily tasks and responsibilities. A VR experience would also help candidates get a physical sense of the office layout and environment, instead of just hearing about it from their employer. 
Companies in NYC are growing substantially. So far this year, Amazon, Google, Facebook, and Apple have hired a combined total of 2,600 new employees, and Google and Microsoft have expanded their real estate footprint in the city. As the economy continues to grow and new positions are created to support it, HR departments will find that VR technology can streamline their hiring processes. 
Create New Marketing Opportunities
Virtual reality also opens up the door for companies to experiment with innovative marketing techniques. Macy's has already done so, by hosting a virtual shopping experience in 2016 where shoppers in China were able to browse the Macy's store in NYC. 
Beauty companies such as Estee Lauder, also based in NYC, could potentially allow shoppers to try on makeup virtually. The ability to experiment with makeup before purchasing it is likely to be well-received among customers. Makeup is one of those products, that until you try it out yourself, you won't know if it's right for you. 
How many times have you or a loved one purchased a new foundation, only to find out the texture isn't compatible with your skin type, or the complexion is slightly off? It happens all too often. Being able to try on makeup before having to purchase it is likely to benefit both the company and the consumer. 
A New Form of "Presence"
As well-acquainted as companies and remote workers get with communication tools such as Slack, Zoom, DocuSign, and GDrive—the truth is nothing can replace human connection. Workplace nuances are a lot harder to pick up on when you're physically at a distance from your coworkers. 
Using a VR headset while working from home allows employees to tap into their work environments and collaborate with coworkers in real-time, without having to sacrifice the benefits of remote work. Although it's too soon to say how exactly employees will adapt to this new normal, we can expect workers to take on a new form of "presence" while at work. 
Imagine being able to tap into the upbeat environment of a trading floor and seamlessly tap out for lunch with your family. This new workplace reality could potentially transform how we understand being present at work.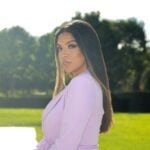 Vivian Tejada is a freelance real estate writer from Providence, RI. She writes SEO blogs for real estate, travel and hospitality companies. She's passionate about the future of work and helping Latin American freelancers achieve time, location, and financial freedom. When she's not writing you can find her at the gym, a family cookout, or at brunch with her girls. Follow her on Linkedin to learn more.