Having kids is a massive undertaking; now try tackling that in one of the biggest, busiest cities in the world. Despite the challenges, families do it all the time- and even live to tell the tale! 
Most couples are surprised by how fun it is to experience New York with a child. "People love kids, everyone waves and makes our kid feel so welcome," says Merlin Mannelly of Greenpoint, "We see a side of the city that we were always blind to, one that is much more loving and tight-knit."
Luckily, there are minor changes that can be made to help adapt to life with an additional- smaller- tenant. Here are some tips and tricks to making the best of raising kids in a small New York City apartment. 
Rearrange Furniture to Optimize Space
Anyone living in New York knows how expensive and limited living space is, and most families can't afford to upgrade apartments once they have children. Rearranging furniture is a great solution. If done properly, it can help create "areas" within a room that are child zones, and space for adults to sit and rest. Some parents report the joy they feel when they take a "time out" in their corner sanctuaries.   
Divide Rooms Differently and Creatively 
Many New York City apartments have smaller bedrooms. When children are in the infant or toddler stage, they don't need as much space. Putting the crib next to your bed or using the walk-in closet as a small room works great those first couple of years. 
If you're living with more than one child, it could help to move the kids into the larger room. This way, toys, and other child-related items can be stored in the kid's room, creating privacy and space for the rest of the apartment. If that's not possible, consider constructing a temporary wall to create an additional, smaller room for your child. 
Buy Darker Furniture With Storage
Yes, we all love our beautiful antique furniture, but it just isn't practical with kids. Consider darker furniture- charcoal grey, navy blue, or flax colored- knowing your kids will spill and drop things on it. Couches made out of "performance fabric" are easier to clean and can survive the wear and tear of children. Invest in a dark couch that's easy to wash and wipe down. If not- at least get a slipcover!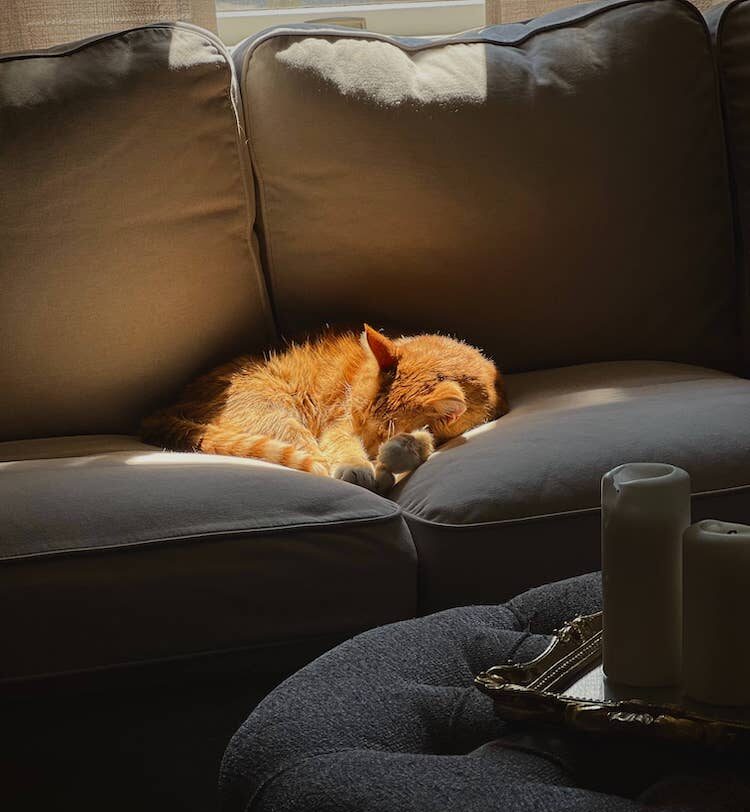 Another tip is to find furniture with storage built into it, allowing you to maximize your space to the fullest while keeping a tidy appearance. Look into tables with drawers underneath, storage ottomans or benches with shelves below, and side tables that double as storage bins. For the kid's room, there are plenty of colorful and fun cubes for stowing toys and clothes.
Spend More Time Outside
Most New Yorkers have figured out the major trick to living in a smaller space- don't spend all your time in it! Longtime Ridgewood resident and father of an 18-month-old, Merlin Mannelly, swears by this, "My main tip is to find a park, since it will be your only living room, playroom, and yard. Move close to an outdoor space, at least within walking distance. Spend the extra money to make this happen- it's worth it!"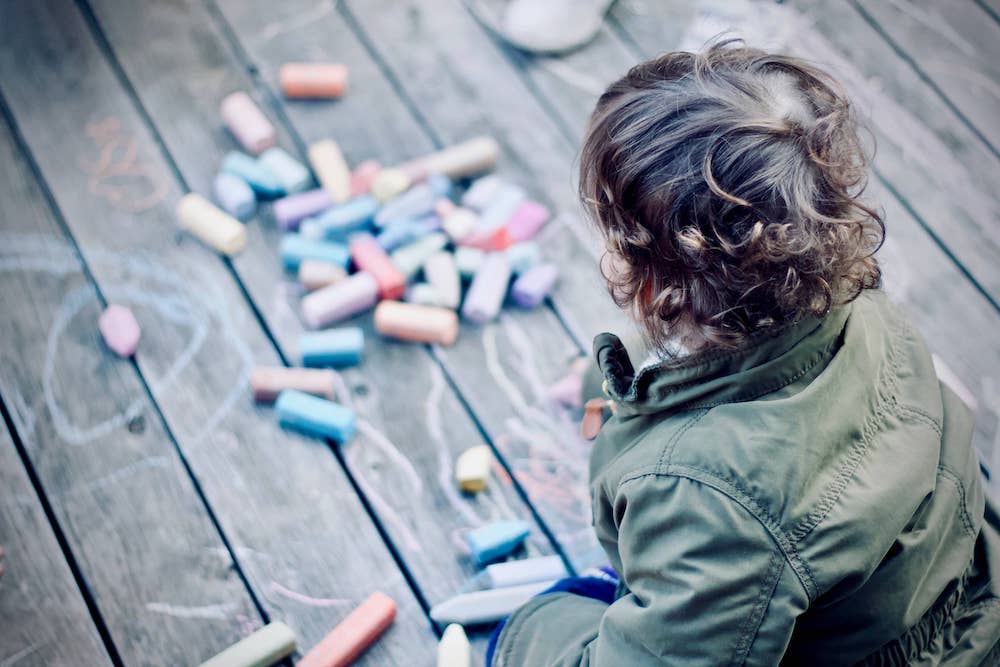 The concrete jungle has a lot of nature to offer. There are a plethora of parks, playgrounds, and gardens that are child friendly. Local favorites include Brooklyn Bridge Park, Governors Island, Prospect Park, and Park Slope Playground. Spending time outside is better for everyone's health and allows for interaction with nature and other kids while giving parents some much-needed room to breathe. 
Find the Freebies for Kids
Despite the dirt and grit, New York City has a child-loving side to it. Most museums and institutions offer reduced rates or free days for kids. Keep a calendar marked with the free days in your area and plan around them. Resources like Mommy Poppins publish a list of daily events for kids. 
Get into Ordering Online and Delivery
Every New Yorker loves delivery. It's just a thing. After running around all day walking and commuting, once you get home, you want to stay home, and grocery shopping in NYC can be an undertaking. That sentiment is ten times stronger for parents with kids. Services like Amazon Prime, Instacart, and Fresh Direct bring food right to your door! If money is tight, check for deals and coupons. 
Get a Storage Unit
Some apartments, like The Goodrich, have storage units within the building. Otherwise, you can often find a storage space nearby for rental. This can be a saving grace if you have large outdoor gear, such as bicycles, and offers space to store unused clothing once the seasons change. Make sure to pick a place that is walkable from your apartment so it's less of a chore to access what you need. Apartment buildings like Ashland Place in Fort Greene, Brooklyn have stroller storage within them, and others even have stroller valet! It's never a bad idea to ask your landlord what your options are.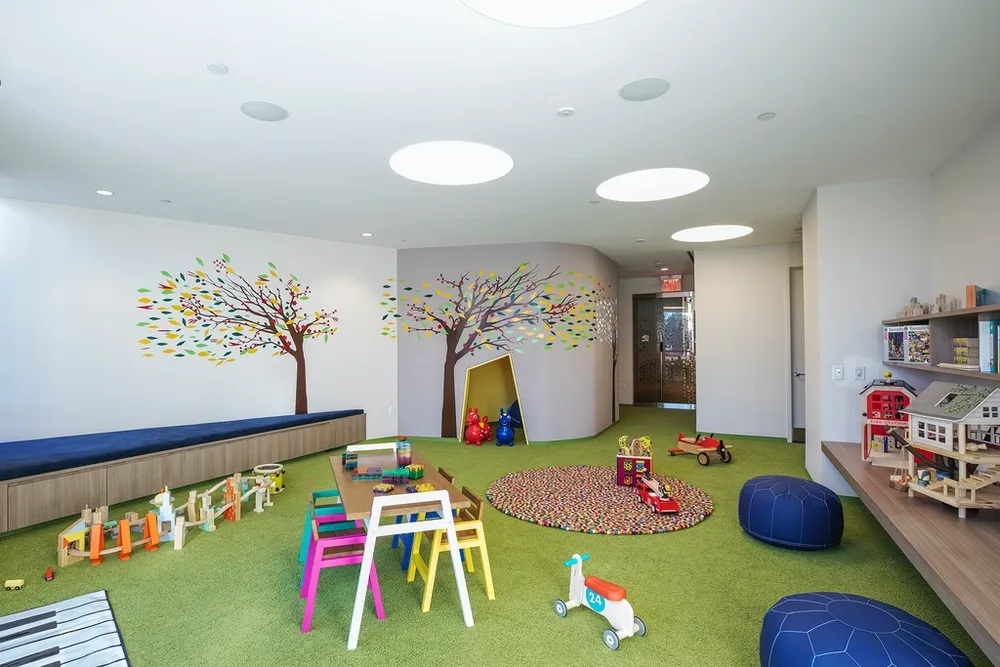 Buy A Portable Washer
Doing laundry can be an all-day chore. Most buildings don't have their own laundry, and the Laundromat might be blocks away. One solution is to purchase a portable washer, which can be less than 2 cubic feet in size. If you have multiple children, this allows you to do laundry whenever you want without having to leave the apartment. Having a portable washer can also help with cloth diapers. Cloth diapers save money, are better for the environment, and are super easy to use- just wash and hang them to dry. 
Don't Buy Multiples and Avoid Sentimentality 
It's important to buy only what you truly need. If you have one child, that might not be much. Get one or two sippy cups, not an entire set. Reevaluate what items are necessary and donate the rest. A mindful attitude toward clutter will save you the headache of a crowded, stuffed apartment. 
In a small apartment, you won't have the opportunity to hoard your children's projects and artwork. Get a clear plastic bin and keep the most treasured items to save, but learn to let go and toss what is no longer needed. 
And Have Fun!
Don't forget- it's worth it! While raising children in NYC might seem like the ultimate challenge, don't forget your children have unique access to an array of art, culture, language, and history that kids elsewhere simply don't get.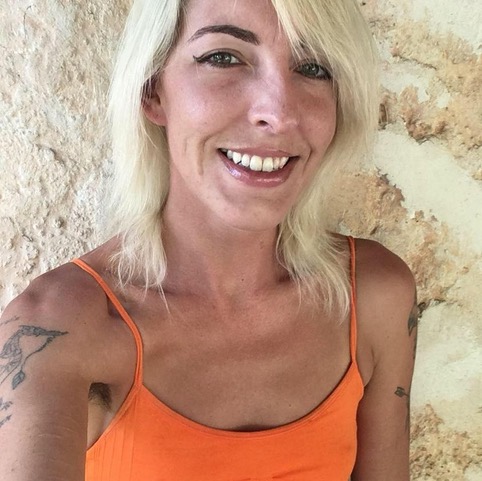 Lindsey Rae is a freelance writer, videographer, and medium format photographer with a background in economics, documentary filmmaking, and human rights. In past lives she covered the arts scene in Seattle and LA before morphing into a finance journalist, reporting from the NYSE for German news media. When not writing about culture & lifestyle she can be found studying herbalism and traditional healing techniques. She enjoys running, yoga, and world travel. You can find her at www.linerae.com or IG @hunteressthompson