Where are Sylvan Terrace and Sylvan Place?
Between St. Nicholas Avenue and Jumel Terrace, nestled betwixt 160th and 162nd street on the border of East Harlem and Washington Heights, sit twenty unsuspecting rowhouses filled to the brim with history and intrigue. Some of the only wooden houses still standing in NYC, this quaint block of the city is a visible remnant of the Eastern Post Road, which was an epicenter for a bustling stage-coach industry in the early 1800s. 
Although often mistakenly recorded  "Sylvan Place," the thoroughfare is more correctly known as "Sylvan Terrace" and features one-block proximity to historic America, such as a home near Roger Morris Park where George Washington and Aaron Burr both resided for a time. Hamilton star and creator Lin-Manuel Miranda even went so far as to write two songs for his award-winning musical in Burr's former bedroom, all within view of Sylvan Terrace, as they were originally part of the same massive estate!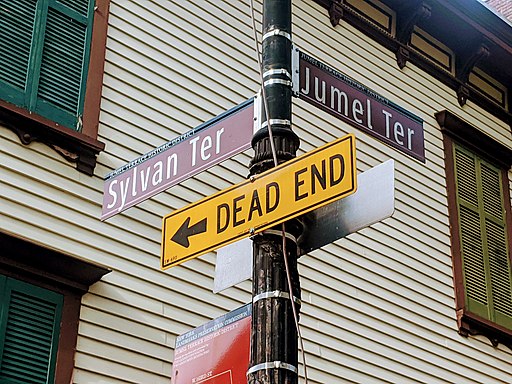 Why does Sylvan Terrace look the way it does?
Between 1979 and 1981, the area underwent a large-scale restoration partially funded by the federal government, although homeowners at the time were wary of the updates due to poor design and workmanship. Originally designed by architect Gilbert Robinson Jr for developer James E. Ray, the houses were built on the estate surrounding the Morris-Jumel Mansion in 1882, one of Manhattan's oldest surviving Residences. While there's a myth that these homes were originally built for servants and the help of the estate, historical evidence points to the area being solidly middle-class inhabitants.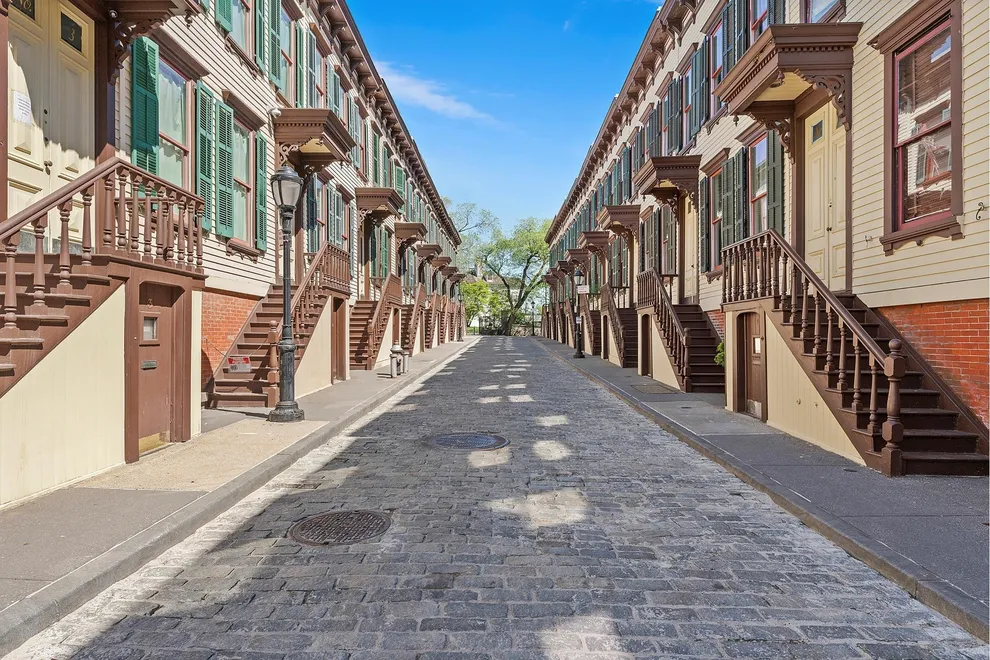 In the 1890s, brownstones began to be erected around the wooden rowhouses, with the last major building going up in the area around the 1910s. These changes formed the iconic facade of the Sylvan Terrace rowhouses, which even director Martin Scorsese liked enough to feature in his HBO feature series "Boardwalk Empire" The fifty houses making up the Jumel Terrace Historic district are historic and protected by a New York City Landmark designation, so don't expect any more major renovations in the near future. 
Can one live in Sylvan Terrace?
Absolutely: while the original Sylvan Terrace neighborhood was private, the streets and the real estate market have opened up. The interiors of the rowhouses have been updated and well cared for, with Brazilian cherrywood floors, crown molding, antique chandeliers, and double-height windows. On the main floor, a multipurpose room, a parlor, a Great room, and a cozy kitchen lead out to a spacious outdoor patio, while upstairs, the highly configurable space can be configured into up to four bedrooms, or perhaps a parlor or guest room.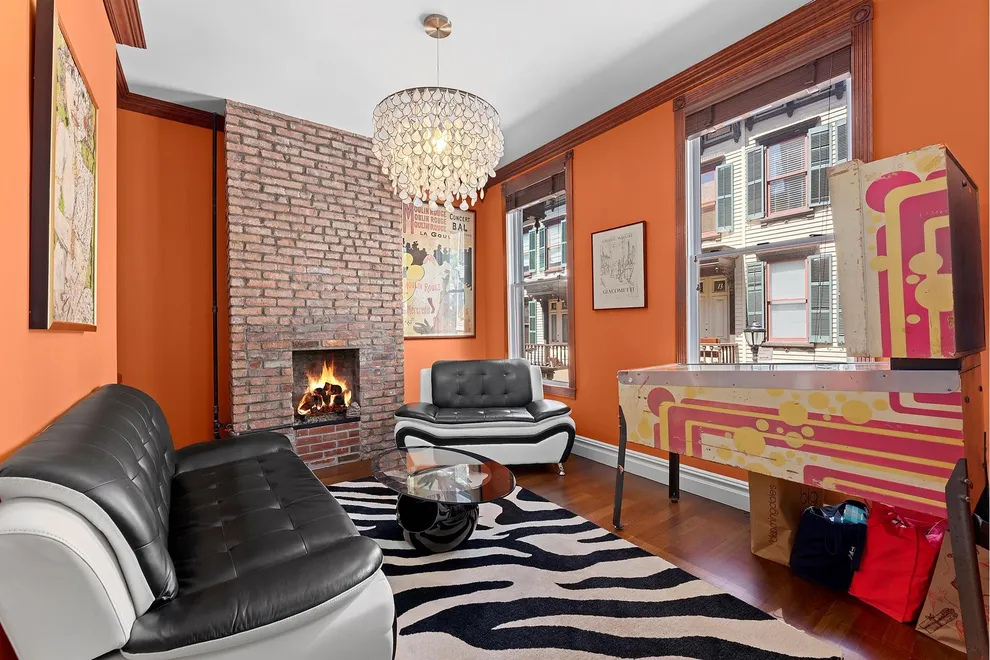 Nearby are other historic gems. Still, within the Jumel Terrace district, homes like 438 W 162nd street are modern living in a historic location. With over 4,000 square feet of space and a 1000sq foot private garden, this home designed by Henry Fouchaux in 1896 is a combination of Romanesque Revival and Classical architecture styles. While listed as a one-unit home, it can be converted to a duplex and even a triplex for those looking to sublet, and its proximity to the A and C trains makes it an easy place to get to! Original details such as six tiled fireplaces, hand-carved woodwork and three grand skylights on the first floor. The combination of modern comforts and historic appeal makes living in this highly attractive area, whether in Sylvan Terrace or nearby a truly once-in-a-lifetime opportunity.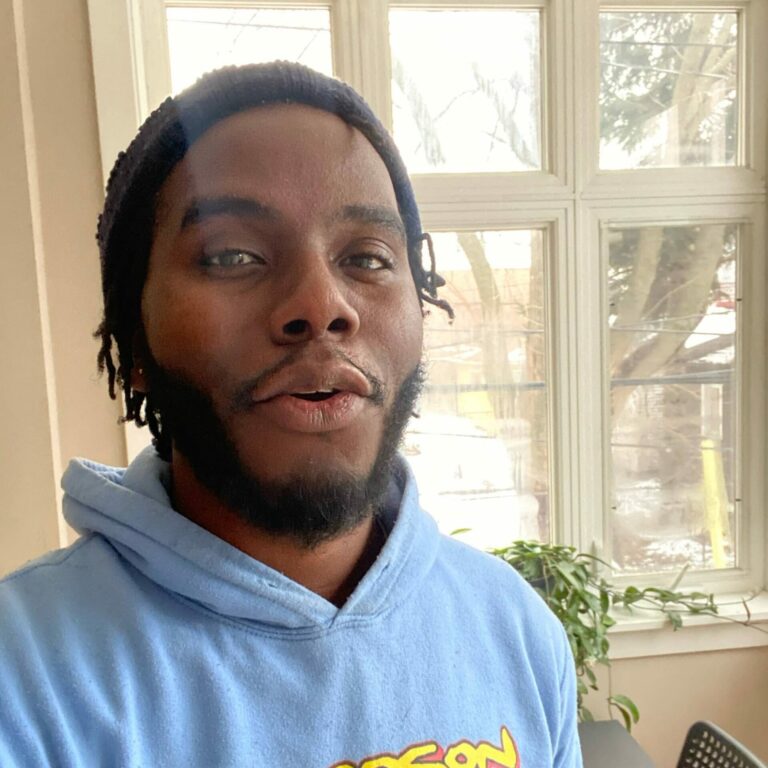 Josiah Thomas Turner is writer and musician based out of Washington Heights, New York. Turner received his undergraduate degree in Drama from the University of Wisconsin - Stevens Point before earning an M.F.A. in Playwriting from The University of Texas at Austin. Born and raised in Milwaukee, Wisconsin, Turner trained as a multi-instrumentalist from a young age and spent much of his early years creating and performing music. Josiah's current interest include animation, video-games and French-Canadian prog-rock.