Visiting or moving to New York City can present many challenges and changes. It takes time to catch the hang of grocery shopping in the Big Apple. Whether or not you plan to stay for long, there are some tried and true methods New Yorkers have adopted to make grocery shopping a more manageable aspect of life. 
Is Grocery Shopping Different in NYC?
The answer is yes. Most New Yorkers commute on foot – by walking, subway or bus – limiting the amount of bags that can be transported. New York is also a city plentiful in stairs. Living up two or three flights of stairs will quickly influence someone's shopping style. There are some ways around these issues; hiring an Uber or taxi to shuttle groceries home is one option, while granny carts and bus routes can reduce the perils of shopping on foot. Another option is to avoid shopping altogether by ordering groceries through delivery services.
Many shoppers recommend shopping more periodically and buying less each time. One factor in shorter shopping trips is the immense availability of specialized and gourmet foods around the city. Moving into a new neighborhood provides a vast network of local makers and producers. Within months you'll know the best cheese shop, the best Jewish deli, the best Korean market, and the best place to buy fresh fruits and veggies. By picking up one or two items on the way home, your monthly needs become more parsed out. 
Granny carts are foldup shopping carts that work well going up stairs and in and out of subways. They can be purchased through big box stores like Amazon, Walmart, or Target, or even from your corner bodega.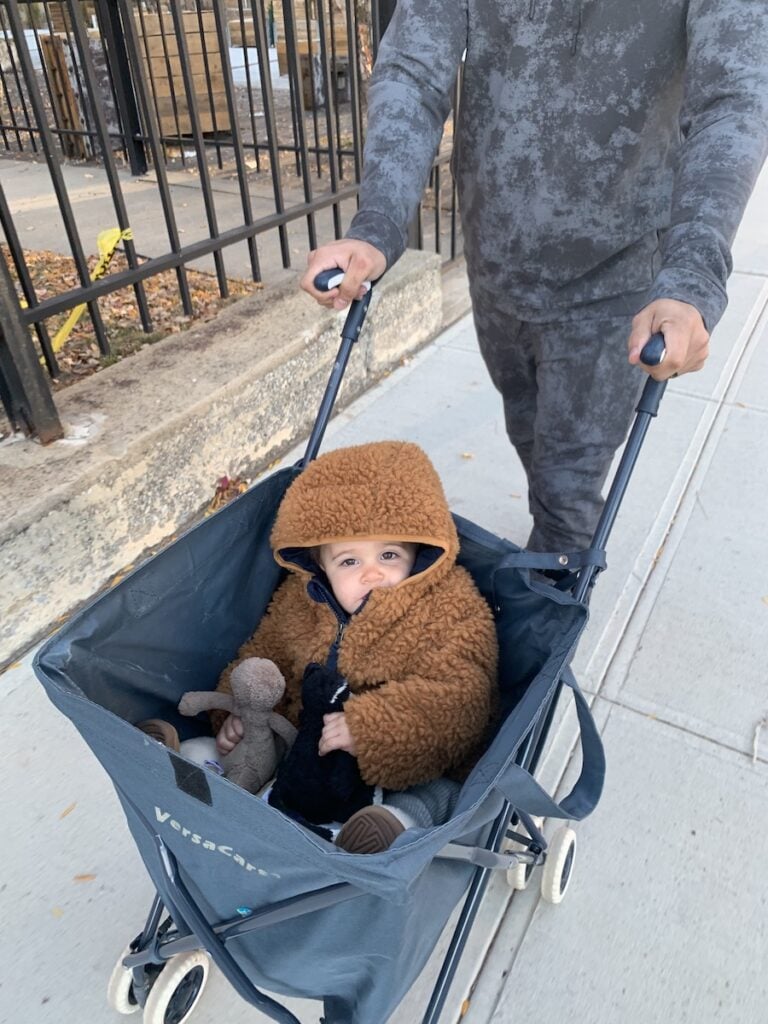 Street Produce Vendors: Good or Bad Deal?
Many of the street produce vendors sell vegetables and fruits comparable to those found in grocery store chains. You'll find Dole bananas and Driscoll strawberries, which might be significantly cheaper. In some cases, street produce vendors sell at half the price of nearby grocery stores, saving you a lot of money. Just make sure to check the produce for the best quality. Often, the street produce vendors are selling fruits and vegetables that need to be used same day.  
Legally, all vendors have to have an NYC Street Vendor License. A vendor that has been certified and inspected will have theirs displayed. Do not purchase from vendors without a street vendor license, as there is no accountability for their product. Between qualified vendors, New Yorkers find that street vendors remain the safest and cheapest way to get fruits and veggies in New York. Do some comparison shopping with nearby grocery stores and see what fits best for you.  
Farmer's Markets in NYC
There are so many farmer's markets in New York to choose from- where do you start? Most locals are loyal to their neighborhood market, or whichever market is on the way home from work. The GrowNYC organization has an online location searching for greenmarkets, farmstands, or fresh food boxes, to help locate the freshest produce near you. When shopping at a farmer's market, bring some reusable cloth bags, totes, or an empty backpack to pack out your purchases. Vendors prefer to be paid in cash, but most take card as well.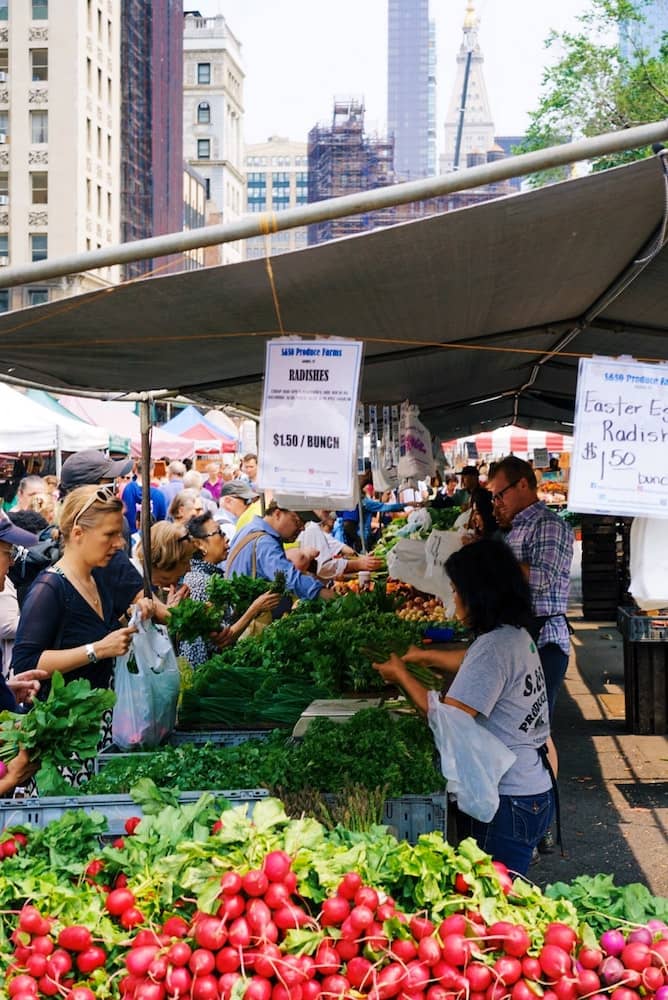 Manhattan's famous Union Square Greenmarket is a favorite of many! The Greenmarket is directly above the Union Square Station and close to a number of universities- The New School and NYU, to name two. This market is always pleasantly busy yet navigable and has an impressive list of vendors. Visit this Greenmarket up to four days a week! 
In Brooklyn, there are several markets; the Grand Army Plaza Greenmarket and Park Slope's Down to Earth Farmers Market are two very popular ones. The Down to Earth Farmer's Markets sell exclusively from local farmers and makers with all locally sourced ingredients, promoting seasonal, regional agriculture, and has expanded throughout Brooklyn, Manhattan, and Queens. 
The Best Places to Buy in Bulk in NYC
Bulk foods have grown in popularity, and there are quite a few locations in the city to purchase bulk. It comes down to personal preference for many. Here is an easy list of all bulk selling stores in the city, published by Litterless. 
The 4th Street Co-Op is beloved for offering a wide assortment of bulk grains, flours, seeds, and items like seaweed, tofu, oil, and vinegar. The Fairway Market in Manhattan also has a great selection of bulk dry items, and there's always Whole Foods in case you want to feel right at home.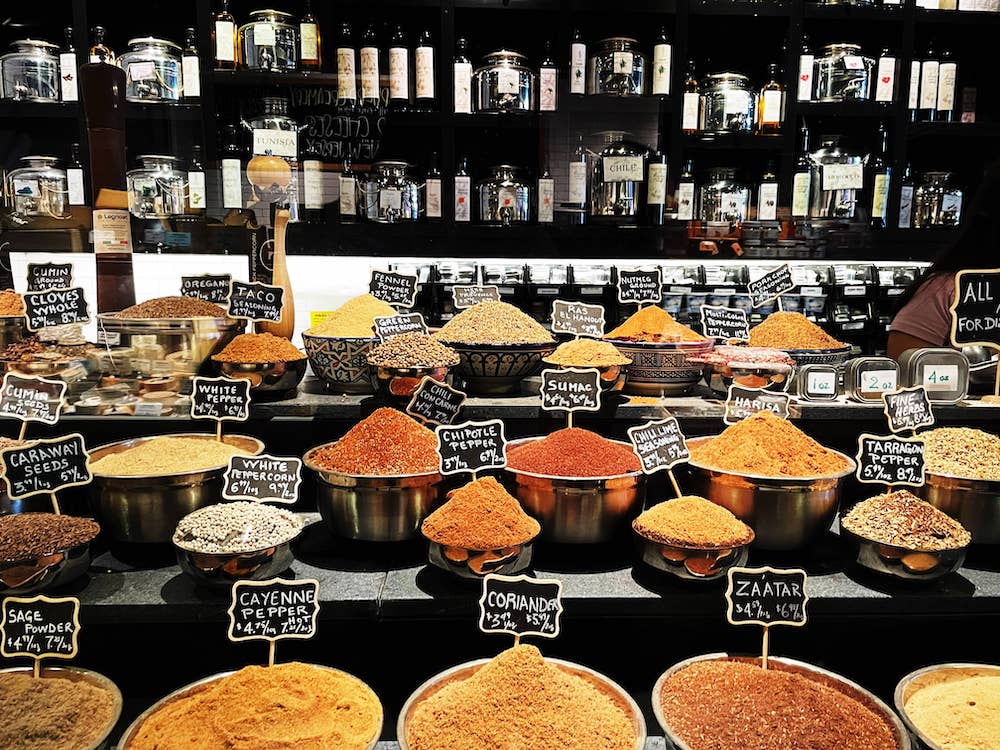 If you're looking to buy household products in bulk, another company worth mentioning is Common Good & Co, a producer of nontoxic, sustainable, and refillable products with refill stations in Manhattan, Queens, and Brooklyn. They are a great source for personal and house cleaning items and also have a handy list of composting locations that might be near you.
Food Delivery Services
While first visiting New York City, it might be surprising how often locals order take-out or delivery. UberEats, InstaCart, Seamless, the delivery options are endless, and in twenty minutes (okay, maybe forty), a delivery person is at the door with your favorite slushie. Delivery services are invaluable for families and folks with limited spare time. Some neighborhood grocery stores offer their own personal delivery service, although it is not usually advertised. 
Two of New York's favorite larger grocery delivery services are FreshDirect and Amazon Fresh. Seamless and GrubHub follow close behind as favorites in meal delivery. 
Ask in your neighborhood to see what is available near you and see what deals you can find. Businesses usually give you a big discount if you order through them instead of using a third-party service.
Keep in mind that most delivery services include a delivery fee, and it's good form to always tip the delivery person. 
Find What Is Best In Your Neighborhood
The best idea is to wander the neighborhoods around work and home to find what is available. That way, once it's starting to rain at rush hour, you won't have far to go. One last word to the wise: avoid the 72nd & Broadway Trade Joe's around rush hour…. or it'll be the longest wait of your life!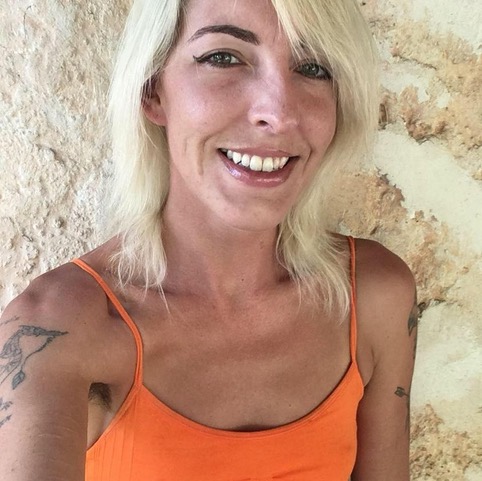 Lindsey Rae is a freelance writer, videographer, and medium format photographer with a background in economics, documentary filmmaking, and human rights. In past lives she covered the arts scene in Seattle and LA before morphing into a finance journalist, reporting from the NYSE for German news media. When not writing about culture & lifestyle she can be found studying herbalism and traditional healing techniques. She enjoys running, yoga, and world travel. You can find her at www.linerae.com or IG @hunteressthompson