NYC is full of pet owners, and if you're one of them, you know how hard finding a good vet can be. Many of the clinics in the city just aren't the right fit for your furry friends, even if they are highly rated. So what are you supposed to do? How can you make sure you find the best vet for you and your pet? It can be challenging, but there are ways to find the best doctors in the city who are able to work in your price range. Finding the right one is important so follow some of these tips.
Finding the Right Vet For You
Many people don't know where to start when trying to find a vet especially if they've just adopted a new pet. Sure, a google search can be a great place to start, but reviews from strangers can only tell you so much. It's good to ask trusted sources about different clinics, so start out by asking friends with pets. Specifically, you should ask friends with similar animals to you, i.e. – if you have a cat, talk to your friends who own cats as well.
If you don't have close friends with pets, check social media groups. Even people at your local dog run or other residents in your pet-friendly apartment can be a great resource. As long as you trust the people you're asking, they will lead you in the right direction. Again, it's good to ask people with similar animals and breeds as your own pet, as they will be able to point you in the direction of a specialist.
Now that you know who to ask, it's time to make a list of qualities you want in a vet. The most important quality to look for in a vet is clear communication. Every vet in the city is an animal lover, but it's important to find one who provides you with clear, concise information. Nothing is worse than a vet who leaves you in the dark or makes you do a bunch of your own research when it comes to your pet's health. So find someone friendly, who is willing and able to walk you through the necessary procedures and steps to make your pet as healthy as possible.
Next, make an estimated budget for yourself. Pets can be expensive, especially in the city. Setting aside money for vet trips, including emergencies, is going to be a big help to you. That said, different vets charge different amounts, and some will be more affordable than others. If you can afford the most expensive vet in the city, then have it. However, the most expensive doesn't always mean the best, so it's good to look for an affordable vet with a good track record.
Speaking of track records, find a vet who's been around awhile and has glowing reviews from friends and strangers alike. You can always give newer practices a chance as long as the price is right and they are good communicators, but someone with a proven track record is always going to be the preferable choice. You want the best for your pet, and that means finding someone who's renowned in their field.
Last, make sure you know what services to look for when searching for a vet. Different breeds need different care, and some vet practices specialize in specific breeds and animals. Many vet services will be widely different from others, so know what your animal will need. It also pays to know how the practice treats an emergency. Many practices will provide emergency services or know places that do. If your vet doesn't provide a plan for emergencies, it'd be smart to look elsewhere.
More on CitySignal:
Highly Rated Vets in NYC
If you're still having trouble seeking a vet, this list is a good place to start. Some of NYC resident's favorite vets include:
The Vets
This clinic provides mobile vet visits all over Brooklyn, meaning they can come to you if there's an emergency, or if you simply have something else going on. They provide wellness exams, treatments for sick pets, and will even vax and microchip your pet, all while in the comfort of your own home. It's truly a revolutionary clinic that's changing the industry.
City Vet
Based in Manhattan, this hospital provides top notch care to cats and dogs, even providing clients with 24-hour nurse care. They board your pets, give exams, and can even perform larger procedures should your pet need them. This is a great resource for residents in the Upper West Side, and they even provide tours of their hospital for new customers.
Worth Street Veterinary Center
For people seeking to add holistic methods of care to their pet's routine, Worth Street will provide pet owners with those options along with more traditional approaches to pet health. Their friendly staff has received high praise on many review sites, and their reputation for excellence entices new pet owners to try their methods.
City Vet Long Island City
Great staff and amazing urgent care facilities are what make this queens facility standout with its customers. The clinic has a fun sense of humor, but is also very serious when it comes to your pets' health. The sign out front often provides insight about animal health, and the staff can elaborate on that insight, as they are very good communicators. They also work with a wide variety of animals, not just cats and dogs.
Riverdale Veterinary Group
This Bronx clinic resides in one of the most upscale neighborhoods in all of NYC. While they might be a bit expensive for the average pet owner, their services make it worth every penny. This clinic offers medical services, dental services, and even grooms your pet. You and your furry friend will leave this phenomenal hospital feeling great.
One Love Animal Hospital
With several locations throughout Brooklyn, One Love will take care of cats, dogs, and much more. Providing amazing medical and dental care, their facilities are clean, comfortable, and affordable. They even offer emergency services, and provide pets with overnight stays should their surgery demand it. This place is a great resource for Brooklynites.
Northside Animal Hospital
With a nearly perfect score on Google Reviews, this Staten Island clinic is one of the best in the city. Specializing in medical procedures, preventive care, and dentistry, the doctors here can care for all sorts of animals, including ducks! They're always accepting new clients, and are more than happy to provide customers with multiple payment options.
Small Door Veterinary
This vet is a members only institution, but they are always happy to welcome more members into their fold. They have locations all over the city, and provide a number of services like surgery, preventive care, and even provide pets with travel certificates. Members of this establishment can't say enough good things about it, from the friendly staff to the amazing care.
Value Veterinary Clinic
This Bronx clinic is always welcoming new patients, and new patients keep coming because this facility is awesome. They are able to do diagnostics, x-rays, microchipping, and routine surgeries needed for your pet's well being. The staff here are well trained, communicative, and willing to work with people should they need a flexible payment plan.
Sutton Animal Hospital
This midtown vet is very popular with its clients, and they have a nearly perfect score on Google reviews. Their clinic provides overnight stays for surgical procedures, a full service pet pharmacy, and a plethora of payment options for new and returning customers. This clinic is in a very convenient location for the people in Manhattan and Long Island City.
Things To Avoid When Looking For Vets
Most vets in the city will be reputable, but it's still good to know what to look for when you're searching for one. For example, vets in NYC need a license to practice in the state. Said license is distributed by the Department of Education, and should appear on most websites or in-store. If a clinic doesn't have this document prominently displayed, find a different clinic.
Additionally, you'll want a vet who doesn't focus too much on holistic methods. While holistic methods can be beneficial, depending on what they are, they cannot be the only care your pet receives. While western veterinary medicine might seem a bit cold and clinical, there has been a lot of trial and error to prove that it works. While some holistic methods have undergone these same trails, many more of them have not, and can even fall under the banner of a veterinary fad.
---
Finding the right doctor for your pet is extremely important. You want someone who knows what they're doing, but you also want someone who knows your pet, and will communicate with you every step of the way. Finding the right vet will take time. You might even have to visit multiple clinics to find the right person. However, this journey is a necessary one to take. When you find the right clinic, you will be able to rest easy, knowing that your furry friend will be left in good hands no matter the situation.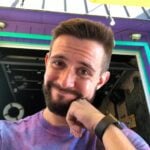 Russell is a writer and comic based in New York City. His plays have been featured at Penn State's Cultural Conversation's Festival, The NYC Thespis Festival, and Imaginarium's Inaugural Theater Festival. Follow him on TikTok and Instagram @pooleparty528