From the Yankees to the Rangers, NYC is a big sports town. People also root for the Giants and the Jets for some reason. Regardless of the teams you love, NYC has a sports bar for you, even if your team is from another state. Many bars in the city have TVs and even set up projectors to show folks the big game. These places also offer drink specials during big events, making game nights memorable. Which bars have the best deals? We've found the best sports bars in the city. So check out the list below and find your new home away from home.
Best Sports Bars NYC
View this post on Instagram
Harlem Tavern
This bar and beer garden has a ton of TVs and a large projector which can be viewed from their outdoor seating. Their food menu is stellar, featuring tacos, wings, and sliders, and they have daily drink specials, including a regular happy hour from 4pm to 7pm every Monday through Friday. They have a ton of specials for major events like the NBA playoffs and the Super Bowl, so this is the spot to go if you're in Harlem.
View this post on Instagram
Pig Beach
This huge bar and BBQ joint has a location in Long Island City and another in Gowanus. This place has a ton of TVs, outdoor seating, and delicious food. However, the best part of Pig Beach is its giant projector screen that shows some of the biggest events in sports. This is a great place to watch Baseball, Basketball, the Olympics, and anything that takes place in the summer. They also have regular cookout events like crawfish boils.
View this post on Instagram
Stout
One of the most popular sports bars in NYC, Stout has four locations in NYC, three in Midtown and one in the Financial District. The one in Midtown West has three floors of fun, including multiple projectors that are perfect for watching UFC, Formula 1, or Football. All these locations make themselves available for fantasy football drafts, offering bucket specials, wings, and sliders. They also have $1 oysters on Monday!
View this post on Instagram
Hair of the Dog
This Lower East Side establishment is a favorite for the area's resident sports fans. This bar has 23 TVs and projectors, as well as a garden area that is perfect for sunny summer days with friends. Day drinking here during various sports seasons is easy given their happy hour specials, sporting event specials, and live DJ nights. They can also host private events for fantasy leagues or anything else you can dream of.
View this post on Instagram
Bronx Ale House
This Bronx hotspot is one of the best bars in the borough and has twelve TVs and a projector that plays everything from NFL to NBA games. This establishment is especially popular with Giants fans and is always crowded when they have a game. The bar also has other events like trivia nights, a beer club, and teacher appreciation nights. With great food and a bunch of beer on tap, this place is a great way to spend the day.
View this post on Instagram
Mercury Bar
This college sports bar rests in Hell's Kitchen and is a popular spot on football Sundays, especially for Penn State fans. The Pennsylvania school isn't the only one they showcase, though. They play everything from tennis to golf. This is a slightly classier establishment, with full restaurant service and a large bar area. That said, you can see a TV no matter where you sit, so your game day can be enjoyed any way you'd like.
View this post on Instagram
The Supply House
This Upper East Side establishment has a ton of TVs for sports fans to watch, but they also have a decent amount of board games to play. The beer selection at this venue is huge, but they are also a family-friendly joint, even including an entire kids' menu. They have drink and dinner specials for sporting events, and the place gets crowded and loud whenever there's a good game on.
View this post on Instagram
Smithfield Hall
This classy bar calls soccer "football" and is known for showing all the hottest soccer games in the world. A popular place to watch the World Cup, they include a full schedule of soccer matches and tournaments on their website. International visitors won't have to miss a single game if they wine and dine here. Since soccer is the most popular sport in the world, this place is also hopping. They have a classy outdoor area and stellar drink specials.
More on CitySignal:
View this post on Instagram
The Three Monkeys
This double-decker sports bar is a popular place in Midtown for Boston fans to gather, but they show other games for people who are sick of the Red Socks and The Patriots. They have several TVs and two large projectors, making it possible to watch more than one game simultaneously. They also have patio space and host multiple events with live DJs. Their beer selection is on a seasonal rotation and is always amazing.
View this post on Instagram
Break Bar
This awesome Astoria bar is great for a group of friends seeking a fun night out. This sports bar doesn't just have TVs. They have pool tables, ping pong, arcade games, mini bocce courts, and giant Jenga and Connect 4. That said, the TVs they have are large, and they also have multiple projectors. They play all kinds of sporting events and have a plethora of beer and cocktails for guests to enjoy.
View this post on Instagram
Bar 43
This Sunnyside bar is a classic sports bar, with multiple TVs, a ton of seating, and chicken wings that come with more sauces than anyone can handle. Some of these sauces include honey mustard and garlic parmesan, but they also have spicy sauces that range from mild to "nuclear," which we assume is very hot. The bar can host private parties and is a go-to place to watch the Super Bowl.
View this post on Instagram
Boxers
This gay sports bar has several locations, one in Hell's Kitchen and another in Chelsea. They show many games from college football and pro football to basketball while also serving amazing drinks. The Hell's Kitchen location has three stories and is where many of NYC's gay sports leagues like to meet up. This is a fun bar with a good vibe, and it's a great place to grab a beer and watch the big game.
View this post on Instagram
Stan's Sports Bar
This popular baseball bar is right near Yankee Stadium and is a cheaper place to watch said damn Yankees play a game. This place becomes packed after a game at the stadium, especially if the Yankees win. If they lose, it's still a good place to drown your sorrows. They have large TVs for fans to enjoy the game on, and they have a large selection of beer and Yankees merchandise.
View this post on Instagram
Blondies
This Upper West Side joint has huge TVs, a great food menu, and tables you and your friends can reserve to watch the big game. Major events are shown at full volume, which is perfect for the rowdy fans who frequent this bar. They also have, what many folks call, the best buffalo wings in the city, and the beer menu is varied but extremely affordable. This is a great way to watch a game.
View this post on Instagram
Wogies
This bar for Philadelphia fans has all of the energy of Philly fans without the riots that take place in the city of brotherly love. They show games for the Eagles, the Phillies, and the Fliers, as well as other games when they aren't playing. Philly food like hoagies, cheesesteaks, and pizza is always on the menu. This family-owned establishment is dedicated to bringing the Philly tradition to NYC.
View this post on Instagram
Keg & Lantern
This delightful brewery has locations in Red Hook and Greenpoint, both of which have a large number of TVs and play a ton of sports. They also include zen gardens for people who want to hang out with sports folks but don't want actually to pay attention to the actual sports. Catering mostly to fans of the Rangers and Giants, this bar has a huge beer and food menu and often hosts private events.
View this post on Instagram
Treadwell Park
This cool spot has a location in both the Upper East Side and Battery Park City. This bar is all about sports. They even have a calendar on their website that details what games are happening. Their beer menu is huge, and they regularly host several private, sports-related events. They also have other events like trivia nights. This place is a lot of fun, with ample space for a group of friends to let loose.
---
Sports bars are a major part of NYC's nightlife and day-drinking culture. Some are fancier than others, but all of them encourage guests to grab some beer, enjoy some wings, and yell at a TV in anger when Tom Brady scores another touchdown. Affordable and fun, these establishments are where fans become regulars and build a community with other like-minded individuals. This is a net positive even if those fans enjoy teams from Boston.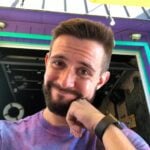 Russell is a writer and comic based in New York City. His plays have been featured at Penn State's Cultural Conversation's Festival, The NYC Thespis Festival, and Imaginarium's Inaugural Theater Festival. Follow him on TikTok and Instagram @pooleparty528