New York is a bustling city with movie stars, celebrities, and businessmen. When the topic of celebrity property investments comes up, neighborhoods such as Tribeca, SoHo, NoLita, and Greenwich Village come to mind. 
RealtyHop provided CitySignal with Manhattan properties where celebrities engaged in real estate activity over the past decade. This article features two lists, the first including celebrities who still own their property, and the latter composing of properties celebrities used to own. Continue reading to learn about the celebrities who live in Manhattan. 
This list was last updated in September of 2022. 
Here's an interactive map that shows where celebrities have purchased and sold properties in Brooklyn!
Celebrities Who Currently Own Property in NYC
Neighborhood: Upper East Side
Price: $10 million
Size: 11-room duplex
Closed: April 2015
"Shark Tank" superstar and real estate mogul Barbara Corcoran is no stranger to property hunting in New York City, and her expertise served her exceptionally well when it came to securing this unbelievable penthouse overlooking Central Park. The highlight of the apartment is its light-filled conservatory, though the massive cobbled garden terrace and attached solarium are also delightful to behold. The interior architecture feels trans-European with distinct French and old English accents and lends itself well to the antique decor that Corcoran has collected to fill her sumptuous lodgings.
*Picture attribution: RealtyHop
Neighborhood: Noho
Price: $3.9 million
Size: 2 bedrooms, 2.5 bathrooms
Closed: July 2016
Most New Yorkers in their early twenties aren't making multi-million real estate deals, but supermodel Gigi Hadid was only twenty-one when she bought her chic two-bedroom Noho apartment. The building's private garage offers a secluded access point to the building for Hadid, who endured stalking from an overzealous fan at her former address in the city, and its interior (designed by Annabelle Selldorf) features ten-foot ceilings with eight-foot mahogany-lined windows, a sleek silver-accented kitchen complete with handcrafted backsplash tiles and Italian millwork. The master bathroom is walled entirely with marble and has heated floors for cold winter mornings.
*Picture attribution: RealtyHop
 Neighborhood: Chelsea
Price: $3 million
Size: 2 bedrooms, 2.5 bathrooms
Closed: July 2018
Famous for his star-making turn on Modern Family and his recent Tony-winning appearance in Broadway's Take Me Out, actor Jesse Tyler Ferguson recently took on another major role: playing "Dad" to his two-year-old son Becket. Fatherhood inspired Ferguson and his husband to purchase a two-bedroom in Chelsea for their family to grow into, and the pair's new home is perfectly charming: taking advantage of the blank slate offered by the brand-new unit, they customized the apartment to feature quirky storage niches, an open concept living room with plenty of natural light, a sleek, angular kitchen with integrated appliances, and deep blue accents in every room to create a cohesive color palette. 
*Photo attribution: RealtyHop
Neighborhood: Tribeca
Price: $18 million
Size: Three-story townhouse
Closed: October 2017
Superstar singer-songwriter Taylor Swift stirred up a few titters when she bought her current Tribeca townhouse several years ago due to the residence's colorful history: 153 Franklin Street was where French politician Dominique Strauss-Kahn remained under house arrest for a number of months in 2011. In spite of the hefty baggage the home carries, there's no denying that it makes a luxurious abode: designed by architect Leopoldo Rosati, the home features three stories' worth of striking ornamental skylights, zig-zagging glass-walled staircases, and wood-paneled walls, as well as a built-in home movie theatre, a rooftop terrace, and guest bedroom suites with adjoining bathrooms. Swift owns the small townhome at 153 and units next-door at 155 Franklin in the Sugar Loaf Building. 
*Photo attribution: RealtyHop
Neighborhood: Hell's Kitchen (Billionaire's Row)
Price: $65.7 million
Size: 3 bedrooms. 5.5 bathrooms
Closed: July 2019
The residents of Billionaire's Row form an elite club, and it was with some fanfare that Sting, former frontman of The Police, joined their ranks upon the purchase of his 65-million-dollar penthouse atop the 75-story supertall skyscraper at 220 Central Park South. While the interior specs of the apartment are something of a mystery, as certain details of the listing were never made public, the unit includes a massive outdoor terrace and northern and southern exposures. The building itself was designed by architect Robert A.M. Stern and features exteriors made from Alabama limestone, scattered Juliet balconies, a private motor court, several athletic facilities, and a spa. There is even a private restaurant operated by celebrity chef Jean-Georges Vongerichten that is reserved exclusively for residents.
*Photo attribution: Jim.Henderson
Neighborhood: Lenox Hill 
Price: $11.75 million
Size: 3 bedrooms, 3 bathrooms
Closed: December 2018
There's no place like Shondaland, but even acclaimed showrunner and producer Shonda Rhimes needs someplace a little more grounded in reality to lay her head each night. She found exactly what she needed in this breathtaking penthouse designed by luxury apartment architect Rosario Candela in 1927. Rhimes' unit comes complete with a private elevator, a full wraparound terrace, a wood burning fireplace, a personal library, and even two dishwashers to help clean up after guests attend dinners in the splendid central dining area. 
*Photo attribution: RealtyHop 
Properties Celebrities Used To Own In Manhattan
Neighborhood: Lenox Hill
Price: $9.9 million
Size: 3 bedrooms, 4.5 bathrooms
Closed: March 2020
The Hunger Games star Jennifer Lawrence faced a tough market when she sold her stunning Upper East Side apartment in March 2020, receiving far less than the $15.6 million she originally paid for the sprawling penthouse four years earlier. Standing high above the city in the top floors of The Laurel, an exclusive 30-story condominium, the 4,073-square-foot unit includes a private elevator vestibule, a limestone gas fireplace, a massive outdoor terrace, a built-in ping-pong table, and a living room with full-length windows that provide a sweeping view of the city skyline. 
*Picture attribution: RealtyHop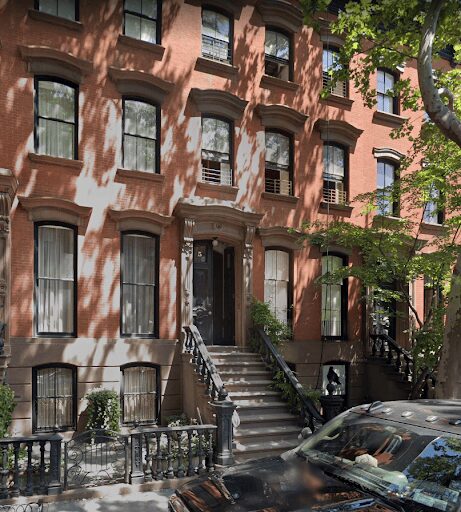 Neighborhood: West Village
Price: $15 million
Size: 4,000 square feet; bedrooms and bathrooms unknown
Closed: January 2021
Carrie Bradshaw, eat your heart out! The adorable West Village brownstone where Sarah Jessica Parker lived with husband Matthew Broderick for more than twenty years is only blocks away from the townhouse inhabited by her character from Sex in the City, and the couple earned a hefty return on the renovations they invested in during their time there: they paid only $3 million for the place when they first bought it in 2000 and sold it for nearly five times that amount in early 2021. The property includes a classic brownstone stoop and a functioning wood-burning fireplace with an impressive mantle, and the celebrity duo have taken great pains to preserve and maintain elements of the century-old building's historic interior.  
*Picture attribution: Google Maps 
Neighborhood: Tribeca
Price: $15.8 million
Size: 4 bedrooms, 4.5 bathrooms
Closed: January 2020
Ms. Streep is recognized far and wide as an actress of great class, and her splendid penthouse overlooking the Hudson, which she recently sold after fourteen years as a resident, proves that she has equally exquisite taste when it comes to real estate. Occupying a full floor of Tribeca's River Lofts condominiums, the 3,944-square-foot apartment offers nearly 360-degree views of the city between its full-length windows and massive wraparound terrace, and the open floor plan allows natural light to permeate through the entire living space. The building itself includes a private underground garage with secure elevator access that provided much-needed security to the celebrity actress.
*Photo attribution: RealtyHop 
Neighborhood: Chelsea
Price: $7.9 million
Size: 6 bedrooms, 5.5 bathrooms
Closed: July 2020
Susan Sarandon, known for cult classics like The Rocky Horror Picture Show and Thelma & Louise, bested the turbulent conditions of the early COVID real estate market to receive her exact asking price when selling her charming Chelsea duplex. Sarandon, who bought the apartment in 1991, raised all three of her children in an open-concept layout that the family lovingly referred to as "the field." Both floors of the duplex include sizeable terraces, and Sarandon also enjoyed making use of the apartment's central fireplace and two separate entrances and frequently made use of its numerous guest bedrooms to host friends, activists, and fellow creatives.
*Photo attribution: RealtyHop
Neighborhood: Carnegie Hill
Price: $45 million
Size: 6 bedrooms, 6.5 bathrooms
Closed: July 2021
For the privilege of settling down in the former digs of Broadway legend and beloved Hocus Pocus star Bette Midler, the new owners of her palatial penthouse in Carnegie Hill were happy to shell out a cool $45 million. The three-story penthouse features several green spaces, including a wraparound terrace, rooftop garden, and greenhouse, while the interior offers a library, a spacious kitchen, and a full gallery with an adjoining powder room; the master suite alone comes equipped with a beauty parlor, a fireplace, a steam room, a home gym, and a jacuzzi made from Japanese Hinoki cypress. Midler made numerous modifications during her twenty-five years as a resident, including making the ceilings higher and combining two separate units into a single apartment, and the new residents will surely benefit from her keen eye and excellent taste.
*Photo attribution: RealtyHop
Neighborhood: Hell's Kitchen
Price: $10 million
Size: 3 bedrooms, 3 full bathrooms, 2 half-bathrooms
Closed: March 2017
The Daily Show host Trevor Noah spent only six months living in Hell's Kitchen's stylish prewar Stella Tower before deciding that he needed to upsize, promptly trading in his former two-bedroom rental apartment for a duplex penthouse fit for a king. As a bonus, Noah films The Daily Show just a few blocks away from his new home—but this extraordinary apartment would be worth commuting any distance for. The lower floor includes a conjoined eat-in kitchen and dining room, two guest bedrooms with attached bathrooms, and a living room with fourteen-foot ceilings, while the upper level of the penthouse features the master bedroom and a second living room that opens out onto a 934-square-foot wraparound terrace with mesmerizing views of nearby Times Square. 
*Photo attribution: RealtyHop