It is a Thursday afternoon in glorious New York. Every 20 minutes or so you are eyeing the time and counting down the minutes until you can clock out. You are anxiously anticipating this workday to finally end. You hear the notification ring of a text message come through your phone. It's your friend! They want to go for drinks and grab a bite to eat tonight. A sigh of relief filters through your system. You respond with an "absolutely" to which they reply "where to?".  
Where to? You know a few places, but you want to try something new. Somewhere that truly encapsulates nightlife in a laid-back manner. Luckily, instead of forcing you to sift through the classic 'Google' search, we have compiled a list of the best cocktail bars in NYC based on which borough you're looking to wine and dine in. 
Holiday Cocktail Lounge – 75 St Marks Place
Open Daily from 4PM – 2AM
View this post on Instagram
In an area of Manhattan where the streets are paved with a rich cultural history, the Holiday Cocktail Lounge serves as a place where craft cocktails are made with elegance. To honor their love for the East Village and everything that comes with it, the owners built a spot where faces like Madonna, Iggy Pop, and Keith Richards have frequented. Since Holiday Cocktail Lounge's opening in 1959 aspiring artists sat upon the barstools discussing their visions and dreams while sipping on carefully crafted drinks. With 5 separate cocktail menus to choose from as well as a beer menu, this spot is a classic. They also have a few typical bar bites to nosh on such as wings, pizza, and corn dog bites. Vegetarian or vegan? Don't fret. This cocktail lounge also has an array of plant-based dishes. 
Death & Company – 433 East 6th Street
Open Daily from 6PM – 1 AM
View this post on Instagram
This cocktail lounge bar is one of Manhattan's most highly rated for a good reason. Death & Company is one of the more luxurious spots on the list with an atmosphere that will make you feel straight out of a James Bond film. On their 'About Us' listed on the website, they write "It was thought that to drink alcohol was to live a life shadowed by death; that those who drank were keeping company with death," and if that does not say enough about this lounge, I'm not sure what will. Since New Year's of 2006/2007 Death & Company has offered their customers craft cocktails that will have you putting your pinky up in delight. Mixing bitters, fruits, and unique liquors, you will not regret your time spent at Death & Company. They also offer a small food menu accompanied by dishes from popcorn to oysters and buttermilk chicken. Stopping by late at night and craving some sweets? Their cookies have dark & milk chocolate, banana liqueur, and sea salt. We're licking our lips too. 
Mace – 35 West 8th Street
Monday – Wednesday 4PM – 12AM
Thursday 4PM – 1AM
Friday & Saturday 2PM – 2AM
Sunday 2PM – 12AM
View this post on Instagram
Noted on their website as 'One of the World's 50 Best Bars' for the past five years, Mace is the perfect spot to grab the perfect cocktail. In 2015 it was opened by an acclaimed French bartender, Nico de Soto, and Cocktail Kingdom's Greg Boehm. It is safe to say they know what they're doing over there. Their award-winning menu offers a unique arrangement of specialty cocktails that you can only find at Mace. They have a Chaat Masala which is composed of fruits of the month-infused rye whisky, sweet vermouth, chaat masala Benedictine, Peychaud's bitters, and absinthe. All of their listed assortments are as explorative and delicious as this one. Mace also has a $12 happy hour cocktail selection every Monday through Friday from 4PM to 7PM. They also offer small plates, seafood platters, and a glorious raw bar. 
The Up & Up – 116 MacDougal Street
Monday – Wednesday 5PM – 1AM
Thursday – Friday 5PM – 2AM
Saturday – 4PM – 2AM
Sunday – 4PM – 1AM
View this post on Instagram
Looking to indulge in some fascinating Greenwich Village history involving the likes of the Beat Generation? The Up & Up is one of the best lounge bars in Manhattan to sip on a cocktail while sitting in a place where some of the most influential NYC residents thrived. The ambiance is unlike any other. With the William Morris wallpaper, marble, brass, and wood surroundings, you will be able to experience true artistic authenticity like no other. The Up & Up offers roughly 30 original cocktails with snack pairings of your choice. It states on its website that reservations are not required but are highly recommended and they can accommodate parties of up to 6 people. 
Dante – 551 Hudson Street
View this post on Instagram
Dante serves as one of Greenwich Village's most beloved spots, much like The Up & Up. Since 1915, this meeting house has attracted people from all different walks of life. Even though they value the history behind these doors, the owners of Dante have made a few changes in order to spruce it up a bit. The Italian heritage that lies deep within Dante's roots still remains intact with their famous espressos, but they are also known for serving quality cocktails. Dante's offers signature cocktails that include dessert options, wine, beer, and a brunch menu with seemingly a million options. They also have pre-fixed menus with family-style dishes to share with the table if you are interested in sitting around for more than just a drink. 
Bar Goto – 245 Eldridge Street & 474 Bergen Street
Tuesday, Wednesday, Sunday 5PM – 12AM
Friday & Saturday 5PM – 2AM
View this post on Instagram
Bar Goto is a great option if you are looking for a cocktail bar in the Lower East Side of Manhattan. With a walk-in-only setup, this place is constantly bustling with thirsty customers. Bar Goto has a Japanese background with all of their drinks and dishes offering a taste of Japan's food and drink culture. Not only do they have a long list of both traditional and Japanese-inspired cocktails, but they also serve sake, shochu, wine, beer, and specialty Japanese whiskey. Their food menu is quite small, but every dish is one that can be found in a traditional Izakaya. 
The Dead Rabbit – 30 Water Street
Sunday – Thursday 12PM – 2AM
Friday – Saturday 12PM – 3AM
View this post on Instagram
With over 5,000 reviews on Google at 4.6/5 stars, The Dead Rabbit finds itself as one of Manhattan's most highly rated cocktail bars. This 2-story spot has a lunch taproom and a parlor that serves small plates and vintage cocktails. With Irish traditions seeping through the paneled walls, The Dead Rabbit is famous for honoring pub life. Their drink menu is vast with classic cocktails such as an Appletini, Mezcal Highball, and Irish Coffee Martini being available for purchase. They also have The Dead Rabbit original cocktails which feature seasonal beverages. Their food menu is divided into three categories: all day, brunch, and late night. Brunch is available Saturday and Sunday only. You can choose from burgers, sandwiches, fried finger foods, and a few options for desserts. Essentially anything you would typically find in a pub-style joint. 
Sweet Polly – 71 Sixth Avenue
Monday – Thursday 4PM – 12AM
Friday 4PM – 2AM
Saturday 2PM – 2AM
Sunday 2PM – 12AM
View this post on Instagram
Finding a cocktail bar with a long list of options is not hard. However, Sweet Polly has an option for different moods your taste buds may be in. Their cocktail list features flavors that are 'spirited and aromatic', 'tropical and adventurous', and 'bright and refreshing'. They also have cocktails on tap that you can choose from. This is yet another spot that has the option for oysters to accompany your spirits. Not only that, but they offer full plates and snacks depending on how hungry you are. Looking to eat some dessert? Sweet Polly offers an Absinthe Crème Brulee. How could you go wrong with that? 
Westlight – 111 North 12th Street, 22nd Floor
Monday – Thursday 4PM – 12AM
Friday 4PM – 1AM
Saturday – 12PM – 2PM
Sunday – 12PM – 12AM

 
View this post on Instagram
This rooftop cocktail bar checks itself out as a fan favorite. Chef Andrew Carmellini allows his customers to catch a glimpse of some of the best views Brooklyn has to offer. His menu features original and classic cocktails, rare spirits, craft beer and wine, and a small menu with plates that reflect the likes of global street food. Even though this is marketed as a cocktail bar, the reviews absolutely rave about the food served. It is recommended to go out on a clear day or night to see spectacular views of New York City while you consume incredibly delicious food and drinks. 
Philomena's Brooklyn – 790 Grand Street
Monday – Thursday 5PM – 12AM
Friday & Saturday 5PM – 2AM
Sunday 5PM – 11PM
View this post on Instagram
Philomena's Brooklyn is owned and operated by Kyle and Sean O'Brien who named their beloved cocktail lounge after their Aunt Philomena. Philomena was known to people as being "the life of the party" and always entertaining guests with high spirits and uplifting energy. To encapsulate and commemorate their aunt, the O'Briens wanted to create a space in which people could celebrate eternal youth no matter what age. Their artisanal cocktail menu is constructed by Kyle Dailey who has worked hard in order to provide unique cocktails with fun quirks like infused ice cubes. They offer a happy hour Monday – Saturday from 5PM – 7PM and all day on Sundays. It's $2 off on all draft beers and $11 for specialty cocktails. Philomena's Brooklyn also has Wine Wednesday where you can receive a complimentary slice of pizza with every glass of wine ordered. 
Queens Cocktail Bars 
The Beast Next Door – 4251 27th Street
Monday – Thursday 4PM – 12AM
Friday 4PM – 2AM
Saturday 2PM – 2AM
Sunday 2PM – 11PM
View this post on Instagram
Located in the up-and-coming Long Island City, The Beast Next Door serves as your friendly neighborhood cocktail bar. Their style is described as a mixture between rustic and elegant with handcrafted cocktails, fine wines, and a selection of craft beers. They also have a French-style kitchen that serves charcuterie and cheeses, toasted gourmet sandwiches, fresh oysters, salads, and house specials. It was named one of the best ten bars in Long Island City by Culture Trip publication. The Beast Next Door has a happy hour every Monday – Friday from 4PM – 7PM with discounted beer, $2 off all cocktails, and $1 off all wines, wells, and draft beer. They also do brunch every Saturday and Sunday from 2PM – 4PM with a wide variety of tasty brunch-style treats. 
The Last Word – 31-30 Ditmars Blvd
Tuesday & Wednesday 5PM – 1AM
Thursday & Friday 5PM – 2AM
Saturday 3PM – 2AM
Sunday 3PM – 1AM
View this post on Instagram
The Last Word is a formerly hidden speakeasy cocktail lounge located in Astoria, Queens. They value the concept and ingredients of a classic cocktail but also enjoy putting their own spin on things with seasonal ingredients sourced from New York. This joint has a happy hour on weekdays from 5PM – 7PM and Sundays and Tuesdays all night. Not only can you get good deals on their food cooked by world-class chefs and drinks, but there is also live music every night. 
Bar Dalia – 33-17 31st Avenue
Monday – Thursday 5PM – 11PM
Friday 5PM – 1AM
Saturday 12PM – 1AM
Sunday 12PM – 12AM
View this post on Instagram
Bar Dalia is an intimate space with Mexican tapas and some of the best cocktails you can get in Queens. On Tuesdays, they have Tequila Tuesday where they invite customers to receive $2 off select tequilas and mezcals. You can get it neat, on the rocks, or mixed with a cocktail. You are the one who decides! It states on their website that they highly recommend their agave spirits if you are willing to try out something new. All cocktails are $14 and their Bar Dalia house shots consisting of whiskey, apricot liquor, fresh lemon juice, and simple syrup are $5. They also do brunch every Saturday and Sunday from 12PM to 4PM serving a wide array of starters, entrees, and side dishes. 
The Coupe – 379 Van Duzer Street
Open Daily from 6PM – 4AM
View this post on Instagram
Listed in New York Magazine as Staten Island's best bar and in Thrillest as currently one of the best bars in NYC, The Coupe is a must-visit if you are within the area. All their cocktails are $12 and range from frozen margaritas to the classic Old Fashioned. They also offer beer and wine. Out late and craving some food? The Coupe has a "4AM Food Menu " which features meats, cheeses, sandwiches, sides, AND desserts. It doesn't get any better than that. Currently, they are only taking cash due to credit card fees so make sure to stop by an ATM before you pop in! 
Bronx Cocktail Bar 
The Bar at 47 – 47 Bruckner Blvd
Monday – Thursday 4PM – Late
Friday & Saturday 2PM – Late
View this post on Instagram
Dive bars are always a good time, always. There is something really special about a bar just being your typical ol' bar with relatively inexpensive drinks and dated decor. However, The Bar at 47 is marketed as an upscale dive bar with some of the best signature cocktails around. Their neon lights and daily events only add to the excitement of it all and you can tell they truly value their craft here. Enjoy free pool and $9 cocktails all Monday night, trivia with Jill on Tuesdays, spin the wheel and live music starting at 7PM on Wednesdays, pool competitions on Thursdays, and enjoy some great music from their resident DJ starting at 9PM every Friday. Their website recommends following and keeping up with their Instagram to learn more about their live music, events, and weekly specials.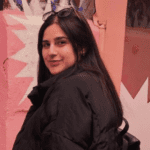 Carly is a freelance writer with interest in topics pertaining to lifestyle blogging, social justice, and anything to do with film/media. She graduated from the University of Wisconsin - Madison with a degree in English & Literary studies in hopes to write for a large music publication. When she is not writing, you can find her watching movies, cooking her famous Carbonara, and enjoying time outdoors.