Dumbo is the tech capital of NYC, and has been rapidly growing in both population and wealth. Head to Dumbo, and you'll catch many office workers, tourists, and residents who live in the area walking about, side to side. These factors have made it possible for some of the best eateries in NYC to set up shop in this little area. The establishments here are fun, innovative, and very delicious, catering to guests from all over the world. Getting hungry? Don't know where to start? We can help you with that.
Best Restaurants in Dumbo
View this post on Instagram
Time Out Market NYC
The Time Out Market is famous worldwide, showcasing the best food each participating city has to offer. NYC is no exception to the rule, with Time Out Market NYC featuring foods from Mr. Taka Ramen, Jacob's Pickles, Chote Maya, Bubusan, Ess-a-Bagel, Littleneck Oyster Bar, and a bunch of other places we simply don't have time to list. The market also hosts events like live music and parties for people to enjoy. While not a typical restaurant, this place is huge, delicious, and an experience every New Yorker should try at least once.
Celestine ($$$)
This Mediterranean restaurant is the classiest joint in the neighborhood. Sporting great views of Manhattan, the East River, and the Manhattan Bridge, the visuals of this place are just as impressive as the food itself. The restaurant is also a popular venue for wedding receptions, offering special deals based on the size of your party. No matter why you come here, you'll have an amazing meal. Some of their best dishes include branzino, smoked white fish toast, and toasted mushroom pasta. They also have an extensive drink list. 
Bread & Spread ($$)
This brunch restaurant is the perfect place to grab a hearty sandwich and a strong cup of coffee. Opened in 2014, this place has provided the neighborhood with delicious sandwiches made with local ingredients for nearly a decade. Some of their most celebrated sandwiches include the beef short rib with pickled shallots, blackberry jam, baby greens, and swiss cheese. Alternatively, try their delicious Tucson turkey roast with crispy shallots, Munster cheese, and cranberry mustard. They also have a good variety of coffee and tea for those who need a little pick-me-up in the mornings.
Superfine ($$)
This farm-to-table restaurant has been a staple in the neighborhood for more than 20 years and serves worldwide cuisine from Italy to Mexico. The menu changes constantly based on the seasonality of ingredients, what local growers, farmers, and fishmongers have available, and the kitchen's whims. If that wasn't enough to pique your curiosity, they also hold special events like happy hours and live music. They even have special Jazz Jams on the second and fourth Wednesday of the month, where amateur musicians and vocalists can sit in with the house band and make some sweet sounds.
Em Vietnamese Bistro ($$)
This elegant Vietnamese restaurant was started by chef Ly Nguyen in 2017 after moving from Vietnam with her husband. Serving up Vietnamese comfort food, chef Ly has perfected this menu over the course of several years, making changes to each recipe and adding entirely new dishes in the quest for perfection. Some of her most celebrated dishes include her pho ga, bun tit nuong, and dau hu chien. No matter what you get, every plate is bright, lite, and full of flavor that will satisfy any palate and make you feel right at home.
Front Street Pizza ($)
Classic New York pizza place, Front Street Pizza sells by the slice, the pie, or the several pies if you're having a party. They also have Sicilian-style pizzas, as well as gluten-free pies so that everyone can have a slice! Just like any pizza place in the city, they also have some non-pizza offerings like calamari, burgers, and big sandwiches. While most people are going to go for the calzone and garlic knots, why not be a little adventurous? Dumbo is all about innovation, so it only makes sense if this pizza place has a huge menu with unexpected options.
Rim Nam Thai Kitchen ($$)
This cute Thai cafe is perfect for dine-in, takeout, and delivery. Showcasing some of the best Thai in Brooklyn, this place is full of options like fried rice, curry, and a variety of noodle dishes that can feature beef, duck, chicken, shrimp, or pork. They even have a portion of the menu that is vegan so that anyone can enjoy this wonderful place. Their drink options are also pretty impressive, serving up some great beer, wine, and specialty cocktails that will make any evening perfect.
Cecconi's Dumbo ($$)
Another international sensation that has come to Dumbo, Cecconi's features a classy drink menu, delicious foods, and views of Manhattan that can't be beaten. This Italian establishment showcases the best ingredients with handmade pasta, fresh meats, and fish. Some of their most desired meals include their rigatoni bolognese, eggplant parmigiana, and their veal chop Milanese. They also have an extensive wine list from the finest regions of Italy, France, and the United States. This is the place to go if you want to impress your boss or date.
Best Bars in Dumbo
View this post on Instagram
Olympia Wine Bar ($$)
This cute wine bar is subtle yet refined. The establishment features wines from vineyards all over the world, and the menu is ever-changing based on the new find from the owners. They also serve food like dates wrapped in bacon, tuna with capers, and full charcuterie boards. The interior and the patio space are both very chique and are available to those who want to host an event in the space.
Evil Twin Brewing ($$)
This brewery and beer garden is a satellite location to the main space in Ridgewood, Queens. That said, this spot is also packed with thirsty folk who love to try new sours, IPAs, and lagers. With dozens of beers to choose from and a space with a cool atmosphere, this is the perfect place to stop on a summer day when you just want to let loose a little.
68 Jay Street Bar ($)
This hip place is the quintessential Dumbo bar. They have live country, blues, and jazz music regularly, they have eclectic decorations that stick out in a good way, and they have all the classic cocktails you could want with slight twists added to them. The venue might be a bit small, but it does an amazing job bringing the community together. This is a lot of locals' favorite bars, and it's easy to see why once you pay them a visit.
The Hull Sports Bar ($$)
Located inside a seafood restaurant, this sports bar is big, flashy, and lots of fun. The bar serves oysters and fish tacos to enjoy while you're watching the big game, along with a ton of specialty cocktails. They have a ton TV's and they even break out the 14-foot projector on special occasions. Built like a speakeasy but not meant to be a secret, a portion of your bill goes to clean up the New York Harbor so restaurants can have access to fresh catches for years to come.
Dumbo Station ($$)
This seasonal bar is located down under the Manhattan Bridge overpass and is a very popular spot with locals and tourists alike. The bar is open every year from April to October from noon to 10 p.m. daily. The best part about this place is that folks who know love to visit, and people who aren't aware of it get a fun little surprise when they visit the neighborhood. It's a cute spot with a decent amount of beer, wine, and cocktails for you to enjoy.
Best Cafes and Bakeries in Dumbo
View this post on Instagram
Jacques Torres Dumbo ($)
This chocolate shop is the flagship store of the popular Jacques Torres dessert brand. The bakery and chocolate shop is famous for their cookies, bonbons, chocolate bars, and so much more. The store's owner, Jacques Torres, has worked with Michelin Starred chefs and has been making pastries since he was a teenager in the south of France. He has won numerous awards for his work in the culinary world, so his chocolate is probably pretty good.
Dawn's Til Dusk ($$)
This bakery is ideal for people who want a customized treat for a birthday, wedding, or other celebration and special occasion. This establishment's name isn't just a pun, but a good indication of their hours, as they are open from 8 a.m. to 8 p.m. There's also a cafe portion of this wonderful place, so you can grab a cup of coffee if your cake isn't quite ready yet.
Devoción ($$)
This popular coffee shop gets shipments of their coffee beans straight from Colombia every single week. Opening in 2006, this place deals directly with bean farmers, which means their coffee arrives faster and fresher than other cups from similar cafes. They strive to make the perfect cup of joe, and they are doing pretty well for themselves, even showcasing their process on their website via a short film.
Butler Dumbo ($)
This cafe is great for either a quick pop-in or a sit-down meal. The coffee here is great, as are the pastries that are offered daily. Some of the best selections include their French toast, vegetarian breakfast empanada, and everything cruffin, which is a cross between a croissant and a muffin. Along with their cafe and bakery, they also offer a wide variety of food for breakfast, lunch, and dinner, including veggie wraps, breakfast sandwiches, and seasonal grain bowls. They even serve beer, cider, and wine, so you can find almost anything you could want right here.
---
Dumbo might be a small neighborhood, but there's a lot to do and see. The restaurants, bars, and cafes of the area thrive here due to quality service, fresh ingredients, and unmatched technique. Dumbo is still growing as well, so these options won't be the only ones to choose from in the future. Heck, you could even open your own establishment to critical acclaim if that's where your heart leads you. Dumbo comes built in with a strong community that's willing to try new things, so it's no wonder restaurants find tons of success here. Which restaurant will be your favorite? You'll have to visit to find out.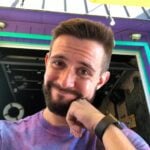 Russell is a writer and comic based in New York City. His plays have been featured at Penn State's Cultural Conversation's Festival, The NYC Thespis Festival, and Imaginarium's Inaugural Theater Festival. Follow him on TikTok and Instagram @pooleparty528