New York City is famous for pizza. Everyone knows that a New York slice is the best slice in the country, despite what people from Chicago say. New York has it all from a simple dollar slice, to brick oven masterpieces, and there is no shortage of places to get these pies. You might even be overwhelmed at all the pizza options in this fair city. But never fear, CitySignal is here, and we have the inside story on all the best places to get pizza in every single borough. So make a reservation or grab a dollar, cause you'll be starving after reading this list.
Best Pizza in Manhattan
View this post on Instagram
Tino's Artisan Pizza
It's rare to find a pizza place that's successful enough to franchise across state lines, but Tino's Artisan Pizza has done just that. With five locations in New Jersey, they've decided to cross the Hudson and open up a location in Chelsea, thus joining the NYC pizza brigade. They have a huge variety of red and white pizzas, each around 12″ in diameter with a slightly charred crust. They also have sandwiches, pasta, and desserts for those who don't feel like joining in on the pizza party. Try their Sicilian tomato pie or their Roman zucchini pie. Tourists and residents of Chelsea agree that the pizza here will blow your mind.
Joe's Pizza
This Greenwich Village staple has been feeding hungry college students, young professionals, tourists, and more since 1975. This place is famous amongst New Yorkers and is even frequented by celebrities like the Kardashians, Drew Barrymore, and Saquon Barkley. Joe, himself is a local celebrity, opening the shop after moving to the United States from Naples. He's been making pizza all his life and has no plans on stopping, which is good since his pizza is basically the heart of Greenwich. They have multiple locations around the city, but the one in the Village is special and is a great destination for New York foodies.
Artichoke Basille's Pizza
This establishment might have locations nationwide, but they started with humble beginnings in the East Village. Since 2008, this pizza shop has become insanely popular, and has expanded into California, New Jersey, and Arizona. That said, they know who their best audience is, and specialize in the New York slice that made them famous to begin with. They have the standard styles like margherita and pepperoni, but they also serve slices with crab, vodka sauce, and, yes, artichokes. They've gotten so popular that the owners have even released a cookbook, so you can make some fresh pizza at home. Don't get cocky, though. The best slice is still found in their stores.
John's of Bleecker Street
One of the oldest pizza places still around, John's of Bleecker Street has been serving some of the best pizza in town since 1929. This gives the restaurant an old school vibe that can't be found anywhere, and many of the family recipes that made this place famous are still used here to this very day. This establishment does delivery until 6pm, but it's much more a sit-down joint, making it a perfect date spot or family evening. With rave reviews from Zagat, The Village Voice, and more, it's no wonder this place is packed every night. Make sure you call ahead!
Scarr's Pizza
In the heart of the Lower East Side, Scarr's Pizza is delicious and has something for everyone. This spot can make your pizza in a ton of different sizes, styles, and customizations. They even serve sandwiches and cocktails for those looking for something a little different. They have vegan options, single slices, and appetizers, and even sell some ingredients to make your own pizza on the off chance you can't become a regular customer. Their dough, especially, is amazing, fresh, and made in a stone mill. This is a place that wants to feed you, your friends, and your family in style.
Patsy's Pizzeria
Another establishment from the early 20th century, Patsy's has been feeding New York since 1933. With several locations around the city, including the Upper West Side and Turtle Bay, this pizza place has received stellar reviews from the New York Times, Zagat, and the Wall Street Journal. They serve a ton of pasta, appetizers, and desserts, along with a huge wine list that will leave a sommelier's jaw on the floor. Their pizza is why people keep coming back, though. They come in red and white styles with completely customizable toppings, and are cooked to perfection per your order.
Lombardi's
Often called "America's oldest pizzeria," Lombardi's has been open since 1905, and is still going strong. Located in Little Italy, this establishment has seen the ups and downs of NYC in a way no other restaurant has, and is even credited as creating New York style pizza. This place is a throwback to a simpler time, and is full of Italian classics like Margherita pizzas, chicken parm, meatballs, and spinach & tomato white pie. Everything here is worth trying, so you'll be coming back again and again. If it's available, try the clam pie. It'll blow your mind.
Famous Ben's Pizza
Specializing in Sicilian Pizza, you'll be leaving this place full and satisfied. Since 1977, this restaurant constantly appears on lists of best "Best Sicilian Slices in NYC," and serves up a selection of calzones, heroes, and pasta. The restaurant has even been featured in movies in movies like Men in Black 2, and in TV shows like Sex and the City. This place personifies the New York City pizza shop. If we're peaking your interest, then make your way to SoHo and experience one of the best slices you've ever had.
Kesté
This award winning pizzeria has a lot going on, including classes on pizza and wine tasting! This establishment specializes in personal, Neapolitan style pizzas. One of their biggest claims to fame is their gluten free pizzas, a saving grace to those who can't eat gluten, but still love the taste of a good pizza pie. And these pies are good, winning various titles like "#1 Pizza in New York" from New York Magazine, "Best Pizza in New York State" from Food Network Magazine, and regularly places amongst the top 25 best pizza restaurants in the country by Food and Wine.
View this post on Instagram
Paulie Gee's
This pizza shop has several locations around the country, but the best are located in Greenpoint. These two Brooklyn establishments serve two very different functions. The one at 60 Greenpoint Ave is dine-in only, as these pies are more artisanal, and are more enjoyable the sooner they come out of the oven. The slice shop, on 110 Franklin Street, is perfect for those who need pizza on the go, but still want the same great quality and flavor. Both these places, combined, make for a pizza powerhouse in the Greenpoint area.
Emmy Squared
This Williamsburg staple has been called a must try by people in the neighborhood. It might seem blasphemous at first, combining grandma style pizza with Detroit style pizza. However, art can sprout from unlikely fusions, and this one happens to add a ton of credibility and edibility to NYC's pizza culture. This place has become so popular that they offer party and catering services, and it's easy to see where that confidence comes from. They're a younger establishment, opening in 2016, but they show a lot of promise, innovation, and drive. They will definitely be around for a long time.
Best Pizza
The name of this place might be a little on the nose, but they are justified in using it. Best Pizza uses brick, wood-burning ovens to cook their delicious pies, and they have a huge variety of topping and styles to choose from. The Williamsburg establishment serves 20″ red or white pies, both of which can be gluten free if need be. They have a ton of toppings to choose from, ranging from different price points depending on the decadence of said toppings. Meatballs are obviously going to be more expensive than onions. They also serve a variety of heroes should you have a different craving than the rest of your party.
Juliana's
Located in Dumbo, this place serves some of the best thin crust pizza in the city. Everything this establishment does is in the name of quality, from the internationally acquired ingredients to the handlaid, brick oven used to to cook pies to perfection. They have the standard fare of red and white pizza, but also one of the most robust toppings lists in Brooklyn. It's not everyday you can get a pizza with Moroccan olives on it.  They even have pre-made, mostly cooked pizzas that can be delivered right to your door, so you can have these pies at your leisure. 
L'industrie Pizzeria
This old world pizza place has been dubbed, "the best pizza around" by many people on Yelp and Google reviews, where the establishment has a nearly perfect rating. They have red and white pizzas at 18″ in diameter, both of which come with some truly delicious options. Their fig jam white pizza? Out of this world. They even have desserts and a daily sandwich special that you can get info on if you follow them on Instagram. This place is full of delicious food and an old world atmosphere, making it a great way to impress any out-of-towner.
Speedy Romeo
Located in a building that's over 100 years old, Speedy Romeo is named after one of the owners proud race hours. This eclectic history is enhanced by their delicious pizza, which has earned them a place on the Michelin Guide's Bib Gourmand list every year since 2013. They have a ton of pizzas, specialty calzones, and an extensive beer and wine list. Their dishes look like a work of art, and they taste like one, which is why this Brooklyn establishment is a go-to for many people in the neighborhood.
Grimaldi's Pizzeria
One of Brooklyn's favorite sons, Grimaldi's is a classic pizza place ever since they opened underneath the Brooklyn Bridge in Dumbo. This venue is so famous that they have even partnered with wine brand Mille Gradi. Their coal brick-oven pizzas are often visited by people on pizza tasting tours. One of their most popular selections is their pesto pie, with fresh mozzarella and basil. All pies come in 12″, 16″, or 18″ sizes, and all can be made with custom toppings, though the menu is there for a reason.
Best Pizza in Queens
View this post on Instagram
Louie's
With a nearly perfect score on Google Reviews, Louie's the gem of Elmhurst. Their pizza is beloved by people in the neighborhood, and tourists from other boroughs and states visit on a daily basis to grab a slice here. Their pies and slices are delicious, as are their other Italian comfort foods. The best part about Louie's is their affordability. Their pizza tastes like it comes from a fine dining establishment, but is priced like easy to grab street food. It's delicious and affordable, so find out what the fuss is all about!
Milkflower
Located in Astoria, this place has a chill vibe that anyone can enjoy. A newer pizza place, this establishment's menu is huge, and features specialty pizzas like the Wu-Tang Clam, Stun Dunn, and the Local 82, all of which have unique ingredients and toppings. They also have a variety of pastas and desserts that are to die for, as well as a sizable wine and beer menu, featuring rare options like orange wines and locally brewed beers. This place is cool and fun, making it a great spot for a date or a get together.
Dee's
Since 1993, this Forest Hills gem has been serving up delicious pies in a classy environment. This establishment is more of an upscale dining experience, and is definitely worth the trip if you're coming from a different neighborhood or borough. Their wood fire oven is in plain view, meaning you can watch your pizza being created to perfection. They also serve a wide variety of other Italian dishes, and have a huge wine list that will pair well with any meal you choose. After you try this place, you'll be coming back again and again, so you better get your wallet ready.
Vesta Trattoria & Wine Bar
Another Astoria staple, this establishment on how authentic their pizza and other Italian dishes are. They make all their meals with traditional recipes and techniques that can be tasted with every bite. The restaurant itself is a dimly lit room with exposed brick, which makes for a very intimate atmosphere. This place is refined and delicious, serving 14″ thin crust pies in three special varieties: margherita, salsiccia, and diavolo arrabbiato. They also serve pasta, sandwiches, and even burgers for those who come to an Italian restaurant but don't want any of the Italian food.
Rosa's Pizza
With several location in Queens, this pizza empire has been dominating the borough since 1975. Now serving delivery, this place has everything from thin slices to Chicago style pizza. They have a ton of unique pizza toppings like ravioli, chicken bacon & ranch, and a Caesar salad slice. They also serve a variety of sandwiches and drinks that will leave you feeling full and happy. Want to make your own pizza? They'll deliver the ingredients right to your door! They sell everything from their dough to their sauces.
Best Pizza in The Bronx
View this post on Instagram
Full Moon Pizza
The Bronx has their own Little Italy, and this place is one of the best pizza shops there. Since 1976, this establishment has been serving pies, slices, calzones, paninis, heroes, pasta, and more. The owners come straight from Italy, so you know their food is going to be amazing. The locals sure know it, and they line up around the block for a chance to eat at this amazing place. There's a lot to see in The Bronx's Little Italy, and that sites are way more fun to experience when you have a delicious slice of pizza filling you up.
Louie and Ernie's Pizza
Originally founded in Harlem, Louie and Ernie's Pizza moved to Pelham Bay in 1959, and has been feeding the hungry people of The Bronx ever since. They've been featured on tons of lists from Thrillist, "Best Pizza Places in The Bronx" to Forbes list of "All Star Eateries in New York." It's easy to see why people love this place so much. From the low-key, humble vibe, to the delicious pies, there's nothing to hate here. Their menu of specialty pies is huge, and they even serve calzones and to-go slices for the New Yorker on the go. Now that's service!
Zero Otto Nove
Often mentioned in the Michelin Guide, this establishment serves a wide variety of pizza, pasta, and appetizers. Their menu is a bit fancier, but that's because everything served here is cooked to perfection, and quality is guaranteed. Michelin won't lead you astray, afterall. There are several locations around NYC, but you'll want The Bronx location for the unique atmosphere, as well as the possibility for outdoor seating. Their wine menu is also superb, and will make any vino connoisseur in the family extremely happy.
Emilio's of Morris Park
As the name implies, this establishment resides in Morris Park, but delivers to homes all over The Bronx. Established in 1989, this place has sought to improve its community via food, and has done just that, feeding the hungry people of The Bronx with options like chicken marsala pizza, veggie pizzas, and even a macaroni & cheese pizza. This is stuff dreams are made of, with wild slices of pizza that simply must be tried. They also serve a ton of other dishes like baked ziti, paninis, and foot long heroes.
Best Pizza in Staten Island
View this post on Instagram
Denino's Pizzeria and Tavern
Staten Island has a proud pizza tradition all its own, and it's perfectly personified in establishments like Denino's. Since 1937, this place has been receiving phenomenal reviews, even being featured in a PBS documentary about the history of Staten Island. Their pizza's are amazing, and that's due to the family ownership, which uses the same recipes that made them famous in the first place. Not many places can be called an institution these days, but Denino's can, especially since the borough named a street after the original owner. If you're ever in Staten Island, this is the place to check out.
Joe and Pat's Pizzeria and Restaurant
Established in 1960, this place has become so popular that they now fulfill orders nationwide over Goldbelly. The secret to their success is their versatility, serving not just thin slice pizza, but some of the best pasta and seafood in the city as well. You won't find fresher ingredients than the ones used here, and their pizza has landed them on shows and in publications like AM New York and Eater. They are also a very popular catering service, and are able to make any celebration even better with fresh, piping hot food.
Lee's Tavern
Another proud Staten Island establishment, Lee's has been serving fresh pizza since 1940. Specializing in pizza and seafood, this restaurant is a low-key spot that locals love to frequent during a special occasion or a chill night out. Featured on AM New York and Barstool Sports, this place really captures the Staten Island vibe. It's a great establishment where everyone is welcome. It's not fussy, but it cares about quality, and that's why locals and visitors alike can't get enough of the place.
---
NYC has a proud tradition of being the best pizza city in the world. Some folks will say that Chicago, Detroit, and even Philly can compare, but those fools are wrong or have been eating in the wrong places. When you get a good New York slice of pizza, the way you look at pies changes. Colors are brighter, birds sing more beautifully, and you realize that the sauce belongs under the cheese like God intended. So, no matter what borough you're in, get yourself a classic New York slice of pizza. It doesn't matter if you get cheese or something crazy. It'll be one of the best things you'll ever eat.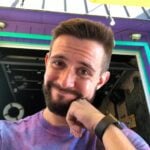 Russell is a writer and comic based in New York City. His plays have been featured at Penn State's Cultural Conversation's Festival, The NYC Thespis Festival, and Imaginarium's Inaugural Theater Festival. Follow him on TikTok and Instagram @pooleparty528