Since its founding, NYC has been a port town, meaning residents have always enjoyed drinking and dining on the water. Today, waterfront experiences are much more lavish, with spectacular views and high-class menus that will leave you in awe. These establishments have some of the best chefs, drinks, and creative spaces for people to have a pleasant evening or let loose for a little bit. But which establishments are the best of the best? 
Best Waterfront Restaurants in NYC
View this post on Instagram
Maiella ($$$)
Located right behind the iconic Pepsi sign in Long Island City, this Italian restaurant serves up delicious classics in a rustic environment. The views of the East River, Roosevelt Island, and Upper Manhattan are unbeatable, which is why the establishment often is rented out for special events. Some of the best offerings on their menu include pollo alla marsala, branzino alla cacciatora, and anatra. They also have an extensive wine list.
Miramar ($$)
This Greek seafood restaurant in Battery Park City has a stellar lunch, dinner, and prix fixe menu. Facing the Hudson River and Jersey City, the views here are stunning, especially during sunset. Their highly rated holiday prix fixe menu includes arugula, apple, and fennel salads, seafood paella, and a house dessert, all for just $29 per person. They also have a jumbo lump crab cake that's to die for.
21 Greenpoint ($$$)
This delectable restaurant and bar showcase the best Greenpoint has to offer. Facing the East River and the beautiful Manhattan skyline, this bar has seasonal menus that please palates all year round. Some of their best summer options include shrimp and grits, Dutch babies, and their signature cheeseburger. They also have pizza nights every Wednesday. The pies are made in their wood-burning stove and come in special combos that include a well-paired wine.
City Island Lobster House ($$)
Located on a small island in the Bronx, this seafood restaurant is very popular, though a bit difficult to get to. However, the trip is worth it for the great food and affordable prices. This place has something for everyone, featuring Mediterranean dishes alongside their amazing lobsters, scallops, and fish. They even have steak and chicken for those who aren't into seafood. The views of the restaurant showcase the beauty of northern NYC, especially the parks of the Bronx.
Blue ($$)
This Staten Island gem serves American cuisine while giving guests an amazing view of New Jersey. They have a ton of menus, including specific prix fixe, catering, and party selections. Many of these menus have access to raw bars, prime cuts of steak, and a plethora of pasta. The prix fixe menus are a Friday special and have something for everyone for just $55 per person. They also have a huge drink menu.
MOMO Hibachi Steakhouse and Bar ($$)
This waterfront Hibachi spot is very popular with the people of Sheepshead Bay. With multiple tables dedicated to great flavors and performances by the bombastic chefs, guests here will experience something amazing every time they visit. Some of the best meals guests can get here include crispy calamari, chicken and white tuna, and the birthday bonzai, a fried oreo with ice cream that comes with a polaroid picture for a souvenir. They also have a ton of fresh sushi.
Celestine ($$$)
The Mediterranean restaurant is in DUMBO, right next to the Manhattan Bridge. The views are breathtaking, but the food and event space is what keep residents coming back for more. Some of their best offerings include whitefish rillette, buttermilk fried chicken sandwich, and branzino. The space has won multiple awards as a wedding venue, two of them from WeddingWire, who awarded the restaurant the Couple's Choice Award in 2020 and 2022.
Best Waterfront Bars in NYC
View this post on Instagram
Ellington in the Park ($$)
This fun outdoor space is open from April to October and was retrofitted from an old MetroNorth Station. Now, the bar is an extremely popular place to host large parties. Serving mostly bar food, this place is close to athletic fields and beach volleyball courts. The best part is that, due to this being an outdoor restaurant, this place is super dog friendly, even located across the street from a dog run. Get there during sunset for some instagrammable moments.
BLVD Wine Bar ($$)
This wine bar with a view is classy, with delicate bites that pair well with any wine on the menu. Their charcuterie boards and flatbread pizza have put this place on the map, and they have one of the most extensive drink menus in Long Island City. They also have an amazing dinner menu, with a lobster bisque that's out of this world.
Dante Seaport ($$)
This seasonal bar is located at South Street Seaport and is right on one of the oldest docks in NYC. With amazing views of the East River and Brooklyn Heights. This establishment specializes in cocktails and has separate menus for martinis, negroni, and wine. They even have Aperol Spritz on tap! The bar also has a brunch and small bites menu, so you don't have to drink on an empty stomach. The best bites include cinnamon rolls, Caprese, and a raw bar.
Strong Rope Red Hook ($)
Part of the Strong Rope brewery family, this taproom is enormous, with a seamless transition between the indoor and outdoor spaces. They have a ton of beer on tap and some fun games. The views from the outdoor area are beautiful. One can see a stunning sunset behind the Statue of Liberty.
Pier I Cafe ($$)
This fun spot is very relaxed, serving strong, sugary drinks that pair perfectly with bar food and sunset off the Hudson River. They're well known for their margaritas, which come in a variety of flavors like pineapple, watermelon, and spicy. They're also close to the pier, which has many fun summer activities like movies and workouts.
Panorama Room ($$)
This cocktail bar is located on Roosevelt Island and provides stunning views of the island and the Manhattan skyline. There are both indoor and outdoor seating areas, both of which are very trendy. They have a huge food and drink menu, as well as specialty cocktails inspired by various unique flavor combinations. They even have a seafood tower that's perfect for groups.
Bungalow Bar ($$)
This bar and grill is right off Jamaica Bay and is the go-to bar for many people in the Rockaways. This huge establishment has a ton of beer, wine, cocktails, and ample outdoor seating. They even serve some tasty bites like a grilled chicken sandwich, lobster rolls, and a stellar raw bar. This place is fun, affordable, and very welcoming to tourists.
Best Boat Bars in NYC
View this post on Instagram
Grand Banks ($$$)
This classy oyster bar is right off the coast of Tribeca. The boat was originally built in 1942, and still has much of the charm of the original construction. Not only that, but the restaurant has won multiple awards, including New York Magazine's "Best Waterfront Restaurant in NYC" and The Village Voice's "Best Outdoor Dining in NYC" award. They are well known for their oyster platters and seafood towers, especially The Grand Banks, a $90 shellfish tower that comes with some delectable red wine.
Pilot ($$$)
Another boat in the Grand Banks family, this 1924 wooden schooner provides guests with phenomenal views of Governors Island, Manhattan, and the gorgeous waters right off the city. They offer many of the same food and drink deals as Grand Banks, though they usually have a different variety of oysters and crab for their seafood towers. This boat also has some great signature cocktails like the Get On Up, which has tequila, lime, Fresno chili, and strawberry. 
North River Lobster Company ($)
This popular lobster boat ships off into the Hudson River, giving guests a beautiful tour of the city they'll never forget. The food and drinks are delicious and, more importantly, cheap. Experiences last two hours, featuring a menu of raw and cooked shellfish, along with a ton of signature cocktails. This is a perfect activity for larger group celebrations.
The Baylander ($$)
This party boat is a favorite for the residents of West Harlem. Off 125th street, this boat is great for birthdays, anniversaries, and work events, all with special party platters. Even if an event occurs, walk-up guests are usually welcome with their dogs. This place offers street food like hotdogs, tacos, burgers, and specialty drinks in fun containers. This boat was crafted in 1968 and used in the Vietnam War.
The Frying Pan ($)
This cute ship was built in 1929 and found its way to NYC in 1989. As part of the waterfront restaurant Pier 66, this boat was considered a hidden party gem in the 1990s. Still a party boat, the food and drinks available can be found on Pier 66 and brought to the boat. Only parties of more than 25 need to make a reservation to this fun spot, and it's a great place for a birthday party.
The Honorable William Wall ($$)
Part of a yacht club, this bar is a ton of fun and is open to the public for a ticket fee of $20 on weekdays and $30 on weekends. Guests here can watch yacht races while enjoying their drinks, and the views of Manhattan aren't too shabby either. The yacht club also tries to entice guests into sailing lessons, so why not try that out if you enjoy the William Wall experience? It'll make you feel very fancy.
La Barca Cantina ($$)
This taco boat has dubbed itself a Fiesta on the Hudson. This is the only Mexican restaurant boat in NYC, and it has a huge food and drink menu. Night time is when this establishment comes to life, as it's decked out in lights that shine even brighter than the skyline. They even host special events like the Mezcal Festival, an annual event that celebrates all drinks made of mezcal via tastings, classes, and parties. This place is the personification of fun and is not to be missed.
---
Waterfront bars and restaurants are an experience that every resident and visitor of NYC can enjoy. Some are classy, some are affordable, but all of them are fun. The only bad thing about them is choosing which one to go to. They are perfect for parties, weddings, or quiet date nights. You can't go wrong when it comes to these places, so grab your friends, get dolled up, and be prepared to see some beautiful sights on the water. It's the perfect way to spend a New York City evening that everyone needs to experience at least once.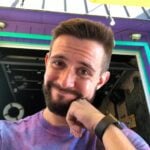 Russell is a writer and comic based in New York City. His plays have been featured at Penn State's Cultural Conversation's Festival, The NYC Thespis Festival, and Imaginarium's Inaugural Theater Festival. Follow him on TikTok and Instagram @pooleparty528