Check out the view from this penthouse terrace at 190 Riverside Drive – Amy Schumer's "Manhattan dream apartment"! And oh what a beautiful dream it is, truly. Speaking of views, it's got 360-degree views of the Hudson River, George Washington Bridge, and the New York City skyline. We're going to take you through this elegant home first, from the lovely entrance to the prewar Beaux-Arts building designed by architect Robert Townsend, to the stunning views you see above. You'll get all the juicy listing details of this magnificent apartment, and then we'll talk about another celebrity listing. So join me on an exciting adventure in celebrity real estate!
The "Secret Garden in the Sky"
Amy Schumer and her husband, chef Chris Fischer, are moving to be closer to their son's school in Brooklyn. Sadly, that means Ms. Schumer has to shed her Manhattan penthouse, so it's been for $15 mil. Of course, Schumer's apartment is the penthouse, but this one indeed stands out. If you've been keeping up with the latest Kardashian show, you may have seen bits of this apartment when Kim visits Schumer for guidance about her appearance on SNL.
Framed in lush green, the foliage you'll see throughout the photos is done by landscape architect Michael Van Valkenburgh, who's created a lush, garden-like environment.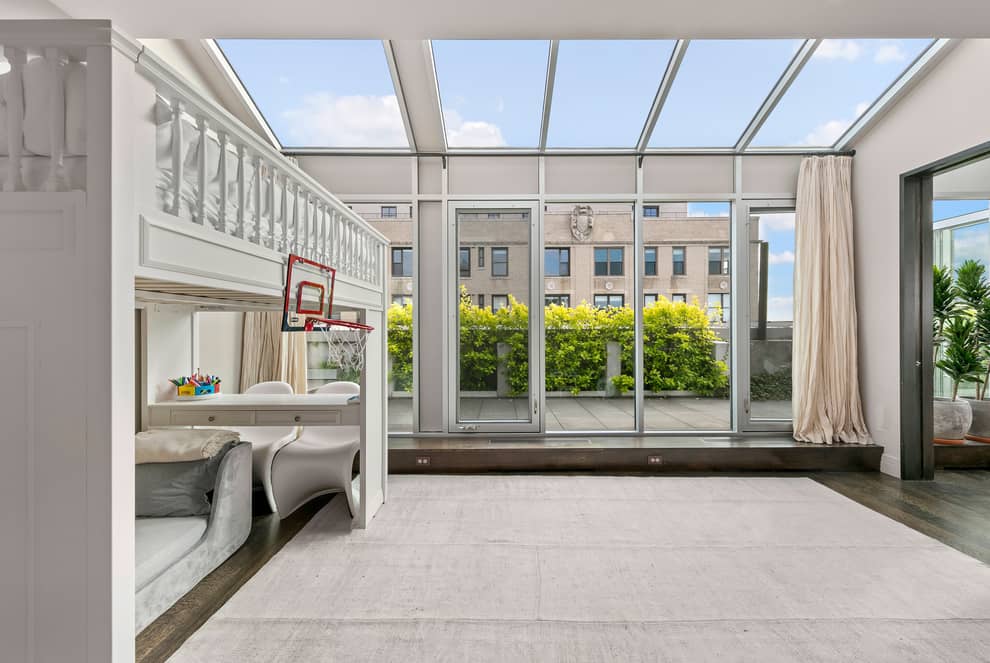 One thing I found intriguing right from the gate is the use of marble and rich wood throughout the apartment. It's obvious she spared no expense in her decor, and Amy Schumer has good taste. Clements Design helped her with the interior design. She chose them after visiting star pal Jennifer Lawrence and seeing what they can do. The firm is also known for working on Adam Levine and Behati Prinsloo's Pacific Palisades home, along with other celebrities. Next to the foyer and tucked away is a secret spiral staircase that leads to a 730 ft² private rooftop garden.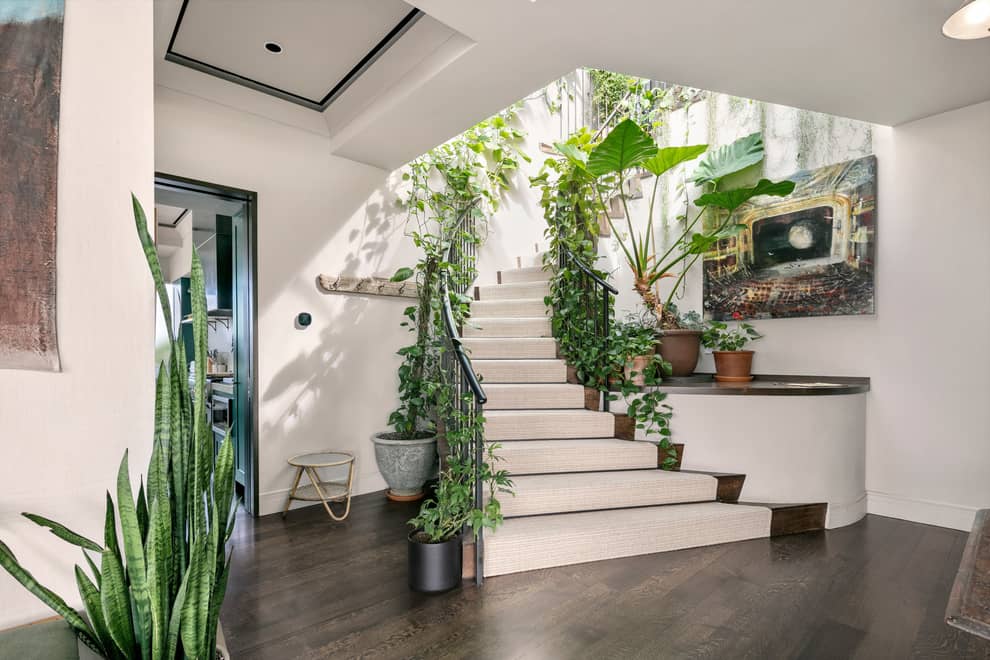 Now we have to backtrack to the foyer area, where you'll find a beautiful built-in powder room. As you exit the private, key-only elevator you'll see the custom anthracite stone gas fireplace and living room.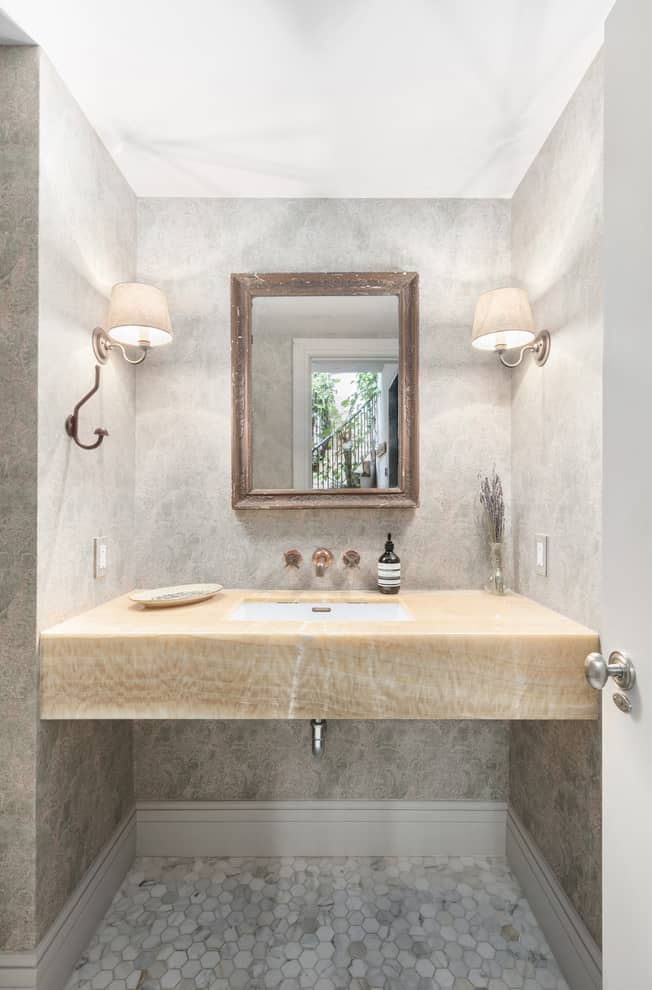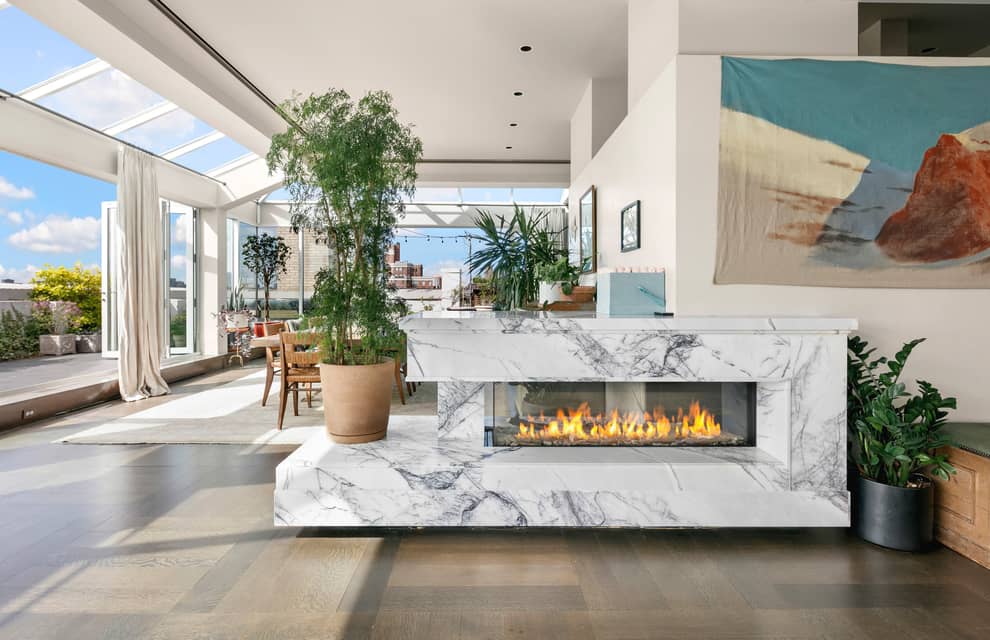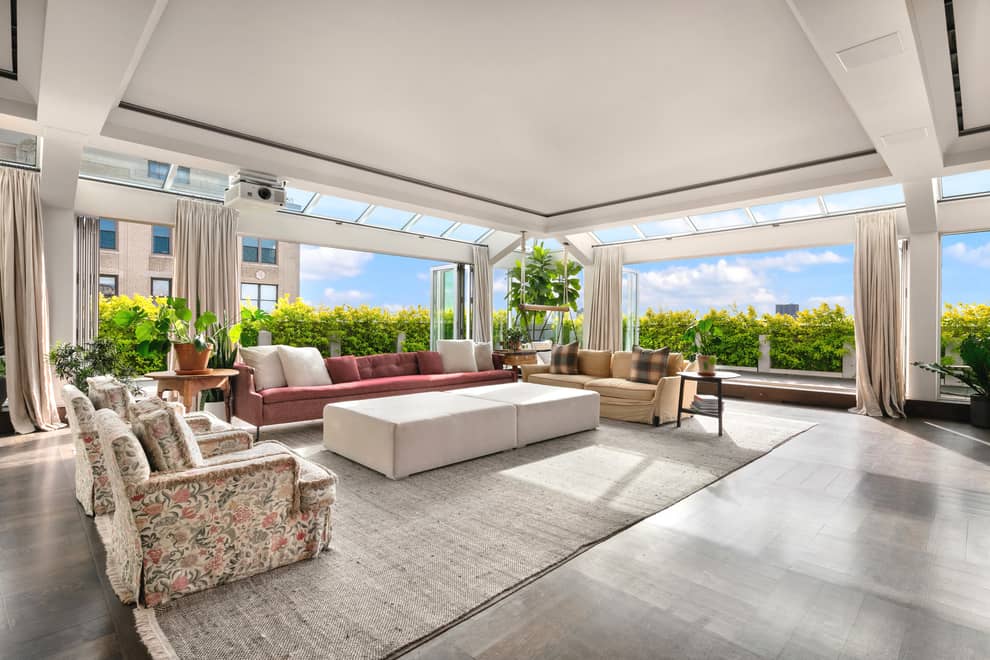 The condo is 4,500 ft², surrounded by 3,000 ft² of wraparound terraces planted with lush greenery. The landscape architect was money well spent, as the touches that flourish throughout the avant-garde space really make all the difference. The home has five bedrooms and five full bathrooms.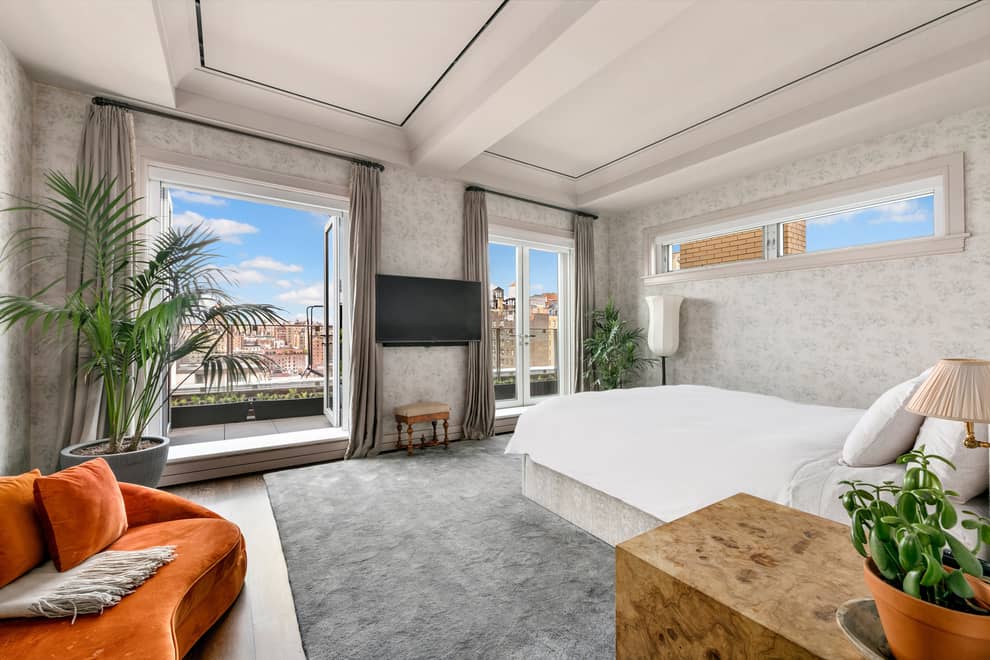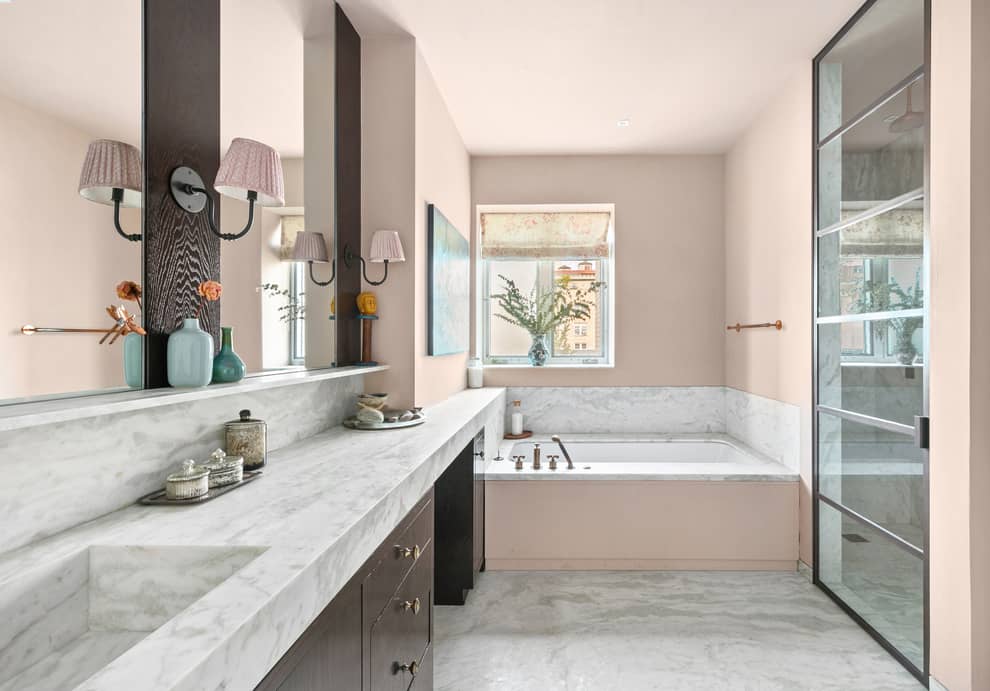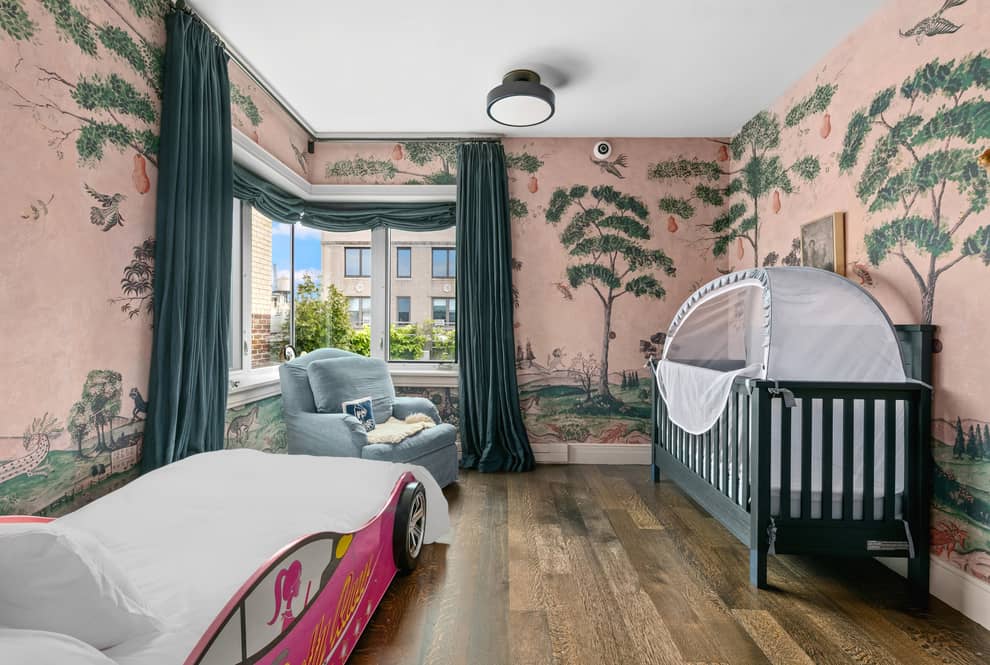 Of course, the kitchen and dining room are to die for, done in bold color that matches the rest of the home perfectly. The countertops are quartz and the appliances are top-notch. SubZero refrigerator, freezer, and wine refrigerator, Thermador oven, and dishwasher. Large dining area, great for entertaining on holidays or anytime, the home emanates beauty, harmony, and class.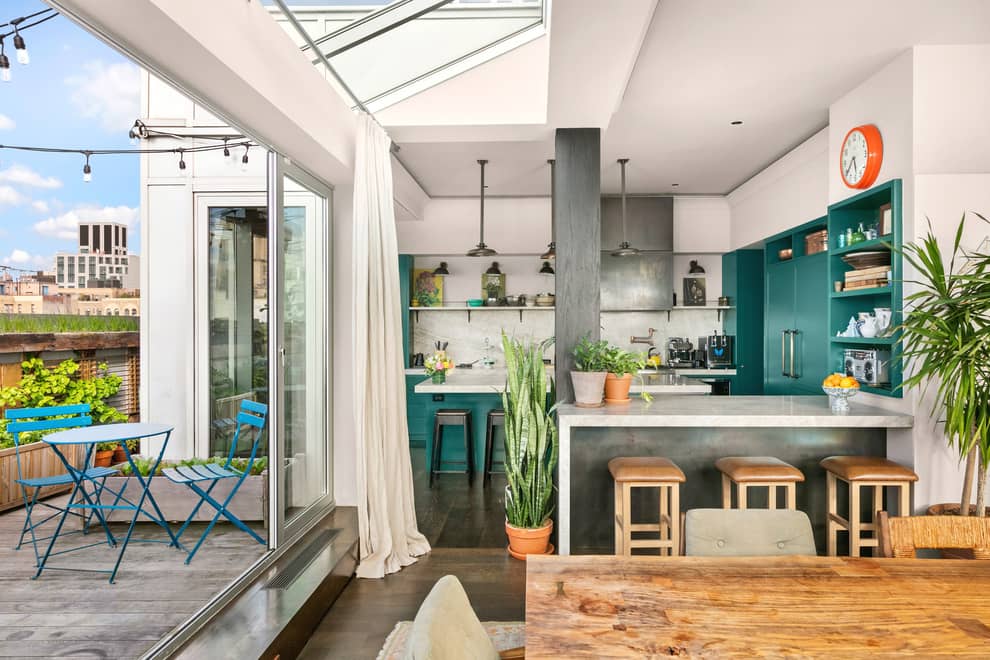 The home is picture-perfect, with 11-foot glass walls that meet angled skylights that wrap around the living spaces. Honestly, this could be anybody's Upper West Side Manhattan dream apartment without changing a thing. And don't forget the high-tech perks: Lutron lighting controls, a multi-zoned Ecobee thermostat, and Toto automated Washlets. Now let's talk about another celebrity real estate sale this week.
Neil Patrick Harris and Partner Sell Harlem Brownstone for Record Price
Say whaaat?! Yep, that's right – according to the New York Post, Neil Patrick Harris and partner David Burka have finally sold the brownstone listed first for $7.3 million last August. The home, at 2036 Fifth Avenue, suffered storm damage and had to be pulled while renovations were done. Originally built in 1908, the couple bought the five-bedroom, 8,000 ft² home in 2013 for $3.6 million and have put countless loving hours into its original restoration. It is absolutely gorgeous, and if I had to use one word to describe it? Manly. Like, almost overkill.
The house is regal looking and rich, dark wood and tones prevail throughout the home. It is five stories high and 20 feet wide, and now in contract for over $7.1 million, which beats the price record in the area. Harris and Burka have adopted twins, Gideon and Harper, and apparently have lots of great memories here but also have a house in the Hamptons that they spend much more time at these days. The reason for selling is stated as they don't need two large homes. The home comes with a vintage restored bar from an old hotel, that has updated equipment so that everything works, including two taps.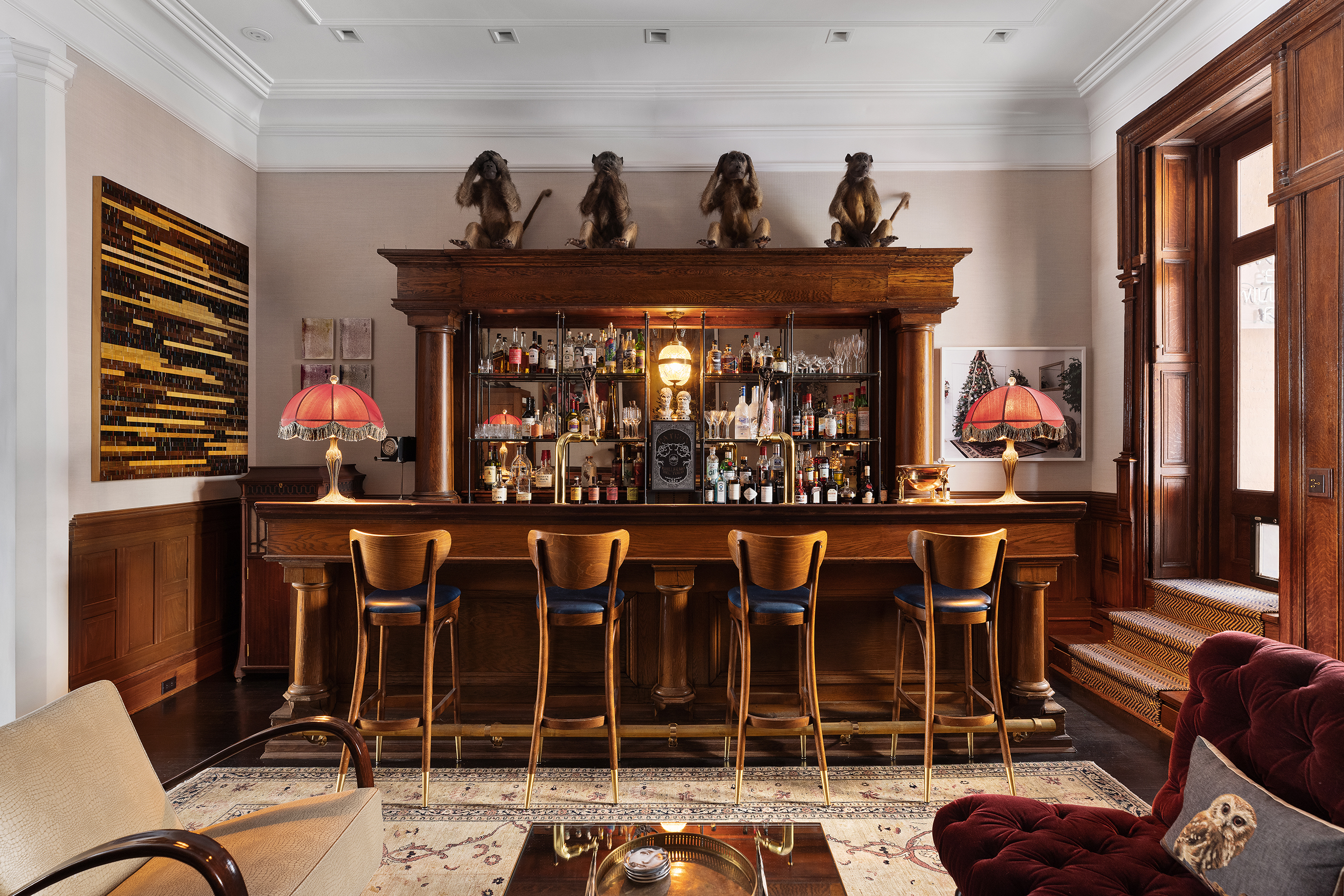 I do absolutely love the look of the dark wood they've kept and restored throughout, it is very tasteful and reminds one somehow of old money. The couple enlisted help from New York architect Jeffery Povero and LA designer Trace Lehnhoff. They have kept all original historic details like moldings, restored dark wood and staircase, and millwork intact. There's also outdoor space totaling 2,000 ft² with a mostly enclosed roof deck included with the sale. This space is furnished, irrigated and landscaped and includes a jacuzzi, outdoor grill and dining table for eight.
Back inside, the townhouse also has a top-floor office hidden behind a trick door, a formal dining room, library, music room, wine cellar, three fireplaces and a playroom. The couple bought the place as an old bed and breakfast and have turned it instead into the large single family home you see here. The home they spend most of their time at in the Hamptons is in East Hampton and was bought in 2017 for $5.5 million. It's four bedrooms, sits on 13.5 acres and is adjacent to a 10-acre reserve.
Closing Remarks on the Luxury Market
According to The Real Deal, the luxury market is slow this year after a record year high in 2021. The luxury market in NYC is defined as properties selling for $4 million or above, and from 2013-2015 NYC averaged about 26 contracts a week. In more recent years there's been a lot of fluctuation, such as 2020's 12 contract a week average. In 2021, there was a record weekly average of 36 contracts per week. This year, the first week of January was the slowest one so far with 21 contracts, and last week, from May 16th-May 22nd, was the next slowest with 23. On May 9th, TRD reported the week prior as having a record 43 contracts signed for between $4 million and $10 million – but because no listing sold for more than $10 million, however, the luxury market itself is considered to be in a "price slump." One thing is safe to say: the housing market is unpredictable at the moment.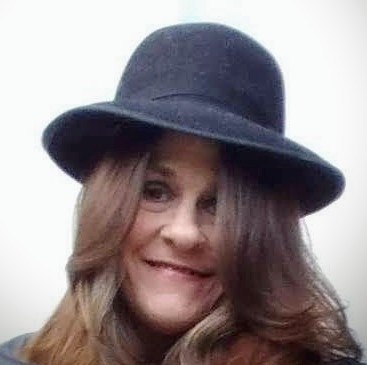 Rochelle Harris is a passionate writer originally from Phoenix, AZ. who credits her success to integrity and determination. She has a great sense of humor, loves music and her family, and writes fiction and poetry in her spare time. She is excited about the New York experience and lifestyle! Follow Rochelle on Twitter at @LinguisticAnRky or get in touch at [email protected]