Need some time to get out of the city and connect with nature? Check out these 20 camping spots to escape the city bustle!
State Parks or State-Owned Land for Camping Near New York City
Sebago Cabin Camp in Harriman State Park
Located just north of the New York-New Jersey state line in Rockland and Orange Counties, New York, Harriman State Park offers 200 miles of hiking trails, 31 lakes and reservoirs, and two public beaches. The rustic cabins (no water or electricity) and full-service cottages are tucked into a rocky, wooded hillside. The campground offers amenities like rowboat rentals, basketball courts, tennis courts, and beach access. Cabins sleep six. Rental: $266 – $736/week, depending on cabin or cottage size, plus processing fee for reservations.
Mills Norrie State Park – Esopus Island Backcountry Site
As the name suggests, Esopus Island Backcountry campsite is located on Esopus Island, an island in the Hudson River between Hyde Park and Staatsburg. Accessible only by boat—you'll need to bring your own canoe, kayak, or other vessel—the campsite offers a fire pit and portable camp toilet in addition to the standard camping platform and canvas-walled tent. It accommodates four people and is pet-friendly. Cost: $45/night.
Just an hour and a half north of the city by car, Fahnestock State Park features 76 dog-friendly campsites. Each site features a fire pit, grill, and picnic table; bathroom facilities are interspersed in the camping area. The park itself is over 14,000 acres, and is designated an official Bird Conservation Area. Bring your binoculars and get ready to spot broad-winged hawks, veeries, worm-eating warblers, and scarlet tanagers. Cost: $15-19/night plus processing fee for reservations.
The outdoors are for everyone, but campsites are all-too-often inaccessible to those who use a wheelchair or other mobility devices. Mongaup Pond Campground offer eight accessible campsites, with accessible picnic tables and fire rings. The nearby beach has an accessible access trail and accessible shower facilities. Cost: $22/night for New York State residents, $27/night for others, plus processing fee for reservations.
Gillette Castle State Park is named for the 19th/early 20th century actor-manager William Gillette's castle, which was acquired by the state in 1943 and sits within the park. Designed by Gillette himself, the castle is a mix of architectural styles and personal quirks. Consider camping at the public park's public campsite on the Connecticut River, which has a primitive toilet and is accessible by canoe or kayak, and hiking into the park to explore the castle. Stays are limited to one night. Cost: $5/camper/night.
Round Valley State Park, New Jersey
An hour and twenty minutes west of New York City you'll find Round Valley State Park, which offers the only wilderness camping in the state. While sites offer fire rings and grills, and primitive toilets are within walking distance, not all offer drinking water, so you may need to carry that in. And "carry it in" means a rugged three-to-three-and-a-half mile hike, or a boat trip across the Round Valley Reservoir. Sites sleep six and are pet friendly. Cost: $17/night for New Jersey residents, $22/night for others.
Located in East Haddam, Connecticut, about two hours and 15 minutes northeast of the city, Devil's Hopyard is known for its waterfalls and pothole stone formations. This may be the origin of the park's unusual name: angered by the falls for getting his tail wet, the devil "burned holes in the stones with his hooves as he bounded away." The legend does not account for what the devil was doing in Connecticut in the first place. Today, the park offers 21 tent sites in a wooded setting, with water and restroom facilities. $14/night for Connecticut residents, $24/night for others, plus processing fee for reservations.
A quiet, forested state park, Kettletown's campground offers 61 wooded and open campsites and a few rustic cabins near Lake Zoar in Sunbury, Connecticut. One of the campsites is ADA accessible. Bathrooms and showers are provided. The park features horseshoe pits, a small beach, and six miles of trails overlooking Lake Zoar and the Housatonic River. Visitors appreciate the varied wildlife. Cost: $17/night for campsites for Connecticut residents, $27/night for others; $50/night for cabins for Connecticut residents, $60/night for others, plus a processing fee.
An hour and a half west of the city, Worthington State Forest has 26 miles of trails, including a section of the Appalachian Trail, and is a great destination for hikers. The park offers one backcountry campsite, available on a first-come, first-serve basis. Sunfish Pond, a National Historic Landmark, is a 41-acre lake created by glaciers during the last ice age and a popular destination within the park. The park has 78 tent and trailer sites along the Delaware River, all of which have fire rings and picnic tables. The campground offers showers, restrooms, and drinking water. Cost: varies.
Camp By the Beach Near New York City
Montauk, at the far eastern end of Long Island, offers two excellent beach campgrounds, Hither Hills State Park and Montauk County Park. Hither Hills offers 189 oceanside campsites, just steps to the beach. The park offers a comfort station with showers, restroom facilities, volleyball, hiking, basketball, and fishing opportunities, among others. Cost: $35/night for New York State residents to $70/night for non-residents.
If a more rugged beach camping experience is what you're looking for, consider Montauk County Park. You'll need to drive a camper or haul a trailer onto the beach, but the views of Block Island Sound make up for the hassle. This is the kind of place you hunker down for a week of sun, sand, and screen-free life. Vehicles require an outer beach permit, and each group is limited to two dogs. Cost: varies.
Smith Point County Park campground is located on the Fire Island barrier beach, and all 270 campsites have water. Many also offer sewer and electric hook ups. The park's white sand, excellent surf, playgrounds, showers, and snack bar make it a very popular destination. It's a great spot for sport fishermen. Cost: varies.
Just two hours from New York City by car, Hammonasset State Park is Connecticut's largest shoreline park. The park's William F. Miller Campground offers 558 grassy sites (six of which are ADA accessible), with a  concession stand, bathrooms, and showers. No pets allowed, but you can swim, fish, and beach to your heart's content. Cabins are available for rent on a weekly basis, Sunday to Sunday. Cost: $20/night for Connecticut residents, $30/night for others, higher for campsites with water, plus processing fees.
Primitive Camping Near New York City
If getting off the grid and away from others is your goal, consider camping at Castle Rock Unique Area near Philipstown, New York. This 129-acre area offers Hudson Highland views and a short trail. Primitive camping is allowed 150 feet from the nearest road, trail, or body of water. Cost: Free.
Hickok Brook Multiple Use Area
Get away from it all in Sullivan County, New York at the Hickok Brook Multiple Use area, which offers short hiking trails, a pond for fishing, and designated and primitive campsites. Designated campsites are marked with yellow signs; primitive camping is allowed 150 feet from the nearest road, trail, or body of water. Cost: Free.
Sullivan County, New York's Sundown Wild Forest is 30,100 acres of mixed terrain in the southeast Catskills. This a place for some real hiking, mountain biking, or horseback riding (BYO horse), as well as fishing. The Peekamoose Blue Hole is a gorgeous, popular swimming site. The forest's Peekamoose Valley Camping Area offers primitive campsites (some accessible) and a seasonal port-a-potty. Reservations are required for campsites. Cost: Free.
Unique Camping Experiences Near New York City
Lavender Farm, Pleasant Valley
This campsite, offered through Hipcamp, is a private site on a working lavender farm. Located in  New Jersey a little over an hour from New York City by car, the site is within easy reach of Red Bank and Asbury Park. It features a fire pit and camp toilet and is pet-friendly, though dogs must be leashed (there are chickens on site!). The site accommodates six campers. Cost: $60/night.
Located on Westchester County's oldest working farm, this pond-side campsite offers a tent site, bathrooms, potable water, and is pet-friendly. It accommodates up to eight people and is convenient to both Harriman State Park and Fahnestock State Park. Cost: $68/night.
If you want a gorgeous campsite plus easy access to New Paltz AND an on-site farm brewery, consider Mount Top Campsite. Located on a working farm with farm story, brewery, and live music on weekends, the site accommodates tents or RVs and offers toilets, a fire pit, and picnic table. It accommodates up to ten people. Cost: $95/night.
If roughing it in a tent or rustic cabin isn't what you're looking for, maybe staring out the skylight of your private geodome is the best way for you to connect with nature. Each geodome overlooks a ravine and stream. Geodomes feature a bed, linens, towels, a hammock, private deck, and fire pit. There are toilets on site, showers, potable water, and private hiking trails. But all this doesn't come cheap: the geodomes run $295/night.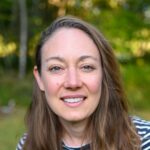 Leah Reddy is a New York-based writer, video editor, teaching artist, and theatre director/dramaturg with roots on the westside of Cincinnati, Ohio. She's been lucky enough to teach in all five boroughs of NYC and as a result, spend time in our fantastic city's lesser-known neighborhoods. An avid runner, foodie, and NYC history buff, she will talk your ear off about her favorite subjects and try to convert you to her level of enthusiasm for the Yiddish Broadway walk of fame, thali, and the fact that Chester Arthur was sworn in as President of the United States in the building that now houses Kalustyan's. She wants all New Yorkers to be able to enjoy their city and to marvel in the things that surround us all each day.