On the last day of November, my friend and I partook in our annual tradition of getting dinner at the legendary Rolf's Christmas Bar. As you may know, this restaurant and bar is THE Christmas eatery to visit during the holiday season. It can be impossible to get in and many wonder, is it actually worth the visit?
Well, I'm here to take you along on my journey of visiting Rolf's for the 2021 Holiday Season so you can decide whether you want to make the trip as well.
It All Starts In September
Our annual tradition began in September, the perfect month to start making holiday plans. Due to high call volume and an insane amount of interest, getting your reservations early is a must. If you don't have reservations, you shouldn't even plan on trying to eat at Rolf's, there is no availability. EVER. Your best bet is to stand in a long line to get into the bar section to have a drink or two in a crowded space reminiscent of pre-pandemic rush-hour NYC subway cars.
While my friend called and called for days, she was unable to get through to the host to make a reservation. Since we are New Yorkers, she decided to stop by the actual restaurant to put our names down.
Upon arrival at Rolf's, she was met with some sass over not making reservations via the two phone lines. Once she explained her plight, she was led to the back of the empty restaurant where an elderly man sat in a corner booth organizing reservations. He'd probably been the only person doing this job for the last 50 years.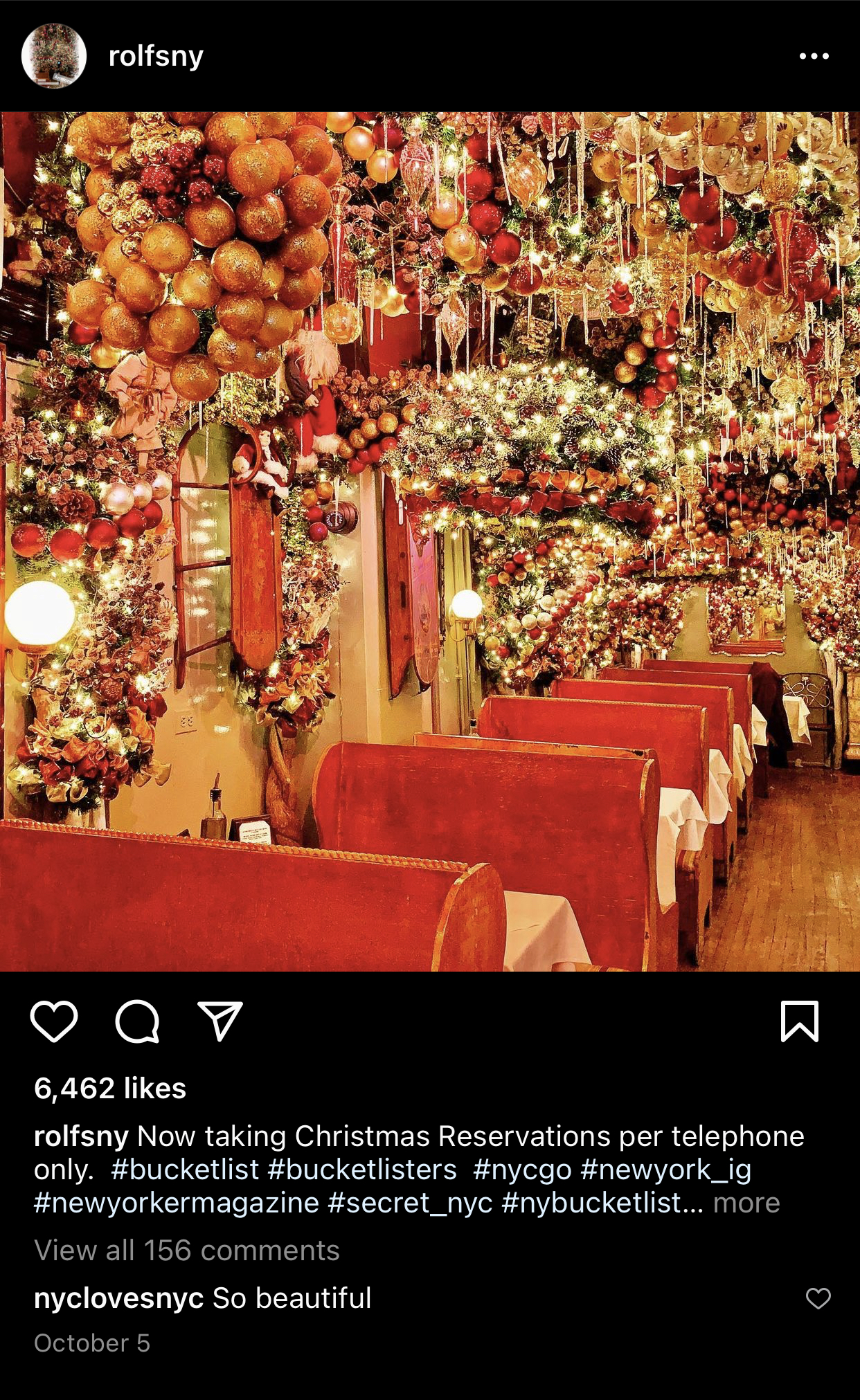 She told him her ideal dates and he pulled out a massive binder for the corresponding month. He then thumbed through to find the date and time requested, with every hour of a day having its own page. Running his finger down each page he eyeballed whether or not there would be space to fit in another party of two, quietly muttering to himself as if he was computing an intense equation. From there, he took a pen and wrote down her information on the sheet. As she needed to make a second reservation, he grabbed the binder for December and repeated the whole process again.
It truly speaks to the heritage and popularity of the restaurant that they maintain this archaic system using paper and pen. There's no electronic database to prevent issues and promote customer satisfaction.
This should probably be the first warning that Rolf's is nothing like a Christmas wonderland.
Visiting Rolf's: A Waiting Game
We arrived separately at the Kips Bay restaurant, unable to be seated until we were both present. Although we had reservations for 6 pm, that only means you can get in line at that point, not the time you will be seated. We waited in a separate line across the front of the restaurant for the lucky souls who have a reservation. Everyone else must stand along the side, hoping to be let into the bar.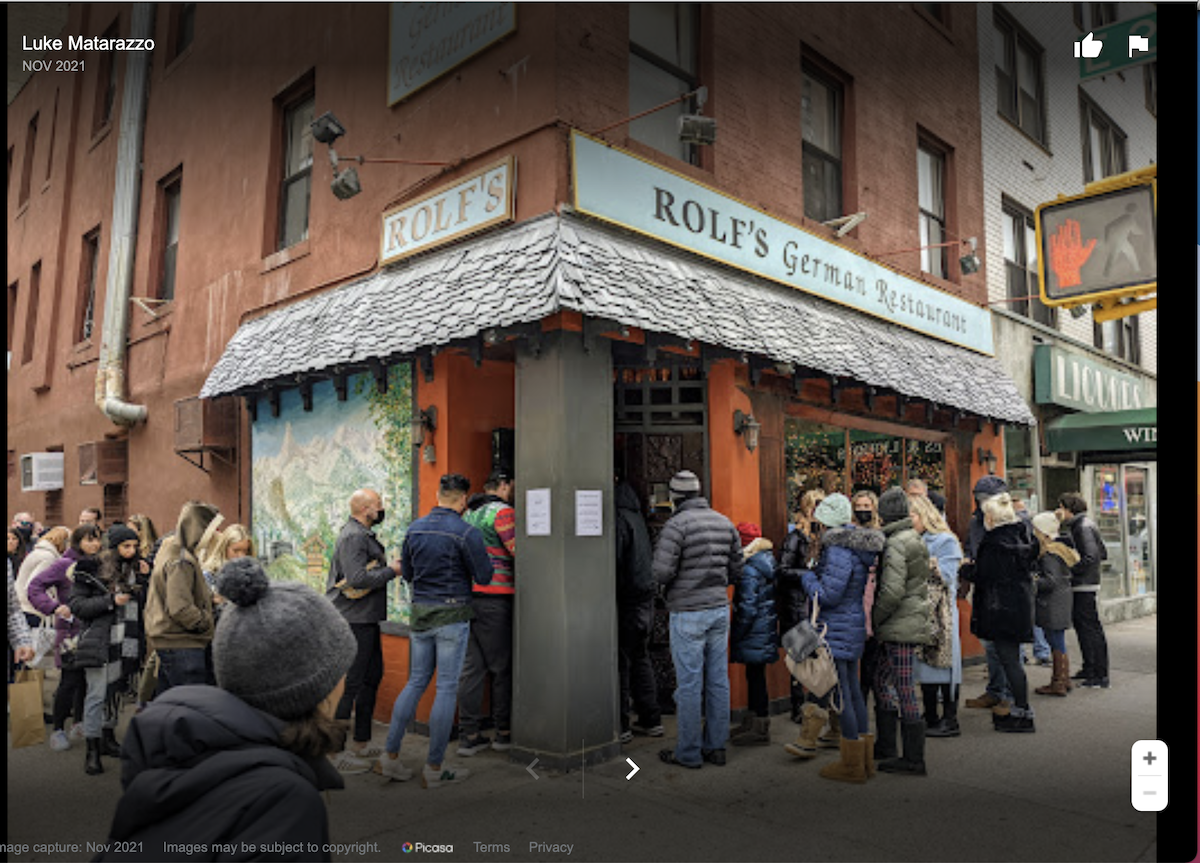 Again, I'm reinforcing the point home that if you do not have reservations, you will not be able to sit down and eat, you will only be able to maybe, get into the bar. Everyone tries, but no one's going to make exceptions.
We provided our vaccination cards and IDs to the bouncer, a large burly man dressed all in black, far from a jolly Santa one would expect to be guarding the door to a Christmas palace. He informed us the host would be with us shortly so we had to sit tight in the 30-degree weather.
That's when things got interesting.
The party behind us had reservations for 6:15 pm and since this was their first visit to Rolf's, could not understand why they were not able to be seated. Eventually, they were allowed to wait at the bar since the capacity was lower, being as it was still November, but not before they witnessed something only a New York attraction could offer.
While we were all in line, a woman and her friend came to the bouncer hoping to enter the bar, but one had a large and oddly shaped covered stroller. When the bouncer told the ladies a baby could not enter the bar, they pulled off the blanket to show that it was actually a sleeping dog in the stroller.
Tensions then began to rise as the bouncer denied entry to the dog, even after the ladies showed a service dog card and produced a backpack to hold the dog in. To be fair, the dog did start to bark and the owner's excuse was that it had seen another dog, an excuse that doesn't line up with a service dog's requirement of having a good temperament. The ladies then began to follow the bouncer into the restaurant yelling at him and filming him. They all returned outside and the ladies continued to yell at the bouncer and demand the manager. I couldn't tell you how it ended because the host came out with the corresponding binder sheet to check our reservations and admit us into the establishment.
What a wonderful time of the year.
Inside Rolf's
The best way to describe Rolf's is that Christmas threw up in it. Every single inch of ceiling, wall, and pillar space is covered in Christmas decorations and themed dolls. Some of the dolls looked older than the restaurant patrons and were even missing eyes. Not a place I'd like to visit at night.
We were seated in a tight corner, around 6:25 pm for our 6 pm reservation, at a table about the size of a large pizza box. Immediately upon being seated a bread basket was placed in front of us and our invisible timer started ticking. At Rolf's each table limit is 90 minutes, no more, no exceptions. This is a transactional affair and you must follow all the rules.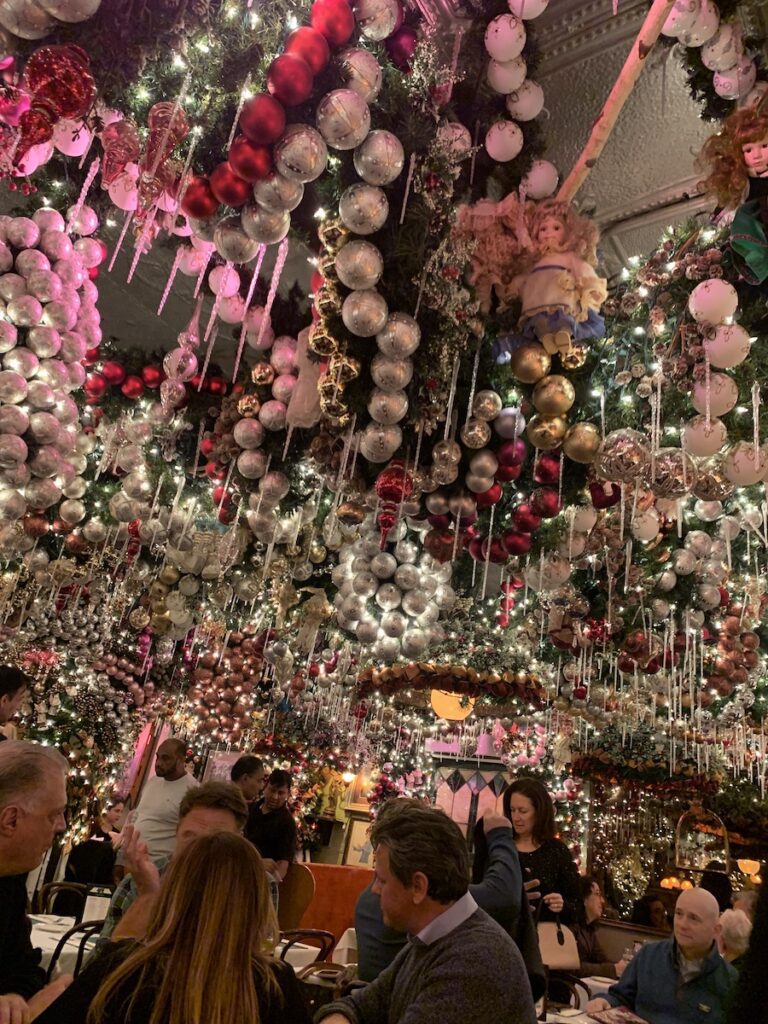 Our server immediately arrived and asked for our drink orders, attempting to speed the process along, not trying to win us over with charisma and connection, just performing the necessary job to get us in and out. While it took us a bit to decide what to order as my friend and I were engaging in conversation, our server was persistent, visiting our table every couple of minutes.
We placed our order (another rule: appetizers and mains must all be ordered at the same time and everyone at the table must order together) and waited for our $17 french onion soup, $30.95 bratwurst, and $35 Sauerbraten. Yes, the prices have increased from what's on the website.
Within 10 minutes our food arrived and we dug into our plates of food of various shades of brown and white. I wish I could tell you that the food was divine and well worth the price, but it was quite bland. Maybe that's just German food, but I wouldn't be surprised to see empty Oscar Meyer packages in the restaurant's dumpster.  Google reviews gives the restaurant a 3.5 for lackluster food and service.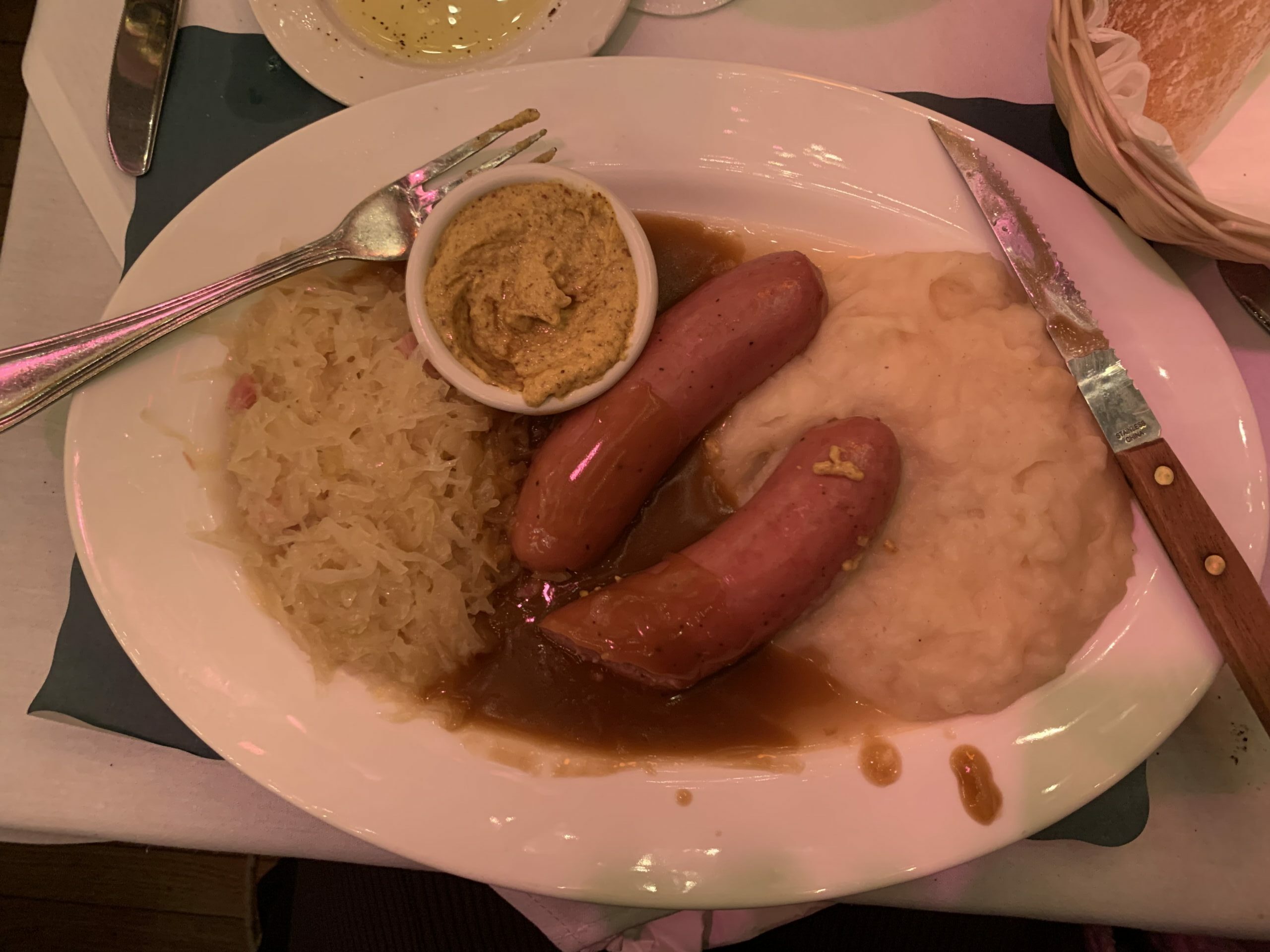 During our meal, various waitstaff would walk by to eye our plates and see if they were ready to be cleared so we could be pushed out. No one really engaged with us and the mood felt as if Christmas had been canceled. The other patrons were jolly, the servers were not. The second my fork was down for longer than a minute, a waiter came over to ask me if I wanted the food to be boxed up.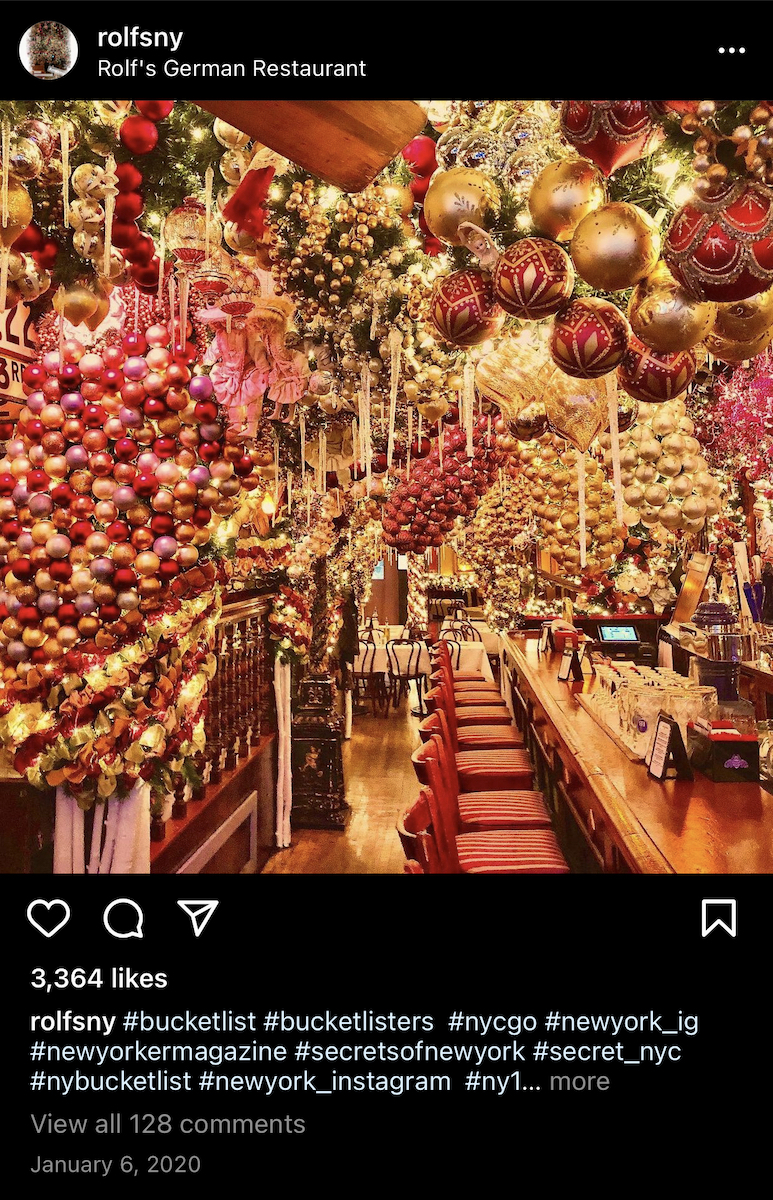 Then it was time for dessert, you could choose from apple strudel, chocolate cake, or red velvet cake. All three looked like they had been thrown together by a 13-year-old novice chef. The strudel tasted just as bland as the main courses and to be honest, Mcdonald's does apple pie better.
Booted from our table having reached our time limit and finishing our meal, we finished our visit in the bar area, trying to down our beverages and get a few Instagram-worthy pictures. Nothing like being glared at by waitstaff while trying to take a picture to get you in the holiday mood. Even more joyful was the bartender forcefully asking if we were drinking anything. A drink minimum and empty hands are ground for being kicked out of the establishment. I couldn't help but imagine myself next year, having made friends with residents at the Gramercy North, sipping on fancy cocktails and chuckling together about the plebians down the street crowded into an overpriced holiday tourist trap.
Don't worry, we got our photo. We both look horrible in it.
Is Going To Rolf's Worth It?
Was this journey worth it? Will we be returning next year? Absolutely.
Like a true holiday tradition, where you don't know why you subject yourself to the horrible events year over year, we're going to keep coming back. After all, it's only right to kick off the New York holiday celebrations by visiting a restaurant filled with gaudy decorations, jaded New Yorkers, and all the ghosts of Christmas.
Maybe you don't want to risk it? Here are some other options to celebrate the holiday season in NYC.
Alda is a mom, Brooklynite, and real estate lover. In her free time, she cruises real estate listings to dream of a perfectly attainable several million-dollar brownstone, much to her husband's annoyance. Alda is also convinced she knows everything there is to know about New York City, based solely on consistent people-watching and eavesdropping. Mrs. Burrows would be an amazing trivia partner but instead chooses to write about all the random stuff she knows.