Timeshare is a buzzword for many people. It invokes images of a scam, one where people are pressured into buying a low-value property that they won't even be able to use for most of the year. People think of timeshares as a swindler's art with no intrinsic value. However, New York disagrees. Many hotels in the city offer timeshares as a convenient way to vacation. They are disappointed with the scammers who take people's money and run, and they want to change the negative image of timeshares forever. These companies say their exclusive deals are flexible, luxurious, and worth every single penny.
What Are New York City Timeshares?
First and foremost, timeshares in NYC don't typically look like timeshares everywhere else. Timeshares in the city usually come in the form of a fractional ownership deal, where people can pay money to buy a set amount of time in a hotel or resort with the ability to choose one of several location options. They also usually come with additional perks like deals on similar hotels worldwide, fine dining, and even access to amenities like fitness centers.
While traditional timeshares try to tell you that you own land, most fractional ownership in NYC makes no such promises. Instead, the money you spend, usually between $30,000-$100,000 depending on the company, package, and location, goes toward a spot in an exclusive club that gets to know who you are as a person. You can stay in the same room or suite every time you vacation, and these options are usually larger than standard hotel rooms. It's also a way to have a slice of the city without spending millions on real estate. You can say you own a small place in Midtown Manhattan, and it will only be a little white lie instead of a grandiose one.
Where Are New York City Timeshares?
Many luxury buildings contain timeshares. Some of the most popular in the city are:
St. Regis
The St. Regis is a historic Hotel built by John Jacob Astor IV, who opened the Hotel in 1904. This building's claim to fame is inventing the Bloody Mary and throwing midnight tea events. Current ownership allows you one fixed week stay at St. Regis locations in New York, Aspen, or Scottsdale.
Owners also have 21 additional nights that they can book on priority reservations. While staying at St. Regis, owners will have access to the fitness club, butler service, and access to the exclusive Astor Court and King Cole Bar.
West 57th Street by Hilton Club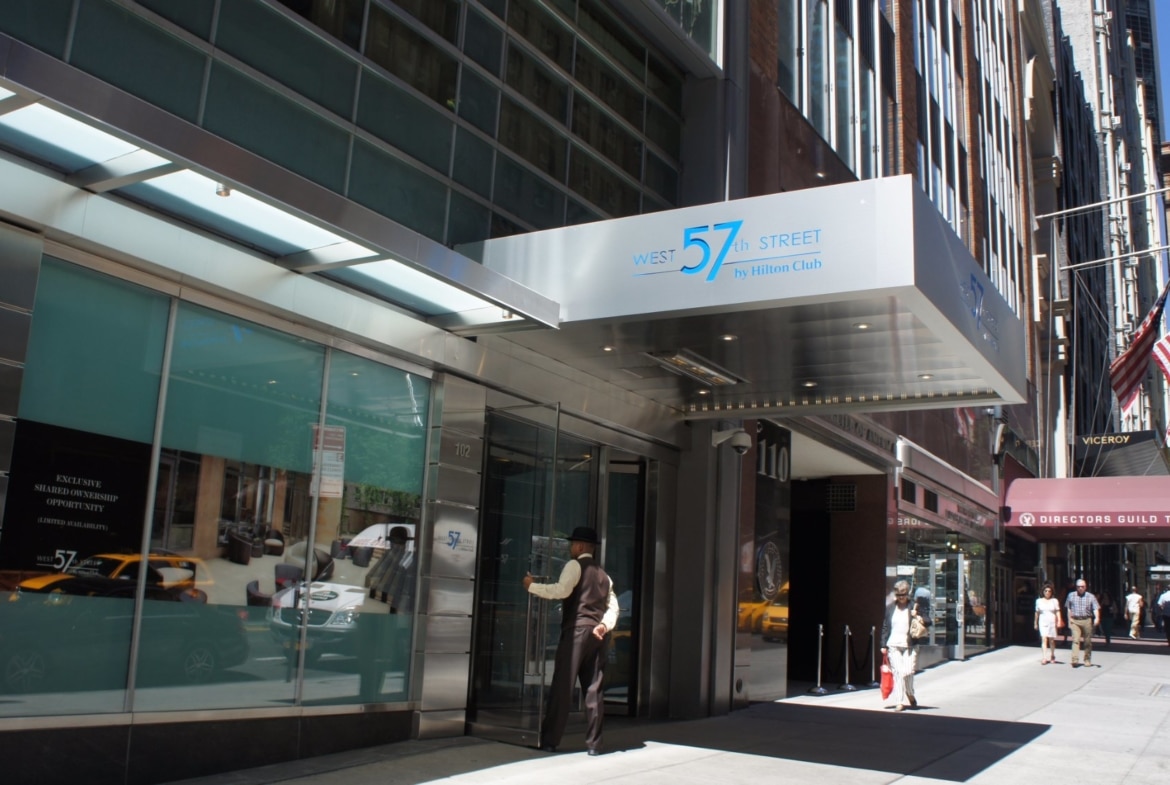 One of many hotels in the Hilton Club, membership to the West 57th will allow you to accrue points during various vacations and use those points to gain access to new perks. Club members automatically get access to all Hilton amenities, but points allow you to make priority reservations and extend your stay at the resort of your choosing.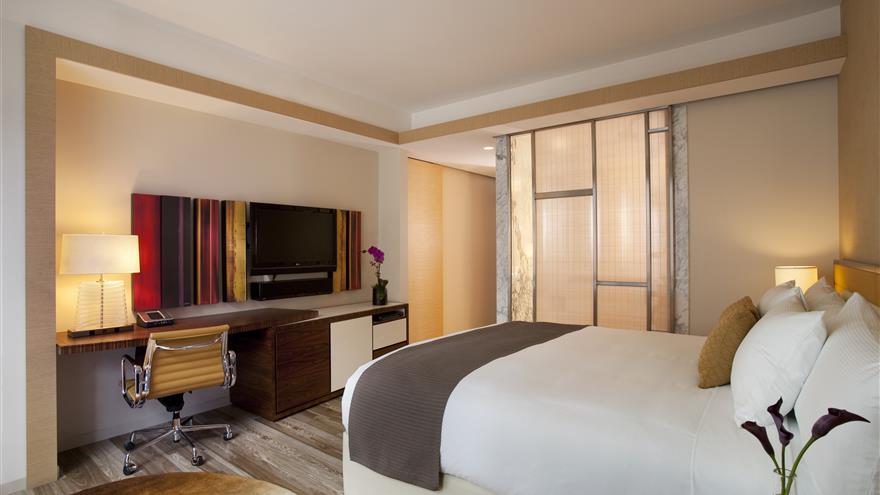 Rooms are huge and usually have separate bedrooms, living rooms, and kitchenettes for owners. Some even have multiple bathrooms for larger families who need extra space.
The Phillips Club
Right next to Lincoln Square, The Phillips Club offers you a deed for 1/8th ownership of an apartment in the hotel. This fractional ownership differs from others in the city because you're actually part owner of an apartment. Some of these places are multi-bedroom with full kitchens, and you can work out an extended stay.
Your stays aren't fixed either, so as long as you're not interfering with another owner, you can live here whenever you want. Owners have access to all the amenities in the hotel, like business centers and a dining area.
Are New York City Timeshares Worth It?
It truly depends. The fact is, each fractional membership offers you different things. It's up to you to decide what you're willing to pay for. The Phillips Club offers you a share in an actual apartment. This could be seen as an investment, albeit a small one. The room will grow in value over time if the real estate market does, at least in theory. In practice, prices might remain stagnant due to the Club's policy. It's hard to tell if a deed to the apartment actually means ownership.
For buildings where you don't get a deed, the situation is even murkier. You're essentially paying for a larger room, first dibs on activities, and more access to services and amenities, all of which are great. However, you don't actually own anything. You've made no investment into a property, you just enjoy that property's perks for a fee. This isn't necessarily a problem, but it is something to keep in mind if you're seeking to actually own something in the city. While hotels are offering a lot of goods, most still don't offer you ownership.
Additionally, whether you have a deed or not, you have to work around the schedules of other club members. If these families get to the room first, your vacation might not be as flexible as you think. That said, fractional ownership deals can still be beneficial if you're willing to make reservations far in advance. Most clubs will also allow you to cancel or transfer weeks with little to no cost, meaning that sudden changes to your schedule shouldn't be an issue. Plus, these clubs offer services and amenities that regular hotel bookings don't, so the levels of exclusivity and luxury are off the charts.
Timeshares are tricky situations because contracts can be confusing and what's advertised isn't what's given. However, NYC has recognized this mistrust and is striving to correct the course by making this industry reputable. Some of the language is still unclear, but these clubs are nowhere near as bad as the full-on scams of the past. People who want to enter fractional ownership deals should still be explicit with what they want and what they will receive, but the industry is much more transparent in the city than it is elsewhere in the world. No matter how you travel, We hope you enjoy your vacation.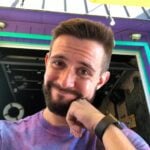 Russell is a writer and comic based in New York City. His plays have been featured at Penn State's Cultural Conversation's Festival, The NYC Thespis Festival, and Imaginarium's Inaugural Theater Festival. Follow him on TikTok and Instagram @pooleparty528