Update: Elon Musk has completed his purchase of Twitter as of Friday October 28, 2022, thus ending the legal battle. He has fired most of the higher ups on the platform.
When someone asked Elon Musk on Twitter what he planned to do now, the world's richest man was positively jubilant. "Now, I'm going to buy McDonald's and fix all the ice cream machines!" Then he added, "Let's make Twitter maximum fun!" And, "Next I'm buying Coca-Cola to put the cocaine back in!" After which, he quoted the old Coca-Cola slogan from that time period, "Real magic is just a sip away!" Later, Musk tweeted, "Now I'm going to buy Tik-Tok and delete it, haha."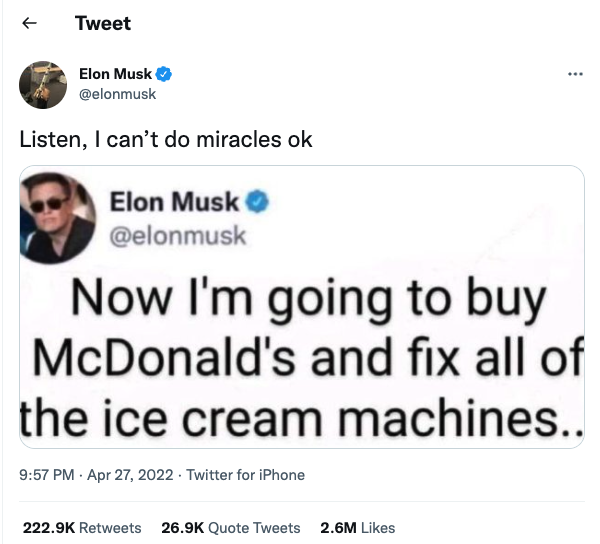 He really does seem to be a modern-day Midas, and it's exciting to most of us to watch the Twitter drama unfold. But whether this deal is actually consummated – or if he can turn the company around and yield profit from it – remains to be seen.
Elon Musk's Twitter Offer
Now I don't know about you, but when I first heard the news that his offer to purchase the social media platform was accepted, my first reaction was, "Huh?!" followed quickly by, "How??" I mean, I had kept close track of this story, and yet one minute, I'd heard about Twitter adopting their "poison pill" strategy – to keep Musk from launching a hostile takeover – and the next, suddenly, my son called to ask me if I knew Twitter had agreed to close the deal. (Embarrassed, I had not.) So what happened?
Apparently, the Twitter board came to its senses when they simply ran out of options. Which is actually the only thing they've done so far that makes sense – because, after all, what didn't make any sense, was why there was so much resistance to the offer in the first place! So when Musk secured financing in record time, the Twitter board knew he was serious. So what did they do? Well, reports say they got serious, too.
The legendary deal for somewhere around $46.5 billion dollars will likely go down in the history books, especially if Twitter is positively impacted in the future – which under Musk, its chances increase tenfold. The offer was significantly higher than they could have gotten anywhere else, at $54.20 a share. That price represented a 54% premium from the time Musk began buying shares in January 2022. It has not increased in its stock value since then, either. In fact, at the time of this writing, its shares are approximately $36.85, down 3.79% for the day on Wednesday the 19th.
But in the end, Twitter's board did exactly what they were put there to do: what's ultimately best for their shareholders. And Musk didn't make things easy for them, either, by strongly threatening what's called a "tender offer," a direct offer to Twitter's shareholders. This would have signaled his intent to continue with a hostile takeover, if necessary. He was definitely putting tremendous pressure on the board to make a quick decision, tweeting things to board members, and using "Love Me Tender" in a sort of jokingly-passive/aggressive manner. Ultimately, Twitter acquiesced. And the rest – as they say – is history.
Or is it? In this case, not quite yet.
Next Steps in the Twitter Deal
Anything involving Musk seems to involve a media frenzy – and a certain amount of unpredictability. The headlines pick up practically every Tweet the man makes! Then again, he doesn't make himself readily available to press of any kind. Twitter seems to be his chosen form of public communication, regardless, at this point. So this is also how we found out the recent news that apparently the deal is on hold, while Musk's team looks into Twitter's claim that just 5% of accounts belong to "bots". Musk stated in one Tweet, "Twitter claims that >95% of daily active users are real, unique humans. Does anyone have that experience?" He asked in a poll on Tuesday afternoon.
CNN reported that Musk tweeted back and forth with Parag Agrawal, Twitter's CEO, several times on Monday of this week about the issue, with Musk responding several times in a row with simply a: "💩" emoji. Eventually, Musk escalated the argument on Tuesday, tweeting that, "My offer was based on Twitter's SEC filings being accurate. Yesterday, Twitter's CEO publicly refused to show proof of <5%. This deal cannot move forward until he does." He also suggested that bots make up about 20% of their accounts, as opposed to the 5% claim.
20% fake/spam accounts, while 4 times what Twitter claims, could be *much* higher.

My offer was based on Twitter's SEC filings being accurate.

Yesterday, Twitter's CEO publicly refused to show proof of <5%.

This deal cannot move forward until he does.

— Elon Musk (@elonmusk) May 17, 2022
The only response from Agrawal was to say that "Twitter is committed to completing the transaction on the agreed price and terms as promptly as practicable." The CEO also tweeted that they had turned in their records and methods to Musk for review already and were willing to answer any questions he had. Those who are opposed to the takeover are already making assumptions about Musk attempting to back out of the agreement. He already addressed this less than a week ago by saying the deal is just "temporarily on hold" and he is "still committed to acquisition." Have faith, my fellow free-speech-loving Americans. We shall see!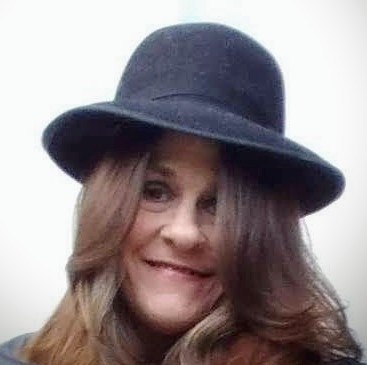 Rochelle Harris is a passionate writer originally from Phoenix, AZ. who credits her success to integrity and determination. She has a great sense of humor, loves music and her family, and writes fiction and poetry in her spare time. She is excited about the New York experience and lifestyle! Follow Rochelle on Twitter at @LinguisticAnRky or get in touch at [email protected]