At long last, the second tallest tower in Queens has finished construction and is ready for people to move in. Sven, the 71-story curved skyscraper, makes its mark in Long Island City just in time for the holidays. The residence sports an astonishing 958 rental units, with 300 set aside for affordable housing. Built with modern sensibilities, Sven has something for everyone's needs, and not just in their spacious apartments. Their amenities are top-notch, encouraging folks to gather for both work and play. Sven hopes to attract many new and current residents to Long Island City, a neighborhood that's quickly becoming the hot spot of Queens. 
Long Island City has strong industrial roots, only being labeled as a residential neighborhood in 2001. Since then, dozens of residential spaces have popped up. Some have recycled the abandoned factories, using them for small businesses and homes. Most companies, however, have decided to gut or build new, luxury living facilities that are loaded with the modern conveniences not found in pre-war buildings.  
The living quarters of Sven are no stranger to the demands of the modern New York City resident. Spanning from studio to three-bedroom apartments, there are luxuries that every rental space enjoys, such as a Blomberg washer and dryer, and some that are more exclusive,  such as view dynamic windows. However, no matter what apartment you get in Sven, your needs will be met beyond your wildest dreams. Every apartment includes a dishwasher, a smart thermostat, quartz countertops, and walk-in showers/baths. All these features, along with a solid price point and a good amount of space to move around, are a big reason folks are choosing to move to  Queens. The area is still developing, but everything already here is unique and fun. 
Long Island City is a great place to live whether you're new to the city or a long-time resident. You're never too far from a major subway line, which means the rest of NYC is easily accessible. There are endless things to do in the neighborhood as well. You can catch a show at The Secret Theater, then stop by the LIC Beer Project for a libation or two. You can hit up Hunter's Point South Park for the view of the Manhattan skyline after your trip to the Noguchi Museum, designed by famed Japanese American artist Isamu Noguchi. There's even stuff for the history and architecture buffs like the Pepsi Cola Sign landmarked just a few years ago. The Sven joining the neighborhood raises the standard of living in the area; nearby buildings such as The Queens Plaza will need to either drop their rents or consider a facelift to compete with the Sven down the street. 
The gentle curve of Sven hugs another Queens landmark that celebrates the art-deco style New Yorkers can't get enough of, The Chase Manhattan Building or The Queens Clock  Tower as it's more commonly known. The Clock Tower sits at the base of the residential skyscraper, perfectly encapsulating the city's progress while also celebrating its history. Other historic sights are nearby the Sven as well, such as the Queens Borough Bridge and the Long Island City CourtHouse. Sven, being in the heart of Long Island City, is close to everything that's happening in the neighborhood, both old and new. That said, people seek more than just a cool neighborhood these days. They also need their apartments to have unique amenities that transform buildings into communities.
New Yorkers have to balance their busy lives just like everyone else. However, they also have to do it in a constantly moving and changing city. Because of this, many residents like to have amenities, like a gym or garden, that's close to home. Many modern apartment complexes offer such luxuries and many more. Now that the pandemic is coming to a close,  residential buildings seek to have these spaces full again, and Sven is no exception to that rule. 
Sven offers a wide array of amenities that turn the building into a pseudo neighborhood. To begin with, they have a pool and multiple fitness studios for standard gym-goers and people seeking more specialized workouts, such as yoga and platies. They even offer boxing studios and classes so you can let off steam in a safe, fun environment. Speaking of steam, the locker rooms have infrared saunas inside them so that you can sweat however you want. 
Seeking less exercise and more fun and relaxation? Well, Sven has a ton of stuff for that as well. There's a lounge, game room, and party room for special events. There's a kitchen specifically for catering and chef demonstrations. There's even a library with a mezzanine so you can live out your beauty and the beast fantasy. There's even a playroom for the kids, so they have something to do while you try out their multisport simulator and putting green. 
Some of the amenities at Sven might seem a bit opulent, even overwhelming for those who just want something simple. Luckily, LIC offers a wide array of homes with less showy amenities. Residencies like ARC have a rooftop terrace with a pool and a pleasant view, while the Silverstar has multiple outdoor spaces with grills that are perfect for summer BBQs. These buildings also have gyms and communal kitchens with apartments priced similarly to  Sven. So, if you want simple, subtle luxuries, Long Island City will take good care of you. 
Long Island City is still growing rapidly. The population is exploding as new residential buildings and businesses pop up daily. The neighborhood's growth and vibe are a big reason why buildings like Sven are placed here. They don't want to make money off the neighborhood but also add to it. They want to expand people's ideas on what apartment buildings can look like and what they can do to benefit the neighborhood. As time marches on,  more buildings like Sven will come to Long Island City, an area that was once known as a place for industry. Those marks are still left and appreciated in the neighborhood, but Sven is an excellent example of how far Long Island City has come and where it can go next.
Update as of January, 20th 2022: The Sven is now on HousingConnect! Read more about if you qualify and how to apply here.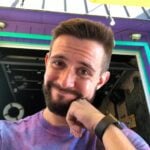 Russell is a writer and comic based in New York City. His plays have been featured at Penn State's Cultural Conversation's Festival, The NYC Thespis Festival, and Imaginarium's Inaugural Theater Festival. Follow him on TikTok and Instagram @pooleparty528