One of the biggest issues when staying at home is trying to mix up the menu of recipes you cook every day and stay within your budget. The good news is, we have compiled a list of a few of the best quick and dirty recipes to help you still save money and leave your bellies feeling full!
Pumpkin Sauce Pasta
This is a unique recipe for one of the best comfort food dishes, pasta. The best part about this recipe is you can use this sauce on any pasta from spaghetti, to fettuccine, to ravioli and more. Another great feature of this recipe is that it's entirely pantry based, which means all of the ingredients you should be able to find in your panty. 
Ingredients
1 tablespoon butter

1 (15 oz can) of pumpkin puree

1 (15 oz can) diced tomatoes

2 tsp white vinegar or apple cider vinegar

1 tablespoon granulated sugar

1 tsp salt

½ tsp parsley

¼ tsp rosemary

¼ tsp sage

1 tsp onion powder

¼ tsp garlic power

¼ tsp black pepper

¼ tsp cayenne pepper

¼ cup heavy whipping cream

(Your choice of cooked pasta)
Instructions
Place the 2 tbsp. of butter in a microwave safe bowl and heat for 30 seconds until melted.

Place a can of diced tomatoes, pumpkin puree with 1 tbsp sugar, 2 tsp vinegar, 1 tsp salt, 1 tsp onion power ,1/4 tsp rosemary, ¼ tsp sage,1/2 tsp parsley, ¼ tsp garlic powder, ¼ tsp black pepper and ¼ tsp cayenne pepper into a blender and blend everything until smooth. 

Transfer everything into a medium saucepan and start to cook over medium heat until everything is blended through, typically for 5-10 minutes. Add in ¼ cup heavy whipping cream and stir

Toss with your choice of al dente pasta and coat, leave a little sauce on reserve in case you wish to have more. Top off your dish with sage leaves, toasted hazelnuts or grated parmesan for added flavor. 
Classic Navy Bean Soup
Let's face it soup season is any time of the year, and this is because soup is one of the biggest comfort foods out there. If you are looking for a dish to take you back to your childhood, or wanting to try something new and filling, this classic dish is the one!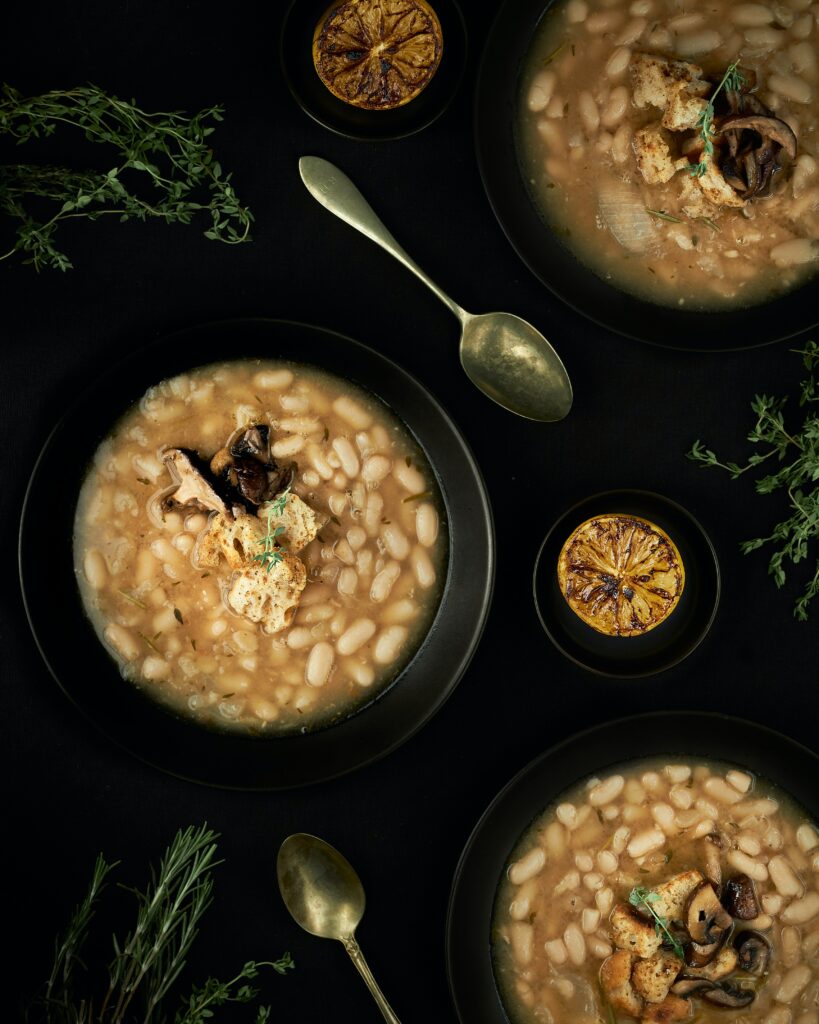 Ingredients
16 oz dried navy beans

4 c hot water

1 yellow onion

1 carrot

1celery

2 cloves

garlic
8 oz cooked ham

2 tbsp. olive oil

2 bay leaves

2 tsp black pepper

1 tsp salt

1/2 tsp dried thyme

1/2 tsp rosemary

6 c chicken broth

2 tsp butter
Instructions: 
Rinse 16 oz of dried navy beans and remove any broken ones. Place the beans in a large pot in 4 c of hot water. Bring it to a boil over medium heat. Boil the beans for up to 2 minutes and allow them to soak

Chop 1 yellow onion, carrot, celery, and 2 garlic cloves. Dice up 8 ounces of cooked ham.

When the beans are ready drain them and clean the pot

Heat up 2 tbsp. olive oil in the same pot and heat, add in the onion, celery and carrot mix and begin to soften them. Add in the ham, bay leaves, black pepper, garlic, salt thyme and rosemary, sauté for about 1 minute

Add in the beans and stir, add in 6 cups of chicken broth and boil on high head. Reduce the heat to medium and simmer for 1 hour 30 mins or 1 hour 45 mins, just until your beans are tender.

Add in butter and stir until melted and serve when cooler. 
Cheese and Vegetable Frittata
Every once in awhile it's fun to mix it up and have breakfast for dinner, plus it's cheap and easy! This recipe has all the ingredients you need to stay full all evening in one convenient dish.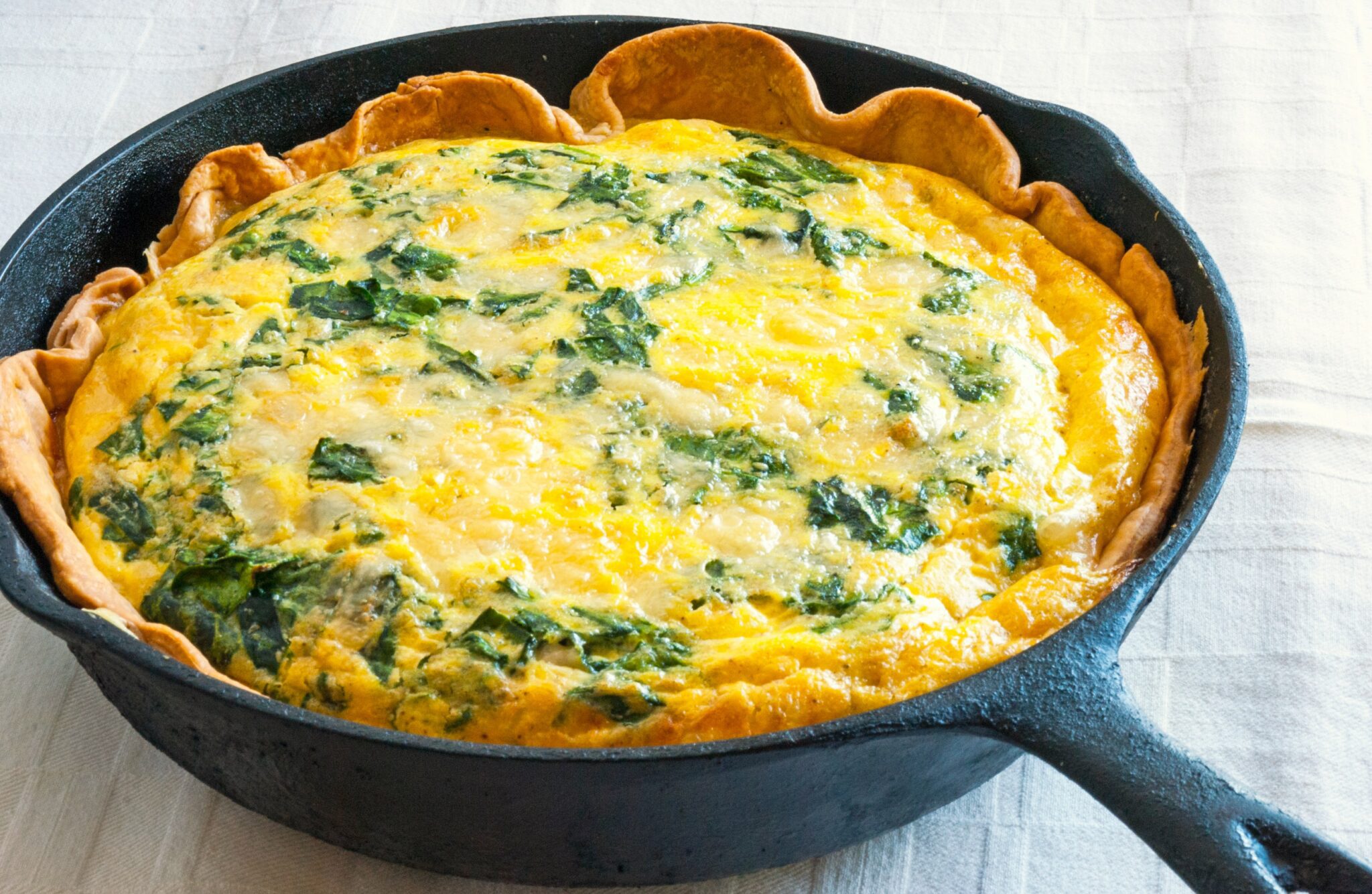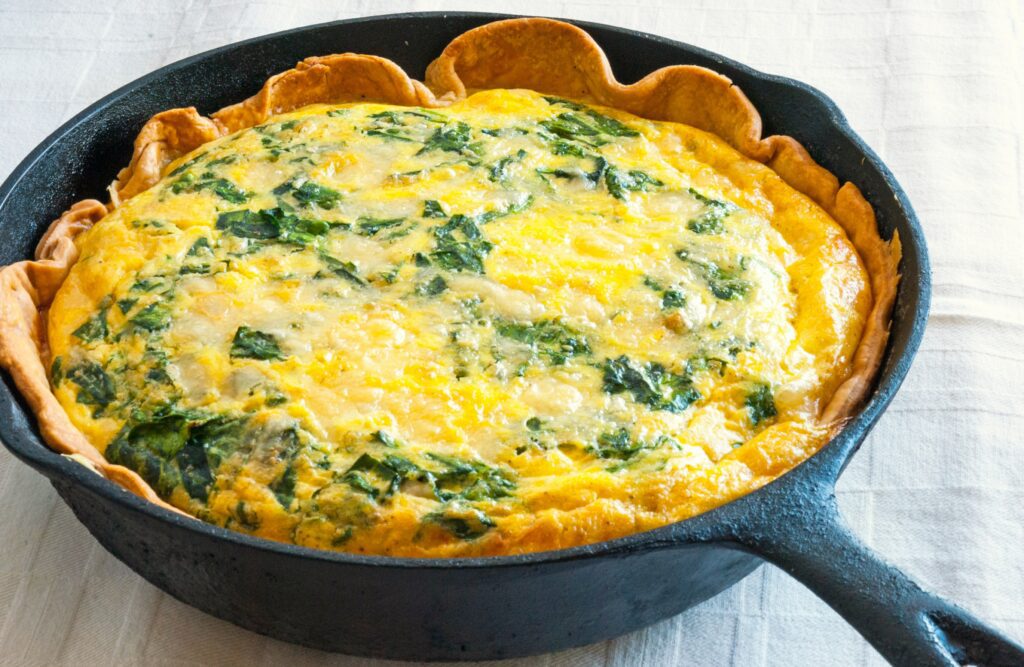 Ingredients: 
1 tbsp. olive oil

1 red bell pepper, diced

1/2 sweet onion

1/2 tsp salt

1 zucchini

3 cups baby spinach

6 basil leaves

6 large eggs

1/2 cup parmesan cheese

1/2 tsp black pepper

2 scallions

3 oz mozzarella cheese
Instructions
Preheat oven to 400 F

Heat the oil in a skillet over medium heat until it begins to shimmer. Add in the bell pepper, salt and onion and sauté until soft, typically about 5 minutes, add in the zucchini, basil and spinach and cook until wilted, usually 3 minutes, remove everything from the heat. 

Whisk your eggs, pepper, and parmesan cheese together in a bowl. Pour over the vegetables and sprinkle with scallions and cheese.

Bake until your eggs are set, usually this is about 8 minutes, turn on the over to broil on high and broil the mix until the top is a light golden brown, typically 2 minutes more. 

If you're looking to level up, use a pie crust as the base for a nice pairing to your eggs.
Cheez- It Chicken Tenders
That's right, you read that right, these tasty chicken tenders are made with one of everyone's favorite snack foods, cheez- it's.
Ingredients
3/4 cup buttermilk

2 tsps. salt

3 tsps. garlic powder

1 tsp hot sauce

1 1/4 tsp black pepper

2 pounds chicken breasts

4 cups cheez-its
Instructions
Place ¾ cup buttermilk, 2 tsp salt, 1 tsp hot sauce, ¼ tsp black pepper, and 2 tsp garlic powder in a bowl and combine

Cup the chicken breasts length wise into ½ inch strips, add the chicken into the mixture and toss well for coating. Let sit at least 15 minutes

Place 4 cups of cheez-it's into the remaining mix of 1 tsp garlic powder, 1 tsp black pepper, and mix in a food processor or blender until the crackers are ground finely. You can also put everything into a bag and crush it up if you don't have the available appliances. 

Preheat the oven to 425 F, line 2 baking sheets with parchment paper and coat with cooking spray. 

Bread the chicken strips and place on the baking sheets

Bake for around 12 minutes, make sure you flip and rotate the chicken and bake until golden brown
Classic Grilled Cheese Sandwich
A good grilled cheese sandwich is always well welcomed by anyone. IT's crispy and toasted on the outside with delicious, melted cheese inside. One of the best comfort foods around, and not to mention affordable and versatile as you can make it into many different dishes. 

Ingredients
2 slices of bread (your choice)

1 tbsp. butter

¼ cup grated/ shredded cheese, Monterey jack, mozzarella, or cheddar, there are many different options
Instructions
Melt the butter in the pan, over medium heat. When it starts to sizzle, spread the butter in the middle of the pan. 

Rub the bread in the butter, this is the key to making the perfectly toasted grilled cheese

Place the cheese on the bread. You can really mix up the flavor by trying different type of cheeses and several types of bread, wheat, white, Texas toast and more.

Top the sandwich and cook until golden brown on one side and flip and repeat. 

This sandwich is a good companion for the Classic Navy bean soup or other type of soup!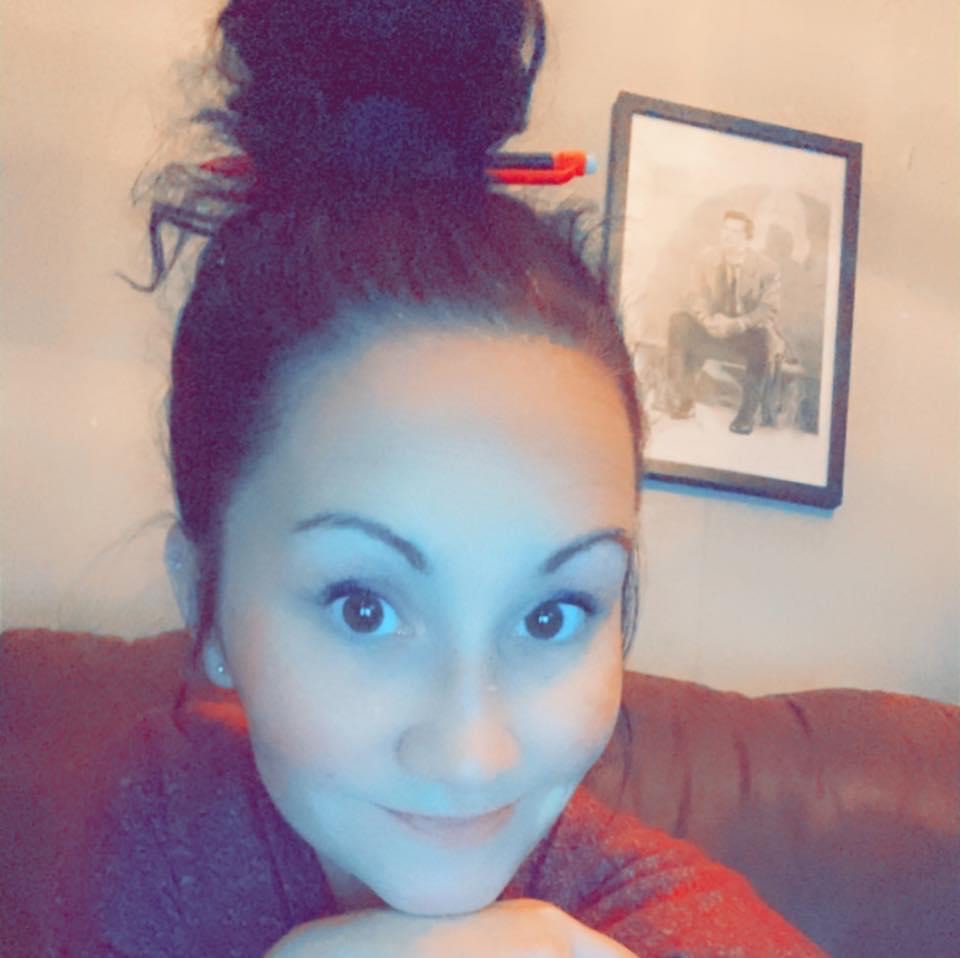 A freelancer writer and published author with over 15 years of writing experience, healthcare worker, wife and mother of 5.