NYC's Rockaway peninsula in Queens is a major beach destination for wealthy residents in NYC and nearby suburbs, but there is a major class divide there. The west side of the peninsula is wealthier and tends to attract more upscale residents and visitors. The east side of the peninsula is more working class, and historically received much less investment and tourist activity. 
A new development slated for the region's east side could change that, bringing both positive and negative consequences for the surrounding neighborhoods and long-time residents. According to Bloomberg, construction already started on a $1 billion project named Averne East, that developers promise will be NYC's first development to have net-zero carbon emissions. 
The development will reach its expected goal of net-zero carbon emissions by using a passive housing design that optimizes energy efficiency. It will also utilize geothermal heating and implement a plan to raise the storm surge elevation since the area is vulnerable to coastal flooding. Most notably, Rockaway Peninsula was one of the hardest-hit parts of NYC during Hurricane Sandy.
Arverne East will include 1,650 units of housing, with 1,320 units designated as affordable for low,  middle-income, and formerly homeless households. The site will also include public spaces and a boardwalk complete with several hundred thousand square feet of retail space, a hotel, and a coworking space. It's not clear when the development will fully take shape, but phase 1 is already under construction. Some industry leaders see the development as a potential game-changer in NYC and beyond. 
"We've arrived at a project that instead of the baby steps of building by building, we can now step neighborhood by neighborhood toward getting a national agenda to address climate change," said Walter Meyer, principal urban designer at Local Office Landscape & Urban Design. "If we can make it work in New York City — net-zero neighborhoods — we can make them work in many neighborhoods around the world."
According to Bloomberg, reaction to the development from residents is mixed, but many community leaders see its potential benefits. A large affordable housing component, new jobs, increased investment, and more shopping options are all positives for the surrounding neighborhoods. 
Jeanne DuPont, founder of Rockaway Initiative for Sustainability and Equity, also thinks the environmental component is a major win for the neighborhood. She told Bloomberg that she was initially reluctant to support the proposed development over concerns regarding the peninsula's exposure to storms like Hurricane Sandy. She changed her mind when she heard about the developer's plans to raise the storm surge elevation, which would benefit residents in nearby neighborhoods. 
However, she said she also understands why there is widespread opposition to the development. "Some of it is the NIMBY factor of 'not in my neighborhood," said DuPont. But she also acknowledged that residents of the peninsula have legitimate concerns that more wealthy people could move into the area, driving up property values and pushing out some members of the working class. 
Ultimately, she hopes that the development can live up to its promises. "When I see that this is going to be the number one net-zero waste development in New York City, do I believe that? I don't know," she said. "I really don't know, and that's an awful lot of pressure."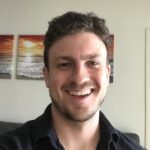 Tyler graduated from Virginia Commonwealth University in 2017 with a Bachelor's degree in Urban and Regional Studies. Currently based in Los Angeles, he works as a freelance content writer and copywriter for companies in real estate, property management, and similar industries. Tyler's main professional passion is writing about critical issues affecting big and small cities alike, including housing affordability, homelessness, inequality, and transportation. When he isn't working, he usually plans his next road trip or explores new neighborhoods and hiking trails.