A class-action lawsuit is being brought against socialite and entrepreneur Kim Kardashian, as well as boxer Floyd Mayweather Jr., and basketball player Paul Pierce. 
Court documents claim the defendants made "false and misleading statements to investors" about the cryptocurrency EthereumMax "through social-media advertisements and other promotional activities".
Investors in EthereumMax believe that the cryptocurrency's creators and the celebrities mentioned above ran a "pump and dump" scheme. 
A "pump and dump" scheme is essentially when marketing is purposely used to inflate the price of an asset, in order for that asset to be sold to a misinformed investor at a later time. 
The lawsuit argues that EMax, Kardashian, Mayweather, and Pierce sought to enrich themselves by unethically promoting and selling EthereumMax online and at public events. 
Offenses said to be committed by the defendants include:
an Instagram post to Kim Kardashian's 280 million followers

commentary made by Mayweather in favor of EMax at a cryptocurrency conference

a tweet shared by Pierce claiming the company had "made money" for him
.@espn I don't need you. I got @ethereum_max I made more money with this crypto in the past month then I did with y'all in a year. TRUTH shall set u Free 🤪🤪 my own Bosshttps://t.co/3irnuWYve3 check it out for yourself

— Paul Pierce (@paulpierce34) May 26, 2021
Charles Randell, the head of the UK"s Financial Conduct Authority, said Kardashian's Instagram post may have had "the single biggest audience reach in history" for any financial product, ever. 
Following the marketing move by Kardashian, the company's EMAX tokens skyrocketed by as much as 1,370%. A short time after, EMAX's value plummeted to an all-time low. 
The lawsuit claims that by using celebrity endorsements, EMAX executives "touted the prospects of the company and the ability for investors to make significant returns due to the favorable 'tokenomics' of the EMAX Tokens".
EMAX  has publicly disputed the allegations and expressed that they are looking forward to the truth coming out in regards to the case. Representatives of the crypto company previously told the BBC that Kardashian's post was "simply intended to raise awareness of the project and its utility," as opposed to generating profit.
Whether EMAX's intention was to raise awareness or maliciously make a profit will be determined by the courts. What is true is that following the comments and promotions of Kardashian, Mayweather Jr., and Pierce—EMAX did make a substantial profit from the cryptocurrency's inflated price. 
Court documents read: "In plain terms, EthereumMax's entire business model relies on using constant marketing and promotional activities, often from 'trusted' celebrities, to dupe potential investors into trusting the financial opportunities." 
Kardashian, recently in the news after Kanye purchased a new homw across the street from her and having just completed the baby bar exam, made sure to include a protective clause under her EMAX Instagram post. "This is not financial advice but sharing what my friends tell me about the EthereumMax token," read the caption.
In a statement released to the public, EMAX explains its marketing efforts by stating: "It is our intention that our marketing and PR efforts encourage people to research our project before making a decision…This approach takes a lot of time, energy, and resources and is in stark contrast to the quick pump-and-dump schemes out there."
The lawsuit names plaintiffs who invested in the cryptocurrency between May 14th and June 27th of 2021.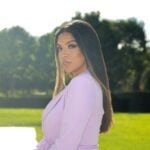 Vivian Tejada is a freelance real estate writer from Providence, RI. She writes SEO blogs for real estate, travel and hospitality companies. She's passionate about the future of work and helping Latin American freelancers achieve time, location, and financial freedom. When she's not writing you can find her at the gym, a family cookout, or at brunch with her girls. Follow her on Linkedin to learn more.