The hardest part of life is saying goodbye to the people who made a big impact on our lives. 2021 was a tough year, but these notable people who've passed on will forever remain in our hearts. Let this list be a celebration of their lives. 
Tanya Roberts, passed on Jan 4th at age 65: This Bond Girl from

A View to Kill

was a long-time actress and model, best known for her role as Midge in

That 70's Show.

Deezer D (Dearon Thompson), passed on Jan 7th at age 55: Fans of ER will recognize this hip-hop artist and actor for his role as nurse Malik McGrath.

Marion Ramsey, passed on Jan 7th at age 73: Comedy fans will recognize this powerhouse from her longtime role Officer Laverne Hooks in the

Police Academy

franchise.

Siegfried Fischbacher, passed on Jan 13th at age 81: Half of the dynamic magical duo of Siegfried and Roy.

Joanne Rogers, passed on Jan 14th at age 92: The wife of Fred Rogers and the Chair of Fred Rogers Productions.

Hank Aaron, passed on Jan 22nd at age 86: The MLB superstar and civil rights activist made history in 1974 after breaking Babe Ruth's longtime home run record.

Larry King, passed on Jan 23rd at age 87: The longtime talk show host is famous for his conversations with celebrities and historical figures alike, speaking with every US President since Richard Nixon.

Hal Holbrook, passed on Jan 23rd at age 95: A Tony and Emmy-winning actor best known for his portrayal of Mark Twain.

Cicely Tyson, passed on Jan 28th at age 96: A Tony and Emmy-winning powerhouse actor with a seven-decade-long career.

Dustin Diamond, passed on Feb 1st at age 44: Best known for his role, Screech, on

Saved by the Bell

.

Christopher Plummer, passed on Feb 5th at age 91: An amazing actor with a decades-long career starring in

The Sound of Music

and

Knives Out.

Rush Limbaugh, passed on Feb 17th at age 70: A conservative pundit and radio host.

Jahmil French, passed on March 1st at age 29: Best known for his dynamic role of Dave Turner in

Degrassi: The Next Generation

.

Yaphet Kotto, passed on March 15th at age 81: Known for his roles, Parker in

Alien

and Mr. Big in

Live and Let Die

.

George Segal, passed on March 23rd at age 87: This Oscar-nominated actor was best known for his role as Pops in the hit series

The Goldbergs.

Jessica Walter, passed on March 24th at age 80: Appearing in over 170 stage and screen productions, this comedy genius is responsible for the most quotable character from

Arrested Development

, Lucille Bluth.

Prince Philip, Duke of Edinburgh, passed on April 9th at age 99: Husband of Queen Elizabeth II.

DMX (Earl Simmons), passed on April 9th at age 50: One of the best and most successful rappers, musicians, and performers of this generation.

Joseph Siravo, passed on April 11th at age 64: Best known for his roles in

Jersey Boys

and

The Sopranos

.

Helen McCrory, passed on April 16th at age 52: This British actor is best known for playing powerful women like Aunt Polly in

Peaky Blinders

and Narcissa Malfoy in the

Harry Potter

franchise.

Jim Steinman, passed on April 19th at age 73: Musician and songwriter who collaborated with many popular artists.

Frank McRae, passed on April 29th at age 80: An action movie star best known for his role in

License to Kill

.

Lloyd Price, passed on May 10th at age 88: A musician who wrote hit songs like

Personality

.

Norman Lloyd, passed on May 11th at age 106: A longtime actor famous for his role in

Dead Poets Society

.

Samuel E. Wright, passed on May 25th at age 74: This voice and Broadway actor was a longtime performer for Disney, voicing Sabastian in

Little Mermaid

and playing Mufasa in the Broadway version of

Lion King

.

Kevin Clark, passed on May 26th at age 32: Best known for his role as Freddy Jones in

School of Rock.

B.J. Thomas, passed on May 29th at age 78: The Grammy-winning musician who wrote

Hooked on a Feeling

.

Gavin MacCloud, passed on May 29th at age 90: Best known for his role of Captain Stubing on

The Love Boat

.

Ned Beatty, passed on June 13th at age 83: The Oscar-nominated actor had a decades-long career, starring in films from

Network

to

Toy Story 3

.

Gift of Gab, passed on June 18th at age 50: Co-founder of Blackalicious.

Johnny Solinger, passed on June 26th at age 55: Former singer of the band

Skid Row

.

Richard Donner, passed on July 5th at age 91: The legendary director of

Superman (1978), The Goonies,

Lethal Weapon,

and more.

Suzzanne Douglas, passed on July 6th at age 64: This Broadway star won an NAACP Award for her role in the film,

Tap

.

Robert Downey Sr., passed on July 7th at age 85: Famous filmmaker and father to Robert Downey Jr.

Dilip Kumar, passed on July 7th at age 98: Star and pioneer of Bollywood.

Biz Markie, passed on July 16th at age 57: Known as the "Clown Prince of Hip-Hop," he wrote the hit song,

Just a Friend

.

Jackie Mason, passed on July 24th at age 93: Legendary comedian.

Dusty Hill, passed on July 28th at age 72: Legendary bassist for the band

ZZ Top.

Sonny Chiba, passed on Aug 18th at age 82: Legendary martial arts film performer best known for his role of Hanzo in

Kill Bill.

Charlie Watts, passed on Aug 24th at age 80: Legendary drummer of

The Rolling Stones.

Gregg Leakes, passed on Sept 1st at age 66: A real estate investor and consultant, Gregg Leakes was also the husband of NeNe Leakes of

The Real Housewives of Atlanta

.

Michael K. Williams, passed on Sept 6th at age 54: The legendary actor was known for the powerful characters he portrayed, especially on the hit TV series,

The Wire.

Norm MacDonald, passed on Sept 14th at age 61: Though sometimes controversial, Norm MacDonald was a comedic powerhouse and changed the face of

SNL.

Willie Garson, passed on Sept 21st at age 57: This comedic actor was best known for his role of Stanford Blatch in

Sex and the City.

Peter Scolari, passed on Oct 22 at age 66: Best known for playing opposite Tom Hanks in the hit sitcom

Bosom Buddies.

Adolph Robert Thornton Jr., aka Young Dolph passed on November 17th at age: Young Dolph was a Billboard ranking American Rapper
Stephen Sondheim, passed on Nov 26th at age 91: Tony award-winning composer and lyricist for such hits as

Into the Woods

and

Sunday in the Park with George.

Virgil Abloh, passed on Nov 28th at age 41: The genius designer was Louis Vuitton's first black menswear line creative director.

Michael Nesmith, passed on Dec 10th at age 78: Singer, songwriter, and guitarist of legendary band, The Monkees.

Anne Rice, passed on Dec 11th at age 80: Author of critically acclaimed series The Vampire Chronicles. 

Vicente Fernández, passed on December 12th at age 81: considered the King of Mexican Ranchera music

bell hooks, passed on Dec. 15th at age 69: American author, social activist, feminist and professor.

Joan Didion, passed on Dec. 23rd at age 87: American writer, screenwriter, journalist essayist and editor. She has received many awards for her contributions, most recently the

National Medal of Arts

, presented by President

Barack Obama

.

Betty White, passed on Dec. 31st at age 99: Trailblazing American actress, comedian and philanthropist who was beloved by all and most commonly known for her role on Golden Girls. She set the Guinness Book of World Records for the longest television career by a female entertainer.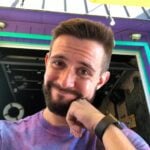 Russell is a writer and comic based in New York City. His plays have been featured at Penn State's Cultural Conversation's Festival, The NYC Thespis Festival, and Imaginarium's Inaugural Theater Festival. Follow him on TikTok and Instagram @pooleparty528