New York City today looks drastically different than it did 10 years ago — with new destination landmarks popping up, older neighborhoods being gentrified, and other neighborhoods improving for the better. Unless you were old enough to see and remember NYC clearly 10 to 15 years ago, it's hard to gauge how much it has changed using photographs and video clips. Luckily for those curious or who want to take a nostalgia trip, Google Street View celebrated its 15th anniversary in May with a Time Travel feature. This allows users to go "back in time" to as far as 2007 to view what different places looked like when the Street View trike/car did its rounds. These happened annually in major cities or in less populated areas every three to five years. 
The idea for Street View was created in 2004, and since 2007, the technology has allowed users to explore the world from where they're sitting. Users can even use this feature for research purposes, such as looking at how the area has developed over the years to compare property and housing markets. To access the feature, type in the location you want to look at, carry the tiny, yellow person from the bottom right, and drop him onto the map. This will activate the Street View. Then, find the little clock icon in the top left corner of your computer screen below the location name. When clicked, a sliding bar will appear, and the user can start traveling through time. 
Bear in mind that not all locations will have this feature. Here are some NYC landmark destinations that have changed immensely over the years. 
Traveling in Time with Google Maps
Hudson Yards | 2009 vs. 2021
One of the landmark destinations that has had a significant change over the last few years. Hudson Yards opened to the public in 2019. Now, Hudson Yards is home to The Shops & Restaurants, the Public Square and Gardens, and residential towers for renters and homebuyers alike. It's the perfect place to go for some luxury shopping or to view the impressive beehive-like structure that is the Vessel.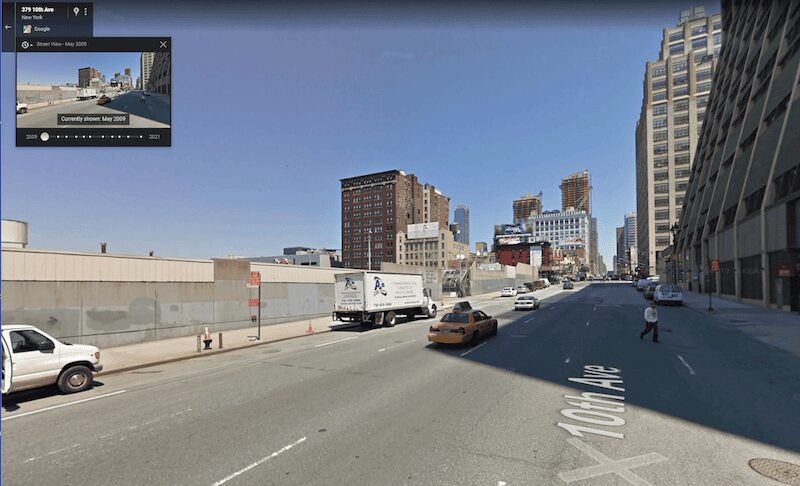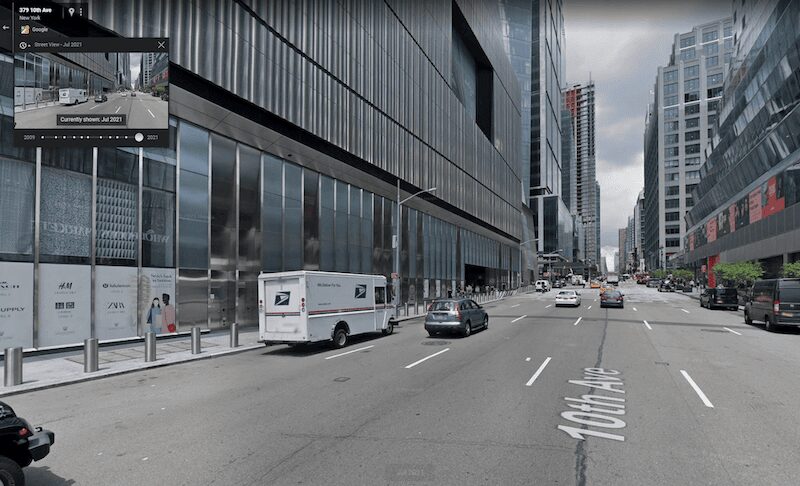 Little Island | 2014 vs. 2021
Gone are the gates that separated the people from the water. This empty space has been replaced by several platform pillars that form Little Island at Pier 55. It's located near the intersection of West Street and 13th Street in the Meatpacking District and Chelsea neighborhoods. Little Island opened its doors to the public in May 2021 and is a public park where goers can enjoy nature, food, and shows at their beautiful amphitheater.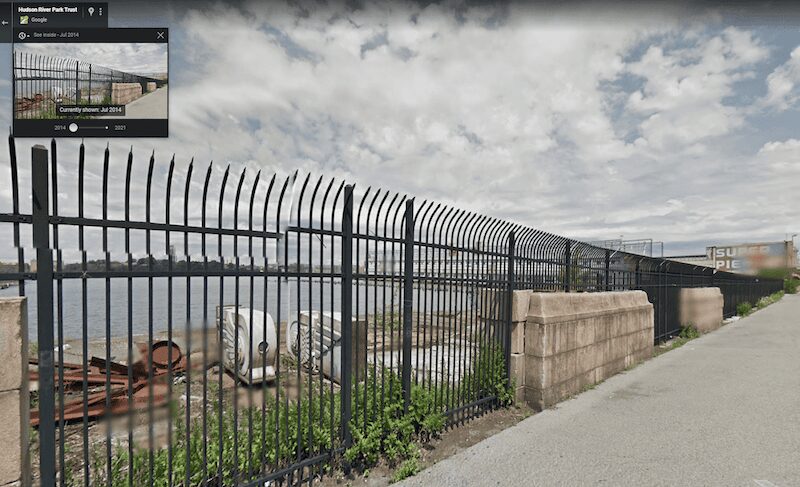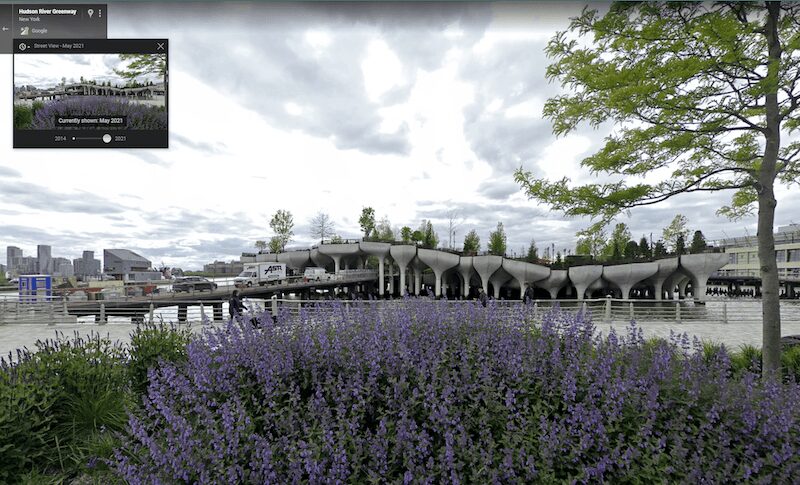 More on CitySignal:
Williamsburg, 6th Street | 2007 vs. 2021
Williamsburg is one of those neighborhoods full of trendy stores, restaurants, and hip cafes. The neighborhood used to be an industrial site until the 1990s. Factories and manufacturing plants took up the space, and rent and living costs were pretty low. Williamsburg was also home to a large population of Puerto Rican and Dominican immigrants. Because of the low prices, artists and young college adults started moving into the neighborhood, and in 2005 it went through a rezoning process where all the warehouses and factories were replaced with condominiums for sale and rental apartments. The neighborhood is often seen as the "poster child of mass gentrification."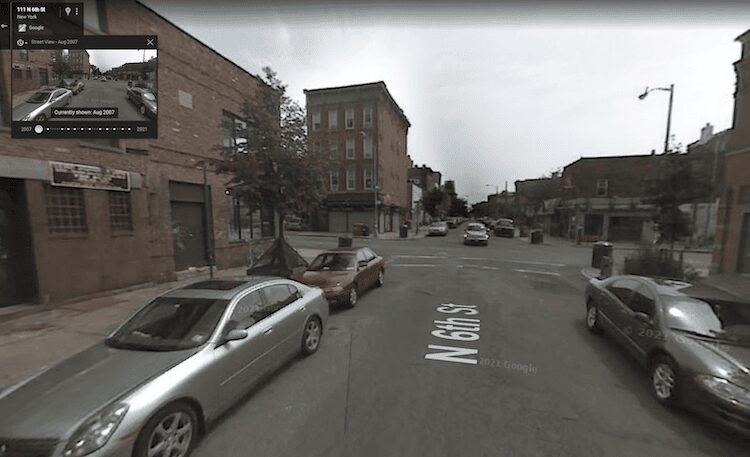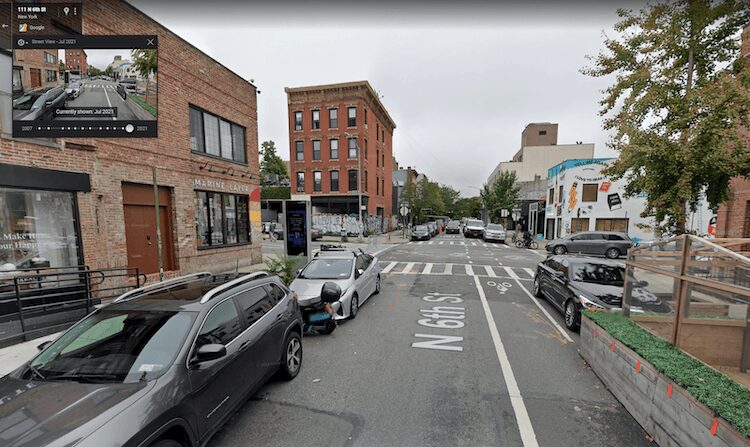 Barclays Center | 2009 vs. 2021
The indoor arena right off Atlantic Avenue in Brooklyn is where fans go to watch basketball games, live entertainment, or music shows. Barclays opened up in 2012 and is a model for sustainable design and construction. It's crazy to see how much has changed since the first Street View picture in 2009. It used to be just a piece of land! This time travel option has several intervals you can click through to see the progression of Barclays Center being built.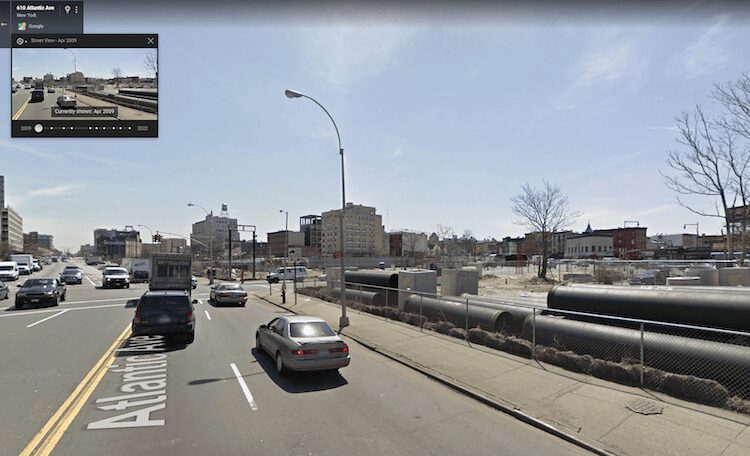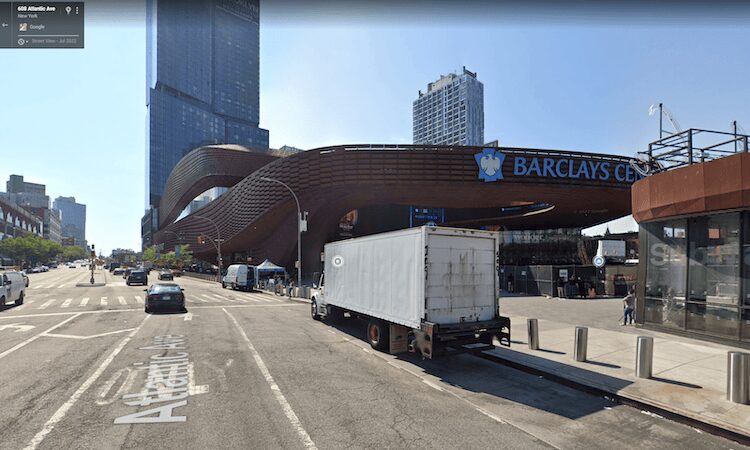 5Pointz | 2012 vs. 2022
The demolition of 5Pointz was a very controversial and sad day for artists. Before it was a residential complex, 5Pointz was a mural space where street artists would create art day in and day out. Tourists would flock to this Queens location and see artists making their art in real-time. If you scroll through the time travel intervals, there are two points where you can see different murals on the building. Despite its cultural importance, the owner of the building decided to whitewash the art overnight and later demolish and transform the land into rental apartments.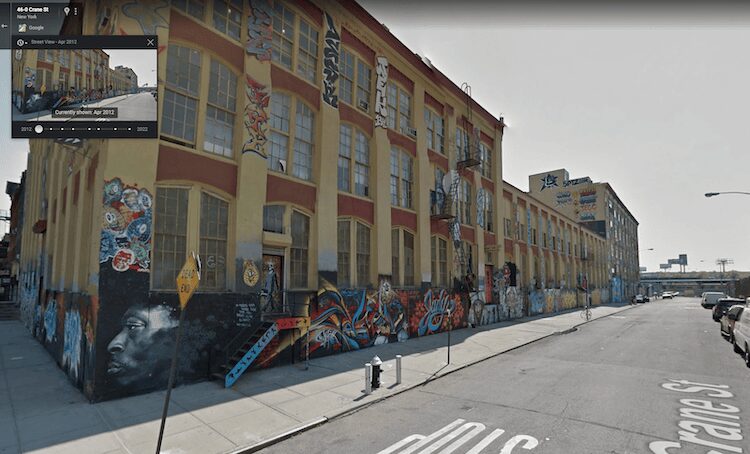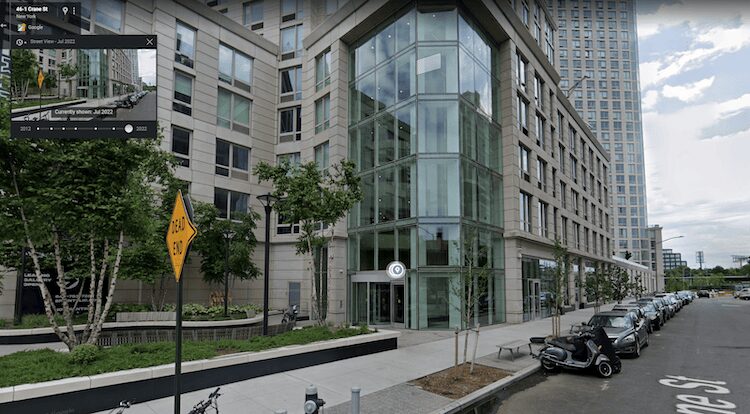 ---
NYC is constantly changing. There are many great fun ways to explore NYC with the Google Maps Time Travel feature. Look up your neighborhood and explore how different landmarks, offices, stores, and residential buildings have changed in the past decade.