Our nation's capital is well-known for its cherry trees, celebrated every year in the National Cherry Blossom Festival. However, New York City is also scattered with pockets of historic cherry trees that provide a stunning spectacle when they bloom each spring.
The History of New York City's Cherry Trees
Japan initially gifted the City of New York a shipment of cherry trees in 1909 as part of the Hudson-Fulton celebration commemorating the hundredth anniversary of the invention of the steamboat and the three hundredth anniversary of Henry Hudson's voyage up the Hudson River. However, the first shipment of saplings was lost at sea. A new shipment of 2,500 trees was delivered in the spring of 1912 and divided among various parks across the city.
Varieties and Blossoming Timelines
There are two main types of cherry trees you will find in the city, each of which has distinct blooms as well as a unique blooming season.
Yoshino cherry trees produce white or pale pink blossoms and grow to a height of about fifty feet. These trees are often some of the first to bloom in the city, with their buds beginning to open in late March. Most of the trees originally delivered in 1912 were Yoshino cherries.
Kwanzan cherry trees, the other dominant variety in New York City, have larger, bright pink blossoms that grow in thicker clusters. The trees themselves rarely reach heights greater than thirty feet. Kwanzan cherries don't usually begin blooming until well into April.
Between these two varieties, you have a good chance of being able to see cherry blossoms in the city at any point from late March to mid-May. An individual tree's blooming season is highly dependent on weather conditions, the tree's health, and a combination of other factors, so it's difficult to predict blooming dates with accuracy. However, any given specimen will never be in bloom for much longer than a week. The short-lived beauty of cherry blossoms is what makes them a symbol of life's ephemeral nature in Japanese culture.
Where to Find Cherry Trees in New York City
Brooklyn Botanic Gardens
Perhaps the most famous of New York's cherry blossom celebrations is the Sakura Matsuri Cherry Blossom Festival that takes place at the Brooklyn Botanic Garden each year. Intended to celebrate Japanese culture as well as the blossoms themselves, the event often includes live performances of traditional Japanese music and informational demonstrations of samurai sword fighting. The trees will also still be available for public viewing throughout the spring. Their website includes a tracker that monitors each specimen's blossoming status from pre-bloom to post-peak bloom, which allows visitors to time their visits to witness as many blossoming trees as possible.
Central Park
There are cherry trees scattered throughout Central Park's 843 acres of greenery, but the highest concentration of cherry blossoms can of course be found at Cherry Hill. Located near 72nd Street at the edge of the Lake, the hillside offers a stunning view of the Yoshino cherries clustered along the water. If you're in the mood for a bit of a walk, you can then head down to the Reservoir and take a lap around the water to drink in the beautiful Yoshino and Kwanzan blossoms planted alongside the jogging path.
Sakura Park
Originally dubbed Claremont Park, Sakura Park was renamed in 1912 in recognition of Japan's gifted cherry trees, some seven hundred of which were planted on Sakura Park's grounds. Though none of the original trees planted at Sakura Park still survive, new trees have been replanted over the decades to ensure that the park continues to be a veritable haven of blossoms. During your visit, be sure to stop by the stone Japanese torii, or lantern, given by the city of Tokyo in 1960 to celebrate New York City's designation as Tokyo's Sister City.
Roosevelt Island
While Roosevelt Island's 2019 Cherry Blossom Festival was infamously overcrowded, there is no denying that the island offers a stunning collection of Kwanzan cherry trees. While the Four Freedoms Park Conservancy has not yet announced whether or not they will be hosting a public festival this year, visitors will still be able to stop by throughout the blooming season to take in the blossoms at their leisure.
Randall's Island
If you're looking for a different kind of island cherry blossom experience, you can also hop on over to Randall's Island Park to enjoy the modest crop of cherry trees along the western shore. Randall's Island often hosts a cherry blossom festival of its own, though it is currently unclear whether the festival will go on as planned this year.
Riverside Park
Spanning the four miles between 72nd and 158th streets on Manhattan's Upper West Side, Riverside Park's aptly-named Cherry Walk offers a fantastic opportunity to view some New York cherry trees while getting a healthy stroll in. The densest concentration of Cherry Trees can be found between 100th and 125th streets, so start your walk around there if you aren't interested in completing the entire trek.
Green-Wood Cemetery
Though the location may perhaps not appeal to anyone, a unique kind of serenity can be found when viewing the spring blossoms from between the gravestones and monuments of Brooklyn's historic Green-Wood Cemetery, a one-of-a-kind Brooklyn treasure. You can first spot cherry trees just inside the gates at 5th Avenue and 25th street, where the pink blossoms contrast hauntingly with the Gothic Revival entrance gates. Dozens of other blossoming trees can be found dispersed among the cemetery's mausoleums, ponds, and monuments.
New York Botanical Garden
While the New York Botanical Garden does not have a dedicated cherry blossom festival, the more than two hundred cherry trees planted across its grounds offer a prime opportunity to take in the cherry blossoms at your own pace. Like the Brooklyn Botanic Garden, their website also includes a cherry blossom tracker to aid visitors in planning the ideal time for their trip. As an extra special bonus, if you explore the exterior of the Enid A. Haupt Conservatory you'll even have the opportunity to view the unique blossoms of their weeping cherry trees.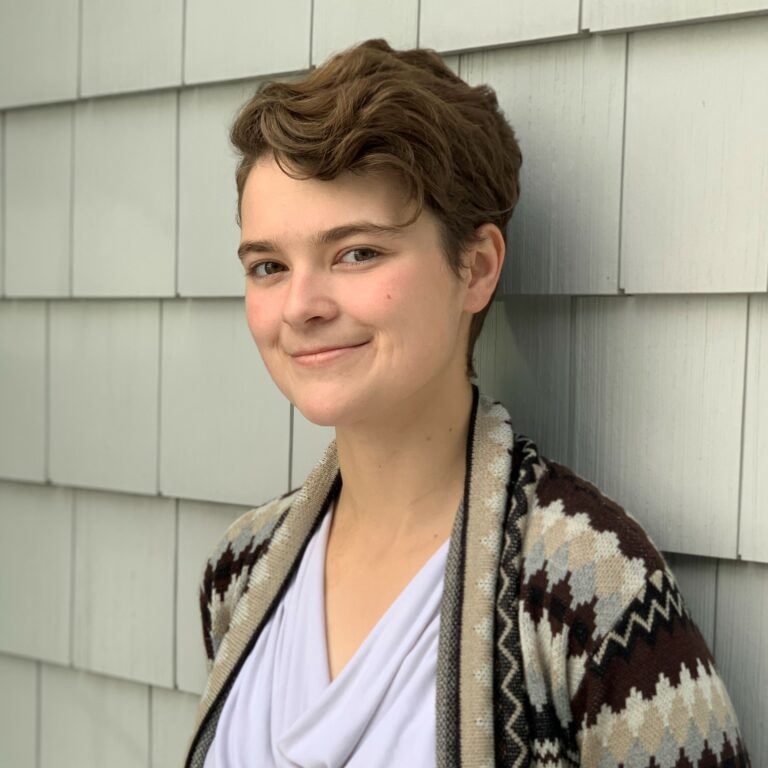 Sophie McIntosh is a Brooklyn-based writer and dramaturg hailing from Sun Prairie, Wisconsin. Her plays have been produced by Imaginarium Theatre Company, Platform Production Company, and in the Boston Theater Marathon. Check out more of her work at sophiemcintoshwrites.com!