Central to legendary Japanese designer Tadao Ando's architecture is his fundamental belief that buildings have the power to change our society. New York City dwellers certainly understand the impact that structure has on every aspect of life, making the city an incredible match for this architect.
The philosophy of this artist centers on his belief that the spaces we live in have a powerful influence over not only how we move through life, but even how we perceive who we are. 
A self-taught, self-made architect
Ando began his career as a fighter, literally. Ando spent time as a professional boxer in the 1950s and drove a cab as a young man in Japan before he took a train through Siberia to Europe. There, he found inspiration and staked his artistic sights on melding his Japanese point of view with the palatial grandeur of buildings he saw in Europe. Without training or mentorship, he sailed back home and got an architecture license, then started building.
Through the 1970s, Ando built a name for himself as a minimalist who pushed the boundaries of mixed architecture. What sets his work apart from others is the gravitas that his buildings hold, all while retaining their airy sense and comfortable aesthetic. Though Ando's work is largely concrete-based, it exudes warmth and humanity. This juxtaposition makes his buildings irresistible. 
Though Ando's buildings are largely seated in Asia, his buildings in the United States are notable. Modern Art Museum of Fort Worth and the Pulitzer Foundation for the Arts in St. Louis. He recently worked on the expansion of the Clark Art Institute in Williamstown, Mass., including a visitor and exhibition building, the Clark Center, which opened last July.
The Pritzker Prize is the highest award for architecture in the world, and Tadao Ando won it in 1995. For someone without formal architecture training to rise to this level is extraordinary and speaks to the talent and diligence that runs through Ando's career. He's also the recipient of othe Praemium Imperiale from the Japan Art Association, the Danish Carlsberg architecture prize, and the Japanese Kyoto Prize.
"Art Island"
Naoshima Island in Japan, sometimes called "Art Island", is home to multiple designs by Ando. It sits on a tiny piece of land on the southern coast of mainland Japan, just beyond Honshu and halfway between Osaka and Hiroshima. 
Though Ando is the most fierce influence on the island, its acreage is filled with minimalist and modern designs from a broad range of artists and architects. Brought together by the local council and largely funded by the Benesse Corporation, Naoshima is a place where modernist concrete designs meet nature. 
Multiple museums designed by Tadao Ando are set across the island, including the Benesse House Hotel and Museum and the Chichu Art Museum. The Ando Museum was designed by Korean minimalist Lee Ufan in conjunction with Ando himself. Visitors who make the journey via train, then car, then ferry, are treated to a replica of the Church of Light, one of Ando's most celebrated works. 
152 Elizabeth Street in Lower Manhattan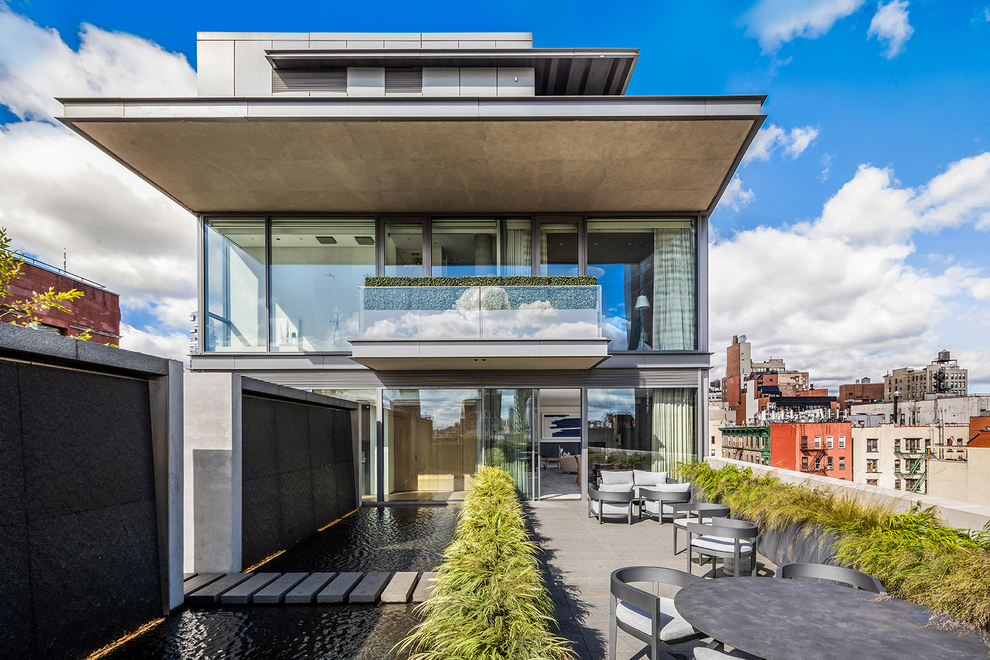 Nestled in the bustling streets of Nolita, 152 Elizabeth Street is an outstanding example of how architecture can surprise even the most jaded of city dwellers. 
The noise of Manhattan falls into the background for most NYC residents. Through the hustle and bustle of our busy lives, it all becomes white noise. In keeping with his belief that architecture can shape perception, Ando's first New York City design serves as a bastion of silence within the cacophony of sound in the city. The building is literally noise-proof thanks to its airport-grade windows.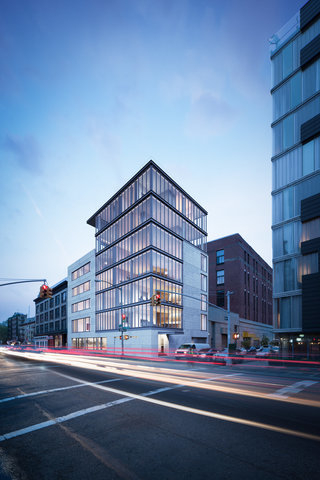 Stacked inside the subtly angled glass exterior are just seven luxury residences. There is a quiet sophistication to this remarkable structure, both outside and inside. Each of the units occupies a full story of the seven-story building. Six of the units inside 152 Elizabeth are moderately sized, with square footage anywhere from two thousand to forty-one hundred square feet. The triplex penthouse is the piece de resistance at fifty-six hundred square feet with a private rooftop terrace overlooking Nolita.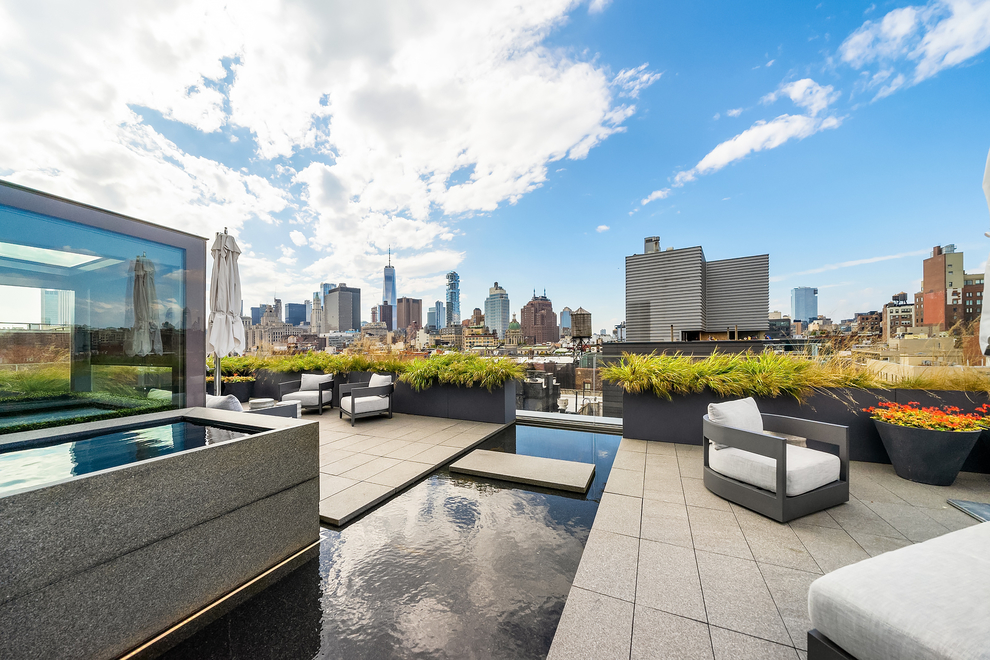 Amit Khurana of the building firm Sumaida + Khurana (S+K) first commissioned Ando after a long process and a great deal of chasing. When S+K was finally able to connect with Ando, Khurana dropped what he was doing in Madrid to fly back to New York to meet with the architect's representatives. Within a week, he was in Japan with Ando, who made the initial sketch of the building during their first meeting. 
In a statement for S+K about the building, Ando said "A home has to be a place where you can reflect on your life. This project is about that. When you come home, 152 Elizabeth should give a quiet feeling. I have to make something that touches human hearts and leaves a feeling inside of them" Perhaps this is why Kanye West also purchased a $57.3 million home in Malibu designed by Ando. Was he also looking for a calmer space?
Distinct, integrated design
Tadao Ando's most publicly recognizable work isn't a building, it's the Hill of the Buddha in Sapporo, Japan. Opening in 2015, the shrine is a domed structure surrounding a 45-foot statue of the seated Buddha that was previously placed in 2000. The masterwork is nestled in a field of lavender within the Makomanai Takino Cemetery, with only the head of the statue peeking out from beneath the hill. Beyond the hill are further structures by Ando, including tunnels that lead to a massive rotunda and vast, concrete fountains.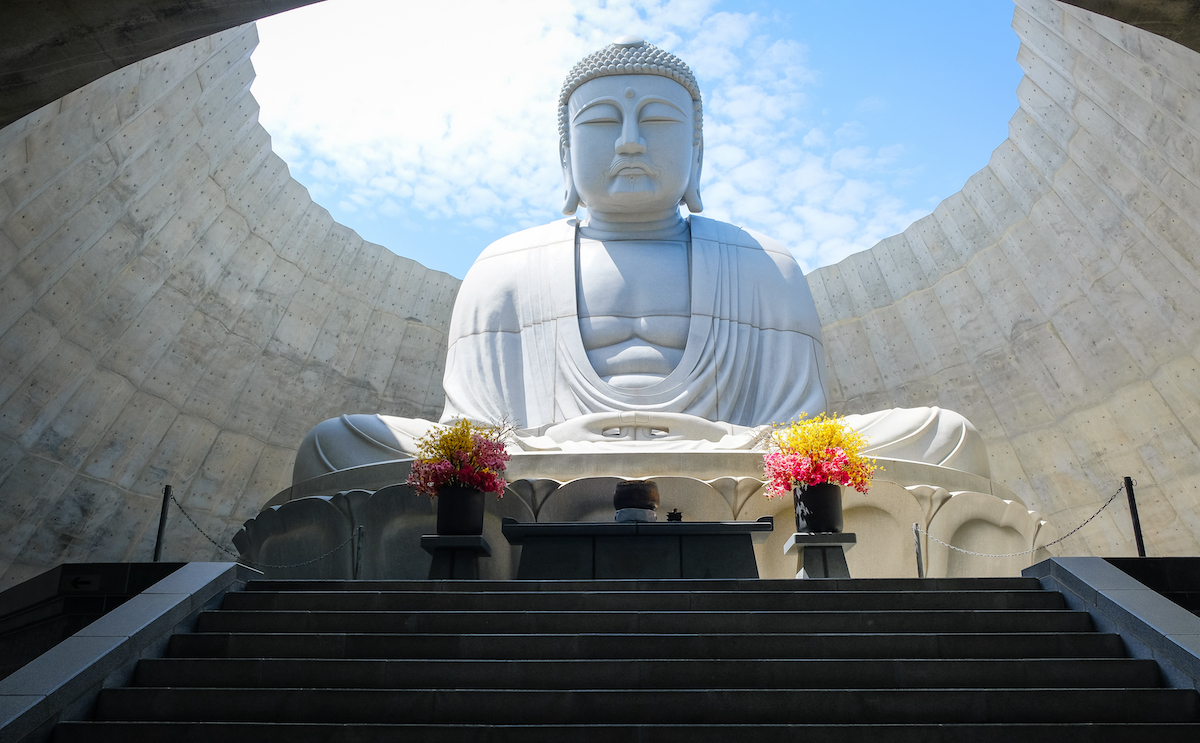 Coming full circle from that first trip to Europe in the 1950s that sparked Ando's passion for architecture, he came back to Paris to put his concrete stamp on one of its most iconic buildings. Last year, his ambitious redesign of the Bourse de Commerce building took an 18th-century landmark of excess and brought it into the future with a minimalist rebirth. French businessman François Pinault commissioned Ando to transform the space into a showcase for the billionaire's artwork, in addition to adding a sound studio, an auditorium, and meditation spaces. 
Throughout his career spanning more than a half-century, Tadao Ando has carved a concrete mark into the world of architecture. The monumental scope of his work and the enduring nature of the materials they are built from will ensure that Ando's work will continue to stand in silent strength, from New York City to Naoshima Island. 
(featured image By Christopher Schriner from Köln, Deutschland – flickr: Tadao Ando, CC BY-SA 2.0, https://commons.wikimedia.org/w/index.php?curid=12612973)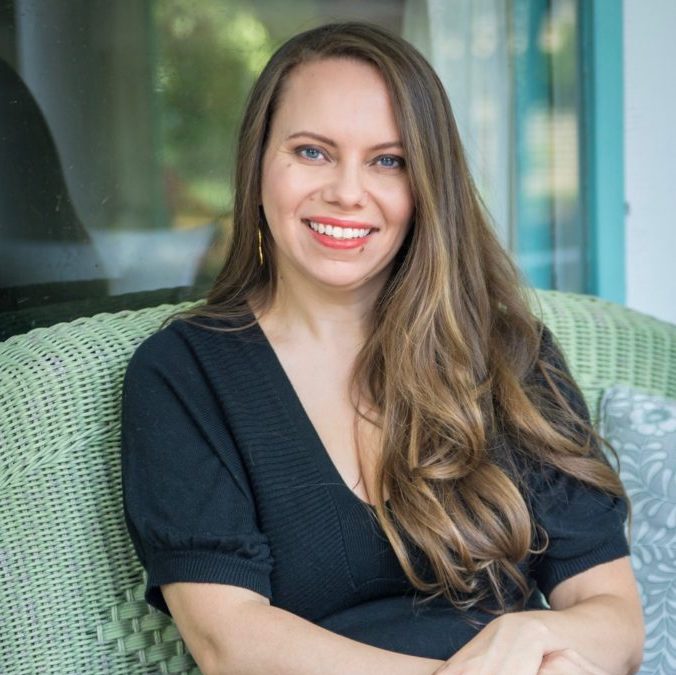 Autumn Karen chases words and her three rambunctious boys when she's not climbing mountains or teaching ghostwriting to college students. Her biggest passion is building community through information and communication.