If you're looking for the ultimate art-filled, intimate, and chic atmosphere for dining, look no further than Soho, where there is an incredible collaboration between A Pasta Bar and the artist, DAIN. The acclaimed and beloved Italian restaurant has upped its game, building eight unique villetta for the winter and early spring season, each custom adorned with floral installations from Floratorium, which inspired DAIN's artworks. The combined effect is nothing less than spectacular.
Each of the winter villeta is constructed especially for the outdoor space at A Pasta Bar, allowing diners to keep their own private (and warm!) air space in these chillier months.
The luminous structures are greenhouse-like in their ability to allow light to stream in beautifully, and the effect of entering is entirely transformative. Upon stepping inside a viletta, you will immediately be immersed in a space of chic elegance, surrounded by floral-scapes created uniquely for each of the eight cottages.
Vibrant reds anchor the space, complemented by verdant greens, meant to "spark conversation and inspire joy," which is Floratorium's aim.  You'll find yourself in a total escape from your day, nestled in a garden of delightful visuals while you enjoy your exquisite meal. Creative stylist Carlos Franqui founded Floratorium in an effort to free florals from the confinement of a vase. The installation at A Pasta Bar does that in the loveliest way, as you will find yourself in an inviting botanical embrace.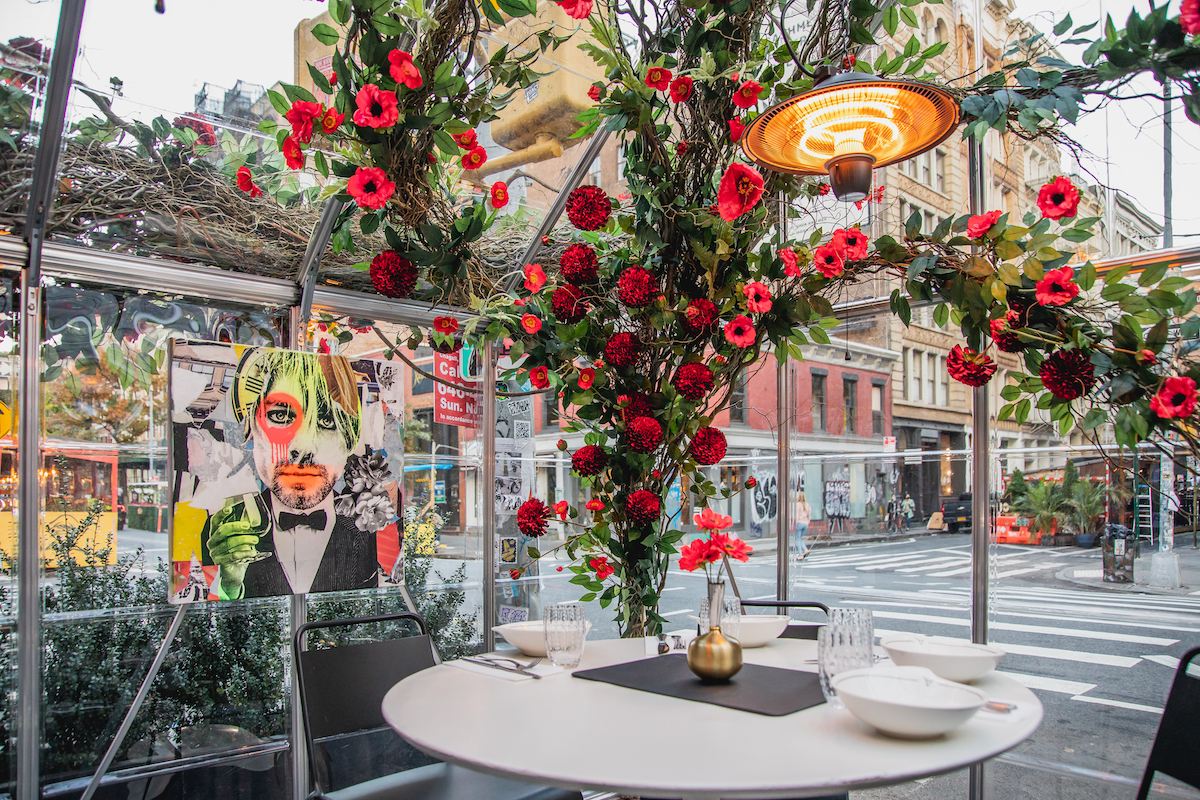 But, just as you sit down, you notice a visual delight that not only plays with the color scheme of your villeta, but also elevates your experience even more. It is a custom artwork by DAIN, a local artist acclaimed as "one of the most influential street artists to emerge from New York."
Prior to SoHo's rise as a shopping hub, dozens of artists made their homes and studios in the area. Now, A Pasta Bar pays tribute to the heritage of the neighborhood and invites art back inside to be honored. Though the restaurant typically offers an Italian aesthetic, they branched out in these difficult pandemic times, intentionally seeking a collab with a vibrant local artist, to highlight and uplift the spirit of the local community.  The works that DAIN has created will catch your eye immediately and will give layers of depth to ponder over while you dine. A Pasta Bar could not have chosen a better artist to co-create a desirable space for their villeta.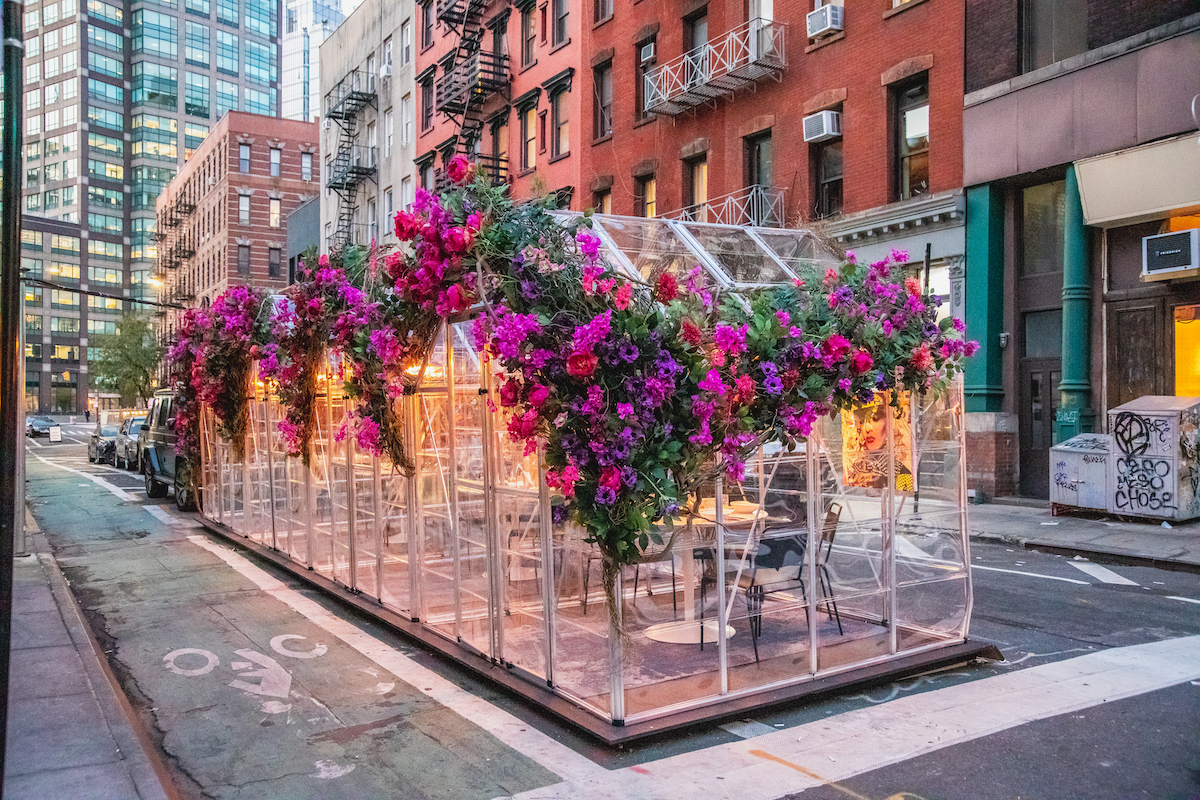 DAIN's work combines street art/graffiti with collaged portraits from old Hollywood. He considers his work "a confrontation between the destructive gestures of graffiti and the femininity of his Hollywood subjects." In addition to the painted marks and the figures, he adds layers of further interest with collaged advertisements and printed materials. Once you find yourself in a villeta, you may find yourself wanting to linger longer, not just for the fabulous food and setting, but also to visually lose yourself in studying the collective details of DAIN's work.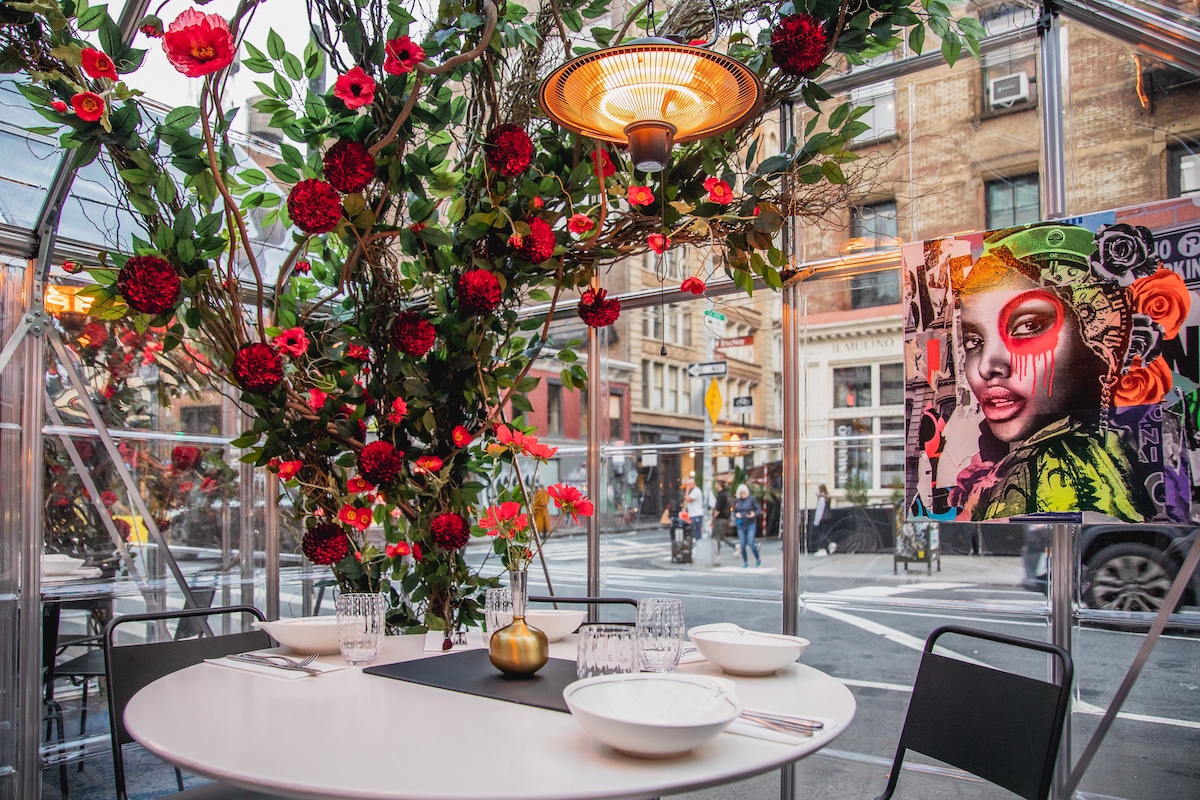 DAIN has a memorable trademark of a "circle and drip" around the eye of his subjects, usually wheat-pasted images of former Hollywood glamour stars. In the custom works for A Pasta Bar, his trademark stroke is painted in brilliant red to align with the accompanying florals. They play in a visually-satisfying concert with one another.  
One more reason to check out this latest collab — it makes for a rad photo op that will have your friends asking — where is that??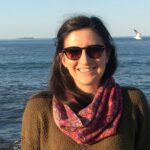 Leland is a writer and curator, passionate about the arts and real estate.  She especially wants to share clear details about the housing market so that prospective buyers and tenants can make their best-informed decisions.