One of the age-old debates amongst New Yorkers is about where to obtain the best steak dinner. The "meat and potatoes of it all" centers around the quality of beef and the chef's steak preparation style. New Yorkers will go to great lengths to obtain the best experience in this category and then wax on profusely about it in an effort to show that they have mastered the knowledge on this hotly debated subject.
Essentially, there are five cuts of steak that will present themselves on every good steakhouse menu. The first, and most popular, is the tenderloin—also known as filet mignon. It is the most expensive cut of beef and is taken from under the rib of the cow. Next is the New York strip steak, which is the short loin that is cut from behind the rib. It is usually well marbled and has a decent amount of fat around the edge. Then, there is the porterhouse or t-bone which is taken from the cross-section of the short loin. This cut is almost two steaks in one—on one side you have the buttery taste of the tenderloin, and on the other, you have the flavor of strip steak. The ribeye comes from the upper ribcage of the cow.  It can also be called Scotch fillet or Delmonico. The skirt steak is taken from the diaphragm and is a long, thin, fibrous piece of meat.  It has a lovely beefy taste, and should not be confused with flank steak which is used more for marinated cooking.
Now that your mouth is watering, learn about the best New York City spots to live out your steakhouse dreams. 
Best Steakhouse in NYC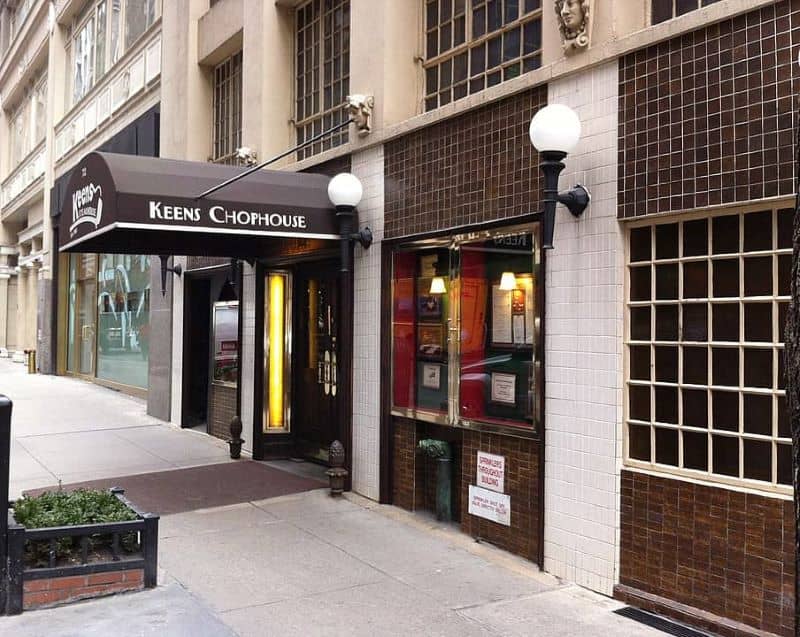 1.) Keens Steakhouse – 72 W 36th St ($$$$)
Keens Steakhouse is a NYC landmark destination for steak. Dating all the way back to 1885, this chophouse opened up independently under the ownership of Albert Keen in Herald Square. Back then, this was known as the Theater District. Since the expansion and rapid development of Manhattan, Keens Steakhouse is the only surviving establishment within the former district. The history here runs deep. Keens Steakhouse is known for their English mutton chops steak and roast specialties. But, one of the other reasons for Keens' popularity is their collection of 50,000 clay smoking pipes. Doesn't have to do with their steak, but still kind of fun! Some pipes that are stored there have come from the mouths of people such as Theodore Roosevelt, Babe Ruth, Stephen King, Liza Minnelli, Albert Einstein, J.P. Morgan, and David Belasco. 
View this post on Instagram
2.) Wolfgang's Steakhouse – 409 Greenwich St ($$$$)
Wolfgang Zwiener, owner of Wolfgang's Steakhouse, is an industry icon with over four decades of experience. This steak connoisseur owns a total of twenty one steakhouses all over the world with his name on the front panels. Zwiener handpicks all the beef served at his restaurants and only chooses from USDA Prime Black Angus beef to accentuate the importance of flavor and texture. Wolfgang's Steakhouse uses dry-aging techniques to prep the meat to perfection and then it is  carved to order by select butchers into their signature porterhouse, prime New York sirloin, rib eye, and filet mignon. Wolfgang's Steakhouse also serves famous entrees such as lamb, sashimi-grade tuna, Norwegian salmon, Maine lobsters, and a plethora of side dishes. Their creamed spinach and German potatoes are to die for! They also have multiple other locations in the city such as on Park Avenue in Murray Hill, Times Square in Midtown, Midtown South, and Midtown East so check them out!
View this post on Instagram
3.) Del Frisco's Double Edge Steakhouse – 1221 6th Ave ($$$$)
Del Frisco's is a relatively new steakhouse that opened in 1981. Their platform was to embody the traditions of classic American steakhouses. With years of hard work and dedication to the craft, Del Frisco's became one of the most beloved steakhouses in all of Manhattan. Even though they value American steakhouse heritage, owners at Del Frisco's have also put their own modern twist on the experience. Their chef-driven cuisine offers patrons a meal like no other. The menu features hand-cut steaks & chops as well as dry-aged steaks such as the prime strip and prime ribeye. Ever heard of Japanese wagyu? If you haven't tried it, you can try it for $93 along with a 3oz bottle of Japanese A5 at Del Frisco's. Their sides include all the classics: creamed spinach, mashed potatoes, asparagus, and creamed corn. 
View this post on Instagram
4.) Peter Luger's Steakhouse – 178 Broadway ($$$$ – Cash Only)
If you're near Williamsburg and craving steak, this is a MUST go-to. Peter Luger's Steakhouse opened in 1887 and immediately became a favorite in the predominantly German neighborhood, Williamsburg. It was originally called "Carl Luger's Café, Billiards and Bowling Alley," with Peter Luger as the owner and his nephew Carl in charge of the kitchen. Peter Luger's Steakhouse has gained a Michelin Star and many foodie awards from all over, earning the title of an American Classic. 
Peter Luger's Steakhouse serves only USDA Prime which represents less than 2% of graded beef cattle. Whatever is selected is brought to the on-site dry aging facilities to ensure top quality. After the aging process, the meats are butchered and brought to the kitchen so the highly-trained chefs can work their magic. Peter Luger's Steakhouse Brooklyn menu features USDA Prime Beef with the option to eat for one, two, three, or four people or a Rib Steak. Peter Luger's also offers loin chops, salmon, and filet of sole. Their side dishes consist of fried potatoes, creamed spinach, fresh broccoli, onion rings, and baked potatoes. Don't forget to try Peter Luger's steak sauce with your meal—it's the stuff of legends. 
View this post on Instagram
5.) Morton's The Steakhouse – 551 5th Ave ($$$$)
Even though Morton's is classified as a steakhouse, they actually became famous for their burger. Co-founders Arnie Morton and Klaus Fritch both worked at a Playboy Club in Montreal, Canada. One evening, Morton had cooked up a hamburger that was sent out for Fritch to try. With delight, he insisted on knowing who made this incredibly delicious meal. After finding out it was Morton they decided to team together and coin the "Million-Dollar Hamburger" which was their first staple dish. 
Now, Morton's The Steakhouse is a spot where restaurant-goers can enjoy steak and seafood. Much like other high-end steakhouses, they use USDA prime-aged beef, which goes through a thorough inspection process and will only be served if accepted. Though the steak is the star of the show, their seafood is not to go unrecognized. Their thick Chilean sea bass, oysters on the half shell, and red king crab legs all make great options for a "surf n' turf" meal.
View this post on Instagram
6.) Mastro's Steakhouse – 1285 6th Ave ($$$$)
Part of Mastro's mission statement is to "Create Guests for Life" and they make a good argument for it. Known for their celebrity clientele, it offers the diner fine food as well as people watching. This is the place to experience some of the most exclusive beef in the world, like wagyu tomahawk chops from Snake River Farms ($195), and Hyogo Prefecture ($240). Mastro's also offers lovely fish selections and interesting side dishes such as lobster mashed potatoes, wild mushroom and black truffle gnocchi—and of course, the usual creamed spinach selection. 
View this post on Instagram
7.) Sparks Steakhouse – 210 E 46th St ($$$$)
If you're interested in mobster history, this is your place: This is the restaurant where Paul "Big Paul " Castellano was fatally shot in 1985 under the orders of John Gotti. Sparks opened over 50 years ago, and it is one of the last remaining steakhouses in an area that was referred to as "steak row."
The owners, Michael and Pat Cetta, come from a family of Italian butchers and wine makers. The menu features extra thick veal chops, medallions of beef, prime sirloin, and even a decadent steak fromage (with roquefort cheese). There is an extensive fish menu as well as a sumptuous dessert menu featuring "rich but good," a special cream made with whipped cream, vanilla ice cream and grand marnier. Other desserts include their famous New York cheesecake, chocolate truffle and pecan pie. If you truly want to channel your inner mobster fantasy, a cigar menu is also available.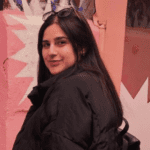 Carly is a freelance writer with interest in topics pertaining to lifestyle blogging, social justice, and anything to do with film/media. She graduated from the University of Wisconsin - Madison with a degree in English & Literary studies in hopes to write for a large music publication. When she is not writing, you can find her watching movies, cooking her famous Carbonara, and enjoying time outdoors.