Moving to New York can feel like moving to another country. New York City is just like everywhere else- except more so. Current apartment rental prices in Manhattan are the highest they've been in 30 years, yet more people are moving to Manhattan now than even before the 2019 pandemic. Full of endless opportunities, grit, grime and wonder, New York beckons like a siren. But buyer beware, come with either a game plan or a lot of money. 
We are living in the throes of a seller's market, where affordable rent is hard to find and even harder to obtain. For those wanting in on the action, timing is everything. Real estate agents advise that some months are more fortuitous than others for finding an affordable home.
The Best Time of Year to Move to New York
According to most real estate agents, the best months to find an apartment are May through June and October through November. Late spring brings plenty of fresh options on the market, while fall has more discounts and deals.
Spring is buzzing in the New York market. More apartments hit the market during and after May than the rest of the year, giving renters plenty to choose from. The only caveat is that other people know this too, creating a competitive and challenging rental market. If you find a place you love- act fast. Apartments come and go quickly in the springtime, while the fall market is a little less intense. 
How Early To Begin Apartment Hunting in NYC
The earlier you look for the next place, the better. With low vacancy rates around 2.6%, there is much more demand than supply.
"Prospective renters should begin looking for their apartment 4-6 weeks before their anticipated move-in date," explains Allyson Waddell, RentHop's Success Manager, "Many landlords and management companies will not show an apartment unless they know they can profit from that potential deal within the month."
More time may be needed if you are considering a condo or co-op, which includes board application approval. Experts recommend searching 2-3 months prior to the anticipatory move date, as board approval can take from 2-4 weeks.  If you are moving somewhere new, that could impact your timeline as well.
"Renters moving to an area with a market they're unfamiliar with, should consider looking at online listings two months before they wish to move," says Allyson Waddell, "Researching ahead of time can help paint a picture of rental prices and common amenities in the area. Additionally, renters may find a listing with an availability date that matches their desired move-in time." 
Cheapest Month to Rent in NYC
Looking across ten major cities, including New York City, RentHop research found the cheapest months to rent between December and March. The most expensive months were May through October. The "peak-to-trough" difference, measuring the highest seasonal rent to the lowest, found dollar savings between $38 and $139 a month for a 1 bedroom and $47 to $176 for two bedrooms. One quick look at RentHop's stats and trends page shows you just how much rent can differ in NYC over the year.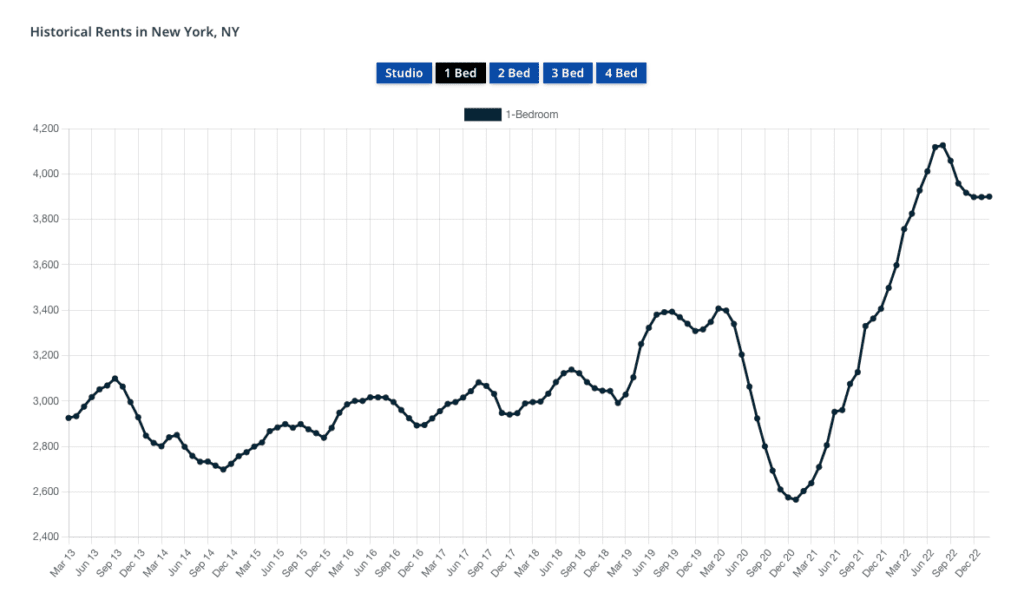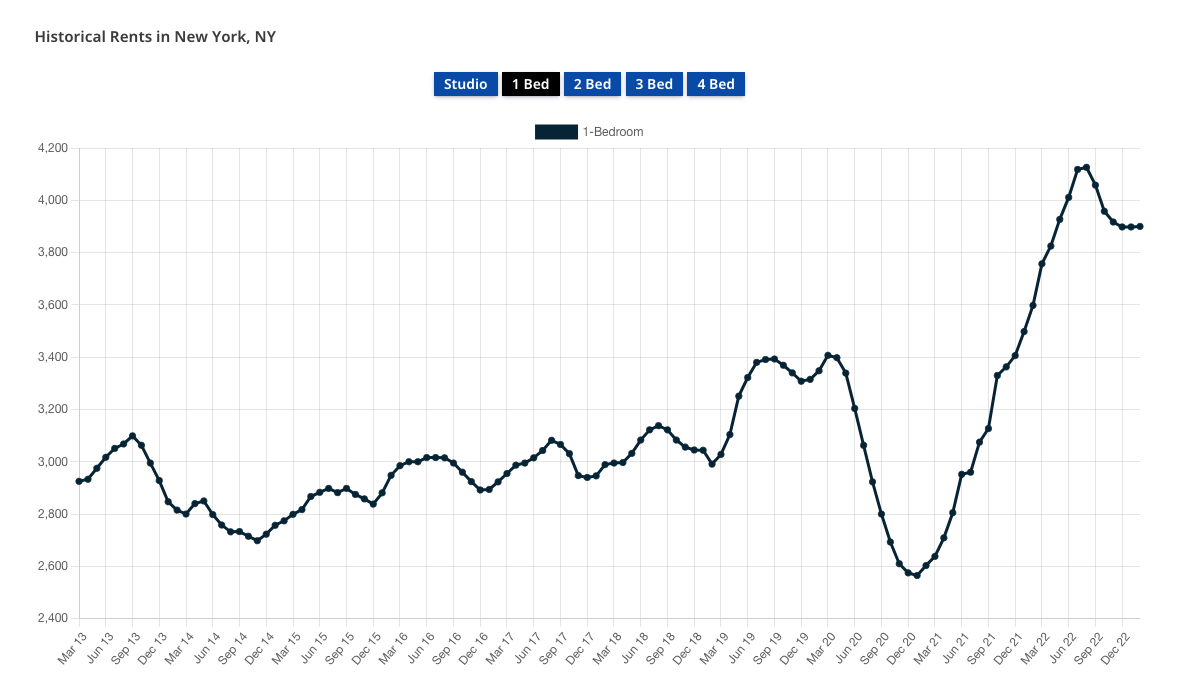 The pandemic has not been helpful to renters. A year-to-year comparison shows renters have struggled- median rent increased up to 32% across the five boroughs between March 2021 and March 2022. Current New York City rent prices are up 10% since before 2020, slightly lower than the 15% national average. 
Once you find a place that piques your interest, it's important to jump on the application process. If there's one thing about New Yorkers- they move fast. 
The Love and Hate Reality of New York Brokers 
Many out-of-state folks are not familiar with broker fees, but they're a painful part of renting in New York City. As agents work on commission only, a broker fee is a fee paid to a licensed real estate agent or broker for representation during the transaction. Sometimes chosen by the landlord, their fee is covered by the renter.
Is It Worth It To Hire A Broker in NYC?
"I don't think we would have gotten our current place in Brooklyn if we didn't pay the broker fee," says Tina Gray, a renter from Brooklyn "He did genuinely have our back through the process and was trusted by the current homeowner. With that being said, to pay a 13% fee of rent upfront as nearly a sunk cost was painful."
In New York, broker fees apply to most apartment rentals. Plan to spend around 10-15% of the first year's rent. Despite the sometimes enormous fee, better deals can be found through a broker or real estate agent, they also may help you get a lef up if you're looking to move during a busier season. They can assist in more ways than one.
"Most of my work for clients is completed before the first phone call," explains New York real estate agent Burton Frey Jr. "The primary service agents can provide their clients is guidance earned through experience. What neighborhoods or types of properties are conducive to an individual's likes, dislikes, and needs? Which management companies or owners are responsive to service requests? A renter may not have the relationships and intel that an agent has with other agents, owners, and management companies."
If you are ever worried you're paying too much- just be glad it wasn't $20,000. The state is currently investigating a $20,000 broker fee charged by Ari Wilford for a rent-stabilized one-bedroom apartment in the Upper West Side. 
What You'll Need To Apply for an NYC Apartment
So, you've found the apartment of your dreams. What next? There are a number of steps between love-at-first-sight and the move-in date, and while they may differ from apartment to apartment, you'll likely pass through the following steps.
During the application process, you will fill out an application, usually including a background and credit check. In some cases, the landlord will want to meet you.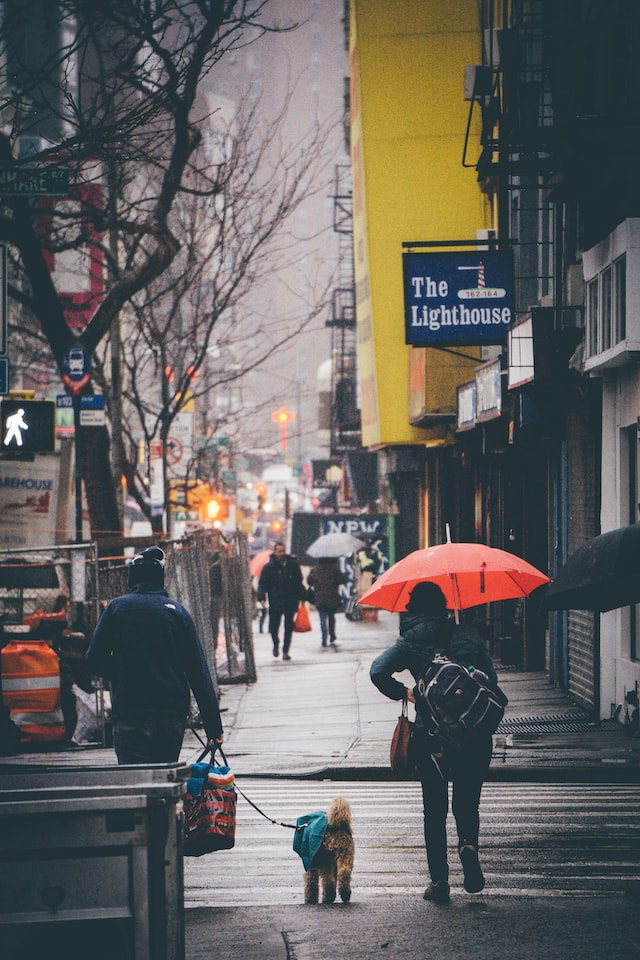 To help with income verification, the landlord may ask for bank statements. If you do not make the required amount- generally 2.5x the monthly rent, then you will need a guarantor to sign for you. Once credit and income have been verified, it's time to set the walkthrough and move-in dates. The walkthrough process is very important and is not to be missed. 
Background checks may soon be a thing of the past as the New York City Council debates a law to ban criminal background checks by landlords. Background checks can potentially allow landlords to use criminal history against potential tenants, which is grounds for discrimination. Most landlords remain firmly against the bill, worried it will affect tenant quality. 
Worries about crime remain one of the biggest detractors from moving to New York. Counter to these trends, the demographics of New York depict a different reality- a city in a slow and quiet decline.
The Shifting Demographics of New York City
From the very beginning of the news, residents began moving from the city in droves. Migration panic slowly set in, shifting demographics in real-time. New York City was hit harder than any other city in the United States. 
Starting in 2020, over 160,000 households relocated out of New York, with Manhattan losing the most people at the highest rate.  Outbound migration peaked directly following the start of the pandemic, and the overall population is in decline. Much of Manhattan relocated to suburban enclaves like Rockland County, Westchester County, and Suffolk County. 
New York has processed a number of changes since 2020. Adjustments in office dynamics and the availability of remote working led to low office returns, endangering many local businesses. Working from home has also changed living preferences. Remote workers are often looking for larger square footage so they have space for an office. The National Bureau of Economic Research recently found that US housing costs rose about 15% as a direct result of remote working.
"New York City had one of the largest declines in the first stage of the pandemic and one of the fastest rebounds," said Rob Warnock, a senior researcher at the rental search platform Apartment List.
While housing prices soared throughout the United States, Manhattan real estate was at first an outlier, experiencing plunging home values as people left in mass exodus. 
"In the past decade, most of the counties [in New York City] have been experiencing out-migration," Crystal Delbé, a statistician in the population division of the US Census Bureau, told Bloomberg. "And in 2020, which is the first year of the pandemic, we saw that same trend kind of persist.
Of course, this was not permanent. Beginning the second year of the pandemic, the situation reversed as outbound migration slowed and inbound migration increased. As housing expenses and real estate increased throughout the rest of the United States, folks began slowly returning to the big apple. 
Other factors contribute to New York's population decline. The pandemic brought higher death rates, lower birth rates, and limited international travel and migration; all of which reflect as a loss in population. 
As you might discover in your new neighborhood- New York today is different than the New York of the past. But then again, it always has been.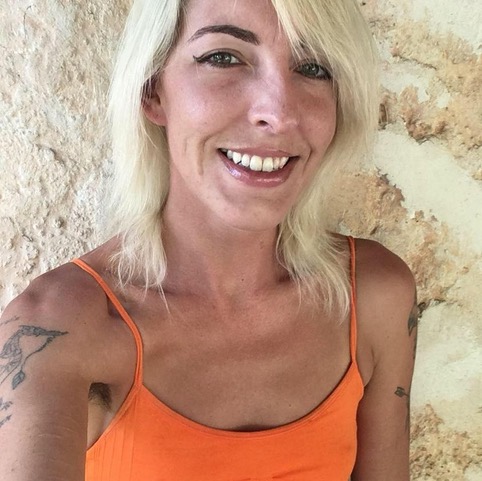 Lindsey Rae is a freelance writer, videographer, and medium format photographer with a background in economics, documentary filmmaking, and human rights. In past lives she covered the arts scene in Seattle and LA before morphing into a finance journalist, reporting from the NYSE for German news media. When not writing about culture & lifestyle she can be found studying herbalism and traditional healing techniques. She enjoys running, yoga, and world travel. You can find her at www.linerae.com or IG @hunteressthompson