Some of the best artists in the world reside in NYC, including those whose canvas is the human body. Tattoo artists and parlors are pivotal to culture in NYC as residents and businesses grow more comfortable with showing tattoos in the workplace. Demand is high for the industry, and people receiving tattoos demand a quality product, especially since removal is expensive. So what are the best tattoo parlors in NYC? We've found the best in each borough, so pick a design you want to get ready for some ink.
Best Tattoo Parlors in Manhattan
View this post on Instagram
First Class Tattoos
The name speaks for itself at this parlor. Known for its bold, custom designs, this parlor has four specialties that their main and guest artists know like the back of their hands. Their watercolor tattoos are bright, vibrant, and usually a bit more abstract, with no solid lines between images. Their black and gray style tattoos are usually used for more photorealistic images. Fine line tattoos are similar but are easier to add some subtle details without being too bold. Finally, the Trash Polka style is big and bold, usually with black and red coloring, though that can change depending on the client's wishes.
Fun City Tattoo
The oldest tattoo parlor in Manhattan, this place has seven amazing artists that work with walk-ins for something simple and take appointments and consultations for those that want something more elaborate. Different artists specialize in different things. For example, many artists here specialize in black and gray, while others work well with coloring and fine lines. The co-owner, known as Big Steve, is a jack of all trades when it comes to the art and has tattooed several celebrities. He and his artists even host regular events at the shop to build community.
Rising Dragon
This welcoming parlor has been around for 32 years and is perfect for those seeking their first tattoo. The establishment requires several consultations to see if the client and artist are compatible. The sessions are also brainstorming opportunities to ensure the best possible outcome for the client. The reviews on their website and Google are stellar, complimenting their artistry and service. To make things even better, they also bring in a lot of guest artists from around the world. These guests are some of the most talented on Earth, so you know you'll be getting some quality ink.
East Side Ink
Opened in 1992 when tattooing in NYC was still illegal, East Side Ink has been breaking the mold for 30 years. When it first opened, most of the clientele were bikers, but now everyone is welcome to get an awesome design here. This is a custom design shop, so no two tattoos here are the same. They even offer microblading – fine ink strokes that resemble hair used to shape up eyebrows – for clients who want a cool look but not a full design. This tattoo shop has done work with Scarlett Johannson, Susan Sarandon, and Bruce Willis.
Sena Tattoo
This parlor and art gallery come from the talented David Sena, who works in the field of body suits and sleeves. He and his other four artists have been dishing out Japanese, Traditional, and Realism tattoos, among other artistic mediums, depending on who's doing the tattooing, for ten years. They even have guest artists from all over the world. The art gallery features unique works by the tattoo artists based on popular and custom designs they've done. This parlor is truly unique in the NYC tattoo scene.
Studio 28 Tattoo & Piercing
This stellar studio is known for gorgeous tattoos and creative piercings. They pair every customer with an artist, and the two have several consultations to ensure both parties are happy with the outcome. The three tattoo artists here, Bo Snow, Anna Rawr, and Jenny, are extremely talented in different fields of tattoos and body art, creating beautiful works for sleeves, bodysuits, and smaller designs. Their three piercers, Vicki Rose, Kristen Januszewski, and Logan Wright, are just as friendly and qualified, guaranteeing a great experience for customers.
Best Tattoo Parlors in Brooklyn
View this post on Instagram
Nice Tattoo Parlor
This parlor in Williamsburg is all about being kind to its clients. Seriously, the founder opened the parlor after many tattoo artists were rude about a small design he wanted. This lovely place opened its doors in 2017 and has provided a comfortable, refreshing space to people seeking great designs. The artists who work here have been trained by the best, and come from all over the country, inspired by the mission to provide tattoos in an environment that's relaxing. These talented artists get booked up fast, so make sure to book an appointment in advance. They also offer microblading services.
Electric Anvil Tattoo & Piercing
This fun parlor has great artists and service, but the real story here is the "get what you get" deal. Go to the shop with $100, insert it into a machine, and you'll get a randomized tattoo design that you can get that same day. If you aren't happy with the design, you'll have to spend another $20 to try again, but it's a great experience for those who are a little more adventurous. Aside from this insane deal, this shop also offers piercings for a reasonable price.
Hand of Glory
Since 2001, this parlor has been one of the best in NYC. Started by Craig Rodriguez and his partner Anna Sea, this parlor is known for bodysuits, sleeves, and larger back tattoos. Craig and Anna were amongst some of the first artists to get a legal tattoo license in 1997, and their artistry has been sought after by Brooklynites for nearly 30 years. They also have a ton of artists who specialize in Japanese designs, black and gray designs, and traditional American designs. They also offer piercings at a sister location called The End Is Near.
Three Kings Tattoo
This parlor has various locations, but the flagship location is in Greenpoint, Brooklyn. Many people don't realize that, in most cases, getting tattoos is not a vegan experience. However, this shop offers vegan tattoos for those who are interested. Since 2008, this shop has made a major name for itself in the industry, opening shops in LA, North Carolina, and even London. The artists who design here are the best in the world, and they have regular guest artists who have studied under masters of all nationalities. The talent found here is unparalleled.
Best Tattoo Parlors in Queens
View this post on Instagram
10 Thousand Foxes
This Queens tattoo shop aims to be the best in the city, and they are making that happen considering the high caliber of artists they have on their roster. They have specialists in realism, avant-garde, and even anime art styles. The prices are also insanely affordable, which is probably how they're able to have so many talented artists throughout their various locations. Before you head in for an appointment, you should know which artist you want to work with, so check out their website for samples and bios of all their talented staff.
Stay on Point
Founded in 2008, this parlor showcases beautiful tattoos, permanent makeup and microblading, and even t-shirt designs. These tattoo specialists are masters of fine detail and work with everything from large, surreal images to smaller, photo-realistic designs.  Their microblading and permanent make-up specialists work for their sister brand, Browlicious. They specialize in eyebrows and lip color. Finally, if you don't want a tattoo, Stay on Point will print their awesome, custom designs on T-shirts. This is a fun option for coworkers or a rec league seeking a cheap and easy uniform. No matter what, Stay on Point has got you covered.
The Queens Ink Tattoo Shop
This parlor opened in 2012 in Astoria and has devoted itself to staying off the mainstream. Designed like a 1900's barbershop, this place is small but cozy and super inviting. There are two main artists at this shop. The first is Christian Zink, a Romanian tattoo artist who's a master of photorealistic black, gray, and color designs. The second is Caroline Wild, a native New Yorker known for her lettering and eclectic designs. She can do just about anything you want. They also invite international artists to work with them, so all three chairs in the shop are full.
Studio 316 Tattoo & Body Art
This Jackson Heights parlor has been rated #1 by Go NYC for "Best Reviews on Services." Their main specialties are black and gray tattoos and body piercings. In fact, the famous piercing brand, Piercemania, operates out of its studio. Their artists have been trained by the best in the world and are proficient in various styles. They will work with you to ensure your piercing and tattoos look amazing, which is why they have many satisfied customers. 
Best Tattoo Parlors in The Bronx
View this post on Instagram
Brass Knuckles Ink Tattoo
A proud Bronx establishment, this shop was started by a couple and has grown in popularity since it was originally established. Their lead tattoo artist is a man who goes by Taino, and he is a master of the craft, proficient in coloring, fine lines, photorealism, Japanese style art, surrealism, and more. The other main artist, C.G., is a master artist as well, adding his own flair to his customers' ideas to give them a special pop that can't be ignored. They also have a lot of merch, showcasing many of their designs and logos on very comfortable shirts.
Tattoo Kingdom
This appointment-only shop has three of the best tattoo artists in NYC, and they specialize in a variety of styles and designs. However, the thing they are most famous for is their redesigns and coverups. Many people get tattoos that they later regret, and removal can be expensive and extremely painful. Tattoo Kingdom is the best alternative to removal. Their artists are great at incorporating old tattoos into newer designs or covering up the older tattoo altogether. Mistakes can happen, but they are happy to fix or change your original design with a talented hand and caring staff.
Dude's Tattoos
This long-time Bronx staple has been in business since the year 2000. Also hosting art exhibitions from other dynamic artists, this establishment is so popular that they only work with people who have made an appointment. This is also because Dude, the owner of the shop, is the only artist who works there. He is a master artist that can tattoo just about any design you can think of. The process might take some time, but that's because Dude wants to ensure his customers get the highest quality design he can produce.
Best Tattoo Parlors In Staten Island
View this post on Instagram
Ron & Dave's Tattooing
This tattoo parlor is the best in Staten Island and was even recently featured in the Pete Davidson film, "The King of Staten Island." This shop is famous for their punk rock yet friendly attitude. Ron Lopez, the founder, started tattooing in 1973 when doing so was very illegal. He even had to move to New Jersey to get the heat off him. However, when tattooing became legal in 1997, Ron opened his Staten Island establishment with his son, Dave, and the rest is history.
Bound For Glory
Established in 2009, this shop specializes in coloring and bold lines. The designs found here are stunning, made by artists so popular the establishment has largely become appointment-only. The level of talent here is unmatched in the area, and the artists are sure to communicate with clientele to ensure everyone is happy with the finished product. They even have a dedicated piercing guy with custom jewelry for those interested. This place is small, but it's extremely popular. If you see a tattoo in Staten Island, there's a good chance it was done at Bound For Glory.
---
Tattooing in NYC has only been legal for a little over two decades, which is a surprise to many people. Many of the artists on this list started learning their craft while hiding from the law. This has made them masters of experimentation and risk-taking, two things any artist should excel at. Now that these shops are legal, the masters are training new crops of artists who will tattoo their names into the industry's future. Don't miss out on a tattoo from one of these establishments. It is a privilege to be a client of theirs.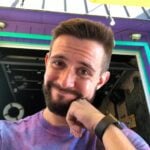 Russell is a writer and comic based in New York City. His plays have been featured at Penn State's Cultural Conversation's Festival, The NYC Thespis Festival, and Imaginarium's Inaugural Theater Festival. Follow him on TikTok and Instagram @pooleparty528