Whether you are new to remote work or have been doing it for some time, staring at the same four walls of your home office can be monotonous. If you are looking to get a different perspective, but still need to get work done, check out one of the ten locations below that are remote worker-friendly.
Upper East Side: Bluestone Lane
Bluestone Lane, is a huge cafe, with a ton of seating, food, and drinks to keep any worker satisfied. The space is located in a beautiful building, with a stunning stone archway and grandiose front doors. There are a ton of places to sit, and you could probably stay there all day, working and drinking delicious coffee. It's a place that feels larger than life and comfortable all at the same time, making it a great place to do your job.
East Village: MUD
MUD, aka Mudspot Restaurant and Cafe, is a great place to do some work, sip on a coffee, and then enjoy a tasty beverage afterward. It's a bit small, and very popular, so it's best to visit this place if you don't have a ton of work to do. However, it's a great place to sit down, grab a bite, and look over a few projects that you need to get done in an hour or so. It's an awesome location with a comfortable vibe.
Various Locations Throughout New York City: WeWork
With several locations throughout the city, WeWork provides co-working space with various membership options or pay-as-you-go options. Onsite staff, clean workspaces, coffee, and printers, and office supplies are some of the amenities offered at all locations but each is a little different. For example, the WeWork Chelsea at 368 9th Ave offers high ceilings, walls of windows, and flexible work areas. The space features large conference rooms as well as shared spaces. The WeWork at 199 Water Street is another option for amazing water views and excellent coffee options.
Hamilton Heights: The Chipped Cup
If you are looking to get your creative juices flowing, The Chipped Cup is a great place to go. The Chipped Cup is a location full of whimsey, vintage furniture, and one of the biggest patios in NYC. This huge outdoor space, and their smaller indoors space, is great for getting some work done in an overtly comfortable environment. The drinks served here are delicious, and change with the seasons, meaning there's a lot to look forward too.
Bushwick: Dweebs
This laidback and quiet Bushwick coffee shop at 1434 Dekalb Ave offers outdoor patio tables from 8 am-3 pm, wi-fi access, and plenty of outlets inside. Java lovers will rejoice because all the coffee is high-quality from Spectrum. And when you get hungry, nibble on Roberta's pastries or the avocado toast, which gets rave reviews. All of this provides visitors with a delightful working environment.
Midtown: Lincoln Center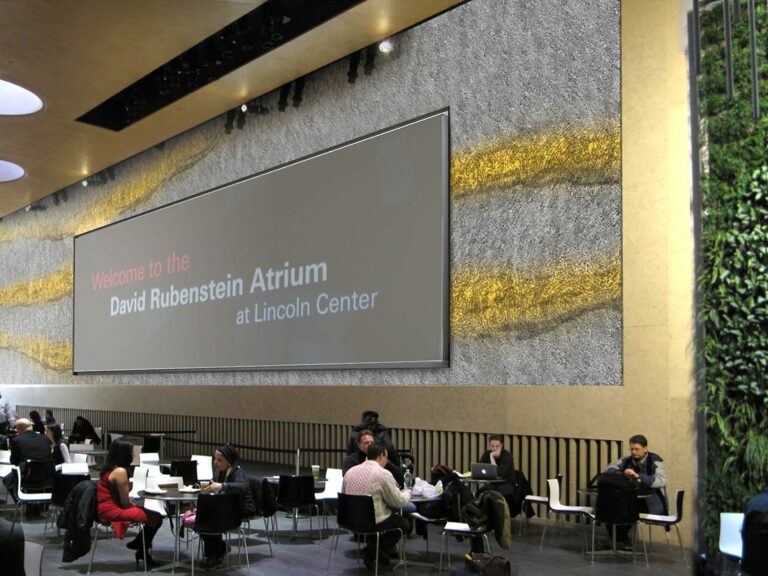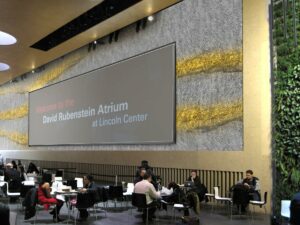 The David Rubenstein Atrium Public Space at Lincoln Center at 61 West 62 St. is a little different from the other choices on this list.  It is located within a private building but open to the public with free wi-fi and a café. The sunny space is full of greenery, tables, outlets, and clean bathrooms. What more do you need?  The atrium also hosts weekly live music performances that you can catch after you are done working.
Williamsburg:  Devoción
This delightful cafe is one of the best places in Brooklyn to work. The cafe itself is bright and comfortable, making it an ideal work space. While you're there, grab something to eat as well as their amazing coffee, and join the dozens of people who come to work there on a daily basis. This place has several locations, but the Williamsburg one is the best suited for remote work.
SoHo:  Felix Roasting Company
Felix Roasting Company, located at 104 Greene Street, is reminiscent of old-school Paris glam. But the attitude is anything but pretentious. With free wi-fi and plenty of available tables most of the time, it's remote worker-friendly. It's also a great place to have a work meeting over breakfast or lunch. The s'mores latte is not one to miss for an afternoon caffeine fix.
Upper East Side: The Cooper Hewitt Museum
The Cooper Hewitt Museum which is at 2 East 91st Street, is known for its design exhibits but it can also be a great place to work. The best part is that it is free as tickets to the museum are not required to visit the Arthur Ross Terrace and Garden. The atrium has plugs so you can stay while you take in views of the garden. It's a wonderful place to work, especially on a nice day.
Harlem:  TEEM
Head to TEEM at 1463 Fifth Ave and you can have access to a long-standing co-working space that has it all figured out. The co-working tables are designed with purpose with power outlets under every table. The space gives members the privacy they may need to work with no pressure to interact. Free snacks and freshly brewed coffee make it all the better. TEEM has both monthly memberships and drop-in rates.
These ten locations will provide a place to get work done and a change of scenery to make you more productive.
---
We've also got you covered with other great remote work locations in Brooklyn.
Mr. "Hud" Chavij recently came from abroad and brought with him a level of determination and creativity that instantly gained him a reputation among the NYC real estate thought leaders.