The people of New York City are some of the most stylish in the city, and that style requires a lot of maintenance, especially when it comes to their hairstyles. When it comes to style, technique, and knowledge, NYC salons are in a class all their own. They service countless people, including celebrities, to make sure NYC reigns as the fashion king of the country. However, certain salons stand above the rest. Where are these amazing salons? What services do they provide? And just how exclusive are they? CitySignal has the answers.
Best Hair Salons in Manhattan
View this post on Instagram
Sally Herschberger
This salon is famous in the city, and has three amazing Manhattan locations in NoMad, Hudson Yards, and the Upper East Side that's frequented by celebrities. Lead stylist, Sally Herschberger herself, has been featured in Cosmopolitan, USA Today, the NYTimes, and Glamour Magazine, amongst other famous publications. Sally has a line of specialty hair products that can be found at each of her salons. Talent can also be found at these places, as people typically have to book days in advance to get an appointment here. If folks want a style from the boss lady herself, they'll need to pay a pretty penny. Otherwise, services typically run a few hundred dollars.
Broome Street Society
This salon can do basically anything, but specializes in natural hair and curls. Basic haircuts at this Lower Manhattan salon in Little Italy start at $110, while getting something a bit more adventurous will cost a bit extra. That said, all the styles and coloring done here yield beautiful results, constantly turning new customers into regulars. If a customer isn't happy with their hairstyle, they offer readjustments within seven days of the original service, making this an extremely flexible salon. One of their most popular services is the fantasy color, a dye job that will transform any aesthetic. They also have extensive knowledge of textures.
Butterfly Studio
This Flatiron gem has been featured in Glamour Magazine, Modern Salon, and People Magazine for their amazing services. The team here makes customers feel like celebrities, and even style celebrities on occasion. A consultation is required before all stylings to determine pricing, technique, and ensure a quality cut that both artist and customer will love. They also color hair for a seamless, natural-looking beauty, which works very well with the wedding styles they offer. This full-service salon is one of the best in the city.
The Mona Cut
Located in the Garment District, the owner of this salon, Mona Baltazar, is responsible for creating an incredible new style known as The Mona Cut. This salon specializes in curly, natural hair, styling it in unique ways that are extremely trendy with a personalized touch. Appointments open monthly and are a bit tough to get. However, it's possible to get styled by one of Mona's talented apprentices for a lower price. Clients who get regular cuts get a discounted reshaping price if they come in within four months of their last appointment. This salon will give anyone a truly amazing look.
Salon Ruggeri
Voted Best Salon by Time Out New York, this salon has been around for almost ten years and can be found in a townhome in Chelsea behind a bright red door. The space is small, and the only stylist working there is Gregorio Ruggeri, the genius behind this amazing place. Not only is he a master at coloring, styling, and beauty, but he also works with those experiencing hair loss. Through his studies in trichology (study of hair growth), he is able to use advanced techniques to naturally encourage increased hair growth, strength, and shine.
Hair Rules
Located in Hell's Kitchen, Hair Rules is a salon that can style any and all kinds of hair. Featured in O: The Oprah Magazine, Essence, and New York Magazine, this salon is owned and operated by master stylist, Anthony Dickey. Dickey began his illustrious career in 2003, when he wrote the book on curly, kinky, and wavy hair. He then released a line of specialized hair products and opened Hair Rules just a few years after. Now the salon is a beacon for the styling community, and educates the public on different textures of hair, what hair means to the Black community, and the latest in coloring and styling techniques.
Treehouse Social
This East Village salon has a ton to offer and is a beacon for the LGBTQ+ community. This salon is cozy, retro, and has a back patio space that holds regular comedy, music, and drag events. This salon almost acts as a hangout, where folks can get styled and then enjoy a nice show afterward. Filled with talented stylists capable of working with any hair texture, the bold colorings and eclectic styles done here will impress any newcomer and keep regular customers coming through the door.
Beleza Naturals
This Harlem establishment was actually founded in Brazil. The company is enormous there, with multiple salons, product stores, and even a factory. The US location continues the original philosophy, that curly, natural hair is beautiful, and should be treated as such. Relying heavily on the input of their customers, this salon strives to make every single patron happy with their hair, even teaching them how to apply products properly and maintain their hair's glorious appearance as long as possible. This establishment is truly special, and it's likely that more of them will pop up in the US in the coming years.
Best Salons in Brooklyn
View this post on Instagram
The Salon
Located in Clinton Hill, this Salon comes from the brilliant mind of Ursula Stephen, the stylist for celebrities like Rihanna, Kerry Washington, and Laverne Cox. This salon has revolutionized style, and has been featured in Elle, Vogue, and Glamour. Offering seasonal specials and a consultation before styling, this salon is surprisingly affordable, given its elite clientele. This is because all who come here are meant to leave looking and feeling their best. This salon is a true gem in Brooklyn and is not to be missed.
CutLoose BK
This Greenpoint salon opened in 2017 and has been filling Brooklyn with bold designs ever since. Head stylist Siobhan Benson, treats her salon like a celebration space, even DJing during special events and occasions. The salon is even booked out for private events on occasion! The team here all has separate specialties and prices, so just about any style one could want is attainable. This fun establishment knows how to have a good time while keeping things professional. They even do styles for weddings, rounding out this salon's extensive and impressive resume. Be sure to check them out, even if it's just at one of their parties.
Ludlow Blunt
This retro salon has fabulous celebrity clientele, including Lady Gaga and Tilda Swinton. This subtle salon in Williamsburg doesn't like to boast about its trade, even leaving their website largely devoid of information beyond scheduling an appointment (by phone), pricing, and hours. Catering to a client's sense of style, while also advocating for styles that have stood the test of time. This place might be old-fashioned, but the staff is friendly and strives to satisfy all their customers. They even shave faces with an old barber's tool, which feels amazing.
The Bird House
This fancy salon is located in Gowanus, and has a deep connection to the hair of its clients. Capable of working with thin, straight hair, or thick, curly locks, this salon has a ton of specialists who can do it all. This salon has been featured in The Cut, USA Today, and was listed as the second-best salon in the city by Time Out New York. The stylists here have each been assigned a level, one being the lowest and five being a master. Their continuing education into techniques is what drives the success of this remarkable establishment.
Little Axe
Another Williamsburg joint, this salon specializes in coloring. Opened in 2013, this salon continually innovates when it comes to coloring and dyes to keep hair healthy and bold at the same time. Gloss, highlights, and even double-process coloring are all standard procedures here, and folks can get a regular haircut too if that's all they need. This salon is extremely popular and works with the hair styling education group, Oribe, which is dedicated to the continued education innovation of hair styling. This place is unique, and is well worth the trip and waitlist for an appointment.
Hair & Co. BKLYN
This salon specializes in natural hair, and has two locations in Clinton Hill and Prospect Heights. The consultation before the styling is the most important part of the process here, as the stylists will use the info gathered to create a masterpiece that clients are guaranteed to be happy with. Pricing is based on who is doing the styling, the director of the salon being the most coveted cut in Brooklyn. Though natural hair is the specialty, this place can do anything with any hair texture, and uses their vast knowledge to create bold looks that clients would never expect to pull off.
Best Hair Salons in Queens
View this post on Instagram
Shay's Place
Located in Forest Hills, this salon is likely the best in Queens. The professional staff here specializes in coloring, styling, and even waxing, ensuring that every client is satisfied with their results. The space itself is comfortable, with exposed brick and classy décor, both of which perfectly highlight the professional experience customers can expect there. Working with bold colors and innovative techniques, this salon keeps pace with the elite of Manhattan and Brooklyn, solidifying itself as a powerhouse in the beauty industry.
Estelle Hair Studio
Another Forest Hills gem, this salon is a go-to for people celebrating special events in Queens. For over 20 years, these stylists have been innovating the fields of coloring and styling, making these difficult techniques look easy. Customers with a wide variety of hair textures tout this establishment as the best in Queens, coming back regularly for maintenance and new styles altogether. They offer cuts, styling, colors, and even perms, making this place extremely versatile. They even sell some of the products they use to make clients' hair shine, so be sure to check them out if you live in Queens.
Best Hair Salons in The Bronx
View this post on Instagram
The Stage Hair Salon
This salon is the best in The Bronx, focusing on four pillars of beauty: Self-confidence, relaxation, self-expression, and passion. These talented professionals prep clients for any special occasions, even if that special occasion is just a night on the town. This affordable salon prides itself on versatility, and can do just about anything one can imagine with hair. They specialize in styling, but they also perform cuts and coloring amongst other services. They work with hair textures of all sorts, and help keep everyone's hair happy and healthy. There's a reason they're the best-reviewed salon in The Bronx.
Best Hair Salons in Staten Island
View this post on Instagram
The Secret Garden Salon and Spa
This salon is extremely popular for their hair styling and spa treatments. Clients can get styled while also receiving some well-earned relaxation time. They offer coloring, skin treatments, nail care, and just plain haircuts. This salon really does it all, which is what clients want before a special occasion. Spa and salon treatments before weddings, proms, and sweet sixteens are the perfect way to celebrate and prepare for these special events. This salon's versatility has earned them a reputation, which is why folks from every borough come here for services.
---
NYC is a stylish city, and the artists at these salons aim to keep it that way. Their talents are on full display daily. If someone fabulous walks down the street, it's likely they went to one of these amazing salons. They are innovative, hip, and they care about their clients. They want all of their customers to look and feel their best. These artists constantly come up with new trends, techniques, and styles that leave jaws on the floor. Many of them have a waitlist and celebrity clientele for a reason. The stylists at these salons are the best at what they do, so let them transform your hair today.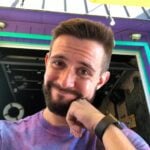 Russell is a writer and comic based in New York City. His plays have been featured at Penn State's Cultural Conversation's Festival, The NYC Thespis Festival, and Imaginarium's Inaugural Theater Festival. Follow him on TikTok and Instagram @pooleparty528