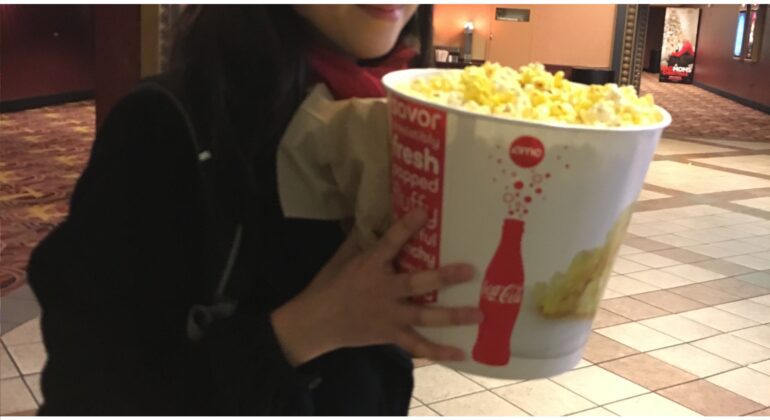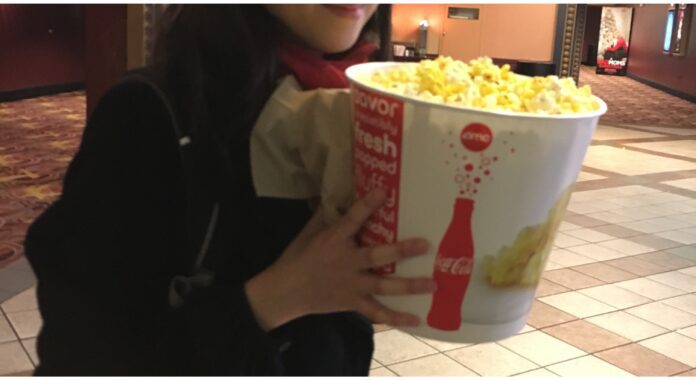 Traders are generally not impressed that AMC is launching its own brand of AMC popcorn.  The promise is to deliver movie-theater quality popcorn in the comfort of your own home.  Even if you plan to Netflix and chill (actually chill), you can indulge in the age-old butter, salt, and popcorn pairing as you power through your latest binge additions.  Will streamers go for it?  The RealtyHop research team breaks it down in their AMC options analysis.
How Much Does AMC Popcorn Cost?
Well, we all know the movie theater AMC popcorn is heavily marked up.  Don't blame them, they have a captive audience and it's their main source of profits!  According to MovieFP, these are the typical AMC theater prices for your suburban theater.
| | |
| --- | --- |
| Large Popcorn | $8.89 |
| Regular Popcorn | $7.89 |
| Small Popcorn | $6.89 |
| Popcorn Bucket | $21.99 |
| Popcorn Bucket Refill | $4.89 |
How about the at-home version?  Can they get away with nearly the same price?  The team had mixed thoughts, mostly negative.
I'm not buying that S***.  Like, it's probably total scam. I mean movie theater popcorn Isn't even that good.  You eat it because you are hungry.  Maybe the butter adds some value, but it's no better than Pop Secret?  If the AMC home popcorn costs as much as that big big bucket I'm NOT down.  
To keep things a bit more positive, some reactions are to at least try it once.
Hey, it could be it could be amazing and delicious?  You'll feel like you're instantly transported into the movie theater? I'm definitely a snacker so maybe nostalgia is the draw.

How bad could it be?  You can always rotate back to Skinny Pop?
Was the AMC CEO Wearing Pants?
So far, Adam Aron has not release a public response to the "no pants" incident.   However, whether or not he was wearing pants seems to be no concern to retail investors.  In fact, for some, it is seen as a plus.
Only a true chad would would show up pantsless after your company almost goes bankrupt.  It's pretty brave and I've got absolutely no problem with it.  
Others consider it neither positive or negative, but perhaps Mr. Aron should invest in a better web cam.  Indeed, based on the video footage, it looked like it was one of those "clip-on-monitor" cams that just came loose and dropped?  After first advocating for keeping work-from-home comfortable, the RealtyHop Managing Director finally said:
He probably makes a S*** ton of money i was more confused why he didn't have a better webcam system going on there.  That was my bigger concern…
Tom Sosnoff from TastyTrade was their initial inspiration for whether the CEO's behavior should give us doubts about the stock.
It's crazy I can't listen to that CEO like every time he talks like the stuff he spews so freaking ridiculous.  Isn't he the guy who went on CNBC without wearing any pants??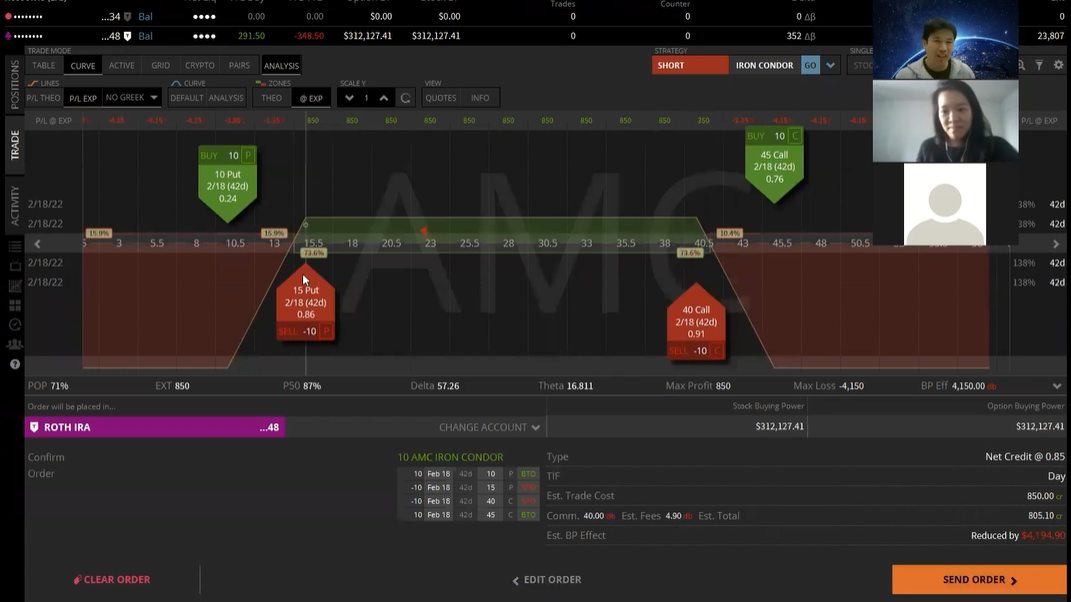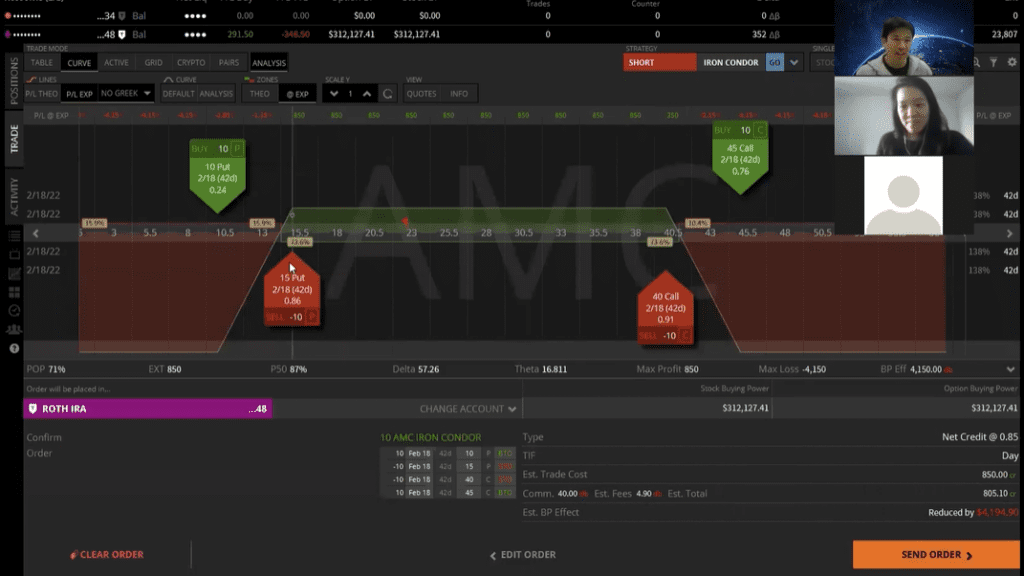 What Are Options Traders Doing in AMC?
Considering the RealtyHop team never actually discussed any financials or fundamentals for AMC, they ended up placing a rather complex four-legged options trade.  Based mostly on technical analysis and implied volatilities, the team wrote an iron condor on AMC, hoping to profit if AMC neither drops or rallies significantly for the next month or so.  On the downside, they sold a put at $15 strike and bought a put at $10, risking a potential $500 on the downside per lot.  Then they sold a $39 strike call and covered it with a $49 strike call, all legs expiring on February 18th.
Because this was part of the RealtyHop Mortgage Prepayment Challenge, they put on 10 contracts per leg.  That generated about $800 in net credit, enough for about half a month of mortgage payment.  The maximum risk is as high as $9200 if AMC rallies back to meme status (over $44 by mid-February).  If AMC crashes to below $10, they could lose $4200.   It seems like a risky way to earn $800, but we'll see how it goes.  Their earlier Tesla trade worked well, after all.
Mr. "Hud" Chavij recently came from abroad and brought with him a level of determination and creativity that instantly gained him a reputation among the NYC real estate thought leaders.