As the winter months roll into New York City, the window air conditioners come inside, and cool drafts start to seep through the crevices in apartments. Though many suburban residents winterize their properties, most city renters don't need to pay much mind to the heating in their homes, especially when the responsibility mostly falls upon the landlord and building management. Yet taking a few simple steps can help save money on heat and electricity bills and make your space more comfortable in the colder months. 
Methods to Prepare Your NYC Apartment For Winter
Windows and doors
Cold winds coming in through windows and doors can easily disrupt a heated apartment. Especially in older buildings, renters should ensure their windows are completely shut and all seals are intact. If cool air is coming through the windows, make sure that building management is alerted immediately so that they can repair the seal. You can also insulate windows using insulation film, available at hardware stores. Most insulation film can be stuck around the edges of the windows, preventing cold air from seeping in. Window coverings, such as drapes or blinds, can also provide an extra layer between the cold elements and the inside. 
Many older buildings also don't have heated hallways making even the most well-insulated rooms lose heat. A quick way to solve this problem is with a draft guard, which can be purchased at most hardware stores or online for around ten dollars. You can even DIY a draft guard at home using fabric and an insulating material such as beans, rice, or kitty litter. 
Added insulation (and decoration!)
Bare wood floors are major culprits of lost heat. Rugs can help insulate a space and provide an extra layer between the warm apartment and the cold weather. Rugs also make for a soft landing spot when getting out of bed in the morning and keep bare feet away from cold floors. For best results, choose a rug with heavy, thick material. Wool rugs are considered the best material for insulating, but if the apartment has furry friends or children, a cotton rug may be more durable. For an extra layer of protection, an insulated rug pad can help keep the room warm. These rug pads come in various shapes and sizes but sometimes must be cut to fit a custom rug. Some rug pads can even function similarly to electric blankets, pumping heat into the rug and stopping once it reaches a specific temperature. Some welcome mats can also be heated, melting snow and sludge the minute you enter the front door. 
Outlets
If the windows and doors are protected from drafts, but there's still chilly air in the apartment, it may be coming from the outlets. The National Association of Certified Home Inspectors (NACHI) recommends installing a foam gasket on the inside of the outlets to ensure air doesn't leak outside. To test outlets, the NACHI website recommends performing a simple test – holding up an incense or smoke stick to the outlet and seeing if the smoke moves horizontally. The NACHI website also warns to ensure the smoke/flame isn't near any flammable items such as drapes or rugs. Child safety plugs can also help winterize the outlets and prevent warm air from seeping out of the apartment. 
Humidifiers
Though a humidifier won't physically make the temperature warmer, it can help maintain moisture in the air and make an apartment feel warmer to residents. Humid air retains warmth better than dry air and can help residents prevent wake up with a dry throat when the heat is running. Besides the financial benefits of using less energy, humidifiers also have many health benefits and can increase bodily hydration. As an electric appliance, the small motor can also add heat to a room. Humidifiers range in price and effectiveness based on how large a room they are put in, so be sure to check the product details to see what size room the humidifier is meant to serve.
Space heaters
For particularly finicky setups, a space heater can do the trick. Many New York City bathrooms lack heat or radiators, so a small space heater can help the cold tile floor feel more bearable after a hot shower. Though these space heaters will drive up electricity costs, they certainly will add comfort to cold spaces. Much like humidifiers, space heaters come in a variety of sizes and price points – for most bathrooms and bedrooms, a small space heater will do. To save on electric costs and for safety, unplug the space heater when it is not in use. 
Reverse the ceiling fan
A ceiling fan may seem like a summer staple, but it can be useful all year round. Though ceiling fans can be hard to come by in New York City, they can be great tools to save energy and conserve heat. In the warmer months, ceiling fans circulate air and push the cold air downward. Yet, reversing the ceiling fan's direction in the winter can have the opposite effect. Most building management personnel can assist in reversing the direction of the ceiling fan upon request. The Environmental Protection Agency advises reversing the motor and operating the ceiling fan at low speed in a clockwise direction. This will cause the ceiling fan to produce a gentle updraft, forcing warm air near the ceiling into the occupied space. 
Ready for winter?
Though apartment living can present some obstacles in the way of winterization, there are certain steps renters can take to drive down their utility bills and increase their comfort in the cold winter months in New York City. Protecting from drafts with an insulation film, window drapes, rugs, and installing foam gaskets in outlets can all help to save energy and heat. Communication with your property manager or building management can ensure that they help alleviate stress and assist with winterization techniques. Even if you can't winterize every part of your New York City apartment, taking a few small steps can save hundreds of dollars in the coming cold months.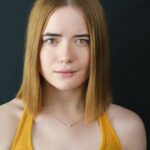 EmmaLee Kidwell (she/they) was raised in Louisville, Kentucky, and now resides in upper Manhattan. EmmaLee attended Pace University and graduated with a degree in Musical Theatre. Though her degree was earned in performance, EmmaLee now pursues writing, directing, and producing. EmmaLee is the librettist of an original folk musical, The Waiting, which has been workshopped at the SheNYC festival, Days of the Dead Festival, and Pace New Musicals festival. In the spring of 2022, EmmaLee started a company with her writing partner, Butterfly Effect Productions LLC. EmmaLee's performing credits include the International and National tours of Baby Shark Live!, Olive Ostrovsky in The 25th Annual Putnam County Spelling Bee, and Brilliant at Theatre Row. In her spare time she can be found playing Sims, visiting the Metropolitan Museum of Art, and writing her own singer/songwriter album.