When it comes to Bagels, New York City is the best place in the world. Delis, bodegas, and street vendors are home to some of the best bagels and spreads you can find. There are even shops that feature bagels as the headliner of their menus. When CitySignal previously ranked the bagels of NYC, we found one of these shops to be our favorite, the highly successful Ess-a-Bagel. While they are a bagel bonanza that ships fresh, hand-rolled bagels all over the world, they just opened a new location in the eclectic Time Out Market in September of 2021. Since National Bagel Day is January 15th, let's take a closer look at this awesome bagel shop!
Ess-a-Bagel opened their flagship location in 1976. The company was founded by Florence Wilpon, Gene Wilpon, and Aaron Wenzelburg. Once the store opened up, people went into a frenzy! Voted #1 bagel in the tri-state area in just two years, this family business was more successful than anyone could have predicted. After nearly two decades in business, a second location was opened in 1993. Forever a family business, Florence's sister and niece took over the business after Florence passed in 2013. Though the matriarch was gone, she left behind a solid foundation to build on and Ess-a-Bagel is thriving to this day.
Time Out Market is an international sensation that started in 2014 in Portugal. After several successful launches, the idea came to NYC, and Time Out found the perfect location in DUMBO. A neighborhood for bold ideas and innovation, DUMBO welcomed Time Out Market with open arms. So what goes into the Time Out Market? Their website says it best: If it's great, it goes in the magazine; if it's unmissable, it goes in the market. Hey, didn't we just discuss a long-time Bagel place that's unmissable?
That's right! Ess-a-Bagel is on the first floor of Time Out Market! Open seven days a week from 8 am-4 pm. They have daily specials, like potato pancakes and applesauce, and they have a wide variety of bagels from plain to pumpernickel. If you want bagels from this location, simply dine-in, take-out, or order from DoorDash or UberEats. Time Out Market also has a ton of cool events that happen year-round. Why not enjoy those events while having a nice bagel? Another way to enjoy Ess-a-Bagel is to have it on National Bagel Day!
National Bagel Day is about celebrating the history of everything bagel, from their cultural significance to the best recipes and spreads. Bagels have been around since the 1300s and a cultural staple in America since the early 1900's when their popularity exploded in NYC. National Bagel Day traditions include buying bagels, making bagels, and sharing bagels. Ess-a-Bagel makes all of these things a no-brainer. The bagels are made fresh daily, they can be sent anywhere, and you can buy them by the dozen. Combined with the awesome party vibe of Time Out Market, Ess-a-Bagel in DUMBO is going to be THE place to enjoy and celebrate National Bagel Day.
Bagels are a staple in New York City. Nowhere in the world does it better. This fact is exemplified via Ess-a-Bagel. The company, and its location in Time Out Market, are great examples of what makes bagels amazing. They are a way to spend time with family, a way to celebrate, and a way to enjoy your culture and heritage. The versatile bagel is in great hands with the good folks at Ess-a-Bagel. They continue a proud tradition, and there's no sign of them quitting anytime soon. Head on down to DUMBO and try the best bagel you'll ever eat.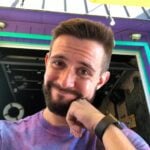 Russell is a writer and comic based in New York City. His plays have been featured at Penn State's Cultural Conversation's Festival, The NYC Thespis Festival, and Imaginarium's Inaugural Theater Festival. Follow him on TikTok and Instagram @pooleparty528