Dining sheds have been a big part of life in NYC since the pandemic shutdown the city in  2020. With the city open again, many restaurants want to keep their tiny outdoor spaces to bring in more customers during bad weather and winter months. If you followed our last piece about dining sheds, you know that New York is home to a wide variety of outdoor dining experiences including yurts, cabins, and greenhouses. These, however, were mostly located in Manhattan. But what about the other boroughs? What if you're giving a tour of Queens to a hot date? Where do you take them? Well, never fear, the list is here. The best dining shed in Queens are: 
Ovelia
Queens is known for their phenomenal Greek food, especially in Astoria. If you  want to enjoy classy Greek cuisine in a cozy outdoor spot, Ovelia is where it's at. While  tables aren't separated into private rooms, the shed is heated with decorative lamps and provides a simple, yet sophisticated atmosphere that's sure to charm you and your party.  
Tacuba Cantina Mexicana
If you're looking for a great margarita in a cozy private room, then you won't have to travel too far into Queens. Right on the boarder of Long Island City and Astoria is Tacuba Cantina, a wonderful Mexican restaurant with one of the  most well-organized dining sheds I've ever seen. They have both open space and private  rooms, meaning it's a perfect spot for larger parties or private dining. It's also right across the street from the Museum of the Moving Image, so you can grab a cute cocktail after learning about Jim Hensen and cinema history. 
Cobblestones Pub & Beer Garden
Beer gardens almost always have huge outdoors spaces, and Cobblestones is no exception. They have a full lunch and dinner menu, with classic pub food like wings, burgers, and nachos. The outdoor seating even has access to televisions, making this and extremely popular place to congregate on game day. Why does this count as a dining shed? Because much of their outdoor space is covered, meaning you can enjoy this place, even on a rainy day.
Ruta Oaxaca
If you haven't seen this Mexican Restaurant in Queens, then you haven't been out in a while, cause it's hard to miss. Bright pink and spacious, Ruta Oaxaca has a fun, vibrant feel to it that makes you feel like you're at a party. With a ton of margarita options and a new special Mole sauce each day, this restaurant is the perfect stop on a bar tour or a cute night out. The dining shed is perfect for any season.
Sweet Afton
Ever want to escape to a secret garden away from the world? The city can be a tough place on anyone, which is why Sweet Afton in Astoria offers an escape in their backyard covered patio. Beautifully lit and decorated with a painted mural to one side, this classy cove provides the perfect ambiance for a rainy New York Day. It's even heated, so it can be enjoyed in the winter.
La Espiga
Though a bit out of the way in Corona, NY this Mexican restaurant has some  of the best homemade tortillas in the city. Rustic and simple, this dining shed has three  picnic tables where parties large and small can gather and feast. The unique aesthetic of  this shed makes you feel like you're attending a small, backyard, family gathering. 
Trestle
All American in more ways than one, Trestle is a family-owned business that is  distinctly Queens. The 5th generation family is proud of all they've accomplished, including the outdoor dining structure they built during the pandemic. Resembling the steel beams that keep most of NYC standing, this structure invokes a feeling of strength, perseverance, and industry. With a wide variety of food and beer, Trestle embodies the American spirit in looks and taste. 
Carla
Whether you're looking for the perfect date spot or you're just a fan of tasteful  decoration, Carla is the spot for you. This woman-owned business opened just this year  and has made big waves throughout the Astoria community. The outdoor space, with  decorated with beautiful flowers and plant life, provides a rare natural feel in a concrete  jungle. People have also been raving about their burgers and tacos, so definitely check this spot out before it's impossible to get a table. 
Luna's Kitchen and Bar
Located in Jackson Heights, this place is a jack of all trades. It  hosts classy brunches with signature cocktails during the day, and lets its hair down with Karaoke and other events in the evening. The outdoor space has access to these events and others, like enjoying a nice mimosa while listening to a guy jam on the saxophone. With plenty of space for friends and family, Luna's provides a fun atmosphere that encourages the community to come together. 
Blend on the Water
It wouldn't be a top ten outdoor dining list without mentioning a waterfront restaurant. In Queen's case, the top spot in this category goes to Blend on the Water in Long Island City. This high-end restaurant and cocktail lounge are a bit pricy, but nothing beats the slick black and gold lining with white lights that decorate the shed of this classy spot. Even more impressive is their view of Midtown Manhattan, which is breath taking both day and night. If you're looking for a waterfront experience, then put on your Sunday clothes and head to the Blend. 
These are just a few of the dining sheds and gardens that pepper Queens. Known for Greek, Mexican, and seafood, Queens has a wide variety of places to enjoy. Most of these restaurants and bars have outdoor seating, each with their own quarks and charms. The ones listed above are my favorite haunts, but the only way to find your own is to explore. So, gather some friends, some family, a date, or even your dog and hit those beautiful Queens streets. No matter what you find, this borough will keep you coming back for more.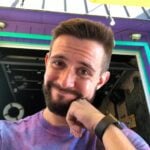 Russell is a writer and comic based in New York City. His plays have been featured at Penn State's Cultural Conversation's Festival, The NYC Thespis Festival, and Imaginarium's Inaugural Theater Festival. Follow him on TikTok and Instagram @pooleparty528