The junction of Broadway, Seventh Avenue, and 42nd Street to 47th Street is the 5-block radius that makes up what is famously known as Times Square. It started out as a downtown hub in NYC, and as the city grew, so did the signage—and "Longacre Square," as it was originally called, was renamed "Times Square" in 1904, when the New York Times moved their headquarters to what then became known as the Times building. In 1907, the first New Year's Eve "Ball Drop" celebration took place from the roof of the Times building, now known as One Times Square. The intersection of Broadway and 42nd Street was also the endpoint of the first highway that crossed the entire country, called the Lincoln Highway. Times Square has had many nicknames, but one common one is "the crossroads of the world." As New York City grew, it came to represent hope; a place you could go to make it if you had what it took. Times Square seemed to be the gathering place and center of it all, and was also called  "the heart of the world."
Early 20th Century Crime
Several things happened at the beginning of the 20th century, and throughout the first half of it. World War I ended in 1918, after which Times Square experienced a period of rapid growth. But then Prohibition was officially enacted, from 1920-1933, along with the Great Depression, which lasted a decade, from 1929-1939. During this period of economic decline as well as afterwards, NYC gangsters established organized crime, and "Lucky" Luciano is credited with being the most powerful mafia boss of all, distributing power among the "big five" families.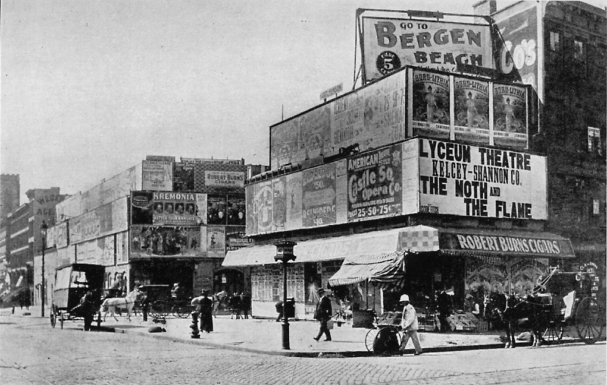 Times Square had long been associated with having many theaters, but after the Great Depression, many of them were replaced with saloons, brothels, burlesque halls, vaudeville stages, and dime houses. Illegal gambling and prostitution were rampant. Times Square also became known as the main gathering place for awaiting big news or celebrating national events.
The 60s, 70s, and 80s: the Era of Sex, Drugs, and Violence
The next three decades would represent rapid decline for Times Square into the seediness of the sex and drug industries. Crime ruled the streets, and the area became known as one of the most dangerous spots in the city. Porn theaters replaced traditional theaters, and strip clubs became all-nude shows featuring live sex acts. Bright, blinking signs everywhere advertised fulfilling fantasies of every kind imaginable. Similar to barkers at a carnival, men stood outside entrances, calling out and trying to persuade people walking by to come inside.
Those who worked in and around Times Square could not walk through the area without being approached by stolen goods hustlers, con-men and extortionists, drug dealers, prostitutes, bums, pickpockets, and other criminals. The subway system was crawling with hustlers, pimps, drug addicts and drug dealers. The lowlifes of society could be found 24/7, in and around Times Square.
The element of danger had always been there, but during this time, young women and even children were vulnerable to being trafficked in Times Square. This is partly because many missing young people ended up on NYC streets, and there was no shortage of all types of violent predators.
In fact, during this time period serial killer Richard Francis Cottingham was active, also known as "the Times Square Killer." He targeted young sex workers, luring them to another location where he tortured, raped, and ultimately killed them.
Recovery Process Begins
Going back to when Mayors Ed Koch and David Dinkins were in power, a long term plan to restore and revive Times Square was hatched. It would take some time, but slowly, the area began to heal. For context, the area between 40th and 50th Streets and Seventh and Ninth Avenues was getting over 15,000 complaints reporting crime every year.
During the 1980's, Times Square experienced a commercial building boom. In 1987, the city enacted some highly unusual building requirements, just for the Times Square area. They required new commercial construction to use large, bright light signage, and with minimum brightness requirements. This was the only section in the entirety of Manhattan with this type of requirement, and additionally kept the area from getting too dark at night. These were just small changes, but resulted in an overall shift that was palpable.
Times Square in the 1990's
In the 1990s, big things began to happen in Times Square. First, the State of New York took control of 6 out of the 9 historic theaters on 42nd Street. Secondly, the city established a nonprofit called The New 42nd Street, which was dedicated to the renewal of 42nd Street between 7th and 8th Avenue, which was seen as one of the worst areas in Times Square. The organization was tasked with finding new uses for old theaters on the block. This was a daunting challenge because at that time, most of the street was littered with sex shops and strip clubs, even occupying once reputable theaters.
Then in 1992, the BID (Business Improvement District) was formed, now known as the Times Square Alliance. The TSA was a coalition of city, government, and local businesses dedicated to improving the quality of commerce and cleanliness in the district. Once this entity was formed, working in partnership with The New 42nd Street, things really started to change. Additionally, in the mid-90s, Mayor Rudy Giuliani led an effort to clean up Times Square. This resulted in pornographic businesses being closed and increased police presence and security. Tenants paying low rent or otherwise deemed 'undesirable' were pressured to relocate.
Giuliani has since been criticized by many, saying he was too aggressive, targeting the working class and resulting in the "Disneyfication" of the character of Times Square. Indeed, much of the changes that began occurring were due to the actions of the Walt Disney Company. They had purchased the New Amsterdam Theatre, and wanted to play a starring role in forming the "new" Times Square. Part of a contract with Disney thus required city and state officials to evict any pornographic theaters and businesses left, contracting instead with Madame Tussauds and AMC Theatres to move onto 42nd Street. This was a strategic play, as it ignited the construction of new office towers, hotels, and tourist attractions in and around Times Square.
The 2000s to Present
At the intersection of Broadway and 42nd Street, all four corners host towering developments that opened by the early 2000's. The city experienced a change after 9/11 in 2001, and security in Times Square doubled, with over 7,000 officers on duty in the following months. Between 2000 and 2015, visitors to Times Square increased by 22.1 million. In February of 2009, Mayor Michael Bloomberg closed off part of Broadway from 42nd Street to 47th Street and Herald Square from 33rd Street to 35th Street to motorized traffic, for a trial period to see how it would work "at least to the end of the year."
The pedestrian-only sections made sense, and the project to make it permanent, building a pedestrian plaza, moved forward exactly one year later, in February of 2010. This, too, has contributed to the successful reimagining and revitalization of Times Square. In 2011, Times Square became smoke-free. Today, popular attractions include ABC's Times Square Studios, where Good Morning America is filmed live each day, Planet Hollywood Restaurant and Bar, and Hard Rock Cafe Times Square. Other notable establishments are the Bubba Gump Shrimp Company for seafood and Carmine's for Italian food, among others. And of course, the Broadway shows!
Pedestrian Plaza
The permanent restructuring of the Broadway area to a complete pedestrian plaza was not finished until New Year's Eve 2016. Safety bollards had been installed to prevent vehicular attacks (yet in 2017, a vehicle ramming took place that killed one person and injured 20 others). Presently, the pedestrian plaza has become known for topless women with only paint on their breasts called "desnudas," as well as costumed street performers who work for tips in designated areas. Panhandlers are attracted to the plaza, although if seen by authorities will be asked to leave the area. It is a 5-block radius of fascinating characters of all varieties imaginable—a large part of the attraction for tourists is the amazing and unique cast of ever-changing, outrageous personalities.
Back, Revitalized, and Better Than Before
Today, despite a wobbly start post-covid, Times Square is back: It's every bit the exciting, iconic place its reputation proclaims it to be, where you can safely bring your family.
Real estate in the neighborhood of Times Square is expensive, as this is the heart of the Theater District. Life here is definitely in the fast lane, and the median income in this zip code is $94,477. If the idea of living at the pulse of America itself thrills you, Times Square and the Theater District are where you should look for an apartment or in buildings like the Orion.
See You at the Crossroads
On New Year's Eve this year, plan to come share the "new" Times Square with us! Watch the iconic ball drop and see the live entertainment right before your eyes. Countdown the seconds to midnight with the millions of people watching on television, all while taking in the unique sights and participating in the perpetually entertaining sport of people-watching. Meet your favorite Disney character, get their autograph and snap a picture. Stay at a hotel room at TSX Broadway, where the rooms have glass walls and face the Times Square plaza. The historic Palace Theatre is also now located smack-dab in the middle of TSX's amazing new project, so you can catch a show while you're there. See the "Crossroads of the World" in person, and choose your path forward—New York City welcomes you!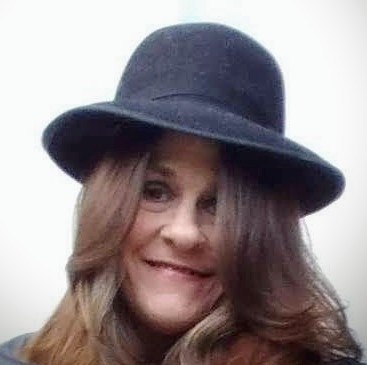 Rochelle Harris is a passionate writer originally from Phoenix, AZ. who credits her success to integrity and determination. She has a great sense of humor, loves music and her family, and writes fiction and poetry in her spare time. She is excited about the New York experience and lifestyle! Follow Rochelle on Twitter at @LinguisticAnRky or get in touch at [email protected]