Amy Chua and Jed Rubenfield's New Haven home hit the market on September 25th for $1,080,000. The 6,880-square-foot property has five-bedroom and five-baths, ample space for the well-known couple and was originally purchased for $430,700 back in July of 1994.
Who is Amy Chua?
Amy Chua is well-known for being the author of Battle Hymn of the Tiger Mother, a parenting memoir published in 2011. The book became a quick success, popularizing the term "tiger mother," which inspired multiple Asian film projects. Naturally, the listing caught the attention of the public who is wondering—are Chua and Rubenfield leaving Yale? Despite tumultuous times in the media, they're not. Amy has told the media that she is back teaching and that her waitlist is longer than ever. It  seems as if the "dinner party-gate" she and her husband were a part of has not impacted their tenure at Yale.
Amy Chua's New Haven Property
Buyers may take a few things into consideration, such as the fact that the property is well set up for gatherings. With a spacious backyard large enough to host big parties, the property's medieval architecture captivates its residents and visitors. 
Wood corbels and leaded glass windows decorate the first-floor, giving the home an authentic middle-age appeal. Interior columns and a carved stone mantel add to the property's medieval aesthetic. Its design certainly attracts the attention of anyone passing by the busy road on which it is located. 
The property's circular driveway and stone griffon set it apart from the rest of the homes on the block. It also hosts a guest powder room with frescoes, providing guests with an artistic ambiance in which they can relax and rejuvenate. 
Through the dining room, guests can access a stone terrace opening up to the property's spacious lawns. On the top floor lies a cathedral-ceilinged room, described as a lounge room with an "original wet bar," as stated by the listing. 
While the couple doesn't seem to be fully leaving the area, perhaps they are looking to downsize after their daughter's wedding. Their oldest got married on the New Haven property just a couple weeks ago. Five bedrooms and five baths is probably too much space for the lawyer-duo. 
Could Amy Chua and Jeb Rubenfield be moving back to New York?
The couple still owns two condos in The Ansonia, units 1565 and 1570. The Ansonia is a historic residence located on 2109 Broadway in New York City. It was built in the early 1900's and was designed with 18 floors and 2500 rooms. Its designers had every intention of making it the largest apartment hotel in all of NYC.
By the 1960's the historic building featured a luxurious bath house, a disco and a cabaret venue for entertainment. Singer and actress Bette Miller was known for having frequented the venue to perform. Some of Ansonia's famous residents include Babe Ruth, Angelina Jolie and Macaulay Culkin. 
In 1992 the Ansonia was converted to luxury condos and now hosts 430 units, ranging from small studios to 4-room apartments. Upon entering the high-end apartment complex you'll be met with 12-foot wide corridors, a lounge, and concierge. The building also has a 24-hour doorman to assist its residents and guests around the clock. 
If not the Ansonia, then the couple may be moving to the Flatiron District. They have a piece of property on 48 West 17th Street. Originally built in 1890, the building is also a historic residence. It seems Chua and Rubenfield have a particular taste in homes. A much smaller building, it has 5 floors and has only been listed 13 times since the 70's. 
While the true reasons for the couple's departure from New Haven may be unknown, the middle-aged inspired home is certainly a place to be enjoyed. Conducive for social gatherings, parties and other events, the medieval structure will make a beautiful home for its next owners.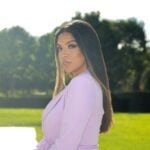 Vivian Tejada is a freelance real estate writer from Providence, RI. She writes SEO blogs for real estate, travel and hospitality companies. She's passionate about the future of work and helping Latin American freelancers achieve time, location, and financial freedom. When she's not writing you can find her at the gym, a family cookout, or at brunch with her girls. Follow her on Linkedin to learn more.