There's a regular sushi meal at a restaurant… and then there's an Omakase sushi experience.  What's the difference?  Omakase sushi is a "chef's choice" course/tasting menu that usually consists of the best of what they have, as well as seasonal sushi and sashimi.  You're leaving it up to the chef to create their favorites for you.  Omakase is a perfect system for indecisive people who prefer to trust the professional sushi chef and who enjoy the element of surprise.  The ideal way to enjoy Omakase is to sit at the sushi bar and receive each delectable treat directly from the sushi chef.  Typically, taking part in this memorable experience comes with a hefty price tag, costing upward of $150+ per person.  However, a few spots offer excellent Omakase for under $100.  We've rounded up the best Omakase in Manhattan suitable for all budgets.  
Sushi Ishikawa
419 East 74th Street, Upper East Side (212) 651-7292
207 West 80th Street, Upper West Side (212) 651-9152
Cost: $135 (UES location) $175 (UWS location)/per person
View this post on Instagram
Reservations are a must at this 500-square-foot omakase paradise.  Chef and owner, Don Pham, prides himself on delivering an innovative, modern take on omakase.  Each bite is a work of art, with liberal use of truffle, uni, caviar, and gold flakes.  
Sushi Nakazawa
23 Commerce Street, West Village 
(212) 924-2212
Cost: $120-$150/per person
View this post on Instagram
Since its debut in 2013, Nakazawa has earned accolades aplenty, including a Michelin star. While most omakase sushi spots only offer dinner, Nakazawa serves lunch as well, and diners can choose from sushi bar seats or tables (we always encourage the bar!) Known for impeccable service and mouth-watering fish sourced daily from around the world, Nakazawa truly lives up to the hype.
Masa
10 Columbus Cir Fl 4 Time Warner Center, Upper West Side
(212) 823-9800
Cost: $650-$800/per person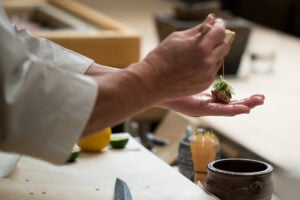 Many consider Masa to be a once-in-a-lifetime, bucket list experience…and with its hefty price tag, it's easy to see why.  Expect an indulgent caviar-and truffle-studded meal created with  luxury ingredients and pristine seafood, in addition to pricey additions like wagyu.  Make sure to try their signature bite: the rice ball with truffle and Parmesan cheese.  TIP: no photos allowed.  
Sushi By M
300 E 5th Street, East Village
(347) 688-8101
Cost: $60-$95/per person
View this post on Instagram
We thought it was only fair to balance the shock of Masa's high price tag with an option less likely to cause your jaw to hit the floor.  Sushi by M is a fun omakase spot, where you'll often see the sushi chefs drinking sake like water.  With only 12 seats available per one-hour dining session, reservations are strongly encouraged.  Chef Tim's creations include two unique add-ons:  the "Cheeseburger", made of toro, uni, wrapped over a piece of Japanese cheesecake and topped with caviar and the "Big Mac", made of chopped toro, seared toro, and wagyu, with two kinds of uni stacked together inside of a crispy piece of seaweed.  You'll dream of these long after eating them.
Omakase Room by Mitsu
14 Christopher Street, West Village
(212) 367-2067 
Cost: $160/per person
View this post on Instagram
"My omakase is about welcoming the individual…creating a traditional sushi experience is my true passion and the source of my inspiration."  These are the words of Executive Chef, Mitsunori Isoda, who promises to curate each dish based on your preferences, curiosities, and personality, guaranteeing each sushi piece to be one-of-a-kind.  All of the seafood is flown in overnight from Japan (except for the tuna, which comes from the North Atlantic), with deliveries arriving four times every week. While the menu is mainly seasonal, some of Isoda's best-known dishes are his maguro zuke nigiri, an akami tuna marinated overnight in dashi, and his 40-day aged toro. 
Sushi Katsuei
357 6th Avenue, West Village
(212) 462-0039
Cost: $65-$140/per person
View this post on Instagram
Looking to eat delicious, creative omakase sushi for under $100?  Sushi Katsuei offers just that.  Items start at $65 for nine pieces and a handroll, and often include unusual pieces like firefly squid or barracuda.  Both locations (West Village and Brooklyn) serve some of the highest quality, most affordable, inventive sushi in New York.  Make sure to check out their killer sake menu. 
Sushi Noz
181 E 78th Street, Upper East Side
(917) 338-1792
Cost: $225-$395/per person
View this post on Instagram
Sushi Noz has earned its place as one of New York's top omakase experiences, one that offers Japanese seafood not found elsewhere in the city. Diners can choose from two counter experiences: The main Hinoki Counter, run by Nozomu Abe, aka Chef Noz, where eight diners are served a $395 omakase, and the Ash Room, where Noz's second in command, Derrick Choi and Junichi Matsuzaki, serve a slightly less expensive omakase priced at $225. Patrons at each counter can expect an Edomae-inspired experience with occasional Western touches — the meal begins with otsumami (appetizers), before moving into around 15 nigiri bites, followed by miso soup, and finally tomago (egg). Those at the Hinoki Counter often conclude with a piece of seasonal Japanese fruit, as is customary in Japan.
Taikun Sushi
79 Delancey Street, Lower East Side
Cost: $85/person
View this post on Instagram
Finally, swing by Taikun Sushi before a night out in the Lower East Side. Chef Kei Yoshino and his team will show you their take on omakase through a 13-course menu with an option sake & wine beverage pairing. The chef believe in only using the best international and domestic purveyors to procure fresh ingredients that frequently change to highlight the diversity of the seasons. The restaurant is open from Sunday through Thursday, from 5:30pm to 9pm. Reserve your seating today via Resy.