Unfinished Projects
It's quite amazing when you know about huge skyscrapers that have had millions of dollars of work put into them, even sold multi-million dollar condos out of one that we know of, and then because of complications, disputes, or issues, ones which can't be resolved in a timely manner, everything comes to a screeching halt, unlike their fellow buildings that continue with problems despite being habited. A once-promising project just sits there indefinitely, slowly dying. As in the case of more than one here, the building is partially erect and sits abandoned in its uncompleted state, like a giant ghost. 
After reading about these in an article in the Wall Street Journal, I thought, what a shameful waste of money, time, energy, and resources. Many of these unfinished projects get tied up in court and have endless red tape. Turns out there are quite a few structures that are victims of this in NYC's Financial District, in lower Manhattan. After 9/11, this part of the city was a shining example of our resilience, and apparently, these buildings were designed to be a part of that. They were supposed to bring a little "Billionaire's Row" to the area, and spruce it up. Even morenof a reason why leaving them unfinished this way, with no end in sight, is shameful. Let's take a look at some of them. 
The Leaning Tower of Seaport
The first project like this is called One Seaport, and it's supposed to be a luxury condo skyscraper. The building had custom engineered glass walls, a health club with a floating glass-edged Infinity pool, an attended port cochere, and more. It was set for completion in April of 2018 and even had sold some of the condos out of it. Prices ranged from $1.2 million to $18 million. A year later, it sat only about two-thirds complete. A big issue arose over the fact that the construction manager, Pizzarotti, contends that the tower is leaning approximately 3 inches from vertical. This is a problem, he says, that could create further issues for residents such as windows not opening, insufficient waterproofing, and inefficient elevators unable to withstand high winds. He said the leaning made it hard to install the curtain wall glass exterior of the building, and even brought a lawsuit against developer Fortis Property Group. The lawsuit states he had to halt construction on the project, deeming the building unsafe, and blaming the decisions made regarding site preparation by Fortis.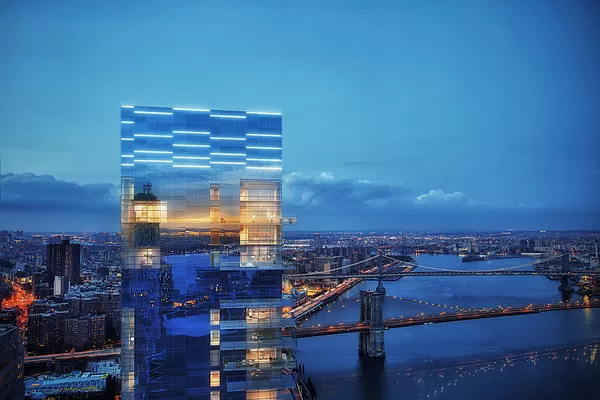 Fortis, on the other hand, disagrees, says that the building is perfectly safe, and adds that with buildings of this scale, "minimal displacement" is common. Fortis blames Pizzarotti for the "fundamental inability to perform", and also opened a lawsuit against the lender for failing to provide promised loan payments; the lender, Bank Leumi, says Fortis missed construction deadlines. Then the bank petitioned the court for the right to foreclose! In the meantime, a "caregiver" has been appointed for the building itself, until ownership and the whole thing is settled. Fortis says they're confident they'll prevail in the lawsuits and they plan to finish the construction of One Seaport. 
The Department of Buildings says their work permit has expired and the building is under stop-work orders anyway. Luxury real estate agents say they'll have a hard time selling the "leaning tower of Seaport".
Meanwhile, the 57-story glass building, set to be resplendent along the East River, now sits more than halfway done, still and quiet except for the winter weather blowing all throughout the construction. Work halted over 19 months ago, yet it has remained open to the elements and unenclosed. 
Rival of 432 Park Avenue: 125 Greenwich
Another luxury supertower at 125 Greenwich was launched in 2017, and this building was to be a rival of 432 Park Avenue. In fact, Rafael Viñoly, the very same architect, designed it. The 273 apartments had designs inspired by the interiors of superyachts, and amenities were to include a lap pool, sauna, and massage room – you get the picture. Studios started at $1.2 million, and 3-bedrooms started at $4.63 million.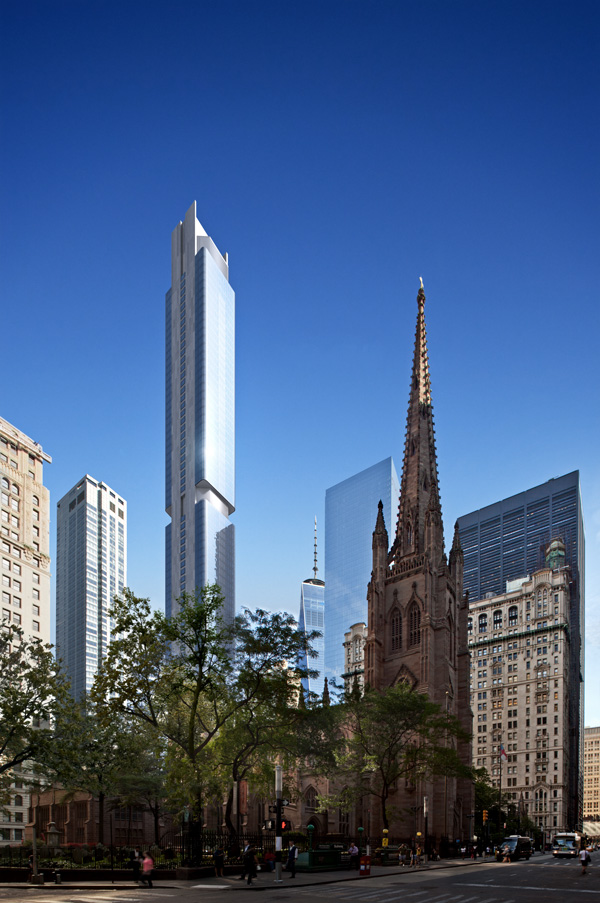 The development partnership was a team that involved multiple players, including Chinese corporation Cindat, a company called Bizzi, and Partners Development, New Valley. the Carlton Group and Shvo. Shvo was bought out due to legal problems, and there were problems between Bizzi and Cindat from the start. The lender was the United Overseas Bank in Singapore, which imposed a strict timeline as well as required at least $100 million in apartments sold within the first 15 months, adding to the stress. But the Manhattan luxury market was sluggish at the time due to multiple factors including oversupply, and sales were slow. They missed their mark, and the United Overseas Bank filed for foreclosure, with the team owing more than $200 million in loans. The debt was purchased by Fortress Investment Group, which now has the right to foreclose, but we don't know what they're going to do with it yet. 
NYSE Neighbor: 45 Broad Street
There is a vacant spot in between two buildings across from the New York Stock Exchange, at 45 Broad Street, right next to The Setai. The conspicuous space was the spot where developer Madison Equities, Inc. hosted a groundbreaking celebration at which the firm's chief Robert Gladstone and his partners put shovels in the ground. He then took his constituents over to Bobby Vann's for wine and hors d'oeuvres. They were celebrating the beginning of their newest venture, a 1,115-foot tall skyscraper. 
The building was supposed to be designed by architecture firm CetraRuddy, for another group of developers including Gemdale USA – oddly enough, a major Chinese developer, and good old Pizzarotti. Co-president of Gemdale, Michael Daly, told the WSJ that they are the sole partner that remains, and they still had plans to develop. He said they'd paused the project due to the pandemic and now were waiting for a better market. But the news source had done an excellent investigation of these matters and found they had moved out of their offices recently at 105 Madison, due to unpaid rent to the tune of $365,000. 
It will be interesting to see what eventually happens at these three sites and if anything ever gets actually resolved. With all the economic instability as the world begins to recover, this seems like the kind of thing we should avoid in the future.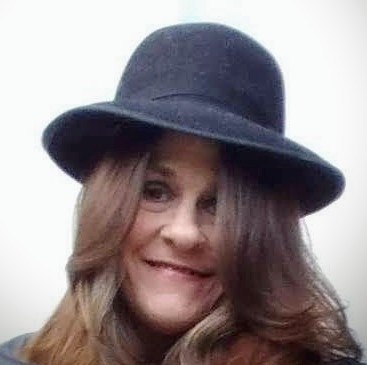 Rochelle Harris is a passionate writer originally from Phoenix, AZ. who credits her success to integrity and determination. She has a great sense of humor, loves music and her family, and writes fiction and poetry in her spare time. She is excited about the New York experience and lifestyle! Follow Rochelle on Twitter at @LinguisticAnRky or get in touch at [email protected]