You don't have to be Charlie Brown or the Headless Horseman to appreciate a good pumpkin! These easy, fun fall recipes are the perfect way to enjoy pumpkin when the weather gets colder.
Fall cooking ideas are usually packed with pumpkins, but be sure to know the difference between a carving pumpkin and an eating pumpkin. Here are some Betty Crocker-style delicious treats.
Should you cook the insides of a carving pumpkin? Absolutely not!
If you try to cook the goo that's inside a Halloween jack o'lantern, you'll be wishing you'd headed to a local haunted house instead. Head out to the neighborhood farmer's market for a choice pumpkin that's meant for a pumpkin pie recipe or pumpkin bread recipe instead.
Easy Peasy Pumpkin Squeezy
If you're feeling adventurous, processing your own pumpkin when they're in season isn't too much of a chore, it's as easy as pumpkin pie! Need a quick option to make your fall recipe vegan? You can replace the non-dairy yogurt with Greek yogurt in the recipe as well if you're in a pinch and you're not tied to a plant-based diet. The cupcakes will still be a delicious fall confection either way. 
Pumpkin sweets are simple to make and always appreciated. Just be wary of matching the following delicious recipe with a pumpkin spiced latte – there can be too much of a good thing.
Quick Pumpkin Puree Recipe
Yield – 2 to 2.5 cups, depending on the size of your pumpkin
Ingredients:
One eating pumpkin – NOT a carving pumpkin – check closely before you buy! Or substitute a large butternut squash and follow the same process, then use in your recipes as you would pumpkin puree. 
Directions:
Preheat the oven to 400F/200C/gas mark 6.

Cut the pumpkin/butternut squash in half and scoop out the seeds.

Lay the gourd cut side down on a lightly greased baking sheet.

Bake for 40 minutes until fork tender.

Allow it to cool completely (this will take about an hour).

Peel away the skin.

Place the flesh in a food processor and blend until smooth, or mash with a potato masher if you prefer it on the lumpy side.

Use it in your favorite recipe, store it in the fridge for up to a week, or freeze it for up to six months.
Vegan Chocolate Chip Pumpkin Muffins
Makes a dozen muffins
Prep time: 10 minutes
Cook time: 25 minutes
Ingredients:
2 c all purpose flour, sifted

1.5 tsp baking soda

2.5 tsp pumpkin pie spice

.5 tsp salt

2 cups pumpkin puree (one 15 oz can) – NOT pumpkin pie filling

1 c. + .25 c dark brown sugar 

.5 c non-dairy yogurt

1.5 tsp almond extract

.5 c coconut oil, melted

.5 c vegan chocolate chips
Directions:
Preheat the oven to 350F/180C/gas mark 4.

Mix the dry ingredients in with the sifted flour, omitting the brown sugar. 

Whisk together the wet ingredients along with 1 c. dark brown sugar.

Combine the dry and wet ingredients until smooth, being careful not to overmix.

Fold the vegan chocolate chips into the batter.

Scoop into a lined cupcake tin – an ice cream scoop is a perfect way to get the portions just right.

Tap the pan on the counter to release any air bubbles.

Sprinkle the top of each cupcake with the remaining .25 c of brown sugar.

Bake for 20-25 minutes until the tops are cracked and a toothpick inserted comes out clean.

Cook for five minutes in the pan, then remove and cool completely on a wire rack.

Store in an airtight container with a paper towel for up to a week in the refrigerator. 
Pumpkin has a bad rap for being a fall-only kind of delicacy, but that's hogwash. This delicious gourd is accessible all year round in a can, which is how most of us use it even when the leaves are turning. That being said, nothing says "bring in the crisp breeze and the electric excitement of autumn" like a sweet pumpkin treat.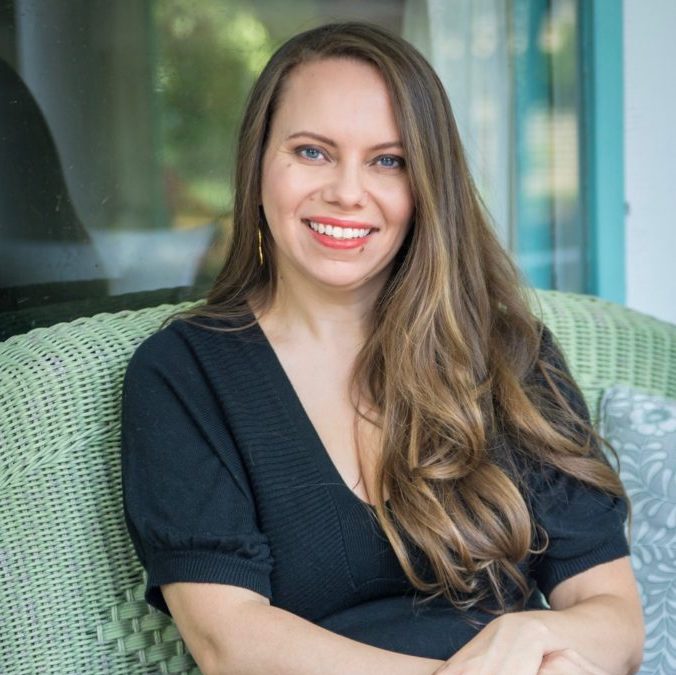 Autumn Karen chases words and her three rambunctious boys when she's not climbing mountains or teaching ghostwriting to college students. Her biggest passion is building community through information and communication.