Floating on the Hudson River at Ledgerock: A Sculptor's Paradise
When you see this exquisite architectural masterpiece for the first time, it literally takes your breath away. Renowned architect Lee Ledbetter carefully sculpted every detail, the project taking 5 years to complete. 
But here's the catch, as much as one may want to recreate this masterpiece, or use it to inspire their new build, new regulations now require any riverfront structure to be built 100 feet from the shoreline. This innovative artistic creation, better known as Ledgerock, is truly one of a kind, never to be replicated again.
Ledgerock is a contemporary style construct, crafted with the idea of giving those within the feeling of floating on the Hudson River. The unique, avant-garde dwelling is truly fit for a princess – a "forever-home". There are so many delightful amenities throughout the 14,800 ft², 2-story luxury home, it's truly difficult to know where to begin. It seems that no matter what types of little specialties appeal to you in a dream house, you'll likely encounter them in this one! The trés chic digs even sport an indoor pool, so those of us who swim for daily exercise don't have to let the chilly months stop us! 
You'll be enchanted by the Hudson River and Catskill Mountains forming the backdrop for spectacular panoramic views out of 18′-to-28′-foot tall glass windows/walls that surround the entire perimeter, giving you these extraordinary views from nearly every room. The home sits on 10 acres of beautiful private land in coveted Dutchess County, and features a "sculpture garden" with over 50 different pieces in the inimitable collection, adorning the interior and exterior designed niches. The home's interior is further distinguished by exotic woods and rare stone, imported from Africa, Europe and South America. It is the height of luxury and sophistication, while at the same time providing the comfort and style of modern family living. And we still haven't even begun to tell you the details!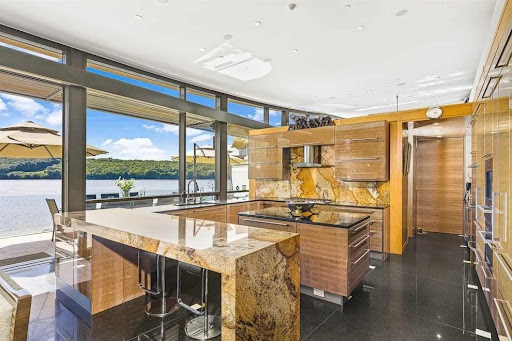 The modern linear design throughout the home is Lee Ledbetter's calling card, aligning the home with the rocky landscape in such a way as to feel that you're actually on the water. If you could come home to this private paradise every day, wouldn't that be something? Or how about relaxing in a lovely scented bath inside a huge, bowl-shaped, free-standing bathtub with a stunning view? Let's take a tour…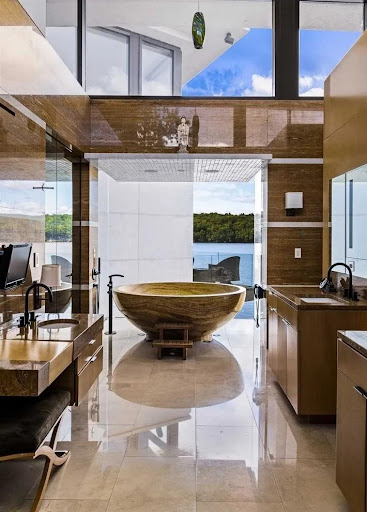 Ok, let's get down to business. For $45 mil, we want to know the details, right? 
Starting our tour on the inside begins with the bed/bath count of 5 spacious bedrooms and 7 full bathrooms, plus a half bath. The kitchen has all the modern appliances and is extremely functional, efficient and bright. There is central heating and cooling, and the water is sourced from a well, complete with a water softening system. There is a fireplace as well, so you can cuddle up for romantic interludes on cold winter evenings. There's a theater room, the indoor pool we mentioned above, spa and gym. What more could you ask for?
Moving to the outside, there is a 5,000 ft² travertine deck with an outdoor kitchen, fire pit and another built-in saltwater swimming pool. In addition, there is a unique feature that is my personal favorite – the hot tub, set apart from the rest of the main outdoor living area on a platform, accessible by a connecting stone staircase.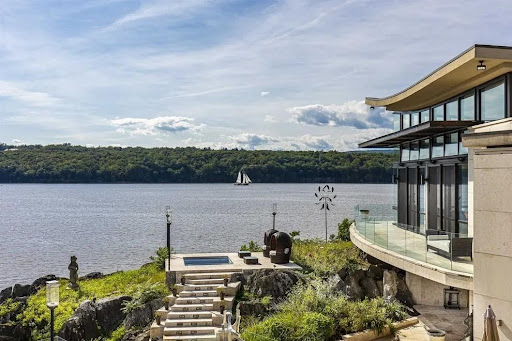 There's also a gated security system, complete with mythical stone creatures flanking the gate, plus a gatehouse and even a completely separate guest house boasting 2500+ ft² as well. There is a huge multiple car garage, a separate car wash, and if all of this isn't enough? There's also a landing pad for a helicopter or a seaplane, right outside your front door! Feels like your own private island on the 10 acres. You can find the listing here on RealtyHop. Check it out for yourself!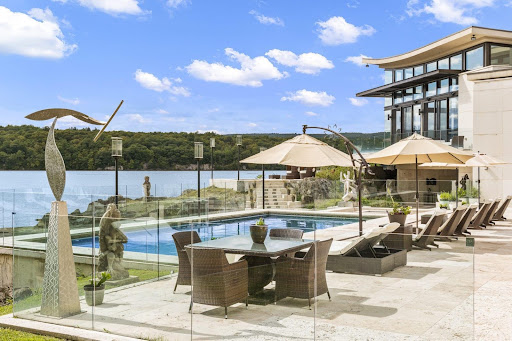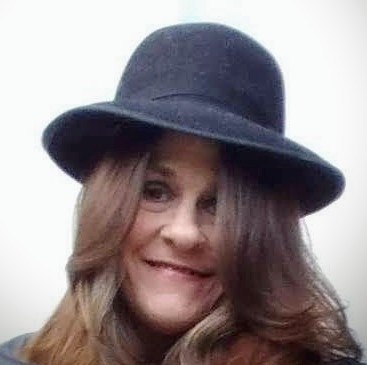 Rochelle Harris is a passionate writer originally from Phoenix, AZ. who credits her success to integrity and determination. She has a great sense of humor, loves music and her family, and writes fiction and poetry in her spare time. She is excited about the New York experience and lifestyle! Follow Rochelle on Twitter at @LinguisticAnRky or get in touch at [email protected]