New York City is not the first-place people think of when they imagine food foraging.  The dense urban jungle makes it difficult to find green space at all, much less the dense, damp  forests known for mushroom habitats. There's also the slight issue that foraging for food in NYC  is technically illegal. However, if there's two things New Yorkers know how to do, it's how to get creative with the space they have and how to find loopholes in existing city laws. Many green spaces have popped up all around the city, from community gardens to roof-top co-ops. These green spaces redefine what's possible in the city and create a market for environmental lovers.  This market is why there are now several ways for New Yorkers to forage for mushrooms and  more in NYC, all while minimizing the risk of getting arrested. 
For anyone seeking to start their mushroom hunting adventure, they need look no further than the New York Mycological Society. Founded in 1962 by composer John Cage, the  society has been hosting lectures on the scientific and culinary benefits of mushrooms for more than 50 years. They've also been hosting mushroom walks (foraging expeditions) for that same amount of time. These walks take place all over the NYC metropolitan area, including Van Cortlandt Park in the Bronx and Clove Lakes Park in Staten Island. Walks are typically 5-6 hours.  And, because this is a club, annual membership dues are $20.00. 
If you're looking for more of a one-and-done type thing, check out Steve Brill, aka  Wildman Bill. The Wildman forages for all edible plants, not just mushrooms. He's been leading tours for over thirty years in NYC including in Central and Prospect Park. Wildman, like the Mycological society, wants the public to know the benefits of mushrooms and edible plants that people typically think are weeds. He's written multiple cookbooks on the subject and has even created an app to help guide those seeking to forage on their own. An advocate for nature and free, sustainable food sources, Wildman is definitely someone to look at. 
If foraging is starting to sound appealing to you, but you're missing the fun, hipster  element that NYC is known for, then you need to check out the Swale Barge. Founded in 2016  by Mary Mattingly, this art installation became a citywide phenomenon that's received over 205,000 visitors since 2016. There is no foraging limit on Swale and that's by design. Advocating for sustainable food practices and moving away from the current food industry, Swale encourages the city to make public foraging gardens on land, so everyone has a way to eat, regardless of their financial situation. Though currently under renovations, Swale is seeking to return in 2022 as a permanent floating park. 
Through these official routes, you can start your foraging journey. "But Russell," you might be saying, "I'm a smart cookie with an adventurous soul. I want to try and forage for  mushrooms and plants on my own!" And to that, I give this sage advice: Don't do that. The Mycological Society has found over 600 kinds of mushrooms in NYC alone, and many of them are poisonous. Poisonous plants are a problem too. Blogger Jaime Geller took a foraging tour with Wildman Steve Brill and said, while she had a great time, "Even after identifying some edible plants…their non-edible, poisonous doppelgängers were difficult for me to distinguish. So, it is extremely important to do such a tour with an expert." 
While touring with an expert can help you distinguish between edible mushrooms, like Chicken of the Woods, and non-edible mushrooms, like The White Death Angel, it is important to also remember that foraging is technically illegal. Even with the tour groups mentioned above, the line is very thin. The Mycological Society is listed as a non-profit with permission to forage in certain areas of NYC. Before that, however, their founder, John Cage, would regularly cite his belief in anarchy as justification for breaking the law. Wildman Steve Brill usually gets away with tours because park rangers know him as an expert and a nature lover. That said, he  has a page of his website dedicated solely to his arrest in 1986 for illegal foraging. And Swale, the forage barge? The reason it's a boat is so it can be under the jurisdiction of marine common law rather than public land-based ones. 
With so many projects, people, and organizations advocating for free food by foraging, one would think New York would want to get in on this trend. After all, there's clearly a market for it, many people need affordable meals, and with Swale, and the success of Little Island, there's no shortage of where to put man-made foraging forests. Additionally, there's a large number of roof-top gardens and farms that are already doing the same thing. The only difference is that food co-ops charge a membership fee or require you to volunteer your time. With legalized forage forests, the time spent working would be the time it took to forage for food and regulations could be put in place to make it so there's less of a chance of mixing up edible and poisonous plants. Plus, you'd create jobs, and that's very American. 
Foraging is only growing more popular in New York City. The jungle might be concrete, but what little green there is hosts vibrant ecosystems that can be a valuable food source or a fun afternoon learning a new hobby. No matter what your reason for foraging is, just remember to do it with an expert, respect the nature you're exploring, and avoid getting poisoned or arrested. Foraging is a tall order in NYC, especially if you're seeking mushrooms. However, through the hard work of environmentalists and experts, it is possible to find old favorites, and maybe even discover something new. That said, if you're still skeptical about foraging in NYC, the Mycological Society and Wildman do tours up state, in Long Island, and in New Jersey as well. Happy Hunting!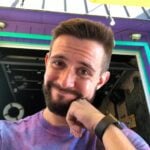 Russell is a writer and comic based in New York City. His plays have been featured at Penn State's Cultural Conversation's Festival, The NYC Thespis Festival, and Imaginarium's Inaugural Theater Festival. Follow him on TikTok and Instagram @pooleparty528