Regardless of one's love for arguably the greatest city in America, Manhattan, most desire an escape at some point. Some pine after places that lay along the coast of South America and others are fascinated by the sights in Europe. It's understandable. Looking at skyscrapers that are relatively similar can become an eye-sore after a while. But what if I told you that you could get a taste of London right in New York City?  What if I said there were a secluded area on the Upper West Side nestled between Broadway and West End Ave that could give you your European fix? 
Look no further. Pomander Walk is an incredibly beautiful cooperative apartment complex that consists of 27 buildings total. Lined by a lushly decorated courtyard, Pomander Walk has two rows of eight buildings that have a locked gate on each end of the street. Some of the apartments have one residency per-floor and others have been renovated into single-family homes. This small community is not open to the public, so you would not be able to view the inside unless you lived there or had interest residing inside the property. However, you could always walk by and peek over the gate just to swoon over the magic of this walk. 
Pomander Walk was a romantic comedy by Louis N. Parker that had opened in New York City in 1910. This story takes place in London which is where the inspiration for the architecture came from. Mirroring the looks of Queen Anne mansions, the complex features homes that could be right out of a fairytale. There is a charming quaintness to these cobblestone masterpieces. Ever seen a lamp post in New York City? I can confidently say that I have not. However, there are multiple lamp posts that adorn the garden of the complex which only adds to the alluring nature of it all. 
Thomas J. Healy, the master behind the madness of Pomander Walk, originally set out for the space to be used for a major hotel. Because there were issues with funding Healy had to figure out something a bit smaller. Thus, became the historical landmark of the Pomander Walk designed by the New York architecture firm King and Campbell. Then, during the 1970s this magnificent piece of property was in danger of being demolished. However, to remedy this the city of New York made it an official historical landmark in 1982. Since then there have been renovations and updates to make sure the place is still running well. 
Sounds appealing, no? Perhaps you're looking for something more than just a sight to gaunt at. Maybe living here is a fascinating idea for you. Well, the first thing you should be aware of are the subway stops nearby. Pomander Walk is less than a five-minute walk from the 96th street station which has the 1/2/3 trains. You can also take the B/C less than half a mile away. There are also a plethora of museums and parks within walking distance. 
Currently there is only one unit listed at Pomander Walk. A spacious 2Bed/1Bath for $875,000. Before you ask, dogs and cats are allowed. Each unit holds its' own character, making every apartment different from the rest. By simply just walking through the gates of this wondrous attraction you could enter an entirely different universe right in the big apple. 
Some other amenities that are included are: in-unit laundry, bike storage, window air conditioning, elevators, live in super, and they allow sublets. How could it get any better? The truth is, it can't. There is something so wonderfully special about this place that is constantly catching the eyes of thousands. But you have to be quick on your feet if you are considering buying at Pomander Walk. These apartments get snatched up in the blink of an eye. If you are looking to just rent here, make sure you are constantly keeping up with the market because rentals only last for a few days. A 2Bed/1Bath typically goes for around $2.7k/month which is relatively reasonable considering the history that this place holds. Out of the 60 units available, rentals usually go on the market only once or twice a year. Otherwise, if you're planning on buying then you have some time to ponder. 
Even if you are not looking for a new place to live, we highly recommend walking by Pomander Walk just to take a glance. Pictures do not do the magic of this place justice and you have to see the sight for yourself. Maybe you will make a friend or two outside that will give you access to the dazzling greenery beyond the gates.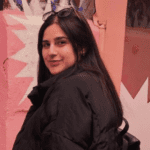 Carly is a freelance writer with interest in topics pertaining to lifestyle blogging, social justice, and anything to do with film/media. She graduated from the University of Wisconsin - Madison with a degree in English & Literary studies in hopes to write for a large music publication. When she is not writing, you can find her watching movies, cooking her famous Carbonara, and enjoying time outdoors.