East Shore Basics
Welcome to East Shore, the Staten Island area with beautiful beaches, parks, and activities! Staten Island is often the punching bag of NYC, but the borough has just as much to offer as the rest of the city, if not more. East Shore, for example, has a ton of stuff to do, especially given the smaller neighborhoods that rest inside it. These neighborhoods include Fort Wadsworth, Arrochar, Concord, Grasmere, Dongan Hills, Ocean Breeze, Midland Beach, New Dorp Beach, Oakwood, Bay Terrace, and more.
History of East Shore
For much of Staten Island's life, it was used as farmland, seaports, and military bases, like Fort Wadsworth, until the end of World War II. As the population of NYC grew, people needed a place to live, so Staten Island developed rather rapidly. This development only increased with the construction of the Verrazzano-Narrows Bridge in 1964. Since then, the area has thrived, opening long-standing businesses, restaurants, and homes.
Where to Shop in East Shore
View this post on Instagram
East Shore's shopping destinations might not be as glamorous as the establishments of SoHo and Fifth Avenue in Manhattan, but there are many places where folks can find great deals on awesome items! Some of these stores include:
Appliances R Russ
This appliance shop both sells and repairs everything from refrigerators to dryers. These experts have great reviews on Yelp and Google, hailing their swiftness, great prices, and wide range of knowledge.
Dragonic Tiger Games
This hobby shop is perfect for the nerd inside all of us. Whether it is Funko-Pops or trading cards, they have everything you need to become the best of the best in your game of choice. They even hold regular Pokemon, Yu-Gi-Oh, and Magic the Gathering tournaments.
Hylan Plaza
This shopping mall is popular in the area for high-end stores, restaurants, and wellness establishments. The mall is huge and includes stores like New York Man, Marshalls, and GameStop, just to name a few.
East Shore Landmarks
Staten Island might have developed largely after World War II, but there have been people here since the colonies' early days. Some of these locations include:
Fort Wadsworth
This fort and park is a military installation that has been around since before the revolution, though it's gone through numerous renovations and updates. The park does guided walking tours and is a popular spot for those who love great views of the Manhattan Skyline.
Historic Richmond Town
This museum site is the location of several historic homes from all over NYC. Some of the famous homes resting here include the first county jail in the US, the Edward's-Barton House, and the foundation for one of the oldest barns in the country.
Moravian Cemetery
This cemetery is where several notable NYC families are buried, including several members of the Vanderbilts. Other notable people include Martin Scorsese's parents, Paul Zindel, and several members of the Gambino crime family.
Where to Eat in East Shore
View this post on Instagram
East Shore is a huge area full of great restaurants, especially if you're into Italian food. Some of the best establishments here include:
Basilio Inn ($$)
This Italian restaurant has been serving East Shore residents since 1921 and is the oldest restaurant in the borough. Some of the best meals that can be found here include the breaded little neck clams, Long Island duck breast, and chicken marsala.
Dough by Licastri ($$)
This specialty pizza place is beloved by locals. Some of their best pies include their Margherita, white pizza, and grandma-style pie. They also have a wide array of calzones, sandwiches, and salads. 
Zara Cafe Grill ($$)
This Turkish restaurant is a favorite due to its kebabs, gyros, and pasta. This establishment aims to showcase Turkish cuisine to those who would otherwise not experience such delicious food. This is why their menu is quite extensive.
Fig & Vine ($$$)
Another Italian restaurant, this upscale place is perfect for those seeking to impress family, coworkers, or a date. They have amazing stuff like filet mignon, steak and scallops, and even squid ink pasta. They also have an extensive wine list.
Villa Paradiso ($$)
Another upscale Italian restaurant, this place is known for its handmade pasta, steak, and raw seafood bar complete with oysters. Their menu is huge, and everything is expertly made. The wine list here cannot be beat, featuring options that pair well with any meal.
Bars of East Shore
View this post on Instagram
While East Shore is mostly a suburban area, there are some bars here for those seeking to let loose for a little while. Some of the best bars in the area include:
Lee's Tavern ($)
This bar and pizza place is popular for locals to gather and watch some sports on the weekend. The ambiance is relaxing, the food is great, and there's even an old pac-man arcade game for guests to enjoy.
Griff's Place ($)
This sports bar is the spot everyone goes to for the NBA finals, Superbowl, and the Olympics. They have a ton of food, a ton of beer, and a ton of events like Halloween parties, karaoke, and trivia nights.
Trackside Bar & Grill ($$)
This fun venue has a ton of events that locals love. The live music here is out of this world, and the venue is huge, sporting more than 17 televisions and a ton of space for people to sit and eat or get up and dance.
Where to Live in East Shore
East Shore is a huge area, and there's a ton of housing for people seeking affordable prices and extra space. Most homes are single-family, though there are some apartment complexes for those who are into that. Some of the best homes in the area include:
20 Cliff Street
This co-op in Shore Acres is perfect for those who want excellent views of Brooklyn, Manhattan, and the water. Many homes here have access to outdoor spaces, parking garages, and laundry facilities.
Alex Circle
This classy little circle contains adorable waterside row houses built in the year 2000. One of many row house beauties in the area, Alex Circle homes include a private backyard space, two and three-story homes, and easy access to the beach.
45 Vera Street
These garden apartments are classy, spacious, and near a sizable park. Four buildings make up this complex. If you lived here, you'd be a co-op member, so you'd both own property and get a vote on how the entire complex is run.
100 Colfax Avenue
This beautiful red brick condo features large rooms, an outdoor parking lot, and easy access to a train station. The rooms are lined with hardwood flooring, save for the kitchens, and many windows allow plenty of natural light to enter the units.
34 Bay Terrace
This stunning co-op features some of the most beautiful townhomes on Staten Island. Each house has a decent number of bedrooms and bathrooms, easy access to a train station, and a pool only for co-op owners.
Parks of East Shore
East Shore has a ton of public parks for residents and visitors to enjoy. Some of the best public parks include:
Ocean Breeze Park
This large park rests next to Staten Island University's North Campus Hospital. This park is home to the South Beach Wetlands and the Staten Island Rodeo. It's also conveniently located right next to the South Beach Pier.
Franklin D. Roosevelt Boardwalk and Beach
This park, named for the former president, is home to the Elm Tree Lighthouse, Miller Field Seaplane Hangar, and Millar Field, one of the largest outdoor athletic fields in the borough. It's a popular place for people to gather for recreation leagues.
High Rock Park
This tranquil park holds some of the finest greenery in New York City. This place is filled with great hiking and light fishing spots, perfect for anyone who likes to enjoy the outdoors while not going too deep into the wilderness.
Traveling in East Shore
Staten Island is first and foremost a car-dominated borough. That said, there are other ways to get around. Some of the best means of public transportation include:
Trains
While there are no subway stations in Staten Island, residents can use the conveniently located stations for the Staten Island Railroad, which runs right through East Shore.
Buses
Several bus lines service East Shore. These include the S51, S52, S53, S54, S57, S74, S76, S78, S81, S86, S93, SIM1, SIM5, SIM6, and SIM15.
---
East Shore is a picturesque area full of the suburban life many New Yorkers never experience. Though a bit out of the way, this place is worth the trip for the beautiful beaches, large parks, and great Italian food around every corner. So while Staten Island might be looked down upon, its bad reputation is rather baseless, especially when looking at a great area like this.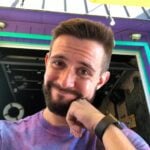 Russell is a writer and comic based in New York City. His plays have been featured at Penn State's Cultural Conversation's Festival, The NYC Thespis Festival, and Imaginarium's Inaugural Theater Festival. Follow him on TikTok and Instagram @pooleparty528